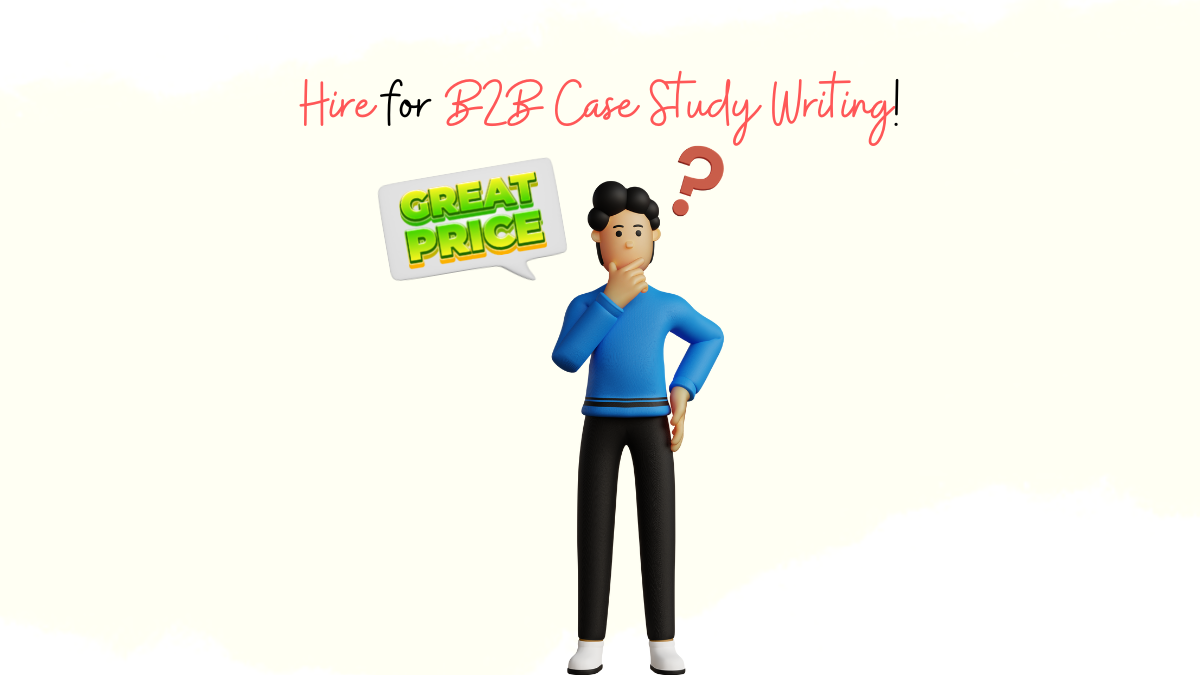 If you think it's expensive to hire a professional, wait until you hire an amateur.

Red Adair
Aah! There are so many agencies; how can I choose the right one?
Will the writers at the agency understand my industry and business domain?
Will the agency be able to bring me the desired results?
What kind of investments do I need to make in terms of time, effort and money?
Will the agency be able to provide me with a compelling copy?
Have you been looking for answers to these questions to select a B2B SaaS case study writing service agency?
According to the 2022 B2B Content Marketing report, the top challenge for B2B marketers who outsource is finding partners with adequate topical expertise (65%).
Hiring a B2B SaaS case study writing agency can be difficult. To make your search easier, we'd like to share our list of the top 5 case study writing services agencies for B2B SaaS businesses.
Additionally, we'll analyse them using a 5-step framework to establish a better fit.
Let's get started!
Choosing From Top 5 B2B SaaS Case Study Writing Services Agencies
Here is our list of the top 5 B2B SaaS case study writing services agencies:
#1 – Case Study Buddy
#2 – Concurate
#3 – Uplift Content
#4 – Radix Communications
#5 – Goodman Lantern
Pro tip: If you need 30 standout SaaS growth hacks to attain double the growth for your SaaS business, fill out the form below!
Introduction
Case Study Buddy specialises in working with midsize-to-enterprise B2B businesses to create scaleable case studies and video testimonials.
Process
The agency has shared its process in case studies, such as how Case Study Buddy helped Rankings.io close $179,444 worth of deals in one month.
You can learn more about the client's industry and location, including services availed from such resources.
Package
A package from Case Study Buddy depends upon the type of assets they create for you.
Individual assets such as a remote video testimonial command an approach depending upon the scope and complexity.
Another package offers the creation of multiple content assets for one story (case study).
Proficiency
Case Study Buddy's unique selling point is its ability to create and distribute B2B SaaS case studies strategically, with the ability to scale.
The agency offers written case studies, remote video testimonials, on-location videos, and sales collateral.
This approach unlocks the ability to one story into multiple pieces of content that are worth sharing across channels and media.
Proof of Work
Case Study Buddy has worked with B2B brands such as HubSpot, Calendly, and Loom.
You can view their case study samples of all formats – remote video, audio-only interviews, and written assets.
Pricing
Case Study Buddy offers bespoke pricing unique to your B2B SaaS business's sales and marketing mix.
Single assets start from $4,000 to $6,000. Multiple assets packages range from $5,000 to slightly above $15,000.
You can get a quote from the team by visiting Case Study Buddy's pricing page.
Introduction
Concurate is a boutique content marketing agency that works with medium-sized B2B SaaS businesses.
Process
Concurate's case study writing service first involves scheduling interviews to understand more about your business. The team extensively discusses how your organisation helped solve the client's business problem.
Moreover, Concurate offers regular, timely updates throughout the course of the case study writing service project. This is vital in case your business requires specific approvals or a change in the presentation of information.
Finally, after submitting the draft case study, Concurate conducts review calls to implement changes its clients require.
Package
Concurate specialises in preparing B2B SaaS case studies in two formats.
Primarily, Concurate prepares a blog-style case study for its clients that are readily discoverable on search engine result pages.
Concurate also prepares case studies in a one-pager or a skimmable slide deck format. The benefit of this approach is that C-suite leaders and key decision-makers can easily grasp the crucial aspects of the case study.
Proficiency
Concurate attempts to create content that brings business, not just traffic.
To achieve this, Concurate ensures to bring out a business's unique messaging, called "internal chatter," by giving readers a sneak peek into the organisation's thought process.
This approach weaves in stories from the organisation's day-to-day work to amplify its distinctive voice and highlight its approach to business.
Proof of Work
Concurate withholds access to its previous case study writing service projects to maintain its clients' confidentiality. However, you can contact Concurate to gather more information.
Additionally, you can visit the link to read Concurate's available customer success story.
Pricing
Concurate charges $1500 for its case study package.
Introduction
Uplift Content is a boutique content creation studio with a track record of success with high-growth B2B SaaS companies.
Process
Uplift Content's case study writing service involves creating a strategy, establishing a project management process, optimising content performance, and more.
You can click the link to learn more about their service process.
Package
Uplift Content's three packages – Standard, Enhanced, and White glove – offer different benefits.
The packages differ in aspects like the number of rounds of revisions, receipt of email updates, access to status calls, and priority scheduling.
Proficiency
Uplift Content provides your B2B SaaS business with a dedicated, experienced copywriter to provide a personalised business case study writing service.
Their small, hand-picked team ensures to understand your company, product and audience truly.
Proof of Work
Uplift Content has worked with SaaS brands like LeanData and WalkMe.
You can view their case study portfolio by visiting the link. You can also learn more about their SaaS customer stories.
Pricing
Uplift Content offers three packages as part of their business case study writing service.
The Standard, Enhanced, and White glove packages start at $1,250, $1,500 and $3,000, respectively.
Get in touch with Uplift Content to receive a customised quote.
Introduction
Radix Communications – B2B technology copywriters, as they say – specialise in writing copy for B2B tech agencies and brands.
Process
Radix Communications' case study writing process involves receiving the initial brief, communication with the sales team, an update on the delivery timeline, feedback implementation, and more.
You can learn more about the process by visiting the link.
Package
Radix Communications offers case study writers who are also skilled interviewers.
Additionally, a project manager is assigned direct access to your writer's task file, making rescheduling quicker and easier.
The agency also runs rolling case study programmes for some of its larger clients. This is vital to ensure a steady flow of up-to-date client success stories.
Proficiency
Radix Communications specialises in B2B tech copywriting.
Aside from B2B SaaS case study writing services, they also create assets like ebooks, web copies, emails and tweets.
Moreover, the agency offers dedicated project management support and gives you one point of contact for your whole project.
Proof of Work
Radix Communications has worked with SaaS brands such as Adobe and Salesforce.
You can view all work done by the agency, including public client case studies, by visiting the link.
Pricing
Radix Communications does not publicly share its pricing information.
However, you can contact Radix Communications to discuss your business requirements.
Introduction
Goodman Lantern is an award-winning content marketing agency specialising in content marketing services, video marketing services, and more.
The agency understands the complexities of working in 30+ industries. Their workforce consists of remote women workers, many of whom are the breadwinners of their families.
Process
Goodman Lantern's delivery process involves three steps – Setup, Content Research, and Content Editing & Format.
To learn in detail about each sub-step, click on the link.
Package
Goodman Lantern offers three tailored content marketing packages – Start-Up Plan, Enterprise Plan, and Bespoke Package.
Each package offers considerably different benefits depending on the goals and budget.
You can learn more about them by visiting their subscriptions page.
Proficiency
Goodman Lantern has enviable exposure to sectors such as education, telecommunications, legal, artificial intelligence, and machine learning.
Their copywriters write high-quality content in native English while being fluent in the complex language of SEO.
Proof of Work
Goodman Lantern has worked with brands like TikTok, Trivago and Scaleworks.
You can learn more about their case studies that measure customer success by visiting the link.
Pricing
Goodman Lantern does not publicly share its pricing information.
You can contact Goodman Lantern to learn more.
Parting Thoughts
The best B2B SaaS case studies showcase how your business solved a significant problem for a client. This presentation comes alive by offering rich context around the featured brand. In addition, a standout B2B SaaS case study can establish a strong connection with the readers by sharing relatable pain points.
Preparing a compelling case study makes it imperative to choose the right agency. Shortlisting the agency which is "right" for your business can get easier by
Learning which industry and business growth stage the agency offers its case study writing services
Understanding the process that the agency follows to deliver its services. Does it align with the way your business works?
Discovering what packages the agency offers – their benefits, pricing, etc.
Enquiring about previous projects and customer success stories to confirm marketing claims
About Us
We are a content marketing agency that strives to bring simplicity, persuasion and relatability to content (such as case studies) backed by thorough research. We curate the best content as per your company's requirements and philosophy to attract your target audience.
If your organisation wants its content marketing strategy designed by Concurate, let's connect over a short call. Block our calendar today!
If you wish to read more goodness, subscribe to our newsletter.
We send value to your inbox only once in 15 days.