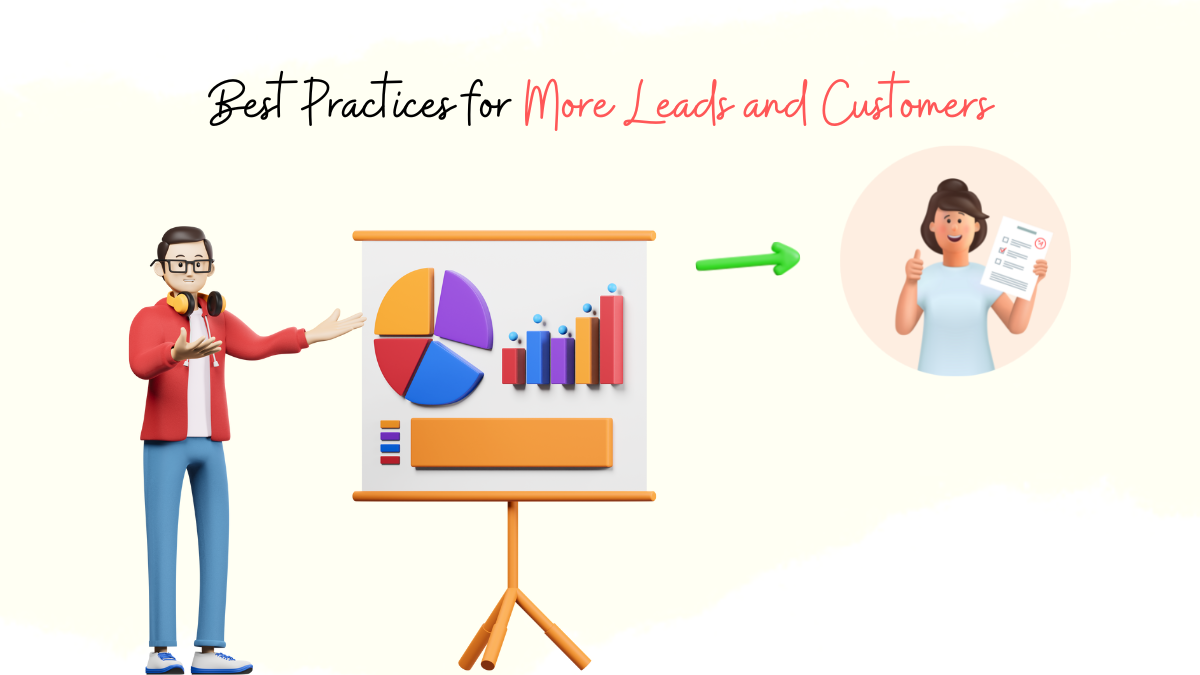 Writing a B2B SaaS case study is like writing a story for a film. But, you may ask – how?
Well, think of it this way:
Your customer is your hero, but he becomes a hero after using your SaaS product.
At the outset, consider demonstrating your client as an "underdog." Someone who was going through the growing pains of running their business. Someone who wanted to bring more operational efficiency to their business.
That was before they implemented and mastered your solutions to overcome their business challenges.
And the magic unfolds when they get introduced to your SaaS product.
You onboarded them and helped them make the most of your SaaS product. Eventually, they saw their pain points vanishing. They could measure the impact of using your SaaS product in various ways, like saving time, money, effort, etc. They are a champion user now. They are also now ready to put out a word for you.
It's time to write a case study. Let's dig into the best practices!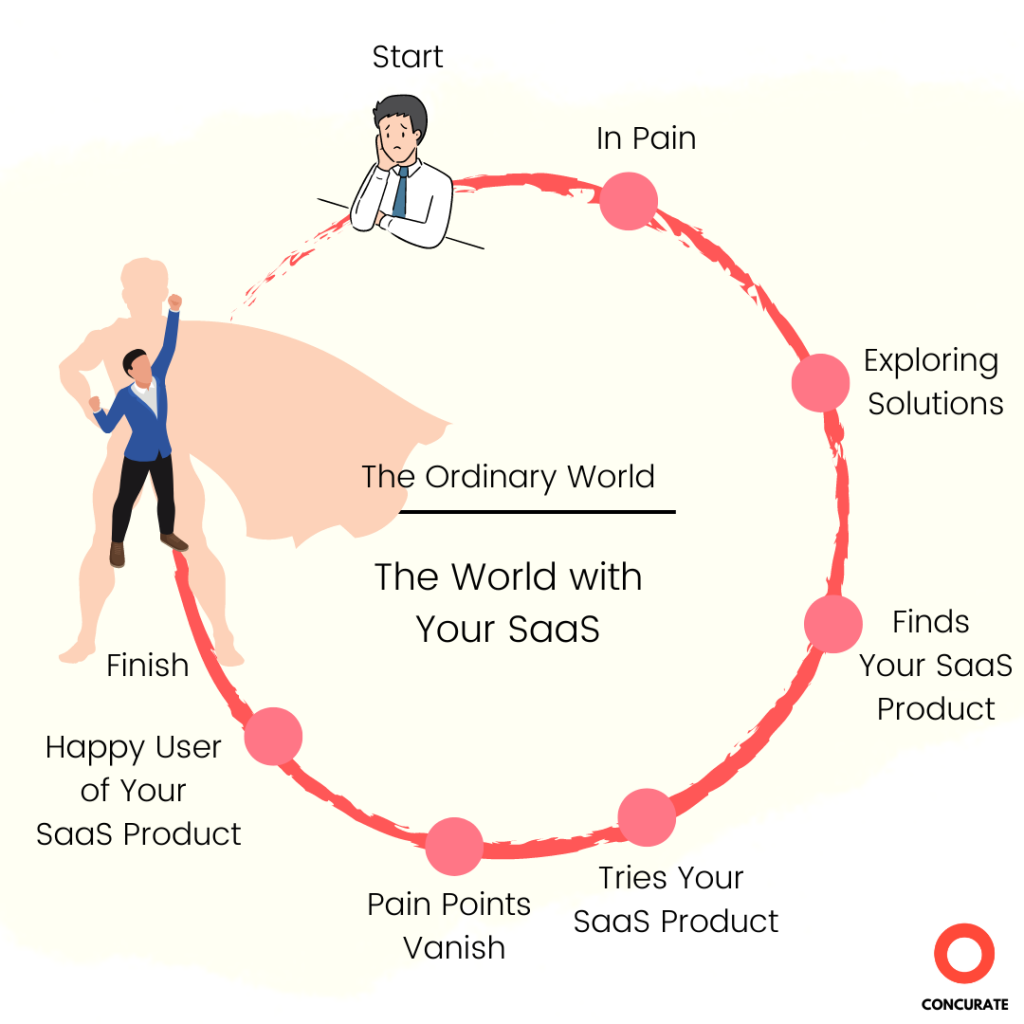 Let's take a look at eight of the best practices to follow while writing any case study.
Pro tip: If you need 30 standout SaaS growth hacks to attain double the growth for your SaaS business, fill out the form below!
8 B2B SaaS Case Study Best Practices
#1 – Make your case study a "hero story"
#2 – Identify what your case study aims to highlight
#3 – Make your case study easy to follow
#4 – Choose the case study format wisely
#5 – Repurpose your case study
#6 – Share your case study in the right places
#7 – Add calls to action to your case study
#8 – Partner with an agency to create your case study
#1 – Make your Case Study A "Hero Story"
Once you present your client as a hero, readers are more likely to connect with them and want to sign up for your services. In addition, they are likely to think, "Yes! It is exactly the problem that I am experiencing right now!"
This connection also ensures that readers are engaged as the case study unfolds.
Let's dig deeper and learn about the essential cogs of the "hero story."
Buyer Persona
Maintain clarity on who is the ideal persona you want to attract to read the case study.
If you are targeting a buyer, he would be more interested in value for money, RoI, etc. And, if you are targeting a user, the focus should be more on productivity, personal growth, etc.
Pain Point
Your case study should appeal to the emotions of your target buyer persona. You can achieve this by showcasing your client's relevant problems and pain points.
For example, a tentative case study can be: "How (buyer persona) found a solution to (specific and relatable pain point)."
This case study by Clever titled "How a Clever Offboarding Process Helped Referrizer Recover 25% of Cancelled Clients" is an excellent example of targeting a particular pain point.
Product/Service Used
Your business might have on offer different types of products and services with varying propositions of value. Therefore, it would be counterproductive to broadly showcase your strengths by targeting different personas.
Making your case study highly specific and relevant makes it easier for your business to attract and convert the ideal buyer persona.
For example, a tentative case study can be: "How (your business name) helped (buyer persona) to achieve (specific result)."
This case study by Semrush titled "Spanish merchandising retailer uses Semrush to increase revenue by 50% and website traffic by 60%" is a relevant example of targeting the right audience.
Semrush is a comprehensive tool with a lot of features. However, the case study showcased only its relevant features. It helped highlight how a medium-sized business could compete against established players to achieve a specific result.
Results Achieved
It's essential to be upfront and present your business's achievements. Your readers care more about results and tentative solutions to their pressing problems.
Instead of touting your capabilities, provide tangible proof.
You can use specific numbers to highlight the results. Another essential point is to clarify the timeline within which your client achieved the stated results.
For example, a tentative case study can be: "How (your buyer persona) decreased (metric) from (higher number) to (lower number)."
This case study by Hotjar titled "How ClassHero reversed a 48% drop in conversions" does just this.
#2 – Identify What your Case Study Aims to Highlight
Walking around in circles and talking about opaque lofty results will do your business no good.
At the outset, it is just as essential to identify specific statistics and key performance indicators (KPIs) to highlight in your case study.
Here are some examples from case studies highlighted earlier in this piece:
Quality Leads
Hotjar's case study targeting sales operations managers highlighted how their tool helped achieve critical onboarding targets and doubled the onboarded users from 30% to 65%. This onboarding further helped in bringing a more significant number of quality leads.
Earned Revenue
In its case study, Semrush highlighted how it helped its client achieve a 50% revenue increase.
Return on Investment
Your prospects will significantly benefit if your case study can highlight what return their business can achieve based on the investment they make by availing of your services.
Here is an excerpt from Clever's case study, "Shawn estimates about $2,000 yearly savings for each account they managed to keep.
After some simple math, that adds up to $56,000 total yearly savings within just two months of having an offboarding process. Now imagine you'd be running that process for a year. Even with no improvements in the process (which tend to come naturally), that would mean approximately $336,000 saved per year."
#3 – Make your Case Study Easy to Follow
It is essential to make your case study scannable. Readers are likely to skim the content looking for relevant information.
Keeping big chunks of text makes it difficult for readers to understand what is happening in the case study. Therefore, it is crucial to adhere to formatting and stylistic guidelines.
By using headers, bulleted lists, images, and videos, you can add flow to the story and make it more enjoyable and compelling. Moreover, well-designed charts and graphs can do the heavy lifting of several pages of text. They allow you to break up large pieces of text and make your case study easier to consume.
#4 – Choose the Case Study Format Wisely
Your business must not be constrained by a specific format to present the case study. Instead, it would help if you considered the context in which the target audience will read it. It would be best if you considered using the format that best engages your target audience.
Here are some different formats you can consider:
Blog Style
Razorpay published a case study in report format to highlight how it enables schools to streamline payments. A blog-style case study makes your business discoverable on search engine result pages.
One-pager or a Skimmable Slide Deck
IDC published a case study in a one-page format to showcase how it helped provide credible, third-party research data to help its clients weave stories around the absolute value of their products. In addition, a one-pager case study gives a high-level overview to busy leadership audiences.
Video
Let your creativity loose. Consider this response to a video case study published by Slack: "This (is) easily the MOST engaging and entertaining video for a SaaS application ever!" Video case studies are a trend to follow for garnering better engagement.
#5 – Repurpose your Case Study
You can consider repurposing the contents of your case study into multiple formats across different platforms. Here are some ways you achieve that.
Create a video case study and repurpose it as
a blog post,
a podcast episode,
a social media carousel post,
a slide deck, or
other marketing material.
#6 – Share your Case Study in the Right Places
Once the case study is ready, it would be best to ensure it reaches your target audience. Here is how you can do that:
Give to your sales team to share with prospects.
Print the case study in one pager format as a flyer and distribute it at events like trade shows, meetups, conferences, and more.
Run ad campaigns on LinkedIn – The best place to reach B2B buyers.
Make your blog-style case studies discoverable through Google search to attract people with high interest in solving the same pain point.
Embed CTAs to download the case study across various places on your website.
Ask your marketing team to add it to their marketing emails.
#7 – Add Calls to Action to your Case Study
The purpose of publishing a case study is to get new customers. So direct your focus on getting them by adding calls to action.
It would be best if you considered using specific language that speaks directly to your prospective customers. Additionally, it's essential to understand that not all prospective customers will have the same approach to avail of your services. Therefore, you should consider using different CTAs as applicable.
You can consider switching between the following calls to action:
"Start a free trial."
"Book a demo."
"Contact us"
"Sign up for the newsletter."
#8 – Partner with an Agency to Create your Case Study
Partnering with a boutique B2B SaaS content marketing agency will allow you to publish high-quality case studies that generate and nurture leads consistently—and close sales faster.
Concurate recently delighted a client with its approach to creating their case study. Take a look.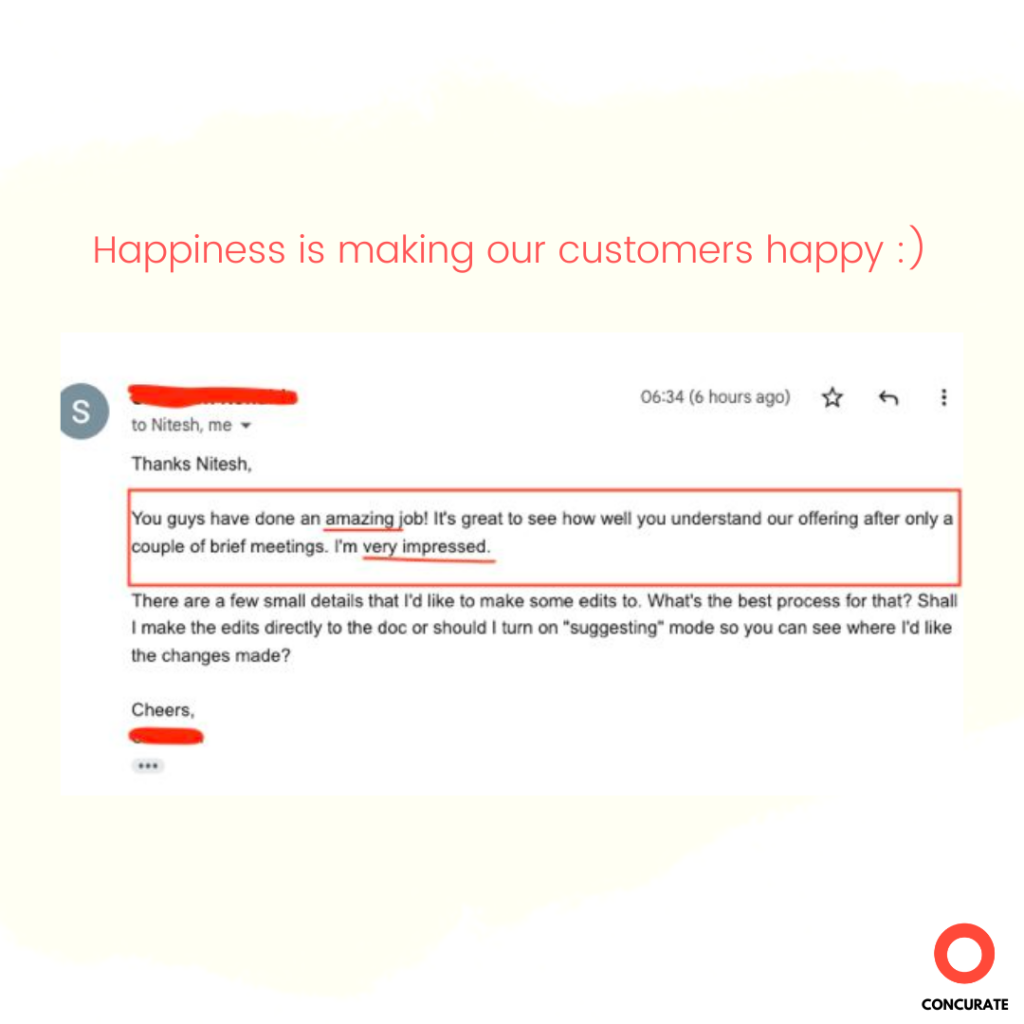 Do you know what his most significant relief was? He said, "I am so glad you understand my niche. You have pulled up a phenomenal case study for us in just two brief calls. Huge thanks!"
About Us
We are a content marketing agency that brings business, not just website traffic. We curate the best (well-researched + engaging) content as per your company's requirements and philosophy because we believe in the power of meaningful information.
If you also want a case study prepared for your B2B SaaS business to get more leads and users, let's connect over a short call. Block our calendar today! No strings attached – A lot can happen over a quick chat 🙂
If you wish to read more goodness, subscribe to our newsletter.
We send value to your inbox only once in 15 days.