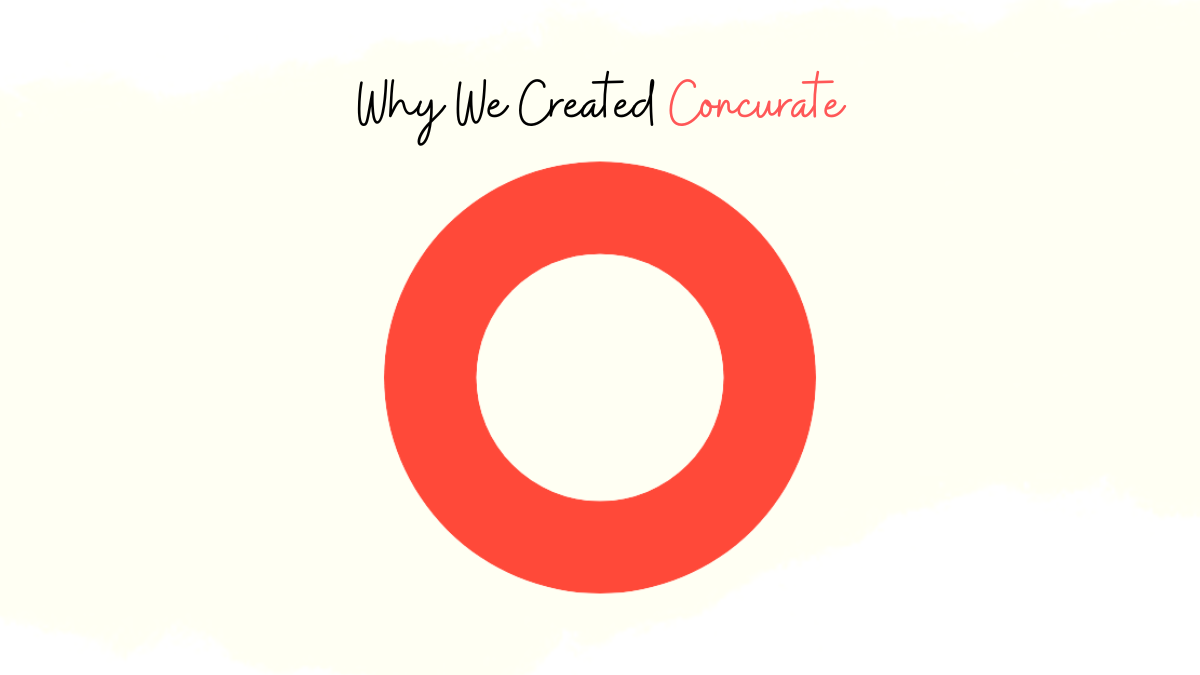 Over the course of my career in digital marketing, I've had many opportunities to work with content marketing agencies.
And during that time, I've experienced countless discouraging results with agencies that charge too much and produce too little.
I came to the sad realization that, for the most part, content marketing agencies don't use the power of content marketing to generate relevant, engaging reader experiences. Nor are they able to transform those experiences into bottom-line results.
"There's got to be a better way, " I thought. And then I set out to create it.
That's how Concurate was born.
With a background in sales, SEO and finances, I knew I had the expertise and experience to provide a world-class content marketing service to B2B SaaS businesses.
In early 2020 I landed my first client. It has now been over two years, and our total client count is just under a dozen, which allows us to not sacrifice our high level of personalisation and professionalism.
Our mission was to create a boutique content marketing agency that delivers high-performing content that reaches marketing goals every time.
We knew from the start, we wanted to keep our agency small and agile. Positioning ourselves as a boutique agency allows us to provide personalized support and customized marketing solutions to all our clients.
As a boutique marketing agency specializing in B2B SaaS businesses, we maximize our talents and expertise to ensure a higher quality of service and better results without a higher price tag.
Our comprehensive SEO and market research, as well as results-oriented content, allows Concurate to deliver what your company wants most: conversions.
Concurate's Five-Star Approach to Results-Generating Content Marketing
In the competitive B2B marketing landscape, strategic content marketing is your most powerful tool for securing outstanding bottom-line results.
It builds audience engagement and reinforces your brand. Strategic content marketing is also one of the most effective methods of driving sales.
Consistent, high-quality content builds trust, educates your audience and improves your conversion rate.
Pro tip: If you need 30 standout SaaS growth hacks to attain double the growth for your SaaS business, fill out the form below!
Our approach to using the power of content marketing to grow your B2B SaaS business
#1 – Optimized content strategy
#2 – Comprehensive content briefs
#3 – Content that inspires meaningful action
#4 – Content that delivers relevant information
#5 – Personalization
#1 – Optimized content strategy
We work with you to create a content strategy that helps you achieve your business goals. We research and understand your audience to determine what content will work best. We focus on your niche to create content that stands out, offers genuine value and establishes your company as an authority in your field.
#2 – Comprehensive content briefs
Our process for creating content briefs ensures that the content we create aligns with the content marketing strategy, performs as expected and requires less back and forth with our clients.
The in-depth information we use to guide our content includes:
Content goals
Reader persona
Current perception of company and/or industry
Target keywords
Content inspiration
Company messaging
#3 – Content that inspires meaningful action
Getting traffic to your website isn't enough. We aim to attract traffic that has buying intent and to convert that traffic into sales.
We do this in many ways:
Target long-tail keywords which usually have a higher conversion rate
Write bottom-of-the-funnel content that facilities sales
Use high-quality content to ensure that visitors stay longer with your content
Provide clear and actionable prompts that encourage the reader to take the next step toward a sale
#4 – Content that delivers relevant information
Our professional writers and editors, based in the USA, create content that conveys subject matter expertise, delivers information your readers seek and generates sales.
#5 – Personalization
We look for what makes your company unique. Often it's the teams involved in creating your product or service. We weave in stories from your day-to-day work to amplify your distinctive voice and highlight the uniqueness of your staff, brand and approach to business.
Whether it's a case study, testimonials or stories about how a staff member has helped to improve your product or service, putting a face on your business makes your brand relatable and memorable and can bring you more business and loyalty.
Concurate promises and delivers
As a B2B SaaS boutique content marketing agency, Concurate promises and delivers services that ensure the growth of your business.
Concurate's mission is to attract traffic that has high buying intent for your B2B SaaS product or service.
And our clients are noticing.
We believe in bringing in business, not just traffic. We do this by writing well-researched content, presented in an engaging manner with actionable takeaways that move the reader toward a sale.
And because we're a small boutique agency, we can keep our prices fair and within most budgets.
Find out how we can increase your revenue by attracting conversions and sales.
Schedule a free discovery call to explore the ways Concurate can help your business grow through strategic content marketing.
If you wish to read more goodness, subscribe to our newsletter.
We send value to your inbox only once in 15 days.