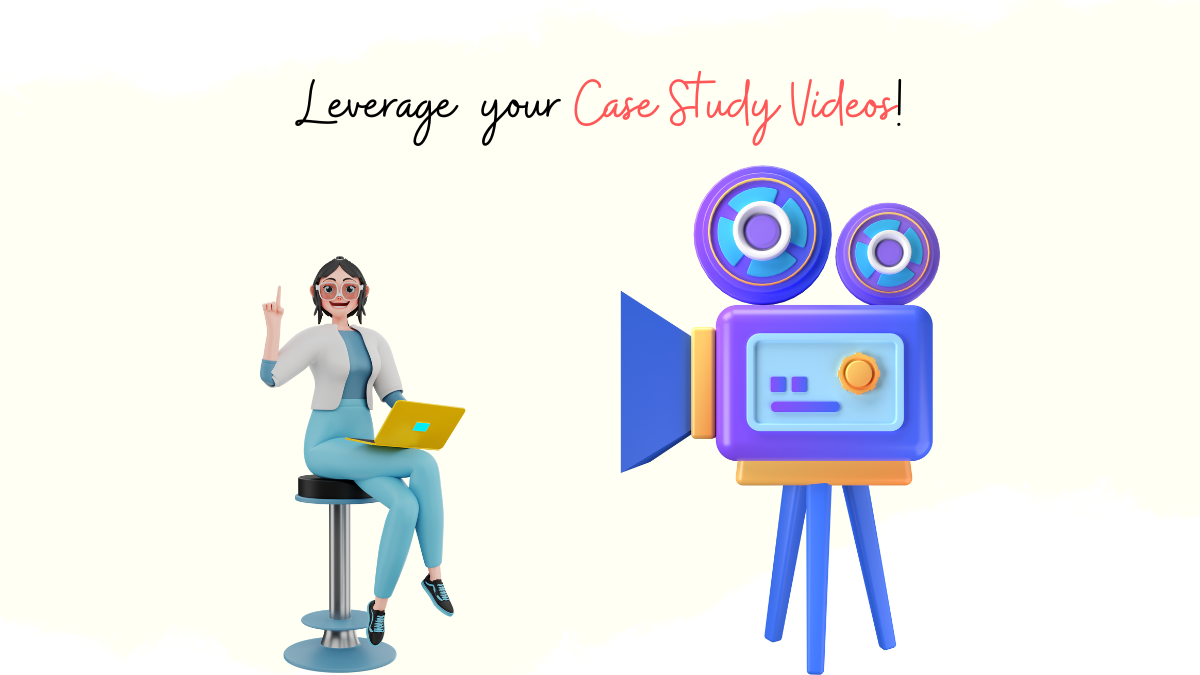 The play button is the most compelling call-to-action on the web.

Michael Litt
Your SaaS business might be sleeping on an underrated approach to showcase notable success stories – case study videos. This claim is well-founded too!
A joint survey report by Vidyard and Content Marketing Institute, released in the fall of 2021, revealed that an overwhelming majority of content marketers believe that video has become more important to their organizations.
51% of the respondents shared that they use video to present case studies or customer stories. Moreover, 48% of respondents believed these videos produced the best content marketing results in the previous 12 months.
Moreover, according to G2, 84% of marketers say video marketing improves lead generation. On the other side of the counter, 94% of users say that videos help them make purchase decisions.
Underutilization of Case Study Videos
However, many SaaS businesses need to pay more attention to the power of case study videos.
Why do we say so? While conducting extensive research for this content piece, we combed through dozens of SaaS websites and noticed fewer case study videos than traditional text-based ones tangibly.
Moreover, we have yet to find SaaS businesses habitually embedding such videos to supplement their blog-style case studies. This golden practice can improve the chances of Google indexing your case study video and encourage visitors to stay on your site longer.
Pro tip: If you need 30 standout SaaS growth hacks to attain double the growth for your SaaS business, fill out the form below!
But before you move ahead with a case study video to showcase the value of your work and grow your business, it will be beneficial to understand the building blocks of a case study video.
Elements of a Successful Case Study Video
Seven elements go into making a case study video, which can state having "hit the home run." Let's touch upon them briefly.
#1 – Compelling storytelling
It helps to present your case study video by incorporating storytelling frameworks. One such example is "The Hero's Journey" framework. You can read our article on how this framework can help us decode why the Squid Game is so popular.
#2 – Relatable pain points
Your case study video is more effective if it highlights your ideal customer profile's pain points. For example, a case study on software targeted towards small and medium-sized businesses will resonate more if it showcases related users who discuss their pain points and hurdles.
#3 – Backed with data
A case study video doesn't have to be devoid of numbers! Armed with credible statistics, your clients can mention, as a "matter of fact," the efficiency their business has achieved from your services – man-hours saved, reduced operating costs, and increased revenues.
#4 – Embedded with social proof
A case study video allowing multiple stakeholders to talk about your service adds to social proof. It's contagious!
#5 – Video elements – script, music, visuals
A case study video allows you to add emotion to the storytelling. You have the leeway to add stage-appropriate sound effects and compelling visuals. This is an addition to your primary arsenal, the script.
#6 – SaaS product showcasing
A well-produced case study video also allows you to give your prospects a peek behind the curtains and showcase how your SaaS product looks and works.
#7 – Ideal duration
What is the optimal video length? Take it from the leading SaaS internet video hosting and analytics company, Wistia – 2 minutes is the sweet spot.
10 Best Case Study Video Examples You Can Copy
Now that we have established the vital elements of a case study video, let's learn from some examples from the past twelve months. Additionally, we'll explain why we chose to present the selected video case studies.
#1 – Tableau
#2 – Slack
#3 – Drift
#4 – Canva
#5 – Xero
#6 – Grammarly
#7 – HubSpot
#8 – Salesforce
#9 – Workday
#10 – Dropbox
#1 – Tableau
In the Tableau case study video, viewers can delight themselves by viewing stunning visuals aided by tight-knit storytelling.
The case study highlights why the product is a perfect fit for solving the client's pain point of visualizing constant streams of vast and disparate data. Their client's goal is to deliver a superior customer experience. Viewers can easily understand how the data visualization software helped the client achieve their business goals.
The case study allows employees throughout the hierarchy to share how Tableau makes their work more efficient and productive.
The case study showcases snapshots of the software and provides actionable use cases.
The video wraps up in just over 2 minutes.
#2 – Slack
In the Slack case study video, one can see an authoritative thumbs up from Samsung's Vice President of Framework R&D Group of its mobile communications division.
The case study discusses the pain points of using Slack alternatives like email and messengers. To support these claims, the client talks about the positive effects of adopting Slack, like smoother communication, a stronger organizational culture, and a boost in productivity.
The client inadvertently provides social proof of Slack and its credibility by mentioning it received adoption from a giant like Samsung since many other high-profile businesses vouched for it.
Viewers can also receive a walkthrough of the application and its custom use cases, such as creating topic-specific "channels" and creating bots.
This case study is shy of 5 minutes in length but an engaging and pleasant watch.
#3 – Drift
In the Drift case study video, target users can immediately relate to critical sales metrics that Drift helps to improve.
The customer discusses how Drift helped improve common pain points, such as the "engagement and connection with the customers and prospects" and "help in pipeline acceleration."
Moreover, it provides a use case of Drift to better engage with customers and prospects in a highly personalized way.
To add weight to their claims, the client also shares increased sales figures after implementing the software (>$1 Billion) and improved response time by sales development representatives (<5 minutes).
It is a simple case study video with minimal post-production efforts.
The case study spans just under 3 minutes in length.
#4 – Canva
In the Canva case study video, viewers can immerse themselves in a fast-paced video filled with popping visuals.
The case study brilliantly captures the brand's vibe and target audience.
Wondering how?
It showcases how the software allows small businesses and non-tech-savvy people to follow their dreams and be creative. Viewers also receive a walkthrough of the software to see how intuitive and seamless it can be to use.
The case study is a minute and a half in length.
#5 – Xero
In the Xero case study video, viewers can immediately identify the target audience of "accounting software for small businesses and their advisors."
This light, breezy case study provides context around the client's business and which offerings it is using from the Xero product suite.
The case study carefully mentions common pain points that the software resolves by stating features like "cloud-based," "synchronization," and "user-friendly," which "helps to streamline operations and be efficient."
The case study also gives an example of a typical use case by the client and the efficiencies it achieved (saving more than 200 man-hours per year.)
The case study is just under two minutes in length.
#6 – Grammarly
In the Grammarly case study video, viewers can learn from an appropriate user base, the client's content marketing team, who advocate for its usefulness and efficacy.
The case study offers pleasing visuals and a soothing background score.
The client vouches for the software by allowing different employees to share how they managed to communicate the brand voice and tone in an intended manner.
The case study uses motion graphics to show how the software operates in real time. These visual cues are incorporated in parallel as employees share critical statistics about "style guide suggestions" from Grammarly.
Moreover, to provide concrete social proof, The client calls Grammarly an extension of their team.
The case study is just under three minutes in length.
#7 – HubSpot
In the HubSpot case study video, prospects can learn about the software's capabilities and dependability in a crystal clear manner. The case study seamlessly narrates what prompted the need to adopt HubSpot, its onboarding, and its ensuing benefits.
The case study addresses common pain points faced by the client's sales team – working in silos – to how HubSpot allowed them to "talk to one another" and ensure consolidation and simplification.
The client champions the ease of transition without requiring lengthy delays and hiring expensive outside talent. Moreover, a product walkthrough highlights the different features which have led to better user experience and dramatically driven product adoption.
Giving a confident thumbs up for HubSpot, the client also sheds light on how they aim to integrate HubSpot deeply in the future.
This case study is just over two minutes long.
#8 – Salesforce
In the Salesforce case study video, viewers can enjoy a fast-paced, well-produced case study of two business partners working together towards a common goal.
In addition to giving an overview of the vast scale of operations conducted by Dell, the case study spotlights the Chief Information Office and Chief Data Officer of Dell to lend authority to the case study.
The case study gives statistics on how many Dell employees used Salesforce at the onset of the pandemic—a whopping 150,000.
Employees at different levels of the organizational chart mention important aspects enabled by Salesforce – "structured processes," making the "sales organization more productive," "providing a 360-degree view of the sales cycle," and "offering a single source of truth information at their fingertips."
To add social proof, a senior Dell employee states that she works for "two companies" – since Dell and Salesforce dedicate themselves to achieving a common goal.
This case study is just over two minutes long.
#9 – Workday
The Workday case study video is a noteworthy example of letting each stakeholder present an honest review of using a product or service.
This case study offers a pleasant viewing experience.
It establishes context around the client and the core issue of improving the experiences of students, faculty, and staff – fulfilling their basic "expectations."
The case study gives a product walkthrough and presents a before and after picture. Then, stakeholders establish social proof by describing the software using terms like "integrated, accessible, responsive, and user-friendly."
The case study is three minutes in length.
#10 – Dropbox
Consider the Dropbox case study video as a short film, if you will!
It utilizes beautiful storytelling and high production value to present the "rising from the ashes" effect of the software on a stagnating town.
With the odds heavily stacked against the "protagonist," the case study provides context around the product's adoption and subsequent dependency.
Aided with a product walkthrough, the client presents use cases of how the software helped lay the foundation for their small business and build and catapult it to success.
The case study ends poignantly, showcasing how the client and their local community thrived in trying times because of Dropbox.
The software helped them become "anti-fragile."
This case study is just over four minutes long.
Parting Thoughts
To round up this piece, here are some important takeaways on publishing case study videos your SaaS business should consider implementing from the get-go:
Establish from the outset how to implement the seven successful elements in your case study video
Build relatability by shedding the spotlight on your ideal customer profile and presenting credible statistics of your SaaS product solving their common pain points
Demonstrate how your product works using walkthroughs
Bring out your creativity! Don't underestimate the power of catchy visuals, sound effects, and tight-knit storytelling to drive home your point
Side note: Are you just getting started with making case studies? Consider reading our piece on 8 B2B SaaS case study best practices to get more leads and customers!
About Us
We are a content marketing agency that brings business, not just website traffic. We curate well-researched and engaging content as per your company's requirements and philosophy because we believe in the power of meaningful information.
Does your B2B (SaaS) business want a case study prepared to get more leads and users? Let's connect over a short call. Block our calendar today!
If you wish to read more goodness, subscribe to our newsletter.
We send value to your inbox only once in 15 days.