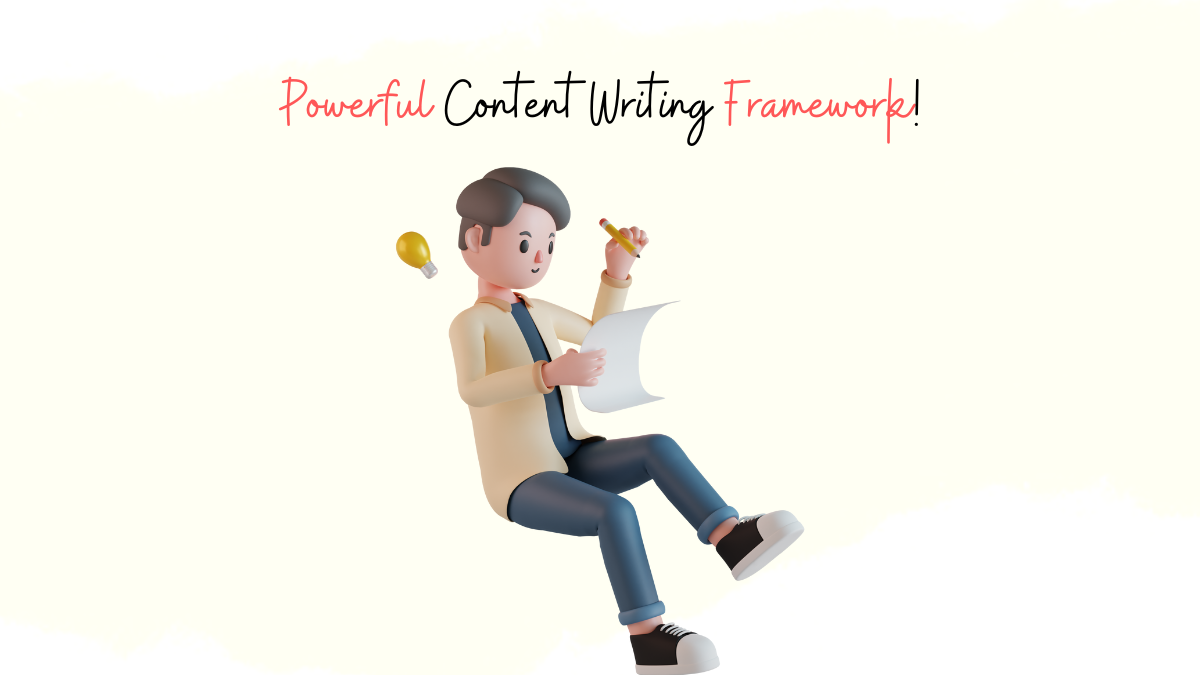 I have a confession to make. Being a tech geek and a big Apple fan, I cannot bring myself to stop visiting Apple's web pages and see what is on offer.
Yet there is a side to me that clearly knows I'm a gullible fan, so I try to deconstruct what tactics Apple uses to make their content so convincing.
With the iPhone season right around the corner, the other day, I closely inspected the previous iteration's sales copy to understand what made it so compelling. Believe it or not, there is a science (read framework) behind Apple's content. And no, it isn't a shiny new framework but something that has been around for decades!
You can also utilise this framework to write compelling blog pieces. Let's learn how.
Why Do You Hit Publish?
This is a timely reminder to stop, evaluate, and reiterate your approach to creating content for your prospects. A vital outcome (perhaps most important) of content writing is to bring yourself in front of the right audience at the right time by publishing valuable content. Something is amiss if your existing content cannot meet this benchmark for your business.
To achieve this coveted visibility on search engine result pages, start giving readers actionable information they can utilise. Your content must be valuable, authoritative, and signal expertise because quality content helps readers solve their pressing problems.
You might well think if there is a solution to help you achieve just this very objective. But unfortunately, one of the mistakes almost all content writers make is not following a framework to create a workflow to create content in a timely and effective manner on just about any topic for their blog posts.
Why Follow A Framework?
Frameworks are fairly easy to remember and implement. They can also help new and experienced content writers alike to quickly produce compelling articles.
With a content creation framework, you can rest assured that your relevant content will resonate with your target audience. So if you fix this one mistake, you stand a chance to create a lot of great content without spending a great deal of effort. Primarily, having the right system won't let you go wrong.
AIDA Framework
If you observe closely, established writers have familiar patterns that they deploy to hook readers to their content, like blogs. They use a framework that is an industry standard for sales. The framework is AIDA – attention, interest, desire, action. It treats each piece of content like a sales funnel.
This funnel takes the prospect from discovering your product to becoming a paying customer. These are four sequential steps a consumer takes to purchase a product: First, they become aware of the product and develop an interest in its benefits. Next, they cultivate a desire for it, and finally, they take action to buy it.
Your writing aims to push the reader from one stage of the funnel to the next until they eventually convert at the end of your content. Therefore, writers should use this content writing framework for content that aims to get the reader to take the desired action.
Here is how Apple has deployed the AIDA framework for its sales copy:
Let's focus on how to utilise this framework for writing blog content. We'll take cues from articles that Concurate has published previously for better understanding.
Pro tip: If you need 30 standout SaaS growth hacks to attain double the growth for your SaaS business, fill out the form below!
Content Brief
Before we go any further, a word of advice.
You can string together your blog piece with a framework or two, but if it lacks an underlying structure, you're doing yourself a disservice. Before attempting to pen your piece, preparing the article's blueprint is critical – the content brief. Amongst other things, such as reviewing and editing, it will help you:
Understand the ideal audience for your content piece in fine detail.
What is your ideal audience's current outlook on a problem or approach to getting work done?
What solution is this piece offering to their existing problem?
You can read this article by Concurate on creating a dependable content brief.
AIDA Framework for Content Writing
#1 – Attention
The first step of the sales funnel is where you hook the readers to read your content in its entirety. You can hook the readers by using several elements depending on the topic you're addressing.
Problem Statement
Why are you writing the specific piece of content? What inspired you to publish it? For example, in a blog article for Concurate, we initiated the piece with a standout observation from our client interactions – a common pain point that Concurate has expertise in resolving.
Source: Concurate
Questions
Address your target audience's burning question(s). This step requires you to have a thorough understanding of your target reader. For example, in a blog article for Concurate, we began the piece with an empathetic question. We enquired whether the reader is experiencing a common issue that crops up with content marketing efforts.
Source: Concurate
Statistics
The numbers don't lie! You can consider utilising statistics in the title or the introduction. For example, in a blog article for Concurate, we mentioned credible statistics that went into the article's publication. This introduction signaled that readers stood to gain from research-backed insights.
Source: Concurate
Studies
Citing robust studies from authoritative sources adds value to your content piece. They also act as a dependable hook! For example, in a blog article for Concurate, we cited a comprehensive study from a reputable organisation that set the tone for a valuable content piece.
Source: Concurate
#2 – Interest
If your content is irrelevant, superficial, and not valuable, you risk having your visitors "bounce" from your website. This action will be a negative indicator to search engines and signal that your content is not valuable for visitors. So how do you keep visitors interested throughout the article?
You can do that by targeting the pain points of your readers. For example, you can follow these steps:
First, you need to address the search intentions of your audience to keep them engaged. To achieve this, ensure that you explain the negative consequences of not addressing the broader issue. Next, you can utilise credible information and provide as much proof as possible to cement your stance.
Second, you can offer solutions that address their problems.
Here are some ways to keep your audience interested:
Examples
Providing your target audience with testimonials or tangible examples of solutions to a problem adds substantial weight to your words. For example, in a blog article for Concurate, we shared numerous examples of client success stories across different facets to provide transparency and credibility.
Source: Concurate
Case Studies
By presenting a case study, you allow your audience to gather context around the business problem and what were the successes and failures along the way. For example, in a blog article for Concurate, we referenced our published client case study to give actionable insights on how we approached a business problem.
Source: Concurate
Research and Statistics
In addition to statistics on evolving business and industry trends, share studies on business problems from authoritative sources to keep your audience engaged. For example, in a blog article for Concurate, we shared the results from a reputed case study to support our claims of approaching a business problem.
Source: Concurate
Need
Target the search intent of your readers. What is it that they are curious to know? Share that with them. For example, in a blog article for Concurate, after allowing the readers to digest the introduction, we brought to the fore what the content piece set out to achieve.
Source: Concurate
#3 – Desire
You'll have successfully resolved your readers' initial search query by reaching this article stage. But don't miss the memo, and forget to entice readers to try out your solution!
You can elevate your content by including your personal experiences of tackling a business problem. Pepper your content piece with personal instances, along with external links to case studies, surveys, and statistics, as explained earlier.
It is beneficial to make your content interactive. Dry and dull content will make your ideal readers drop off, making it a lose-lose proposition for everyone involved.
You can think of leveraging the following:
Statistics on how your content marketing efforts helped clients.
Testimonials of happy clients to showcase why you're the best service provider.
For example, in this blog article by ScanWriter, you can observe the excerpts from a client interaction that provide social proof and nudge target readers to try the product.
Source: ScanWriter
Now that you have successfully retained your readers and pitched your product, it's time to wrap things up.
#4 – Action
You're creating a piece of content for a specific reason. So let the reader know what that reason is! Be explicit about what action you want them to take.
You can utilise one of the following approaches:
Key Takeaways
A vast majority of the readers tend to skim through the webpage. If you'd like to retain their attention, add a short section on the action steps from your content piece.
Call-to-action
A Call-to-action (CTA) is a great way to generate leads for your business. If you'd like your readers to subscribe to a mailing list, get free resources, and more, then make sure to add relevant CTAs to your content piece.
Related Post
Additionally, you can guide your website visitors to relevant internal links they might find helpful on a subject matter.
Messaging
Messaging doesn't just help writers to write the blog piece and pitch the brand's solution in an intended manner. It also gives readers a sneak peek into the thought process of your organisation. For example, at Concurate, we attempt to create content that brings business, not just traffic. We do this by adding relatable stories which maximise conversions.
Source: Concurate
Closing Thoughts
The absence of robust frameworks such as AIDA can make your content directionless. From capturing your target audience and making them stay using credible content to enticing readers to take concrete actions – the AIDA framework has got you covered!
About Us
We are a content marketing agency that brings business, not just website traffic. We curate the best content as per your company's requirements and philosophy because we believe in the power of meaningful information.
If your organisation wants its content marketing strategy designed by Concurate, let's connect over a short call. Block our calendar today!
If you wish to read more goodness, subscribe to our newsletter.
We send value to your inbox only once in 15 days.