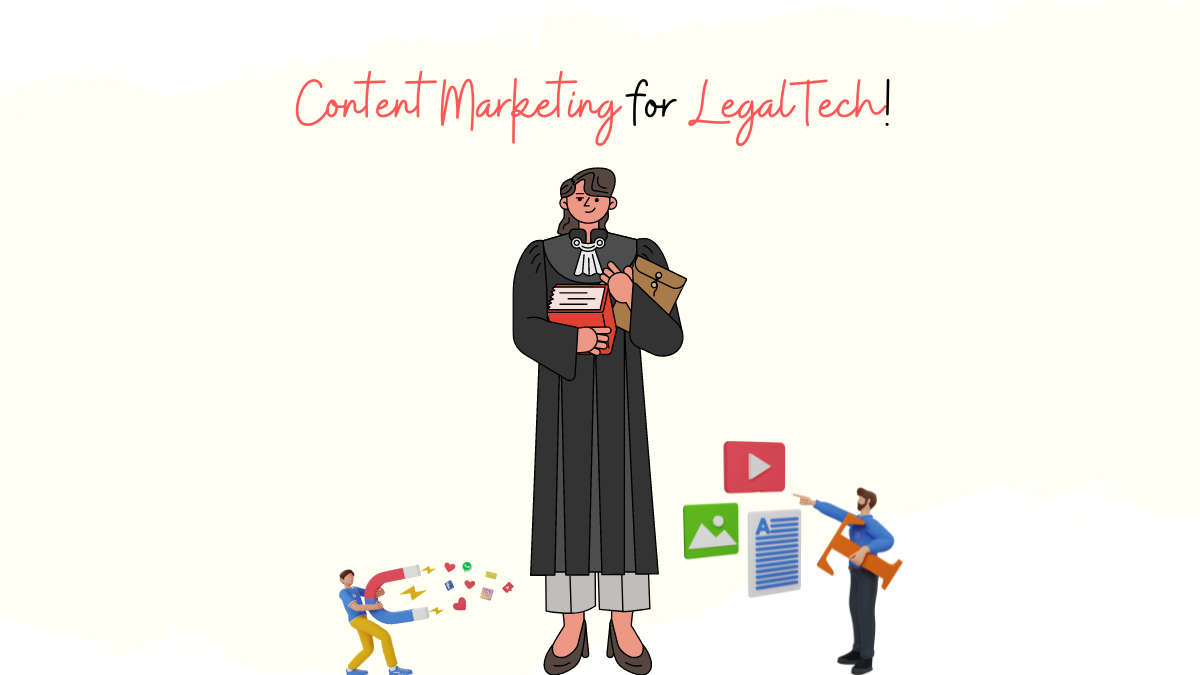 Are you facing a dilemma with no leads, conversions, and minimal return on investment? Look no further if you're still searching for a content marketing agency for your LegalTech organisation that says, "This is how you'll grow if you hire us."
Concurate Works Differently | Our Strategy
In-depth Research
#1 – Understanding Your Company's Products and Services
The team at Concurate aims to get a holistic understanding of your LegalTech organisation at the start of the engagement. We learn about your customers' top priorities at work and understand the challenges that come their way. For instance, are they looking to safeguard their prized intellectual property? Additionally, we attempt to discover the use case for your product/service.
#2 – Evaluating Competitors and Current Performance
As the next step in our research, we learn what customers are attempting to find in your industry. From our previous example, are they trying to discover and access standard legal templates or looking to troubleshoot litigations that arise? Our priority is to find and understand the standout feature or benefit that prospects want. The team also learns about the competitive landscape. What are the competing products and organisations operating in the space? Finally, the team audits your current content marketing strategy, understands what's working and isn't, and charts the way forward.
#3 – Understanding Your Customer's Goals and Pain Points
Concurate works to get an understanding of your ideal customer profile. Are you looking to serve individuals, startups, or enterprises? What job profile will you benefit from using your product? Through our research and interviews, we find the top benefits customers get from using your services. We also attempt to find out the core problem customers were trying to resolve when they came across your LegalTech product or service.
#4 – Finding Out Why Your Visitors Aren't Converting
In our interviews with outbound marketing teams like customer success and sales, it is our earnest attempt to find the tell-tale situations or scenarios that jump out and signal whether the lead will close (or will never close). Along the way, we aim to know and understand which products or services come up in sales conversations and if there are any specific ones that prospects often switch from.
Produce Highly Researched Company-Specific Content
Concurate's content marketing strategy follows the Pain Point SEO philosophy, aiming to target long-tail keywords on search engines, having comparatively low search volume but high buying intent. The benefits of this approach are that it resonates with knowledgeable customers who know what they want and directly addresses their pain points. The result is more sales-qualified leads, signups, and new customers.
Driving Right Fit Traffic through Paid and Organic Channels
Your content marketing efforts do not end with ideation and creation. An important unmissable aspect is distributing and showcasing the content to the right audience on the right platforms. The team at Concurate works to optimise the search engine rankings, distribution of content on social media platforms, and designing and publishing lead magnets on syndication platforms to attract the right audience for your FinTech organisation. Additionally, Concurate helps to land influential executives in your organisation to pen guest posts on premier publications and garner quality citations from reputed sites.
Measuring Results, Generating Insights and Reporting on Results
It's vital to gather data, derive insights and attribute results to specific efforts. At Concurate, we pride ourselves on providing transparent reports on how our content marketing efforts result in increased traffic, website engagement, an increase in the number of leads, signups achieved and customers onboarded.
Our Approach
Concurate follows the approach of Attract, Retain, Capture and Convert while ideation and creating content pieces. This approach dictates how the content gets promoted through different channels. This example comes from our client, Triangle IP. The TIP Tool by Triangle IP is an intuitive drag and drop tool that helps you manage the end-to-end IP lifecycle from ideas to patents. The vision behind TIP Tool's creation is the democratisation of patents. Usually, the patent process is not transparent, and many organisations do not have enterprise-wide innovation capture systems and processes. The TIP tool is here to change that.
Content Ideation
Designing a lead magnet as a downloadable resource. Inspired from a common pain point in the Intellectual Property (IP) industry.
Content Creation
We created the downloadable resource in the form of a template. In this case, an Invention Disclosure Form (IDF). In addition, we embedded the Invention Disclosure Form in an accompanying article.
#1 – Attract
This is the reason why people ended up on your website. Since your content piece promised to deliver upon something they were searching for.
Source: Google
#2 – Retain
You don't want the website visitors to bounce back just after reading one article on your website.
Things that can help retain the visitor to your website are – helpful articles in the same category, templates, product tours, use cases, guides and more. In addition, we need to make sure that it's super intuitive for the visitors to navigate different website sections.
Moreover, understanding website visitors' behaviour through some analytics tool like Google Analytics can give great pointers. For example, the tool tells where the visitors enter your website, which pages they browse, where they exit and more.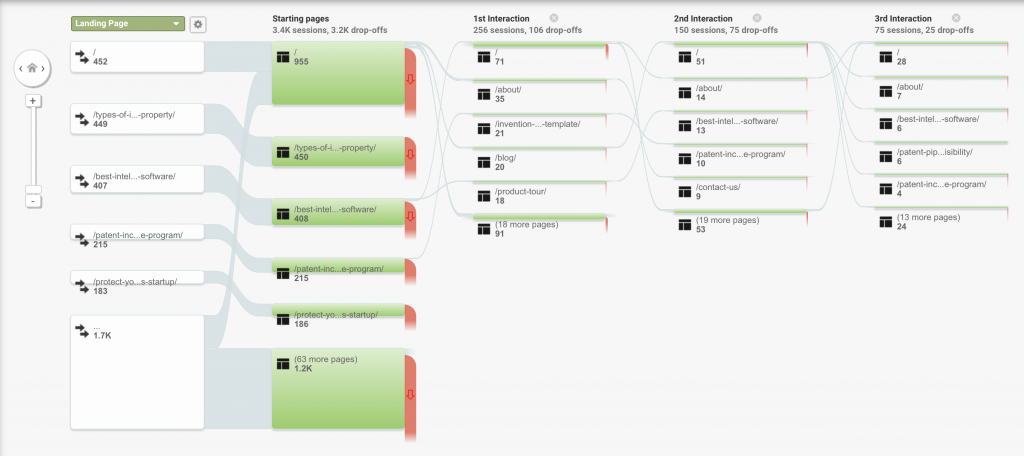 Representative Google Analytics Dashboard
#3 – Capture
Next up, we attempt to capture the highly relevant and qualified contact information of prospective customers for our client.
Source: Triangle IP
#4 – Convert
Finally, we attempt to give a walkthrough of the product and schedule live or virtual product demonstrations to help our client clinch more deals.
Source: Triangle IP
Content Promotion
Let's look at how this valuable content got promoted to the right audience.
#1 – Search Engine Optimisation
Searching for "invention disclosure form sample download" gives you Triangle IP as the first search result. How about that? If your content signals expertise, authority and trustworthiness, you can organically reach the right audience without paying in the form of an arm or a leg.
#2 – Social Media
Next, we published the content on platforms such as LinkedIn to ensure that the content piece reached the right audience.
Source: LinkedIn
#3 – Content Republishing
It's also vital to cross-post content on platforms where your target audience resides or learns about industry information.
Source: The Future Shapers
#4 – Guest Posts
We ensure that our clients appear on industry-relevant podcasts and blogs for interviews and allied activities.
Source: Idea Mensch
Pro tip: If you need 30 standout SaaS growth hacks to attain double the growth for your SaaS business, fill out the form below!
LegalTech Case Studies: How Concurate Converted Clients For Triangle IP and IP Toolworks
Content Ideation
The Principles
#1 – Being More Strategic In What Keywords We Target
As explained previously, Concurate focuses on Pain Point SEO instead of Volume Driven SEO. In such a case, we went after keywords such as "download [use case] sample" and so on. The psychological intent behind these search queries is precise, with a clear buying intention.
#2 – Creating Conversion-focused Content For Each Keyword Targeted
The consequence of this approach is that the content pieces become easier to write. As a result, it resonates more with the target audience and is easier to promote. The articles also rank higher for long-tail search phrases.
Source: Google
Understanding Customers' Intentions and Pain Points
#1 – What Challenges Are Customers Trying to Solve?
The focus over here is to probe and discover the anxieties, difficulties, wants, and aspirations of target consumers.
#2 – What Challenges Do The Customers Have Before Buying?
Knowing the specific challenges that, say, individual inventors face in the case of Triangle IP, helps Concurate conduct keyword research. This activity comes after determining the target consumers' main pain points and goals.
#3 – Why Did Customers Choose Our Client Over Other Alternatives?
With this step, Concurate attempts to understand the significant benefits of opting for our clients compared to competitors and other free alternatives that prospects may be employing.
#4 – Develop Customer Persona
Finally, Concurate attempts to create an ideal client avatar (individual inventor, patent attorney, etc.) that captures the client team's shared thoughts and drives future marketing endeavours.
Creating a target persona aims to narrow down the best customers. So who are your "best" customers? Typically, your "best customers" offer quick sales cycles, high average deal size, long retention rate, and minimal support headaches.
Content Creation
#1 – Scalable
At Concurate, we attempt to create scalable content. Scalability means that after expending initial efforts to develop scripts and templates, we publish content that enhances our clients' expertise, authority and trustworthiness. For example, we created multiple "patent portfolio statistics" content pieces for our client, Triangle IP.
Source: Triangle IP
#2 – Alternatives/Comparisons/Case Studies
It helps to offer prospects information on how your tool operates along multiple criteria against competing products and services. Additionally, as part of our "Retain" approach to content creation, we publish educational case studies such as this one for our client, IP Toolworks.
Source: IP Toolworks
#3 – Buying Intent Focused
The intention to target buying-intent-focused keywords is that we're attempting to attract, capture and convert savvy and educated consumers who know the exact problem they're looking to solve. So, for example, we created multiple pieces of content around "type 101 rejections" for our client IP Toolworks. Significantly, our article ranks at the top of Google search results.
Source: Google
Content Promotion
Here are some more examples of how we have successfully promoted relevant content for our clients
#1 – Search Engine Optimisation
If a user enters the search query "top [tool] alternatives", they're more likely to have a buying intent and a clear understanding of what works and doesn't work for their business use case.
Our content piece titled "Top 5 IdeaScale Alternatives You Must Know in 2022" successfully ranks our client at the top of Google search results.
Source: Google
#2 – Social Media
Creating "scalable" content, as we mentioned earlier, makes for easy publishing on social media channels as well. We publish on platforms like LinkedIn, where our client's target audience spends their time.
Source: LinkedIn
What You Should Do Now
We are a content marketing agency that brings business, not just website traffic. We curate the best content as per your company's requirements and philosophy because we believe in the power of meaningful information.
Let's turn your content into customers and take your LegalTech blog to the next level. Let's connect over a short call if you're ready to outshine your competition. Block our calendar today! We'd be happy to help you develop a content marketing strategy for your business.
If you wish to read more goodness, subscribe to our newsletter.
We send value to your inbox only once in 15 days.