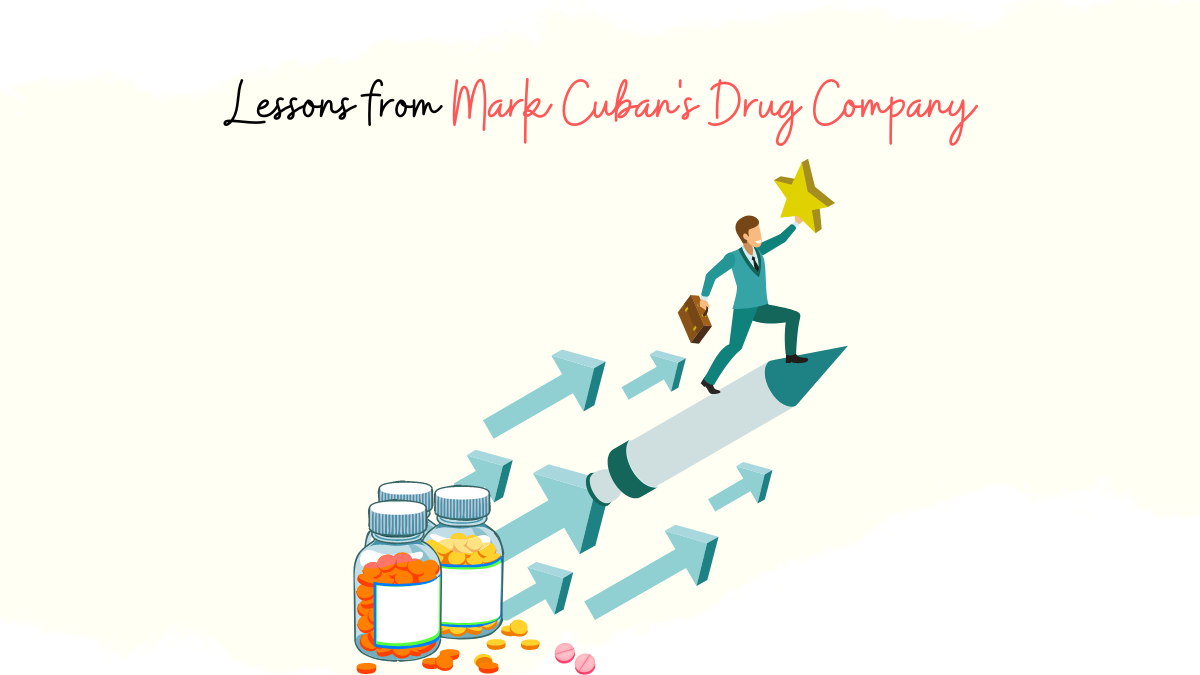 This is a perfect example of a business being a force of good.
We all have our social media platform of choice to receive updates on the latest happenings around the world. Mine is Reddit. A few days ago, while I was browsing Reddit's homepage, I came across this post in which resident shark and famous billionaire, Mark Cuban, shared how his new prescription drug company, the Mark Cuban Cost Plus Drug Company works.
A thirty-count supply of the asthma medication Montelukast, sold under the brand name Singulair, retails for around $169. The Cost Plus price is $6. A thirty-count supply of blood pressure medication Losartan, sold under the brand name Cozaar, averages around $40. The Cost Plus price is $4.50. These are a few of the astounding price differences customers can find from this pharmacy.
Mark Cuban's new company is trying to combat pressing public health issues that plague the United States of America in today's times. The business model is simple and may sound too good to be true. The company charges a 15% markup, a $3 handling fee, and $5 shipping. That's it!
I was intrigued and blown away at the idea of one man from outside the system aiming to turn an opaque industry upside down. So then I did something which has become a default behaviour amongst American people, and I spread the word to my colleagues without expecting anything in return.
But my curiosity got the better, and I decided to dig deeper and seek to understand how this 8-month-old company is working to upend existing business practices; how it is aiming to sell expensive prescription drugs for pennies on the dollar to millions of everyday Americans. In this article, I will share six marketing lessons that we can learn from Mark Cuban's drug company.
Pro tip: If you need 30 standout SaaS growth hacks to attain double the growth for your SaaS business, fill out the form below!
6 Marketing Lessons from the Mark Cuban Cost Plus Drug Company
#1 – Leveraging Virality
#2 – Utilising the Power of Community
#3 – Building Your Personal Brand
#4 – Spreading Customer Success Stories
#5 – Reaching the Right Target Audience
#6 – Conducting Speaking Engagements
#1 – Leveraging Virality
An intuitive yet unmissable ingredient to making your product or company go viral is to bring to reality a stellar product in its own right. So, for example, I observed that in the case of the Mark Cuban Cost Plus Drug Company, regular folks can now purchase life-saving drugs without having to pay exorbitant prices because of huge markups and intermediaries, which is revolutionary.
Creating this business model has allowed the company to channel funds to growing an ever-expanding list of medications and work on distributorship and let the word spread organically.
#2 – Utilising the Power of Community
Mark Cuban's Twitter account boasts a following of nearly 9 million followers. This following means that every communication carries a lot of weight and has the potential to cause big ripples on social media. Consider this tweet from about eight weeks ago:
The tweet has garnered more than 95,000 retweets and more than 240,000 likes on Twitter!
Moreover, Mark Cuban doesn't need to give strong incentives to increase his tweet's visibility. Users who'd like to add to their good karma and spread the word about the noble cause are more than willing to contribute.
#3 – Building Your Personal Brand
Mark Cuban has cultivated a solid personal brand over the years as a real-life 'maverick' billionaire. He is the famous owner of the NBA franchise, Dallas Mavericks, and an investor in many ventures. He is also a familiar face and a regular cast on ABC's Shark Tank.
But building a personal brand isn't a monumental task that you might make out to be inside your head. You don't have to be a billionaire to have a personal brand. With baby steps, you can also cultivate one for yourself. You can share personal stories of business improvements and successes, conversations with colleagues and mentors, or your unique takes on the world around you.
#4 – Spreading Customer Success Stories
You're likely to find it vital to have your target audience share their success stories and provide much-needed social proof.
When people give your business glowing reviews and spread the word about your company on their own accord, it helps you acquire new leads and potential customers at about zero cost!
#5 – Reaching the Right Target Audience
Another observation I have made is that the Mark Cuban Cost Plus Drug Company has been able to reach the right audience and hook them with just the right words and actions. Although I cannot confirm the exact sponsor of this study, it's an excellent case-in-point signalling the credibility of your business venture.
Moreover, I see reports in radio shows and news programs that word around the company is not spreading unidirectionally. It's not just doctors who are recommending switching to new prescriptions. With customers experiencing cost savings of hundreds of dollars, they're reaching out to their doctors to recommend Cost Plus Drug Company prescriptions.
#6 – Conducting Speaking Engagements
As a founder, it is crucial to get out there and participate in speaking engagements. Mark Cuban, as the company's co-founder and responsible for marketing and strategy, has tuned this aspect just fine. He has represented the company on news shows such as CBS Mornings and joined the CEO Alex Oshmyansky at reputed organisations such as the Mayo Clinic.
You should consider reaching out to your content marketing agency and setting up such opportunities for yourself and your company.
Parting Thoughts
I hope you found these examples actionable to scale your standout and exceptional business venture rapidly.
We are a content marketing agency that brings business, not just website traffic. We believe in creating valuable and meaningful content relevant to your target audience. This content helps your target audience find you instead of you chasing them.
If your organisation wants to explore content marketing to bring you more business, let's connect over a short call. Block our calendar today!
If you wish to read more goodness, subscribe to our newsletter.
We send value to your inbox only once in 15 days.