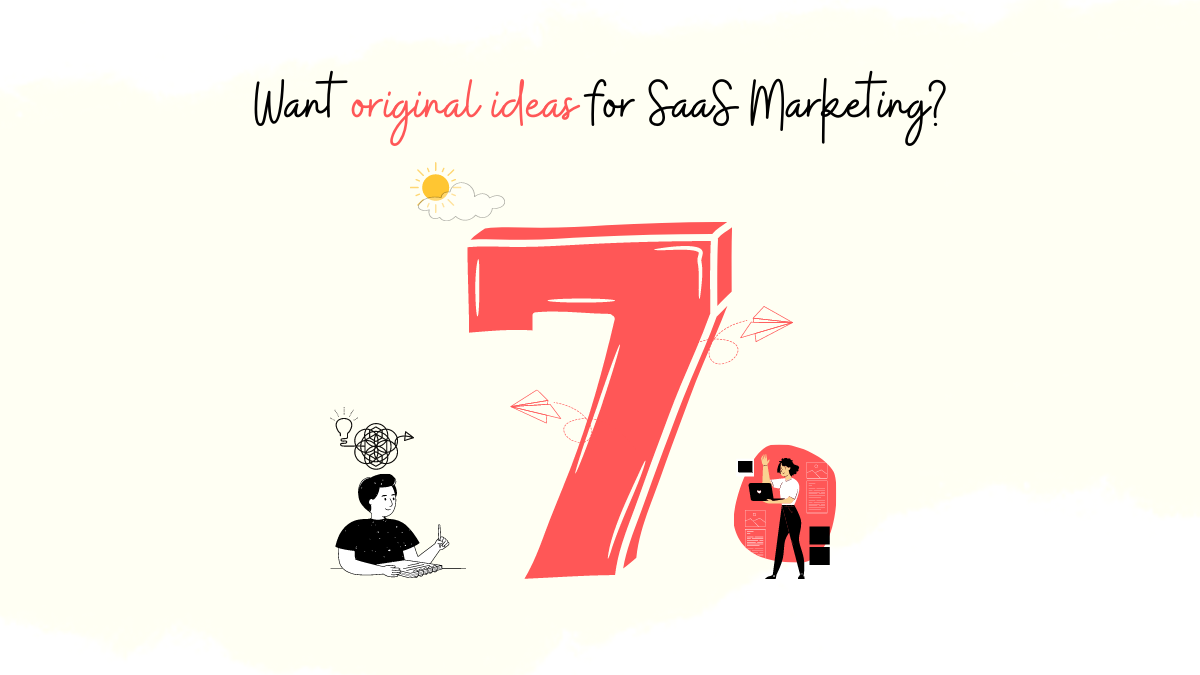 To become original, you have to try something new, which means accepting some measure of risk.

Adam M. Grant, Originals: How Nonconformists Move the World
Being an original is a tough act. So what are you going to create today? The easier path is to reiterate the tried and tested formats. But that's a me-too approach and doesn't help you stand apart on the playing field.
If you're stuck at a dead-end, struggling to come up with the right piece of content that will draw in your target audience, and keep them hooked courtesy of its inherent value, this article is for you.
There is no one size fits all approach to being an original. Content comes in different forms. Read on to find seven approaches to creating original and engaging content for your SaaS business. In addition, you will find a how-to of the methods and actionable examples in existing SaaS businesses.
The Originals
Survey
Data Storytelling and Data Studies
"Invented" Concepts
Personal Storytelling
Contrarian Content
Network-based Content
Trends and Events
Pro tip: If you need 30 standout SaaS growth hacks to attain double the growth for your SaaS business, fill out the form below!
#1 – Survey
About
In this type of content, you present a status report of how complex problems are tackled in your industry or by businesses utilising your service. It allows you to cast a light on prevalent trends, outlook, and how your business provides solutions. Your organisation achieves this by requesting specific insights through surveys.
Example
Canva
Popular graphic design firm Canva released a survey's results. It showcased how different non-profits utilised Canva's design tools to prepare their data reports. In addition, it allowed Canva to showcase that by utilising its tools, an organisation can present data-heavy content in an accessible, user-friendly, and engaging manner.
Loom
Loom is an essential tool for hybrid workplaces. It allows you to quickly create videos of your screen and camera, instantly ready to share and watch. Loom commissioned a survey of 500 software professionals on productivity in the modern workplace and prepared a report which compiled an analysis of the survey results. This also acted as a great lead magnet!
#2 – Data Storytelling and Data Studies
About
In this type of content, your content creation will follow a storytelling approach of analyses that your business conducted across multiple factors. There will be a hypothesis about a way of doing things, an investigation, and a walkthrough of the results found.
Example
Concurate
Concurate is a boutique content marketing agency helping medium-size SaaS businesses. As part of our work, we try to understand the best practices being followed by different SaaS businesses worldwide. Whether it be Grammarly, Drift, or Shopify – we work on distilling their content marketing strategies into medium form content and explain it to our target audience.
IP Toolworks
You can even follow the approach of IP Toolworks. It aims to tackle the issue of communicating knowledge to attorneys in issuing new patents. Their software enables effective searches of past communications with the patent office.
As part of their content marketing strategy, they have built up a blog section of "Know Your Examiner." Its purpose? "Knowing which arguments worked or didn't work with the examiner handling your case, you can draft an office action response to work in your favour."
Creating a standard template and utilising it with every new case keeps their original content creation cycle running effortlessly. A computer program helps scale up content creation with this approach enormously.
#3 – "Invented" Concepts
About
This type of content is all about coining new terms in your field or industry and starting a conversation around a different approach to tackling persistent problems. Coining a new word is a brilliant marketing strategy and helps you stand out from the crowd.
Example
Drift
Drift is an online chatbot service created with the mindset that customers want to have a conversation and not just be at the other end of a sales pitch. So they coined the term "conversational marketing," which helped the brand scale new heights.
Simple and relatable as it was, "Drift popularised the term conversational marketing by pushing it through content and conversation. With time, the customers started using conversational marketing as a term. It popped up as a common phrase in the marketing sector." We noted this in a previous article – Drift Marketing Strategy.
#4 – Personal Storytelling
About
In this type of content, you guide your target audience by illustrating what worked (and didn't work) out for you while tackling specific business situations. It gives them a deeper understanding of the situation and a first-person perspective.
Example
Triangle IP
Triangle IP's TIP ToolTM democratises patent mining in a transparent way for all stakeholders. It is an intuitive and engaging platform that frees enterprises from the headache of complex IP management. The TIP ToolTM features a drag and drop interface to manage patent mining.
Concurate brainstormed and designed a lead magnet for Triangle IP and presented the results in a blog post. From a content marketer's perspective, this provided rich insights on how to approach a similar problem for their SaaS business.
#5 – Contrarian Content
About
In this type of content, your organisation publishes content that challenges the status quo and instead shows an alternative view to tackle industry challenges.
Example
Basecamp
Basecamp is a renowned project management tool. Interestingly, Basecamp's team is spread out across 43 cities in 10 countries worldwide! They have upended the "standard way" of conducting business for over 2 decades. Their approach to work and hiring is unconventional. They do not care for pedigree education but on the method of doing work, and it has worked for them marvelously. People always wonder how they're able to pull it off.
Their founders host a podcast, where they talk about alternate approaches to work lives; They have published books talking about how it doesn't have to be crazy at work and reimagining what a workplace even looks like.
You can also publish contrarian content and provide practical insights that people will not find anywhere else.
#6 – Network-based Content
About
In this type of content, you conduct honest conversations with people in your industry and discuss insights and different ways of doing things.
Example
ScanWriter
ScanWriter helps tackle the challenges of modern fraud with cutting-edge technology. It's a powerful fraud investigation software for government auditors and fraud investigators. As marketing partners for ScanWriter, we help them host a podcast called The Future of Fraud Investigation. With each episode, they explore the inspiring and exciting stories behind fraud investigations and how technology is making investigators' lives less complicated. The content is repurposed and distributed across social channels such as LinkedIn.
You can consider hosting prominent industry voices on your content marketing channels and become a leading voice or a change agent.
#7 – Trends and Events
About
In this type of content, your business tries to implement and relate to the latest trends in your industry. It isn't about fads, sensations, and gimmicks but about a long-term association with the new ways of doing things.
Example
Be on the lookout for emerging trends and devour reports by leading research firms like Gartner. Research for actionable insights to incorporate them into your content marketing strategy. For example, can your business incorporate gamification or design by taking cues from Wordle – the latest worldwide sensation? IKEA executed this brilliantly in an instance of moment marketing.
Parting Thoughts
We hope this piece provides you with actionable insights on creating your standout content. Concurate is a content marketing agency that brings business, not just website traffic. We curate the best original content as per your company's requirements. If you need any help with content marketing strategy, book a call here.
If you wish to read more goodness, subscribe to our newsletter.
We send value to your inbox only once in 15 days.