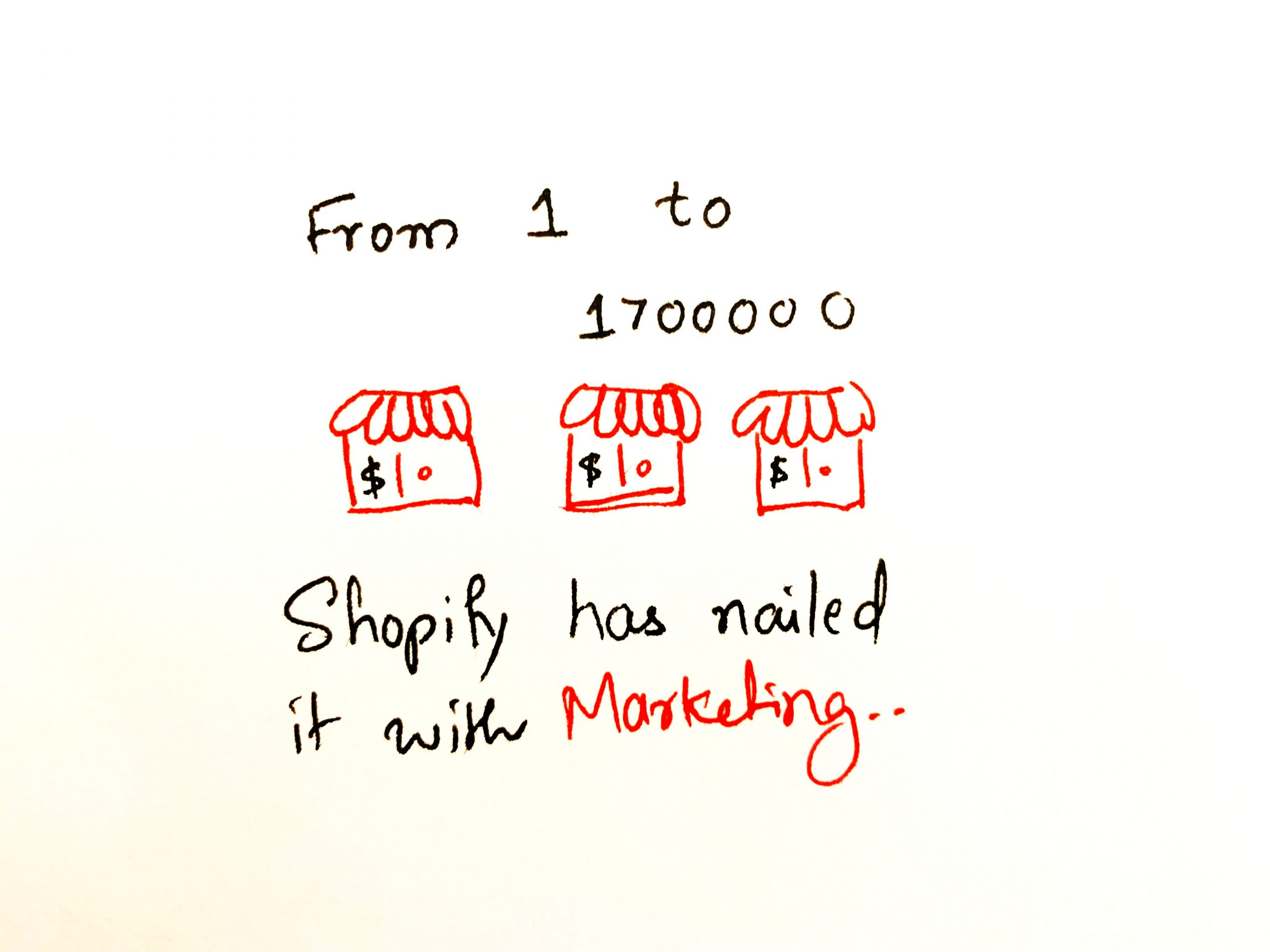 "Empowering Independent Business Owners Everywhere"
How can I Sell Snowboards Online?
Tobias Lütke, aka Tobi, a computer programmer by trade, had a keen interest in skiing. In 2004, he decided to start his online business to sell snowboards under the brand name Snowdevil. Looking at his options, to create an eCommerce store, Tobias wasn't very happy with the options available to him like eBay or Yahoo stores. The available options were neither scalable nor customizable and caused difficulty in integration with other services.
Tobias's expectation of perfect software also comes from a very specific trait he has – "obsession for optimization". (We have heard that as a child he actually calculated the steps for multiple routes to his school to choose the optimum one.) When Tobias's expectations weren't met he took the challenge head-on and plunged in to create the software he needs all by himself. And it's his obsession for optimization, sharp mind, and teaming up with the right people that Shopify has reached where it's today. Shopify
has more than
1,700,000 businesses in approximately 175 countries
using its platform as of today.
Let's take a visual look at Shopify's inspiring story!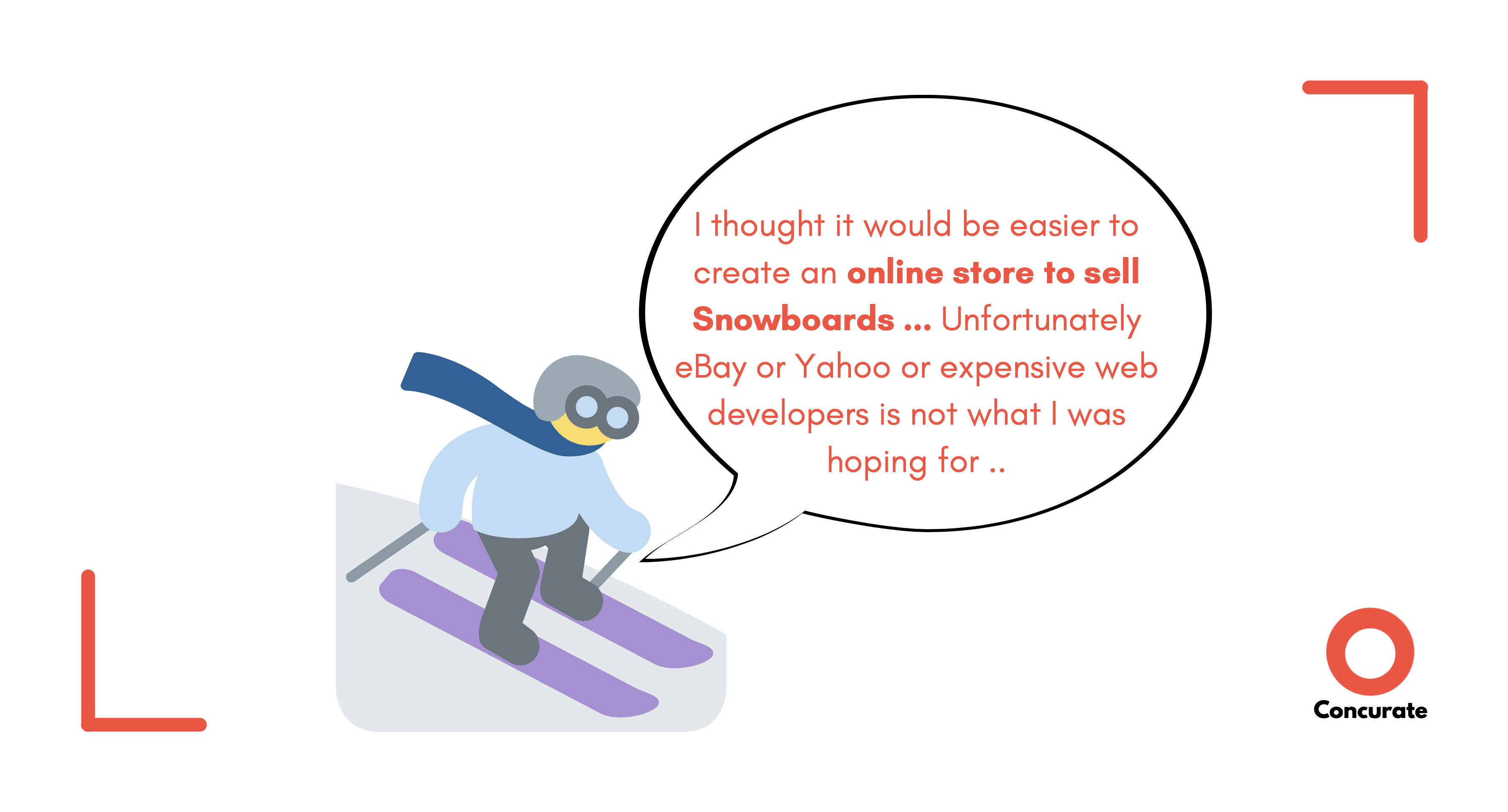 What about Other Business Owners Across the World?
Tobias figured that the market gap is the lack of
customizable online store builders. To have a specially designed store, the one that reflects on the look and feel of the brand, business owners
depended on expensive to hire – web developers. Tobias was used to coding small computer programs since his childhood. Tobias also pursued software engineering as a graduate. He very well knew that a person from a non-technical background could not create an online store as easily as him – a software developer. Due to the shortcomings of the available options and lack of better options, Tobias began building software to launch his online store. He launched his online store,
along with his partners, Daniel Weinand and Scott Lake
.
Shopify
was born to bridge these market gaps in 2006.
Even though Tobias initially had no intention of turning Shopify into a business, it became clear to him that the software can be helpful for other small business owners everywhere
. Since then, there has been no looking back. Shopify has grown into a successful all-in-one e-commerce platform for people to start, run and grow a business
online
.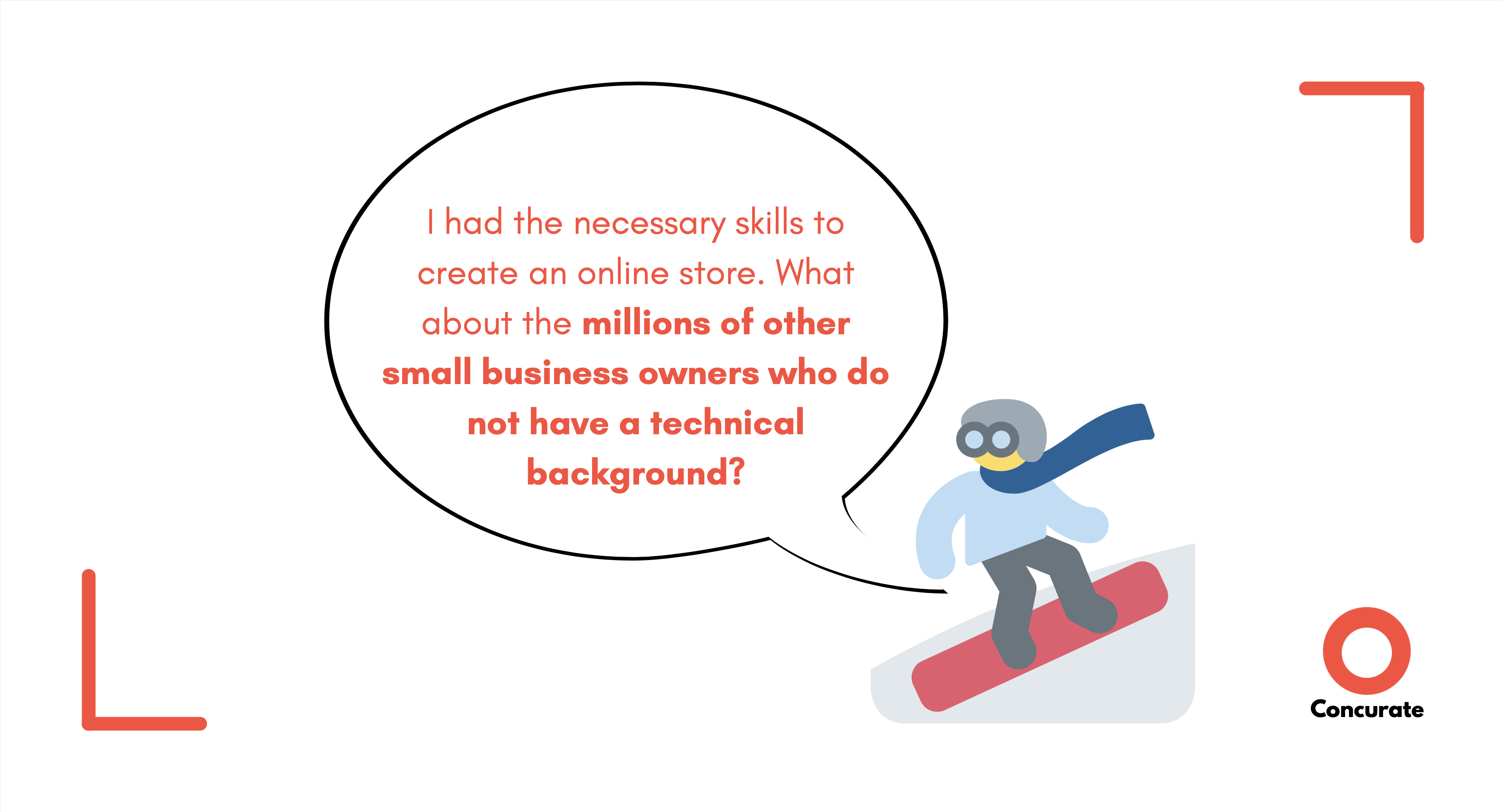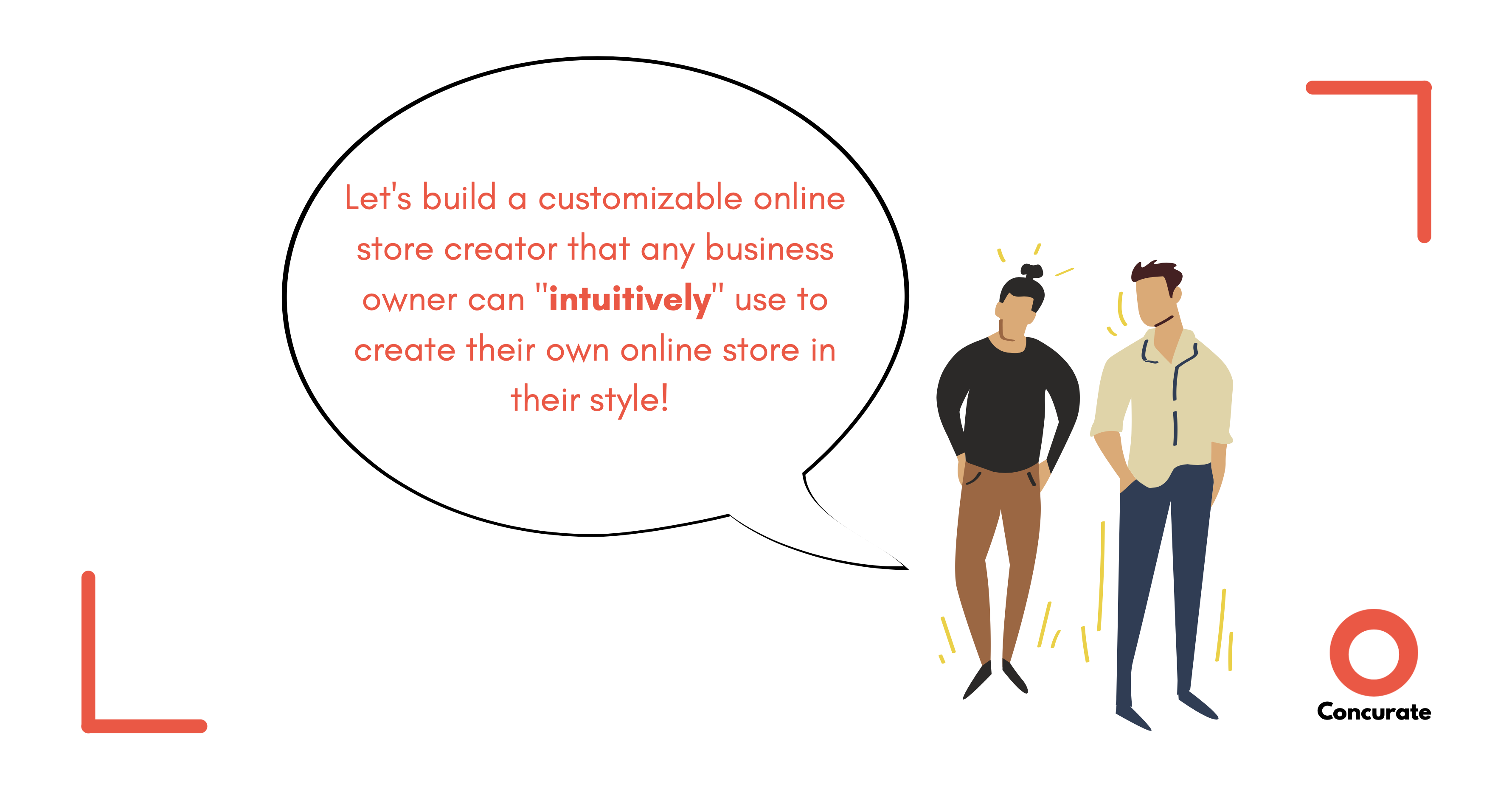 A Rock-Solid Marketing is What Shopify Needs
For a business to be successful many components play a role:
the founder's grit, the people who join his tribe, product-market fit, approach to sales and marketing, brand values
etc. As a content marketing agency, we just studied the marketing aspect of Shopify's business strategy. And we are here to share our research with you.
One thing that gets reflected in every piece of marketing content that Shopify creates is: "Empowerment of Independent Business Owners Everywhere". From their blog where the content focus is to provide help related to online sales and marketing to the free tools to assist business owners for further success. From YouTube videos to an app store flooded with useful applications to assist the business owners.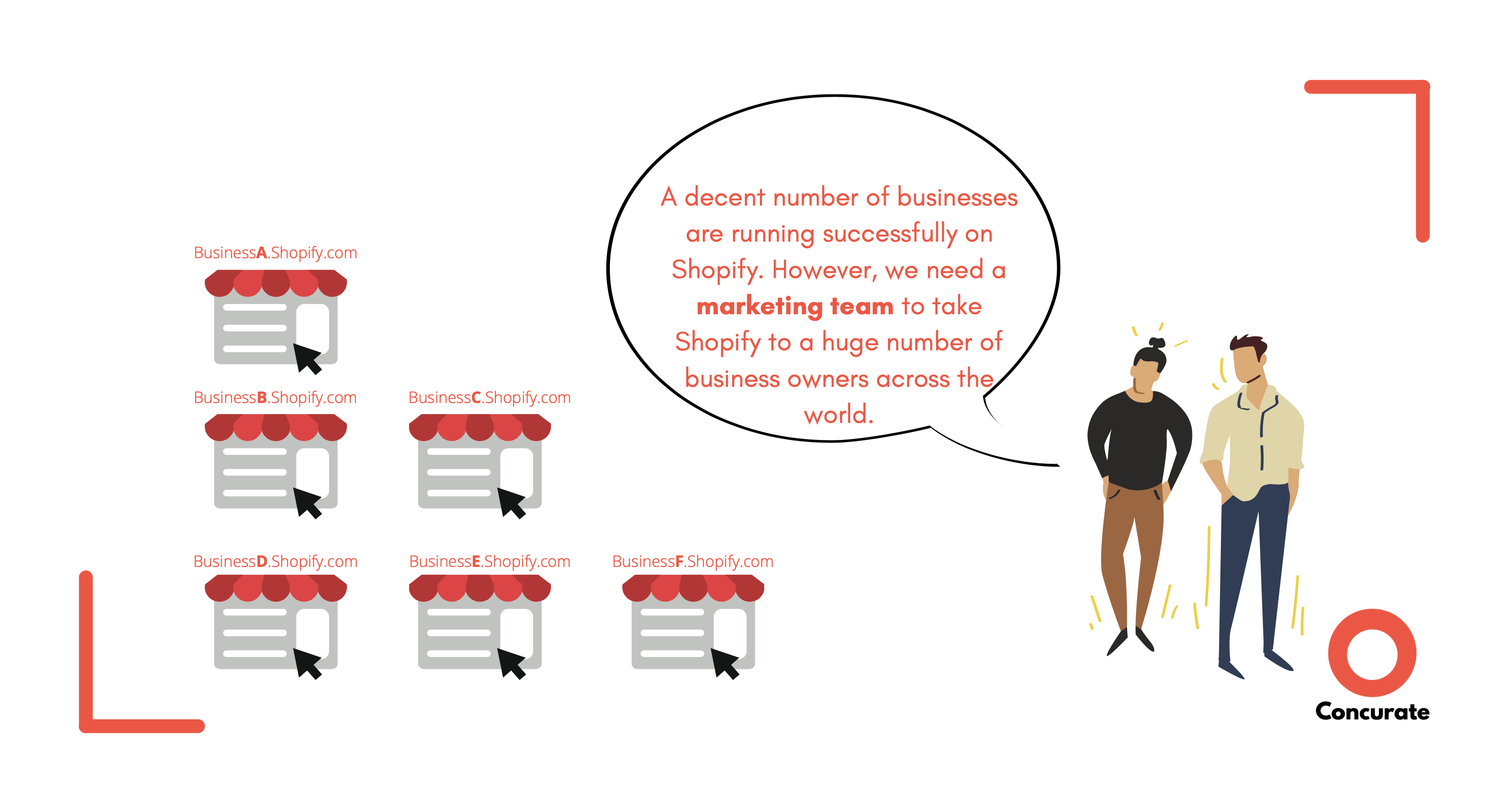 Brilliant Ideas Executed by Shopify's Marketing Team
#1. Organic Search: Google Ads & Blogs
If you google, 'How do I open an online store,' the very first result is a Shopify ad. Even the following two results are of Shopify. For many business-related queries, a google search will give you the links to Shopify blogs, which provide information to empower small business owners. Shopify understands its target persona very well. It has nailed the answer to the pain points of business owners through their blogs and educational content.
Shopify has published numerous blogs on its website to answer all the queries a business owner might have at any point in time. These blogs and information pop up on search engines due to organic search through google ads and links, giving Shopify maximum visibility.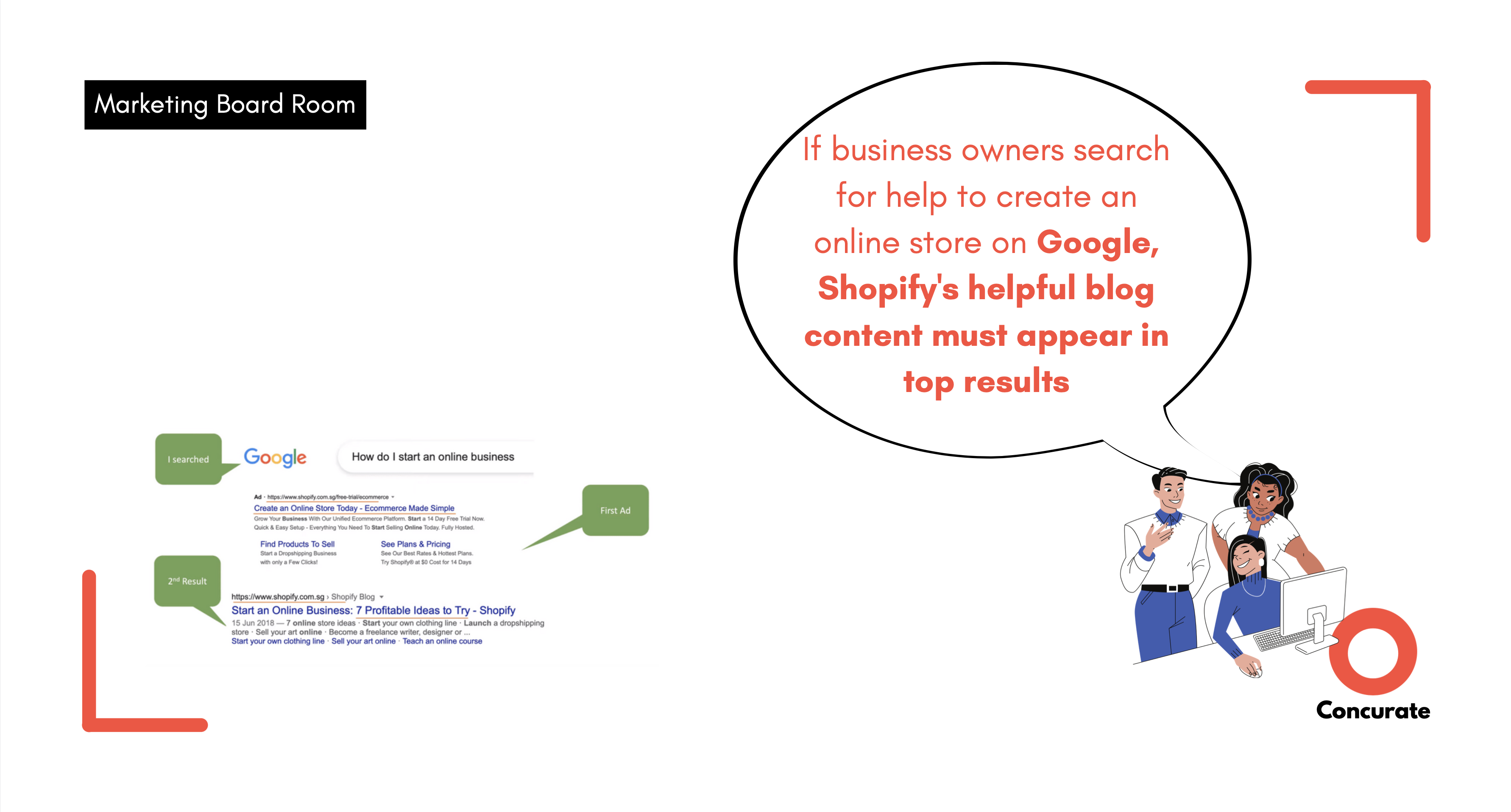 #2. From Website Visitors to Customers | Shopify has a lot to Offer 
Writing content and attracting good website traffic is just half the battle won. To convert these website visitors into customers is another significant task at hand. Step 1 in this task is to get the contact details of the website visitors. Visitors today are very informed and shall give their email addresses only if they are getting super valuable in the exchange.  . Shopify provides business owners with a whole bunch of (free) useful tools on their website.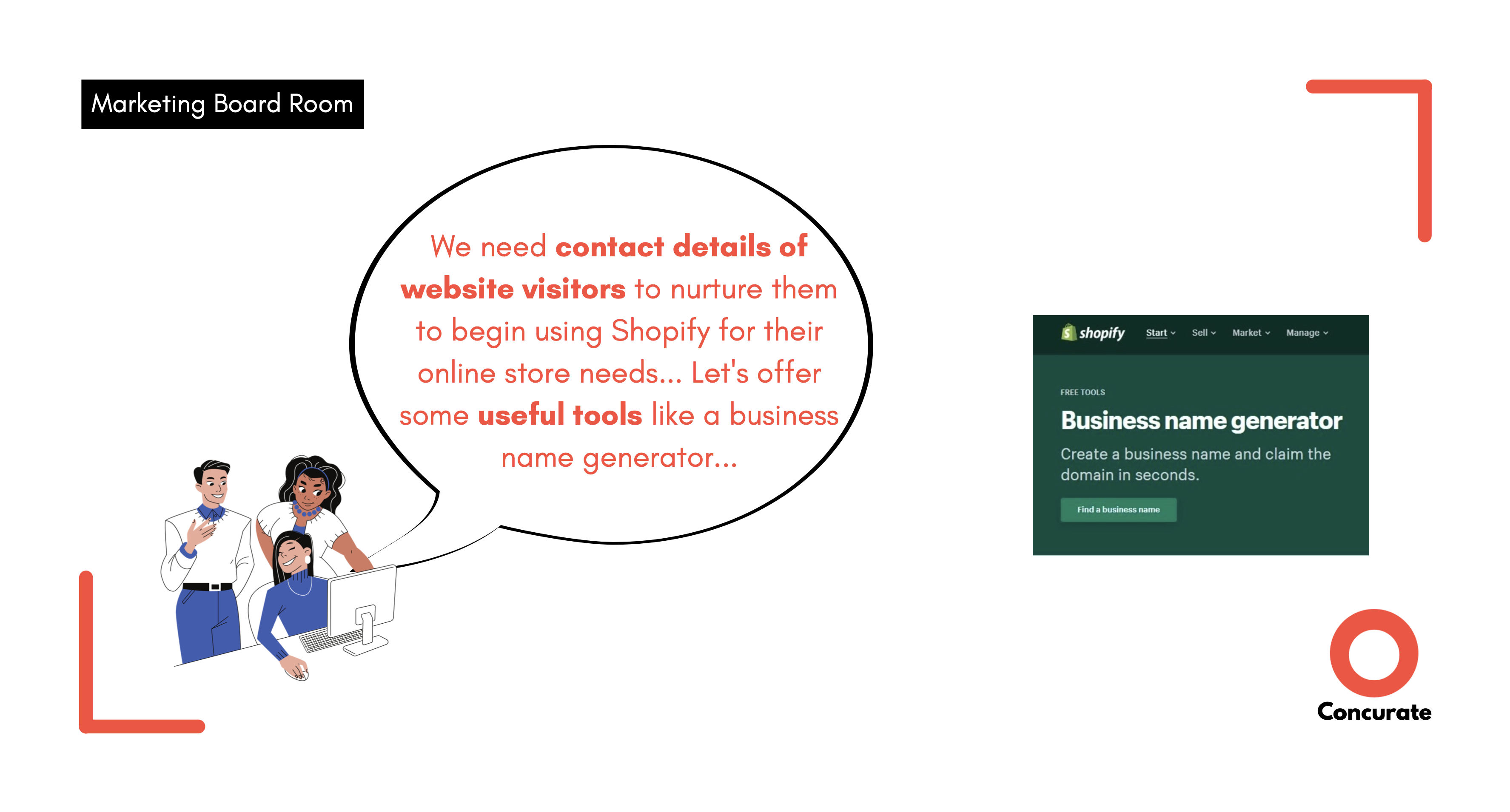 Landing Pages for the these Tools
Each tool by Shopify has a creative landing page, which aims to attract and capture the business owner's email id by offering more value and moving them a step further in launching their own store on Shopify. Let's take a look at how Shopify structures the landing pages for one of its tools – a business name generator. A tool that provides a list of around 100 options for naming your business.  The page is full of actionable pointers for naming a business. The page also offers an industry-wise classification for naming like apparel, health, and living, home decor, etc.
#SideNote
– Writing the content is just the start of the game, bringing it in the top Google results for relevant queries is the winning move. Even on a simple google search for creative names for business, the Shopify tools page shows up in the first couple of results.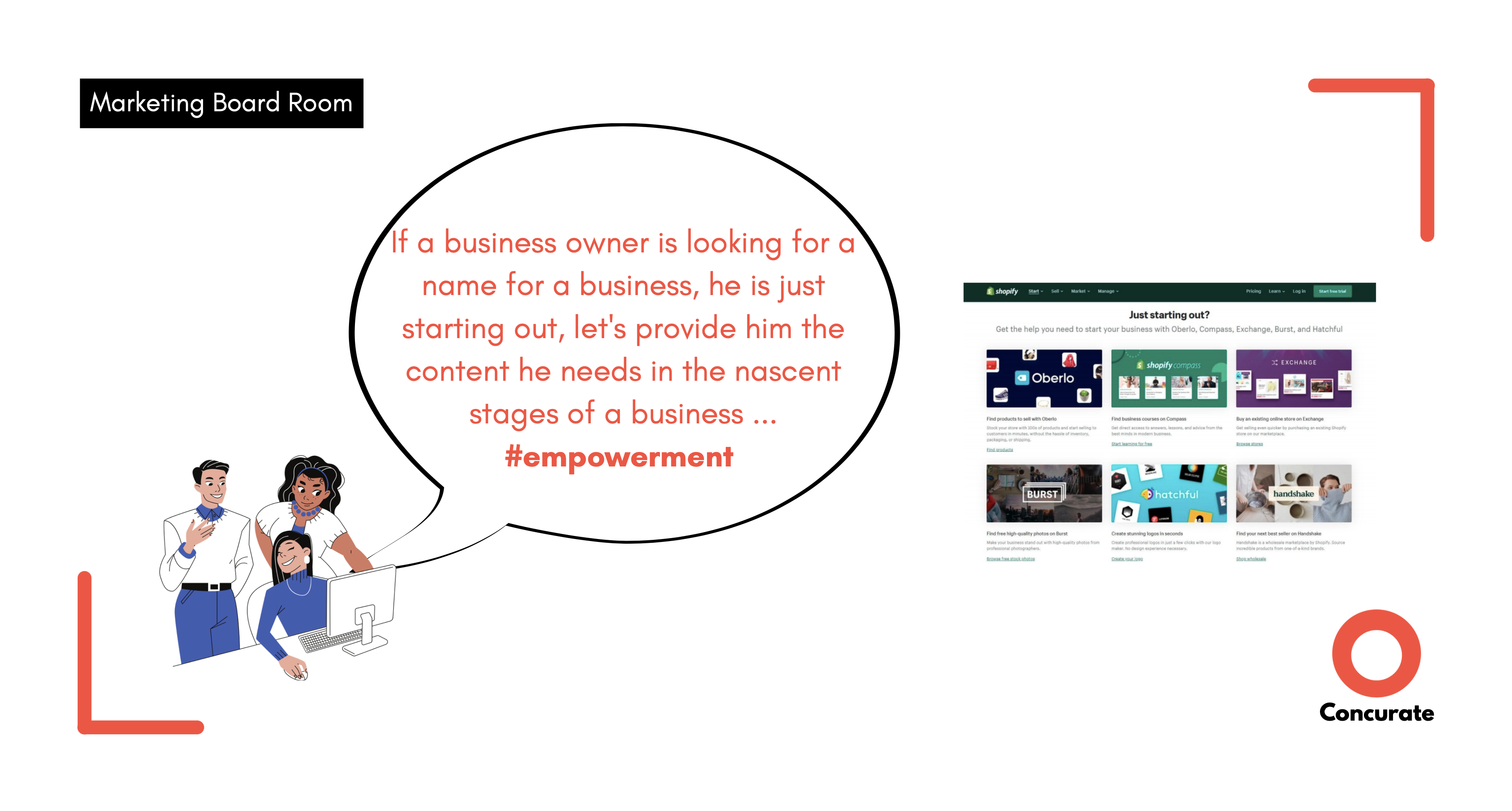 Once the website visitor generates a name with the tool, Shopify instantly offers him an option to claim the domain name for his business. If the visitor adds '.shopify.com' in front of a business name, for example, 'mybusiness.shopify.com,' this domain name is made available to the visitor for free by Shopify. And within minutes,
Shopify helps business owners get the online store started with a 14-day free trial
.  
If the visitor gets converted nothing like it. If he doesn't at this stage, they don't let the visitor leave empty-handed. The landing page offers further value by listing the apps (exclusively available on Shopify's App store), which can help business owners with their online businesses in nascent stages. Example: Free logo maker, identifying the in-demand products for selling, etc.
#SideNote:
Such a logical placement of offerings – a business owner looking for names for a business must actually be having his business in nascent stages.
Business owners can go to the app store for any additional needs for their business and use apps like a free logo maker. With their tools and apps, Shopify empowers business owners and gives them the necessary educational content, tutorials, and surrounding help on their platform itself while bringing visibility to their apps.
Empowerment! Empowerment! Empowerment!
Shopify believes that "
Email is one of the best channels for maintaining and strengthening customer relationships over time.
". It has also created an app called
Shopify Email
to help businesses better hang email marketing. In addition, Shopify provides free tools to capture leads by sending notifications regarding new tools released to business owners. 
It has tools to help the business owners with marketing and selling of their brand also. There are tools for email marketing, Facebook ads, and their chat system called Shopify Ping to help the brand owners to create a better reach for their products. These tools and apps are super intuitive and easy to use, making them uncomplicated for business owners.
#3. Social Proofs | Moving the Needle by Video Testimonials from Champion Shopify Users 
Dragos Bratasanu rightly said, "
The dominant social force that drives our thinking and our actions is the unconscious search and need for social proof
.".
Social proof is a psychological and social phenomenon wherein people copy the actions of others in an attempt to undertake behavior in a given situation. This concept of social proof has been used by Shopify very well to their advantage. Shopify markets its services through the business owners, their existing customers, who have availed their services. It provides proof to target customers of how it has helped businesses and why their customers are happy with using Shopify. 
For instance, a
video of the Cee's Closet owners
is an insightful testimonial for business owners who wish to avail Shopify for their online store. Here are a few insights that the viewer can pull about Shopify from the video testimonial:
Designing your online store using Shopify is very easy and

intuitive

even for business owners that come from a non-tech background

The ability to

customize

a Shopify store to match the vibe and identity of the brand is something that Shopify users are a fan of

Shopify helps in

accelerating the business growth

so much that something achievable in 10 years can be fast-forwarded to achieve in 3 years.
Now, isn't that a wisely designed video testimonial or what? Overcoming the major possible objections of a to-be-customer way beforehand.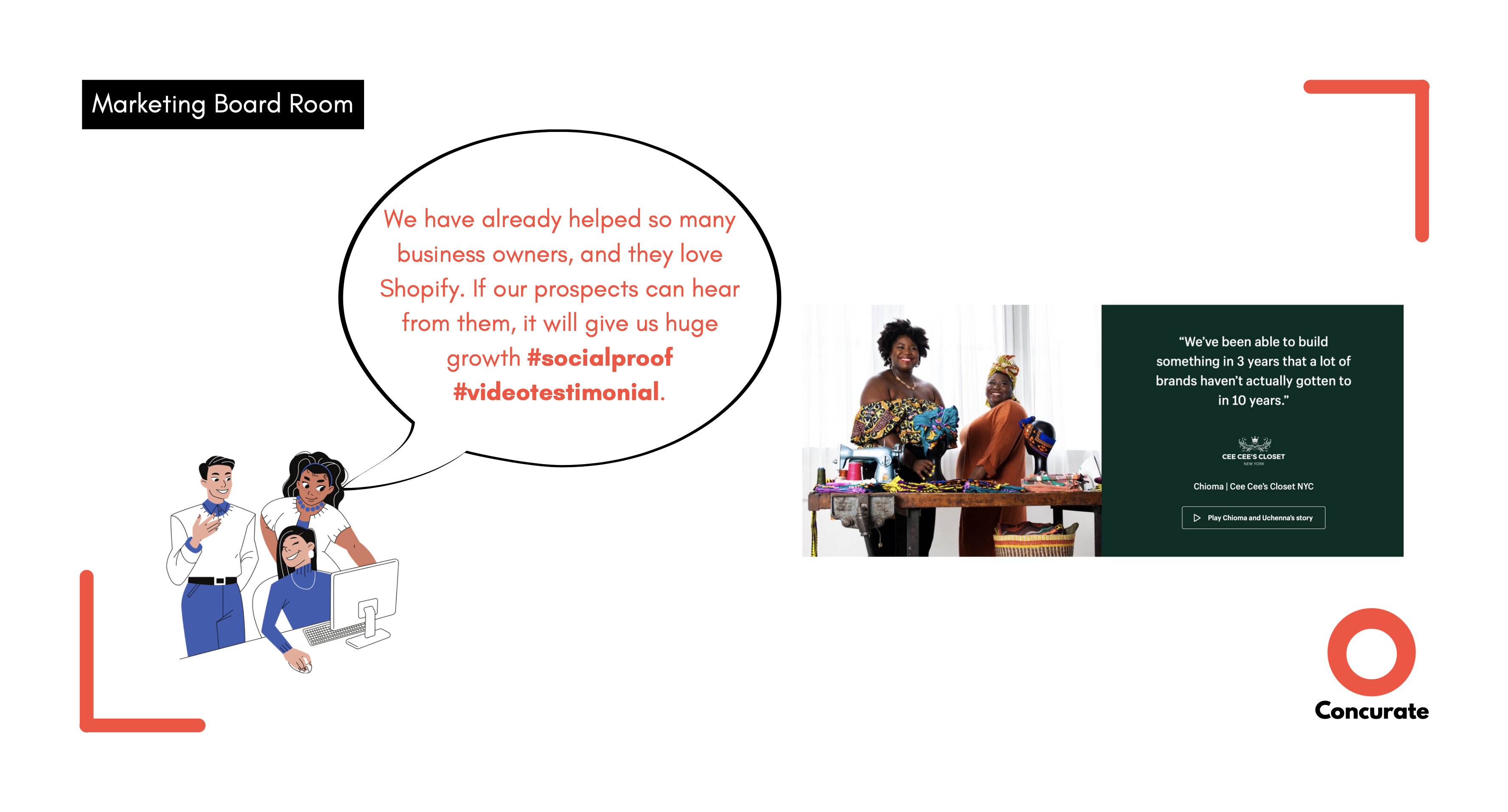 #4. Video Marketing | Staying Up-to-date with the Trend
Wyzowl recently conducted a survey regarding businesses using video as a marketing tool. The
statistics
reveal that,
in 2021, 86% of businesses use video as a marketing tool
, which was 61% in 2016. 
According to
the survey conducted by Wyzowl,
87%
of video marketers say video, in general, gives them a good return on their investment. The pandemic has contributed to this trend and even companies like Instagram have caught up to it, with the introduction of Reels in Instagram feeds for greater visibility. 
Shopify understands the importance of being where their potential customers can be. Shopify's video marketing is another powerful marketing asset.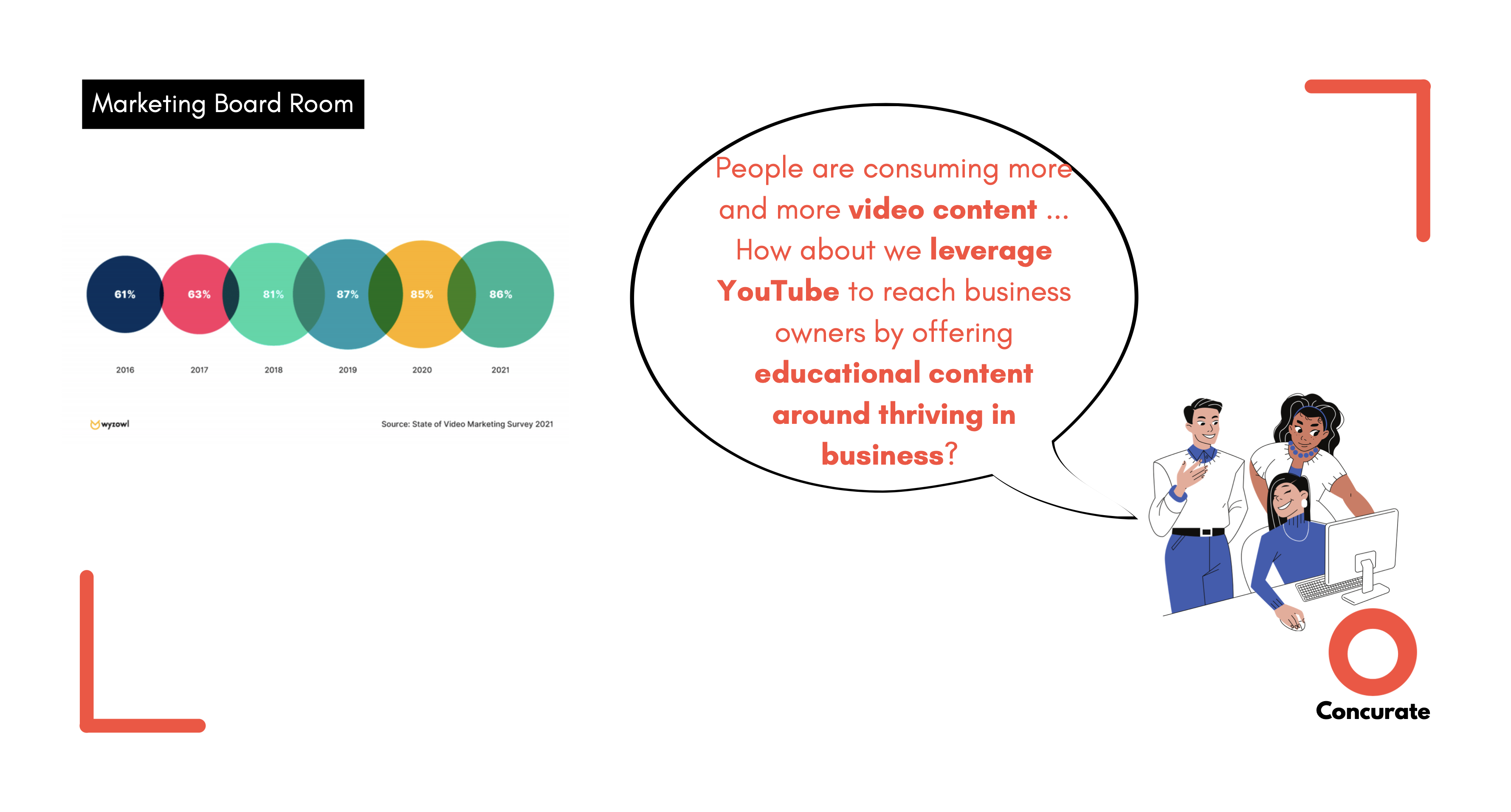 Learn with Shopify
is a YouTube channel for small business owners with big plans. They provide step-by-step coaching from industry owners on generating business ideas, finding winning products to sell, marketing tactics, business finance, operations, branding, etc. They aim to prioritize learning as it is at the heart of entrepreneurship. They target the pain points of the business owners. To help business owners to keep moving ahead, they provide all kinds of solutions from the industry experts through these videos.
Besides creating their own content on YouTube, Shopify has also engaged with prominent YouTube influencers to bring forward successful case studies. Also videos from influencers on how a business owner can make his Shopify store a huge success are quite popular.
One Video That Created a Blast for Shopify
To experiment is a core part of the DNA of Shopify's workforce. As one of the experiments,
Shopify decided to create one video per day (for three months) and publish it on their Facebook page. One of their videos on '
How to start an online t-shirt store
' went viral and received more than a million views. Not just view but a lot of conversions as well in terms of free trials. 
#5 Shopify App Store – A brilliant move by founders for Business as well as Marketing
In 2009, Shopify opened up a few APIs to the developer community. For instance, if a developer wanted to integrate a payment system into a website for his client. In that case, he could directly use Shopify's API to do so, and all the backend work will be taken care of by Shopify. These APIs helped Shopify attract a lot of developers. As a result, the developers began creating apps on top of those APIs, which are further helpful for business owners. 
In this manner, Shopify has created a community of developers that is beneficial for both the developers as well as business owners. These apps are just like WordPress plugins that can be integrated into any WordPress website for added functionality. However,
Shopify has much more to offer than
WordPress. Shopify has more than 6,600 apps in its store at present, which are user-friendly and intuitive.
Besides the mutual benefits between developers and business owners, Shopify has benefited a lot (in terms of increased customer base) by doing what it does the best – empowering the independent business owners everywhere. It's similar to people preferring Apple products to their alternatives because of the huge variety of sophisticated mobile apps availability.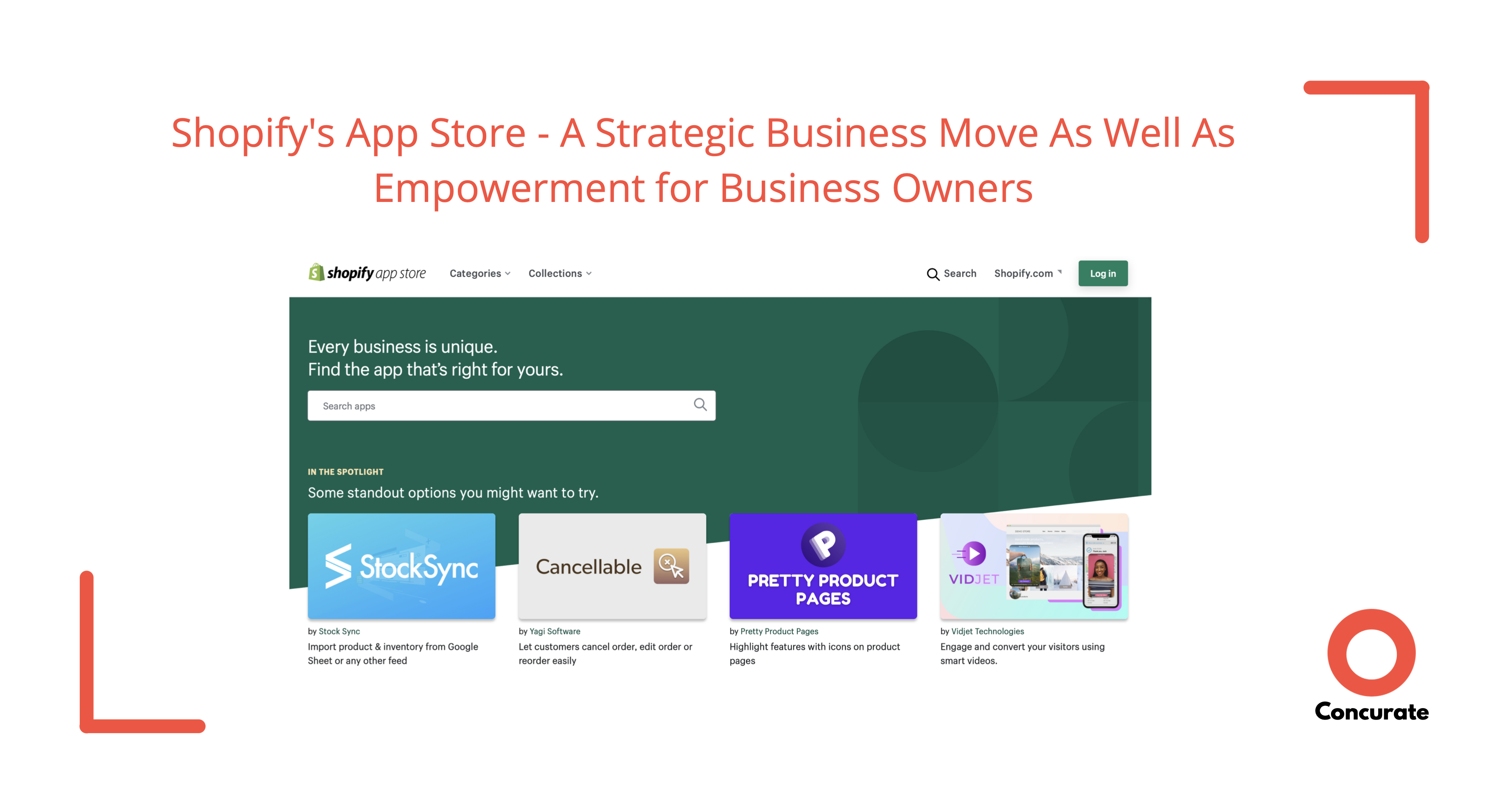 Key Takeaways from Shopify's Marketing Strategy
To sum up, Shopify has been highly successful in its marketing strategy and has seen massive growth in the last few years. The main motto of Shopify is to empower independent business owners everywhere.. Anybody across the world can sell anything with the help of Shopify. Whether you are a manufacturer or want to have a dropshipping business model, Shopify provides all kinds of solutions for independent business owners.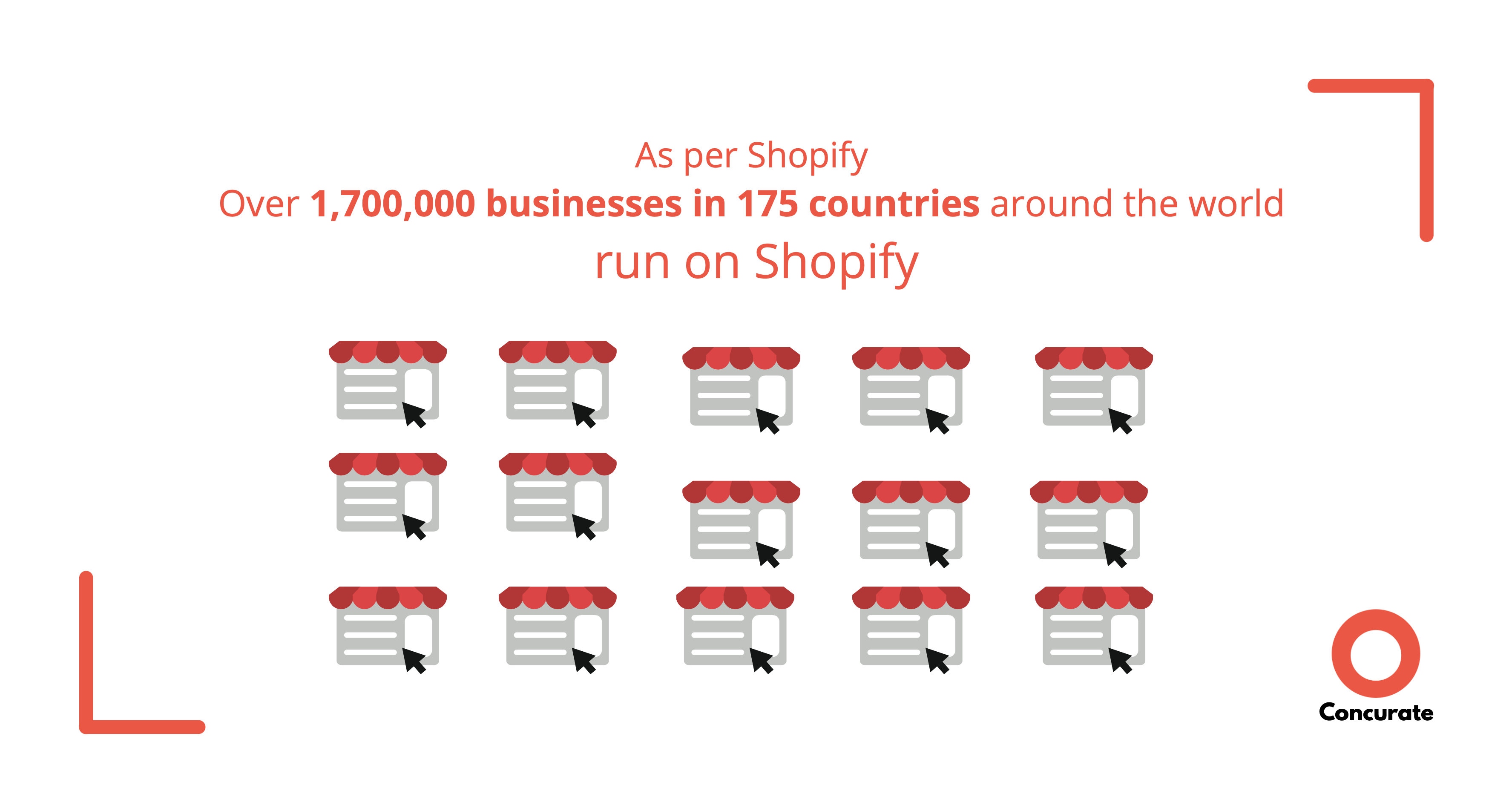 As the famous saying goes, '
Give a man a fish and feed him for a day. Teach a man to fish, and you feed him for a lifetime.
' Likewise, Shopify empowers business owners and teaches them to build, market, and sell their brands online with easy-to-use tools. This ideology has played a pivotal role in the growth of Shopify, allowing business owners to be independent.
Before You Go
Marketing is not just about selling goods and services; it is about selling experiences. To get more tips on marketing strategies, check out how
Starbucks
and
Airbnb
create unforgettable experiences through their marketing strategies. At
Concurate
,
we help brands amplify their unique voice, as people today buy only from brands where there is a value overlap.
If your organisation wants its content marketing strategy designed by Concurate, let's connect over a short call. 
Block our calendar
today! Meanwhile, Explore the
plethora of resources
to help you out your business! If you wish to read more goodness, subscribe to our newsletter. We send value to your inbox only once in 15 days. Pro tip: If you need 30 standout
SaaS growth hacks
to attain double the growth for your SaaS business, fill out the form below!