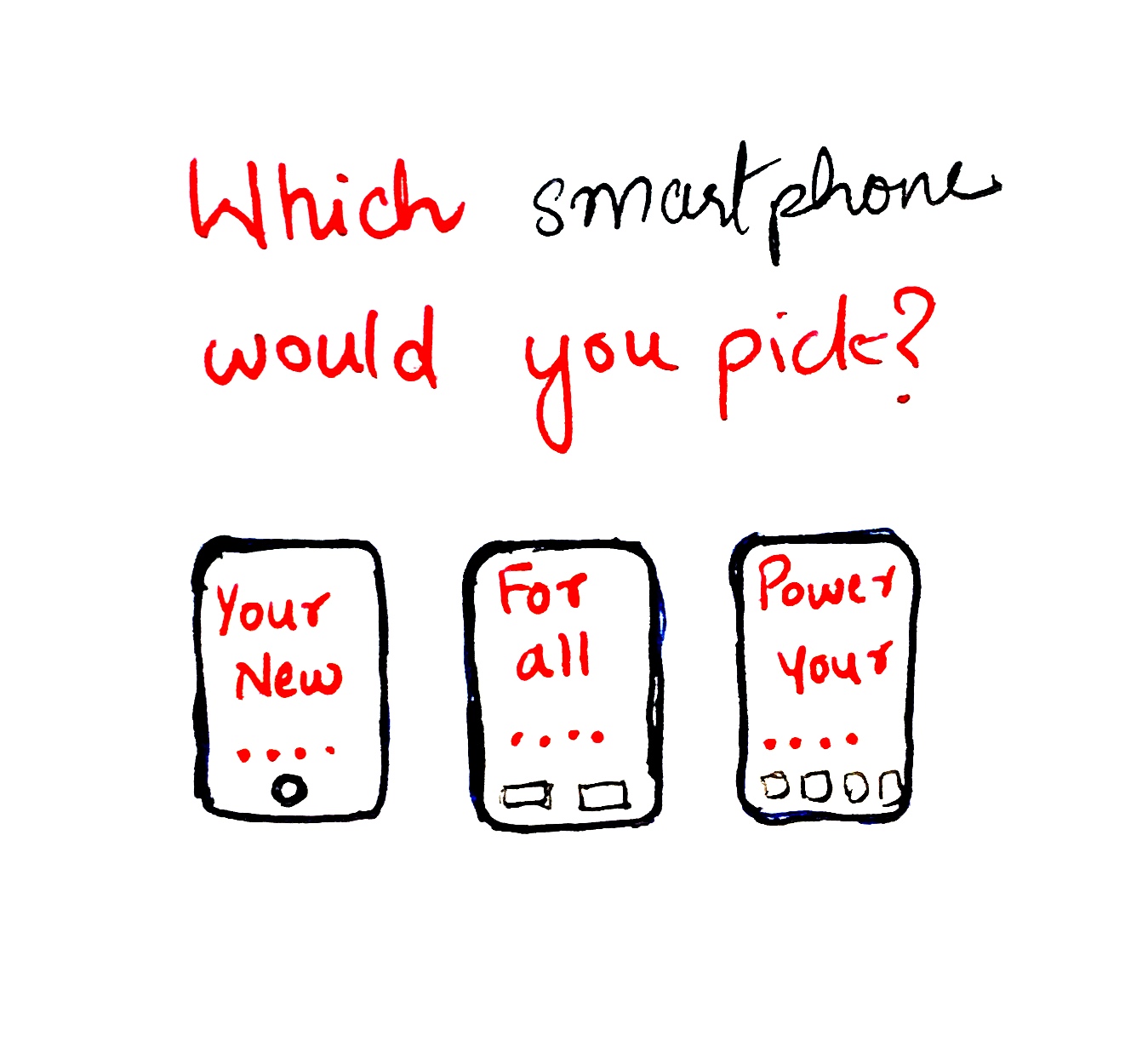 5 CopyWriting Principles To Write a Persuasive Copy Like Apple
"The art of copywriting lies in transforming products from just another shiny product on the shelf to a beautiful object of desire and need."
Before immersing yourselves into this great learning experience – read the three copies written below:
Your New Superpower
For all You are
Power Your Work and Play
If you chose the first one – "Your New Superpower". You just proved that Apple really writes a persuasive copy for their products. In case you chose any of the other two you are not their target audience. By the way – "For all You are" is the copy for Google Pixel 6 smartphone. And, "Power Your Work and Play" is the copy for Samsung Galaxy Note 20.
Either case, if you want to practice the art of copywriting the Apple's way, pick up a pen and paper, your favourite brand and follow the steps as you read. Read each principle and try to write a copy for your favourite brand. To provide you with more examples, I'll be writing copies for two brands using 5 principles other than Apple. I am picking two of my favourites for the exercise. Desigual (my styling companion) – an apparel company and Pinterest – a collection of visual treats to eyes for a variety of domains.
Coincidentally I spotted a similar pattern in copy based on these 5 principles for one more brand called boAt, a wearables company. So, enjoy one more set of examples.
Below are 5 copywriting principles, with examples, that you can use to write a persuasive copy like Apple:
Repeat to Register
Use Contradictions
Quote Popular Culture
Use Rhyming Words
Match the vibe with the brand
Pro tip: If you need 30 standout SaaS growth hacks to attain double the growth for your SaaS business, fill out the form below!
Repeat to Register
It's a well-known fact in psychology that when something repeats, it is better retained in the memory. The chances of you remembering a tagline after reading it once are very low. Copywriters repeat the important feature so that it gets stuck in the readers' minds.
This is how Apple leverages repetition:
iPhone 6 and iPhone 6 Plus: "Bigger than Bigger"
iPhone 11 Pro: "A big beautiful Workspace for big beautiful work"
boAt does it with slight tweaking:
boAt Watch Iris: "Tells Time, Looks Timeless"
In both examples, the repetition of features makes the reader register and remember them better.
If I were to write similar copies for-
Desigual: "Glamorous Apparels for Glamorous Girls"
Pinterest: "Creative Ideas for Creative Minds"
Use Contradictions
It's not unusual that a brand might face some objections. Apple comes under the radar because of the high price of its products. The best tactic to overcome these objections is to contradict them with better aspects of the product/service.
Apple Watch: "Heavy on Features, Light on Price"
iPhone 3GS: "More to love, less to pay"
In the above examples, Apple contradicts the consumers' high price claims by shifting the focus on other aspects.
TRebel Airdopes 381: "Less efforts with more results"
In this case, 'less efforts' mean less charging time and 'more results' mean better battery life.
If I were to use the same tactic for-
Desigual: "The More You Buy, the Less You Pay"
(It contradicts as well as might make the customer buy more)
Pinterest: "The Only Stop for Every Innovative Start"
(The above copy uses two sets of contradictions. It emphasises that Pinterest is the only place you need to visit for inspiration.)
Quote Popular Culture:
People love it when brands relate and hype to the same cultural references as they do. It gives the brand a more humanistic side. I'll most probably buy from a company if they openly share their love for books and movies I love!! It is the major reason why brands today are interacting with their audience on social media.
This is how Apple does it:
Apple M1 and Big Sur: "Creates Beauty Like a Beast"
(with reference to the Disney movie, Beauty and the Beast)
Apple Macintosh: "You'll see why 1984 won't be like '1984'"
(part of an ad in 1984 referenced to Geoge Orwell's dystopian novel 1984)
boAt has launched several products based on the Marvel Studio movies for a limited time offer.
The tagline used is "#UnleashYourSuper"
If I were to quote popular culture for-
Desigual: "Pamper Yourself Like a Queen"
Pinterest: "Share your Marvel-ous web of imagination"
Use Rhyming Words
Same as the first principle, rhyming leads to better remembrance. Kids are taught nursery rhymes for their language development. With time and practice, they start to understand the structure of words and sentences which later builds upon the child's memory. No wonder most of us still remember our nursery rhymes. Apple has been using rhyming as its advertisement tool for a long time. Rhyming can be best used to showcase several features at one go. Below is how different brands utilize it to write great copy.
Apple: iPhone 12: "The thinnest, lightest, and fastest iPhone ever"
boAt: "Do what Floats your boAt"
(The ad targets the youth, asking them to do what brings them joy. It also rhymes and matches beautifully with the brand name.)
If I were to use the rhyming principle for-
Desigual: "Glam. Fab. Chic. – the head turners"
Pinterest: "Aesthetic Destination for Kinetic People"
Match the Vibe with the Brand:
Having a unique brand identity is as important as anything. Everything, including copy, should follow that same brand identity. Matching the vibe of the copy with the brand can do wonders in terms of establishing an image in the customers' minds. When someone says Apple, I think of the simple, elegant and intelligent design of its products. If you look closely, that is the exact nature of Apple's copy.
Let's see some examples of how brands do it:
Apple: iPhone 12: "H2OK – Even better Spill and Splash Resistant"
boAt: boAt Rockerz 260: "Are You Game?"
If I were to write copy that matched the vibe for-
Desigual: "Enjoy those envious eye-balls ;)"
Pinterest: "Scrolling won't get you anywhere, except to ideas. That's all that matters."
Wrap Up
Let's have a quick walkthrough to all the principles-
Repeating is the key to remembrance.
Swat off the objections coming your way through contradictions.
Quote popular cultural references to better connect with your audience.
Rhyming makes it easier for people to recall.
Match the copy with the vibe of your brand to maintain your brand identity.
A Copywriting Masterstroke
MacBook: "Light. Years Ahead"
Now, this copy for MacBook doesn't follow any writing rules. And yet, it manages to convey exactly what it wanted. The MacBook is Light, it is Years Ahead, which together makes it Light Years Ahead.
Sometimes, breaking the rules is worth the risk 😉
And that's how, using these 5 principles, you can write to persuade your customers just like Apple. It'll take lots of practice, of course. So explore, keep thinking of ideas and get them down on paper.
However, if you wish to use your time for something else, we can write persuasive copies for you. Talk to us.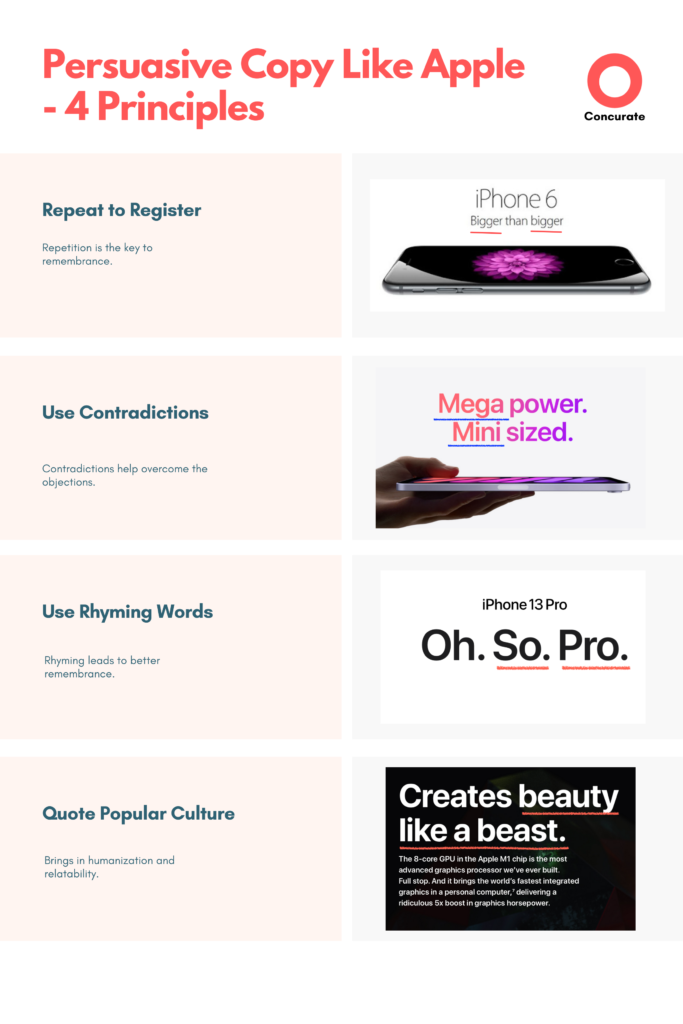 If you wish to read more goodness, subscribe to our newsletter.
We send value to your inbox only once in 15 days.