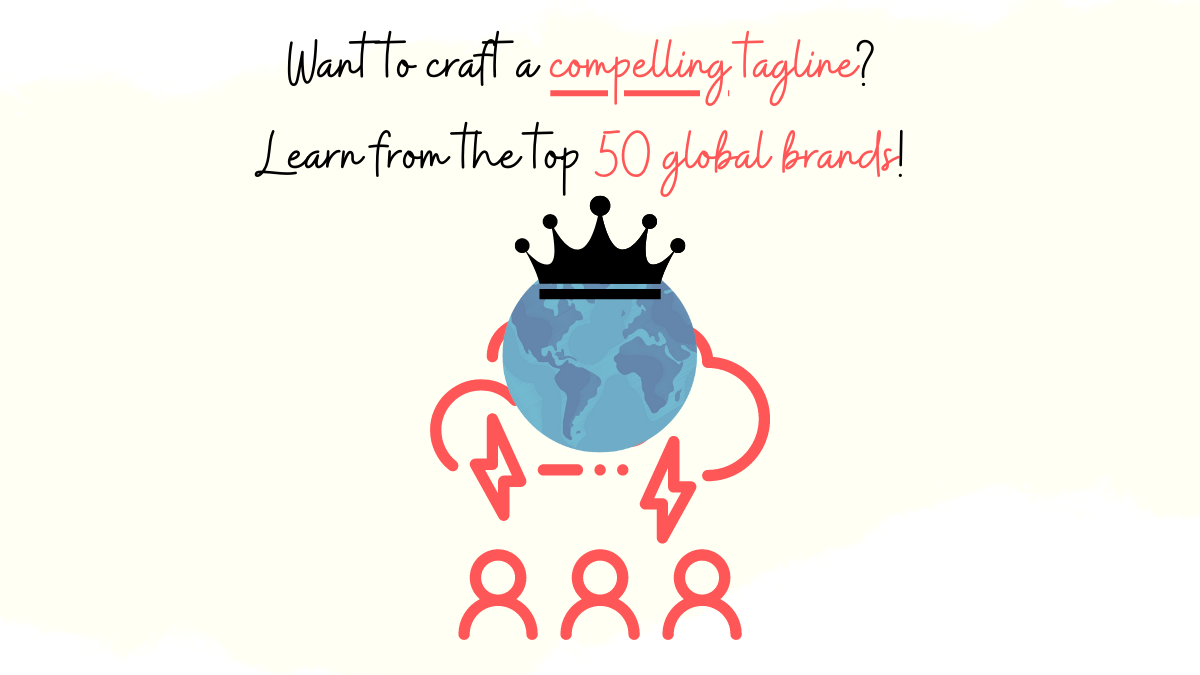 A diamond is forever.

De Beers
The De Beers group – the world's leading diamond company.
In the 1930s, it was undergoing a crisis. The norm of proposing for marriage with a diamond ring had not taken hold in those times. De Beers approached N.W. Ayer in 1938 to handle its advertising. N.W Ayer's copywriter Frances Gerety created this 1947 ad campaign slogan. The phrasing perfectly linked the "foreverness" of a diamond with the "foreverness" of a marriage.
The tagline had a snowball effect on diamond sales. By 1951, a girl was not considered engaged if she wasn't presented with a diamond engagement ring. A whopping 80% of engagement rings had diamonds on them by the end of the 20th century. The tagline was accorded the slogan of the 20th century by the Advertising Age. It's estimated that some ninety percent of all Americans know about it.
If this doesn't make a case for crafting a compelling brand tagline, then what does?
What Is A Tagline? Why Does A Brand Need One?
A tagline is a couple of words or a phrase about a brand shown at the end of an advertisement. It immediately gives the viewer a sense of what they can expect from the brand's offerings. In addition, it provides the viewers an impression of how the consumer will utilise the brand's product or service.
A tagline talks about an organisation's greater mission and core values. Essentially, a memorable and catchy tagline helps differentiate a brand from the competition. It is supposed to be long-lasting and have a perpetual connection with your brand in the minds of your target audience.
A tagline is different from a slogan, however. As Indeed rightly remarks,
A slogan is more advertising focused, and a tagline is more public relations focused, meaning slogans are used to sell an item, and taglines raise awareness about the overall brand. Unlike slogans, taglines don't tell customers what your company does.
Five Essentials To Write A Good Tagline
#1 – Communicate clear benefits
"Democracy dies in darkness." – Washington Post.
In the tagline mentioned above, WashPost communicates its role as a newspaper to uphold its duty to inform the citizenry about the truth and keep democracy alive. Similarly, your organisation's tagline should also communicate the mission that you're trying to achieve.
#2 – Differentiate your brand
"I ♥ N.Y.," created by Empire State Development Services, has had many me-too competitors crop up. Take care not to have your brand be associated with "We are the Google of …" and so on. Your tagline should help you stand out from the competition and not piggyback on their success.
#3 – Keep it short and simple
"Think Different." Taglines can even be as short as two words such as this one by Apple. Keep your brand's tagline concise as well. A good tagline can range from 2 words to around ten words. Keeping it short and straightforward helps build active recall in your target audience.
#4 – Position yourself
"The Best a Man Can Get" by Gillette is a superlative tagline that positions the brand as the best. "Betcha can't eat just one" by Lay's is an action-oriented tagline that challenges the target audience to resist eating its products. Finally, "Because you're worth it" by L'oréal poses a choice to its target audience if they're up for the task of changing their lives.
#5 – Make it memorable
"I'm Lovin' It" by McDonald's has transcended generations and is an excellent lead to follow on making your tagline memorable. A memorable tagline stands on the shoulders of the giants and can even stand apart from your brand.
Let's now look at the best in the business.
Pro tip: If you need 30 standout SaaS growth hacks to attain double the growth for your SaaS business, fill out the form below!
Taglines of the Top 50 Companies of the World
Interbrand "has been the world's leading brand consultancy for over 40 years – having pioneered iconic work and forged many of the brand-building tools that are now commonplace." Interbrand's Top 100 Best Global Brands is an authoritative destination to consider while narrowing down the world's best brands based on brand equity.
In the following list, we'll look at brands sorted by global brand value, tagline, and a short analysis.
| | | |
| --- | --- | --- |
| Brand | Tagline | Analysis |
| Apple | Think Different | This captures Apple's creative and out-of-the-box approach towards its goals. |
| Amazon | From A to Z | This aptly captures the sheer breadth of goods and services available on Amazon's platform. |
| Microsoft | Be What's Next | This is a communication of Microsoft's mission of empowering every person and every organisation on the planet to achieve more. |
| Google | Organise the World's Information | Here, one can clearly understand Google's work of acting as a search engine on the internet. |
| Samsung | Better Normal For All | This encapsulates Samsung's mission of innovating and making the next frontier accessible to all. |
| Coca-Cola | Real Magic | This is a communication of Coca-Cola's work to spread happiness. |
| Toyota | Let's Go Places | This intuitive tagline is a snug fit with Toyota's work – an automobile manufacturing company. |
| Mercedes-Benz | The Best or Nothing | This is a positioning by Mercedes-Benz in a superlative manner to regard itself as the best automobile manufacturer out there. |
| McDonald's | I'm Lovin' It | This clearly shows that customers love to eat at a McDonald's restaurant. |
| Disney | The Happiest Place on Earth | Famously used in Disneyland theme parks, this tagline equates Disney with happiness. |
| Nike | Just Do It | This action-oriented tagline conveys Nike's risk-taking and bold spirit. |
| BMW | Sheer Driving Pleasure | This is an aspirational tagline about the pleasure of driving a BMW automobile. |
| Louis Vuitton | Does not use a tagline | It appears to be an endeavour to keep it simple and classy. |
| Tesla | To accelerate the advent of sustainable transport and electric technology | This tagline is an embodiment of Tesla's work to transform and democratise the use of sustainable renewable energy transportation. |
| Facebook | Facebook is a social utility that connects you with the people around you | This tagline in conjunction with the call-to-action, "It's quick and easy", tells users that Facebook is a "social network" on the internet. |
| Cisco | Bridge to Possible | This is a representation of Cisco's work to connect people, places, and ideas across its networks. |
| Intel | Look inside | This is a call-to-action for Intel's world-famous campaign slogan "Intel inside". |
| IBM | THINK | Developed by the founder, Thomas Watson Sr., this is a clarion call to use one's head, not their feet. |
| Instagram | Capture and share the world's moment | This immediately connects to what this visual medium app does globally – capturing moments. |
| SAP | The best run SAP | This is a testament to the fact that the best of businesses – of all shapes and sizes – work with and trust SAP. |
| Adobe | Together, we create change | This captures well that at the heart of creative change, Adobe is your trusted partner. |
| Chanel | To be irreplaceable, one must be different | This is an aspirational tagline for consumers to join forces with the fashion powerhouse. |
| Hermès | You dream it up, Hermès makes it happen | This superlative tagline allows consumers to imagine their dream fashion pieces and trust Hermès to bring them to life. |
| J.P. Morgan | The right relationship is everything | This tagline conveys that customer-centricity is what the bank is all about. |
| Honda | The Power of Dreams | This is in line with Honda's products allowing people across communities to travel and achieve their dreams. |
| YouTube | Broadcast Yourself | This is an action-oriented tagline which conveys what the user-generated video sharing website is all about. |
| IKEA | Let's Make Your Home Special | This conveys how IKEA as a home decor company helps customers to design their homes as per their vision. |
| Pepsi | That's What I Like | This is a blanket statement that states that Pepsi is what its target consumers prefer. |
| UPS | Customer First, People Led, Innovation Driven | This allows consumers to know what the delivery giant values – its customers, people and innovations. |
| American Express | Don't leave home without it | This captures the dependability of an AMEX covering your every need. |
| GE | Building a World That Works | This is an action-oriented statement which tells GE's role in sculpting the future. |
| Accenture | High performance. Delivered | This statement addresses the core concerns of Accenture's target audience in the domain of IT and consulting. |
| Gucci | Quality is remembered long after price is forgotten | This is an aspirational tagline for consumers to transact for high quality products produced by Gucci. |
| Allianz | Protects You From A-Z | In an inherently negative category of insurance, this statement communicates security and comfort. |
| Hyundai | New Thinking, New Possibilities | This is an aspirational tagline conveying Hyundai's unique and innovative thinking in the world of automobiles. |
| Netflix | See What's Next | This conveys the company's entrepreneurial and pioneering spirit to always be at the forefront of what is new. |
| Budweiser | The king of beers | This superlative tagline positions Budweiser as the one and only choice of beer for its target audience. |
| Salesforce | We bring companies and customers together | This tagline positions the software giant as the natural bridge between companies and their customers across industries and sizes. |
| VISA | Trust, Security, Acceptance, and Inclusion | This tagline conveys VISA's values and features of their product. They are literally secure, trustworthy and accepted worldwide. |
| Nescafé | It all starts with a Nescafé | This is an action-oriented tagline conveying that the start of every initiative begins with a cup of Nescafé coffee. |
| Sony | make. believe. | This conveys Sony's core values of innovating and never giving up. |
| PayPal | We put people at the centre of everything we do | This conveys that PayPal's customers can transact with confidence knowing that customer-centricity is the focus of the company. |
| H&M | Stay stylish and warm | This is an aspirational tagline coaxing the target consumers to be stylish only by wearing H&M clothing. |
| Pampers | Love, sleep & play | One can intuitively guess that the target audience Pampers caters to are babies. |
| Zara | Does not use a tagline | It appears to be an endeavour to keep it simple and classy. |
| Audi | Vorsprung durch Technik | The phrase translates to Audi's overall mission: "Progress through technology". |
| Volkswagen | Das Auto | The phrase literally translates to "The Car", signifying the company to be the default representation of an automobile. |
| AXA | Know you can | This is a promise to the target customers of being confident to achieve their goals with AXA's trusted support |
| adidas | Impossible Is Nothing | This action-oriented tagline sparks the fire in the target audience to be audacious and achieve their stretch goals. |
| Mastercard | There are some things money can't buy. For everything else there's Mastercard. | This is a superlative tagline conveying that if you can dream of paying for it, Mastercard has got you covered. |
Interested in an analysis of the taglines of top 100 companies of the world? Download the list!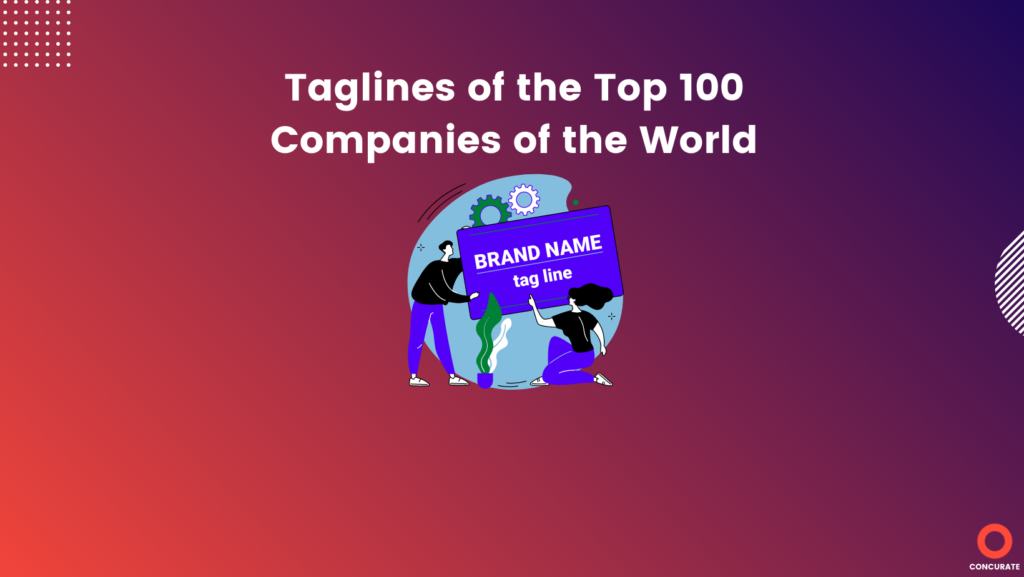 Takeaways
It helps to have a tagline that has a pin-pointed message. Here's what you need to do while creating one for your brand:
Write down everything your brand is all about to zero down on the core
Craft an incisive copy to communicate the core
Shed light on your company's overarching mission
Showcase how your brand is markedly different from the competition
Use an action-orientation, present a choice or use superlatives to position your brand
And if you need any help with the content marketing strategy, book a call here.
If you wish to read more goodness, subscribe to our newsletter.
We send value to your inbox only once in 15 days.