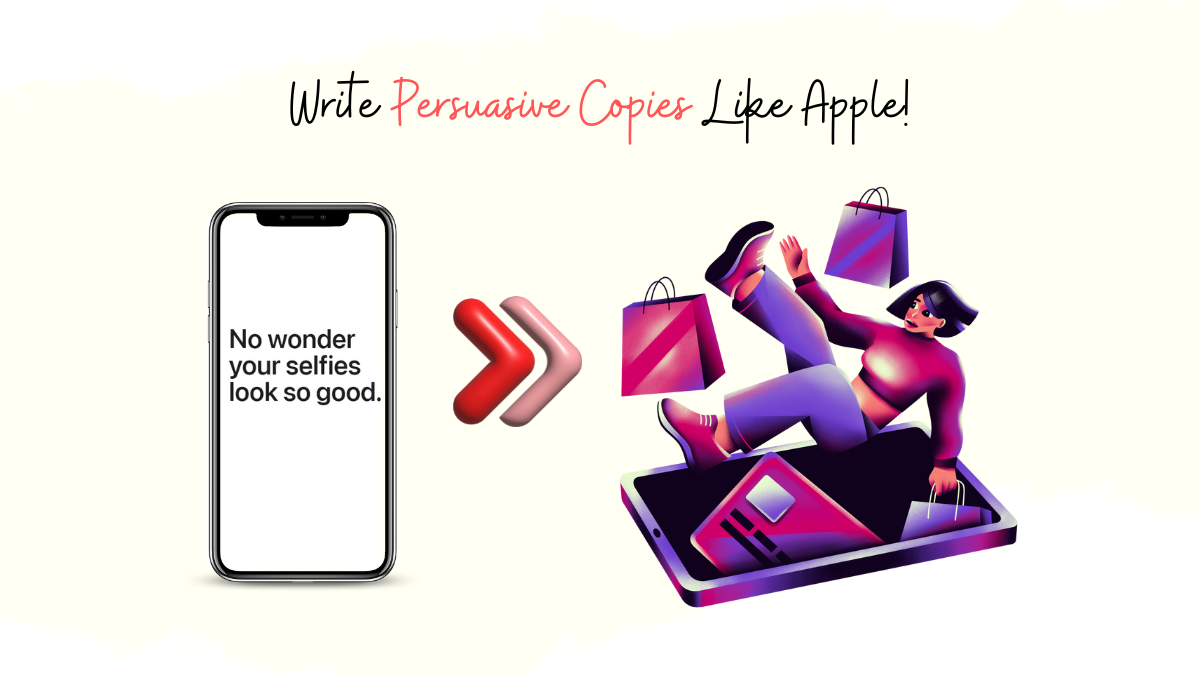 Make it simple. Make it memorable. Make it inviting to look at. Make it fun to read.

Leo Burnett
"Your new superpower",
"Light. Years Ahead",
"Mega power. Mini sized."
I am sure you would have already visualized Apple products while reading these lines. The sales copy for Apple products is inarguably easy to recall. The copywriters at Apple not only know how to write copy for high recall value, but also their copies make Apple products highly desirable.
The good news is the code for writing such impactful copies has already been cracked. Presenting 16 copywriting principles to write copy that converts.
**Drum rolls**
The Persuasive Copywriting Tips
#1 – Sell One Idea
Apple doesn't clutter its copies with multiple ideas. The copy for each of its product lineups focuses on a core issue that is being addressed. After stating the core idea at the outset, Apple adds elements to support it. This helps the consumer know what is important. Take cues from this copy for Apple AirPods Max.
#2 – Write For Easy Scannability
In today's busy and attention-starved world, not everyone has the time and energy to go through entire pieces of content that your firm publishes. Apple understands that. It uses big headlines to attract a reader's attention. After that, it utilises a pyramid approach. The font size changes from big to small for presenting the biggest to the smallest benefits. See this copy showcasing macro photography being introduced to Apple's iPhones.
#3 – Keep It Short, Keep It Simple
Simplicity is the ultimate sophistication.

Leonardo da Vinci
Apple is notorious for being simple, making its copy easy to understand. It uses short and simple words, sentences and paragraphs. This allows for easy readability and comprehension. Take cues from this copy talking about the touch control mechanism on Apple's latest AirPods.
#4 – Present Features As Solutions
Avoid the jargon and the technicalities. Instead of discussing terminologies and how Apple has deployed them, it presents how its product features act as solutions. Take the latest feature of Sleep Stages in the Apple Watch. Apple conveys how this product feature will act as a solution – tracking REM, Core or Deep Sleep.
#5 – Use Analogies
Analogies help readers connect two disparate concepts to make sense of the whole. Apple utilises analogies to fuel the reader's imagination and connect the complicated with the known. In this copy of the iPhone's camera, Apple allays any concerns and conveys how easy it will be to use the product's feature.
#6 – Address Objections
It is but a given that prospects will have questions about how a product will help them solve their problems. It's important to anticipate doubts/questions and address them in your copy. Take inspiration from this copy of Apple's AirTag. Apple addresses how it will function, how secure and private it is, etc.
#7 – Compare And Upsell
As a business, you'll ideally like prospects to move to a more premium product tier to help achieve their goals. How do you achieve that? Use comparisons. By comparing the capabilities of your product with those of competitors and your previous versions, you're better able to highlight how you're providing markedly improved performance. Consider this copy for Apple's new Mac computers.
#8 – Use Powerful Words
By talking directly to the consumer and using powerful words like "ultimate", "powerhouse", and "amazing", you initiate action in your target persona to move down the funnel and make a purchase decision. Consider these copies for different variants of Apple's iPhone.
Pro tip: If you need 30 standout SaaS growth hacks to attain double the growth for your SaaS business, fill out the form below!
#9 – Less Is More
You don't always have to wax lyrical about your product's features. Utilising minimal, impactful words and imagery can work wonders. Consider this copy of Apple's iPad.
#10 – Use Repetition For Memorability
Start off with the core problem that your product is aiming to solve. Throughout your copy, add supporting elements that lend credence to your main idea. This will ensure that your target audience remembers and is convinced that your product is the way to go to solve the problem. Take cues from this copy of the iPad Mini. The repetition of the word "ultra" drives home the point that Apple is trying to make.
#11 – Use Contrast
Making use of contrasting colours and sizes will help your copy stand out and better drive home the main point. In this copy of Apple's iPhone 13 lineup, Apple has displayed its devices – side by side – to better communicate its message of the size difference.
#12 – Use Resonating Words
Alliteration is "a literary device that repeats a speech sound in a sequence of words that are close to each other." Using words that echo off of each other, and resonate with one another, will help you make your copy easier to read, understand and memorise. Take cues from this copy of Apple's iPad.
#13 – Use Sound Bites
Making use of creative sound bites will ensure that your copy is easily quotable and hard to forget. It's as simple as that! Here is an example of a copy that talks about the latest iPhone camera features.
#14 – Showcase Your Personality
The three words "it just works" made their way to almost every keynote speech that Apple's late co-founder Steve Jobs gave. In a similar vein, make it a point to showcase your brand's personality in the copy. In this copy of Apple's AirPod lineup, the cue to Apple's inter-device operability and device "ecosystem" is clearly visible.
#15 – Break Patterns
It helps to break the monotony that might creep into your copy. This will help introduce a sharp contrast and a departure from the usual to register in your prospects' minds. Take the copy for Apple's iMac as an example. In one section, Apple showed app icons rather than the usual shots of the product to better communicate and sell the point it was trying to make.
#16 – Use Rhymes
We spoke of alliteration earlier. Additionally, you should make use of rhyming to make it easier for your reader to process and remember your copy. Take cues from this copy of Apple's MacBook, which discusses the different colours you can choose.
Parting Thoughts
I hope you enjoyed this round-up post on creating persuasive copies based on key principles. Alternatively, you may like to read: "5 Key Takeaways On Marketing From The Movie Steve Jobs".
We are a content marketing agency that strives to bring simplicity, persuasion and relatability to the content backed by thorough research. If you need any help with content marketing, book a call here.
If you wish to read more goodness, subscribe to our newsletter.
We send value to your inbox only once in 15 days.