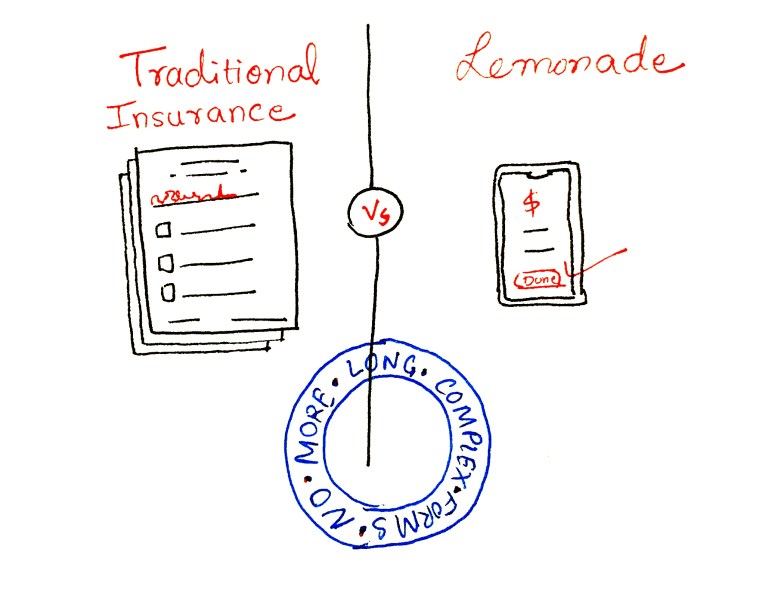 From Zero to IPO in Just 4 Years

Lemonade Insurance Nailed it!

Not just that,

Its shares doubled on the first morning of trading.
Secret to Success
"One of the factors that stood out most to us when building a new kind of insurance company was the conflicted interests and lack of transparency. It was mind-boggling that an industry that is performing such an important societal role is perceived so negatively. Insurance fraud is a serious symptom of this. That's why we made transparency and overcoming conflicts of interest a significant pillar of Lemonade." – Daniel Schreiber, CEO and co-founder Lemonade.
Creating Love in a Deeply Hated Industry. #InsuranceReImagined
Lemonade Inc. aims to disrupt the industry dominated by a handful of traditional names.
The secret lies in this two-step formula.
Step 1: Thoroughly understanding the Buyer's Journey.
Step 2: Removing Pain by Innovative Solutions.
Keeping in mind the Millennial (Buyer)Persona while creating the solutions.
Buyer's Journey for Insurance
There are two most painful stages in the buyer's journey.
Comparing and Choosing the Right Insurance Policy.
Claiming insurance money (if needed).
Comparing and choosing the right insurance policy.
Emotional State: Curious, Gathering information about insurance.
Pain-Point: Most policies are written in jargon, difficult to comprehend.
And the most cunning "***Conditions Applied" section.
What a buyer looks for?
What all gets covered?
Is the monthly premium worth it and affordable?
How Lemonade has addressed this?
Well Executed Content Strategy.
Impressive User Experience.
Comparison tables with major players in the domain.
Well Executed Content Strategy.
"Educating the buyers through blog posts moves them closer to the buying decision."
Let's say, I need to get my newly bought house insured.
The first thing I will do is to google for home insurance options.
As an answer to my query, take a look at the following post by Lemonade.
"How to Buy Affordable Home Insurance Online?"
And in this article, they address each and every question that may pop up in my mind as a buyer.
Example:
Is a cheaper home insurance policy actually better?
What makes a homeowner's policy unique to you?
Does coverage affect the price?
Can I get a discount on my policy?
How do claims work?
In fact, Lemonade Insurance has a full blog category dedicated to HomeOwners.

Look at how Lemonade has mentioned, "in Plain Engish".
Most policies are written in complex language, difficult to comprehend.
Lemonade again beautifully addressed the pain point of a buyer here.
Impressive User Experience
It's super quick and easy to buy an insurance policy from lemonade in a few clicks on a mobile phone.
Keeping in mind the mobile-friendly and informed millennial generation.
No need to fill the forms, Just speak into the camera.
Comparison tables with major players in the domain.
Often buyers find it difficult to make the right choice for the policy.
Lemonade insurance has made that also super easy.
Take a look at this.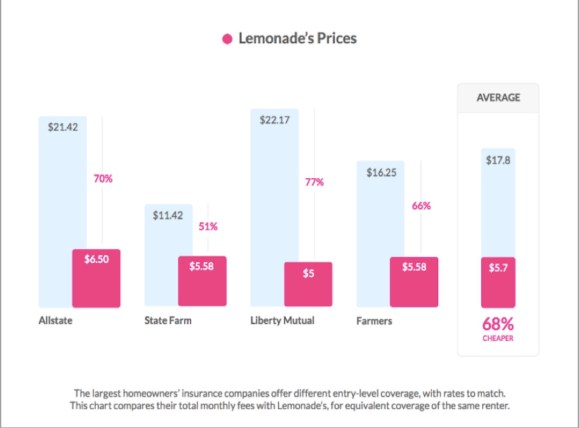 Claiming Insurance Money (If Needed)
Emotional State: Scared. Frustrated.
Pain-Points:
Negotiation with insurance agents to settle claims.
Long wait to get the claim.
Setting Claims with Lemonade is as fast as a bullet train:
Jim's laptop got stolen.
He reported it to the Lemonade insurance company.
In just a few minutes.
On just a few clicks.
On his phone.
Laptop's full cost – $2000.
Got debited to his bank account.
No complex forms.
No negotiation with insurance agents.
Can't believe it, right?
But, With Lemonade Insurance, it's POSSIBLE.
"90 seconds to get insured and just 3 minutes to get paid."
Claiming insurance can't get easier than this.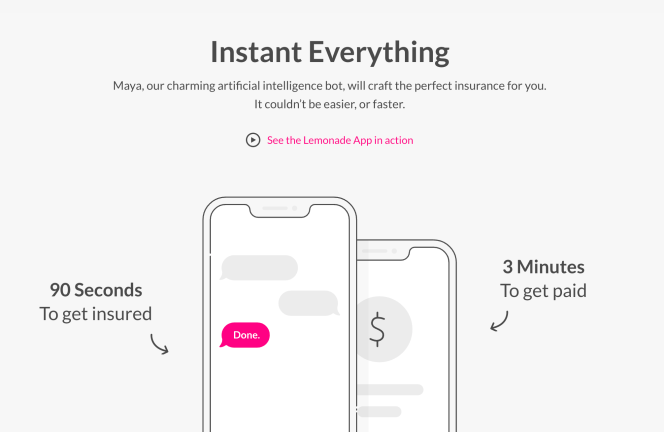 Pro tip: If you need 30 standout SaaS growth hacks to attain double the growth for your SaaS business, fill out the form below!
Comparison: Lemonade Vs Traditional Insurance Companies
Below are a few interesting observations:
AI-Powered Bot MAYA Vs 1000s of Insurance agents
When the job of thousands of insurance agents gets done by an AI powered bot,
The expenses borne by the company are far less (as it doesn't have to pay agents).
Hence, it ultimately benefits the buyer.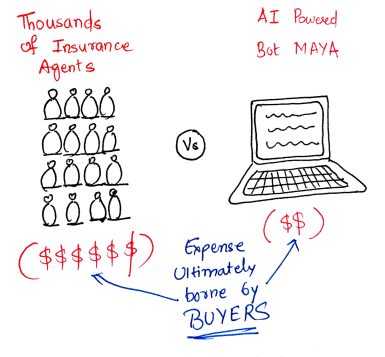 Long Complex Forms Vs Few Clicks on Phone
A hassle-free buying experience from long complex form-filling to just speaking into a camera is absolutely commendable.
Be it while buying a policy or while making the claims.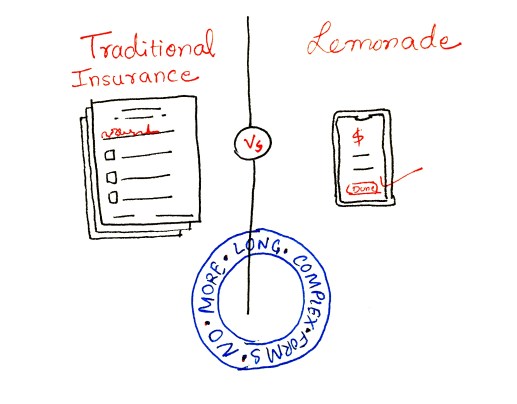 Money Making Mind Set Vs Giving Back to Society
It's quite interesting to know that Lemonade Inc. works on a flat-fee model.
So, let's say, if they are charging 20 cents per day to insure a laptop from one person.
Out of those 20 cents, 2 cents is a flat fee to run the company.
Out of 18 cents, some money if left, after settling any claims, goes towards different charities.
Charity is chosen by the buyer of the insurance policy.
This innovative solution in business model helps in two ways.
Because the company has no incentive to make money by settling claims for less than the desired amount. The company does not negotiate hard on amount getting claimed. Whereas, traditionally, Money left after settling the claims and deducting company expenses is considered as profit. So, more money left means more profit.
People do not make false claims because of their consciences that if they do so, they are snatching something from poor and needy who otherwise can benefit from the money that got collected towards charity.
How are you taking away the pain that buyers have?
Happy to hear from you in the comments.
Or if you are aware of the buyer's pain but don't know how to address it,
We are happy to help.
It might not be a bad idea to subscribe to our newsletter.
We promise to deliver value to your inbox only once in 15 days.
You can always unsubscribe if we fail to keep our promise!
Meanwhile, Explore the plethora of resources to help you out your business! If your organisation wants its content marketing strategy designed by Concurate, let's connect over a short call. Block our calendar today!