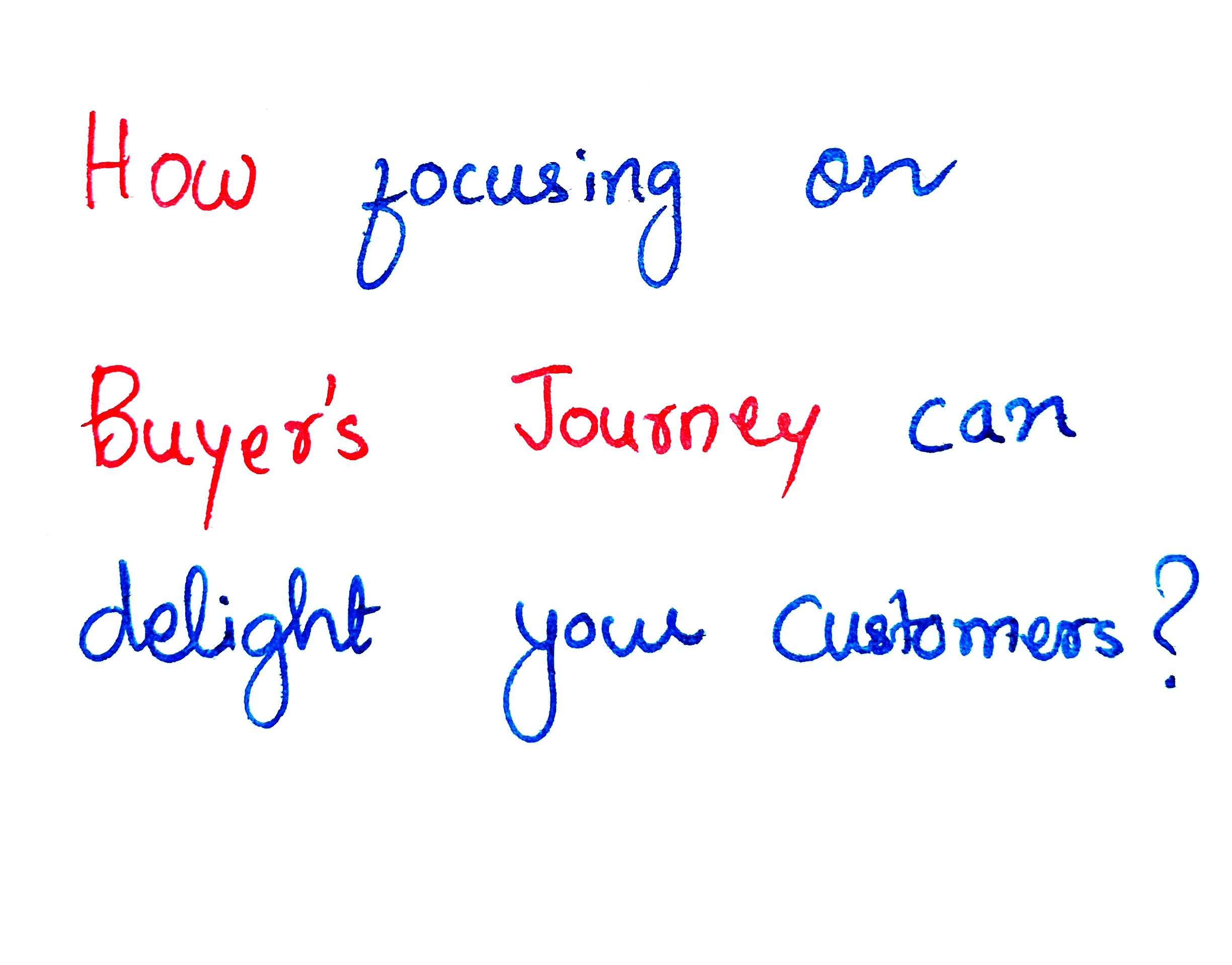 The buyer's journey does not end as soon as he buys the product.
Rather a buyer's journey continues until the buyer opens the product, uses it, gives feedback, recommends/criticizes it!
Each and every experience that a buyer has with a product/service is a part of a buyer's journey.
As a seller, it's your job to make sure that a buyer's every experience is pleasant.
Has it ever happened to you, that you found it really difficult to remove packaging from a product?
Any product, it could be a toothbrush, a trimmer, a printer cartridge etc.
Did it feel unpleasant?
Well, it happened to me.
And it definitely feels unpleasant!
Look at the video below:
I recently bought this Phillips trimmer and found it really difficult to open with bare hands.
I could have surely used a pair of scissors to open it.
It's also not like that people would stop buying this product just because of its difficult to remove packaging.
However, everything else kept the same, if a company offers me an easy to remove packaging, I would definitely switch to it.
The Bigger Idea | Buyer's Journey
I have picked up an unpleasant unpacking experience just as an example.
However, just by focusing on buyer's journey, new players can outsmart their old competitors.
Or grab much more market share or simply delight their customers.
Let me present a few examples (only the delightful ones) here:
Pro tip: If you need 30 standout SaaS growth hacks to attain double the growth for your SaaS business, fill out the form below!
Virtual Debit card by Singtel Dash | Buyer's Delight
(Singtel Dash is a popular Mobile Wallet in Singapore. Singtel is a big telecom service provider with great market share.)
What do you guys think is the biggest pain-point for any buyer to use their Debit/Credit cards?
It's the FEAR OF THEFT.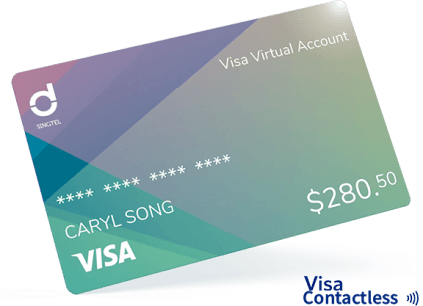 Singtel's ingenious idea of providing a virtual visa account beautifully addresses this pain-point in the buyer's journey.
In Virtual Visa account you keep a limited amount of money, say $100, and you can keep using it just like your normal debit card for any payments whose sum total is within $100, e.g. 1 transaction of $50, another of $30 and yet another of $20. Once you finish these $100 you can add more money to this virtual card. Hence, if at all, this virtual card is hacked by a thief, he would never be able to steal more than $100 from your account.
Isn't this brilliant or what?
Singtel Dash offers tons of other interesting features, all of them well in accordance to buyer's journey.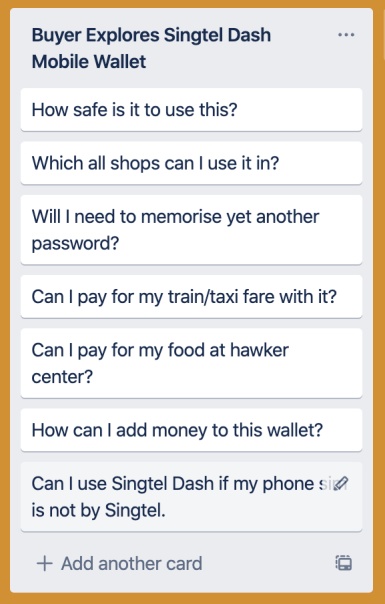 #ILoveIt: My favorite feature of this virtual card is to use it for contactless payment of my train ticket to travel anywhere in Singapore.
And shopping at local shops, food courts, taxi fare.
And Singtel Dash works well with face recognition, no need to remember one more password.
(One more star to them for saving me the pain of remembering one more password).
I may forget the purse at home, but there are 0.01% chances that I shall leave my phone at home.
Hence this mobile wallet is with me 24 x 7.
#FoodForThought: The future is contactless payments. Have you moved to this new way of paying or not?
Women Denims by Express | Delight for Buyer
This one comes from my personal experience.
Out of three pairs of denim I have one – Express, one – Pepe Jeans and one – Deal Jeans.
My phone fits only in the pocket of Express brand denims.
From the other two denims my phone falls out from the pocket when I sit.
Clearly, the other two brands did not focus on the buyer's journey.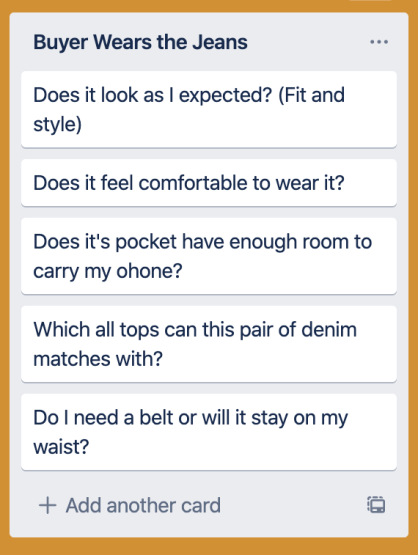 Besides big pockets, the fit, the material, the style everything scores a 10/10 for Express denims.
The only problem is their online store is not accessible outside the USA.
I hope they would be open to the world soon.
Spark Camera Mobile App to create videos | A Vlogger's Delight
How often do you pay for a mobile app?
Facebook is free.
Whatsapp is free.
Gmail is free.
To be honest, not very often!
You pay for a mobile app only when you feel that you cannot get that feature anywhere else for free.
Examples of such apps are Smule – the karoke app, eDJing – the music mixing app, Spark Camera – the video editing app.
I am a vlogger and believe me Spark Camera is the best thing that has happened to my vlogging endeavor.
It's a cakewalk to create a vlog using the spark camera app. The best part is its highly intuitive user interface and super smooth user experience.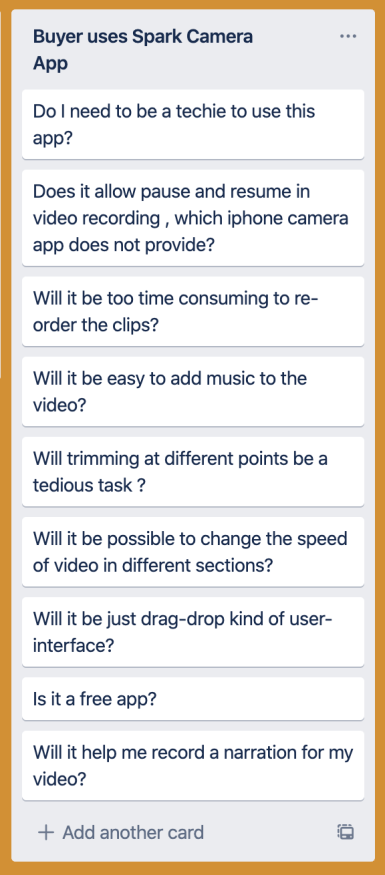 Spark Camera app covers each and every concern mentioned in the usage stage of the buyer's journey.
Look at the testimonial from one of the app users. The testimonial says it all.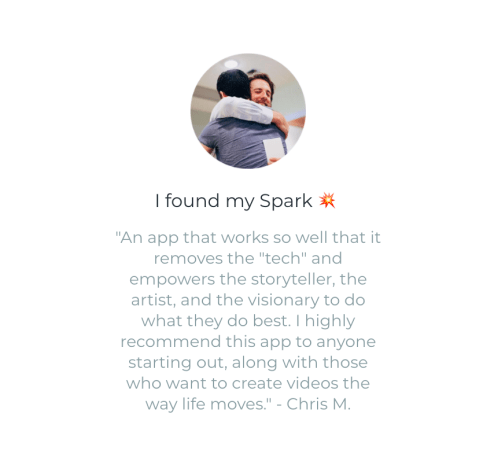 If you have read the post until here, I am sure you wish to increase sales for your business.
Here is yet another post to help you better understand the "Buyer's Journey".
Hope you enjoyed reading this post! If you wish to read more such stories, subscribe to our newsletter.
We send stories to your inbox only once in 15 days.
Meanwhile, Explore the plethora of resources to help you out your business! If your organisation wants its content marketing strategy designed by Concurate, let's connect over a short call. Block our calendar today!