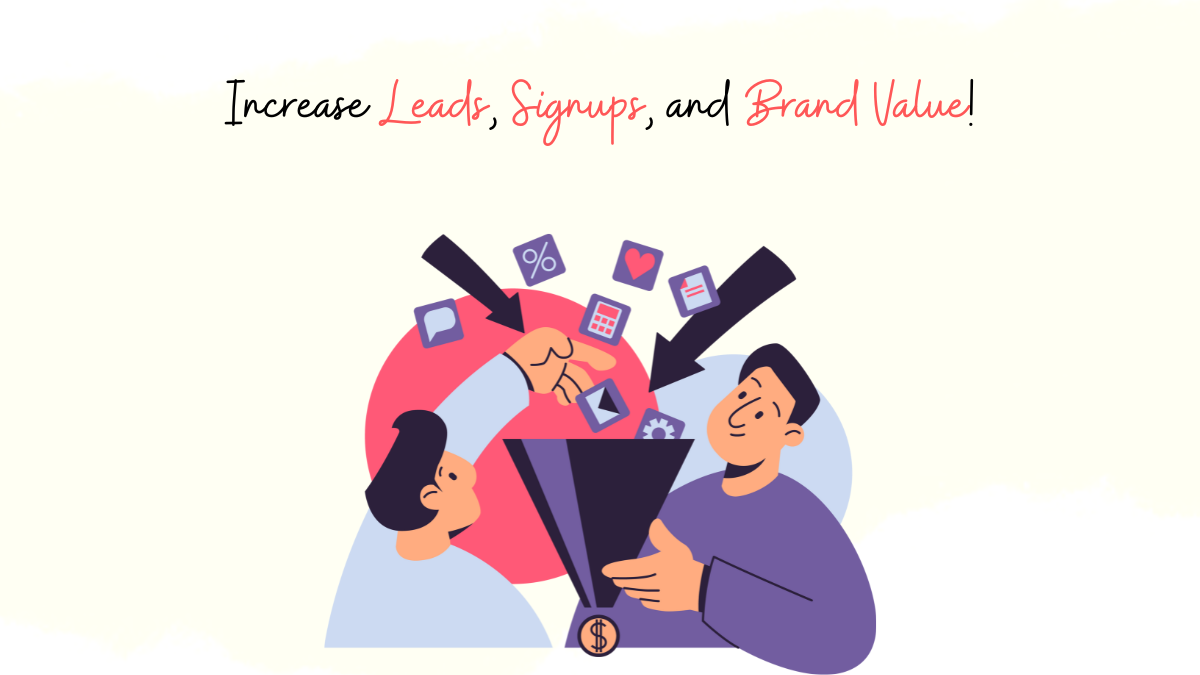 We are a bunch of content nerds.
Do you know what breaks our little hearts?
It's the wails of SaaS business founders, echoing in the halls of various SaaS forums and LinkedIn after their catastrophic failure in generating even a small number of sign-ups and leads from their content.
Often the content they publish is not of poor quality, and sometimes they even get some traffic from it, making the entire situation more ironic and tragic.
So is there any way to write SaaS content that generates leads and signups consistently?
Yes, there is. We have been using that framework to generate high quality results for our clients and ourselves. 
In this article, we will spill the bean by unveiling the SaaS content writing framework that will bring you real results.  
What is Wrong with Most SaaS Content?
Now let's address the obvious question: "What sabotages SaaS content which should have worked on paper?"
From our experience of writing and consuming hundreds of SaaS blog post articles, we have identified the following causes:
#1 – Traffic-Focused Content and Keyword Strategy
Many SaaS marketers take generic SEO advice into their hearts. As a result, they prioritize keyword volume and devise a strategy suitable for bringing the traffic only.
This strategy indeed has its place.
However, if you want leads, both your content and strategy should be built around high intent keywords. This way, you will have content optimised for visitors with purchase intent.
#2 – Bland Content that Lacks the Punch
Often, SaaS brands hire freelance SaaS content writers with zero domain knowledge to create content. 
The problem is that just good writing is not enough. Such articles often lack the specificity required to persuade the audience. The readers can quickly determine that the author doesn't have a good idea of their situations, inspirations, and objections.
Why would they even bother?
To create high converting SaaS content, you must blend audience research, expert perspective, and good writing. We will discuss more in detail later.
#3 – Unwillingness to Mention Your Product
We strongly believe content marketing rose to prominence as a direct reaction to typical pushy sales methods. No wonder early promoters made even mentioning your product a taboo. So, many SaaS pieces of content today still refrain from doing it. 
But the problem is that if your product does help the reader solve his challenges and you skip that part, he would never know that your tool could have saved him money or time. So that's a lose-lose situation for both parties.
In short, you want to break the taboo and showcase the product if it helps the reader eliminate the problem.
Pro tip: If you need 30 standout SaaS growth hacks to attain double the growth for your SaaS business, fill out the form below!
In the following sections, we will share our 4-step content creation framework that addresses all the mentioned problems.
4-Step Content Creation Framework
Step #1 – Content Interview
Most SaaS content creators and agencies kick off their content creation process with Keyword research.
We don't, and you shouldn't either.
When one directly goes to keyword research, we assume that person already knows about his potential customers' backgrounds, challenges and why they prefer one solution over others. But in most cases, content teams don't actively interact with customer-facing sales executives or C-level executives who often have far deeper customer insight. As a result, the content teams often miss the intricacies of various use-cases, customer preferences and purchase motivation. Such half-backed knowledge of customer profiles leads to keyword strategies with many loopholes.
So it's better to start by interviewing your CEO and Sales team.
We first conduct interviews with our clients (sometimes even for individual articles) when creating content.
This approach is a must for:
Finding out which topics should be covered thoroughly and from multiple angles.
Spotting unique angles and substance for articles.
Ensuring we highlight the most compelling features to every audience segment.
Content interviews are often an hour-long zoom call. However, a Loom recording of a client-side expert explaining the product or audience can work too.
But what about the questions you should be asking during these interviews?
We, Concurate folks, ask our clients about:
Background
Who is your target audience? How do they do their job, and what steps are involved? (This is extremely important to come across as relatable. More on that later)
Pain Points
What challenges do they face? How do they go around it currently? What are current solutions lacking? Why do customers prefer one solution over others? What are the most common questions they ask?
SERP Topics
Which topics and subtopics do you think we should cover in-depth? What is the client's opinion about current results on search engine result pages, and what is missing?
Product
How does the product solve users' problems? How is the product different from others?
Feel free to take inspiration from our template and make relevant changes to it.
Long story short, we highly recommend tapping into available expertise and knowledge before moving on to the next step: Keyword research.
Step #2 – Keyword Research
The main reasons behind the failure of generic SaaS content stem from two factors:
Traffic-focused SEO approach
Poor audience research
Generic traffic-focused keyword research compels SaaS leaders to chase after super competitive high-volume keywords (and burn cash in the process), which often don't suit well for sales conversion. And whichever traffic they usually receive bounces off because their content fails to persuade readers.
You need sales-focused keyword research to convert leads consistently.
Sales-focused keyword research begins by writing down customers' profiles, pain points and motivations. This juncture is where content interviews make a considerable impact. In addition, you will get nuggets of gold from the experts/ sales reps inside of your company.
In the next step, you look for keywords based on those pain points and motivations. These are the keywords your customers would type in while looking for a solution.
Since these keywords are niche-focused, you won't get millions of visitors. However, these keywords are high intent. Therefore, the visitors who will land on your blog posts will be more willing to purchase or sign-up.
Also, pain-point-focused keywords are relatively easy to rank. However, often you will find mediocre content dominating search engine result pages as all big players are busy fighting for high-volume keywords.
Here is a detailed explanation of sales-focused SEO from our colleague, Nitesh.
For your better understanding, here are a few examples of the types of keywords we look for:
Best software for [Use-case]
[use-case] software besides [competitors]
[competitor] similar companies for [use-case]
[use-case] solutions for [industry/ audience segment]
[competitor] vs [competitor]
On-demand [use-case] service
You can read this post from Nitesh for more clarification.
Step #3 – Content Topic and Angle
High intent keywords are not your topics. They are just building blocks that you use to forge high-converting topics.
But there is a right way to do it. If you fail to understand those keywords' underlying user intents and find a perfect angle, your content will not perform remotely close to its potential.
So how do you create great topics that convert?
Each keyword has a user intent; a goal user has in their mind while searching. Therefore, you want to match your content topic and format with your targeted keyword's user intent.
For instance, take the keyword "Best software for time tracking". It has a transactional intent, meaning the searcher may be looking for info for now, but they would probably purchase a time tracking app further into the conversion funnel.
You can target this keyword with middle-of-the-funnel topics (information-gathering and options-evaluation stage) like "Best software for time tracking in 2022" or "Best time tracking software for you: Side-by-side comparison of 10 apps". All of these content topics are transactional and perfect for someone who would purchase an app in future.
But your job doesn't end with matching your content topics with the user intent. A broad content topic can inspire multiple sub-content topics if you change the perspective. We call this perspective a "Content Angle ".
Let's consider the above example: "Best software for time tracking in 2022". You can derive the following content ideas by shifting the angle:
Best free software for time tracking in 2022
Best free time tracking software for SMEs in 2022.
Best free time tracking software for manufacturing companies
Best free time tracking software: Why you don't need to bother
But why do you want to explore multiple content angles?
Well, SaaS brands often have multiple audience segments. Customers' backgrounds, pain points and motivations vary across these segments. By exploring new angles, you can reach all of them.
Step #4 – Writing
Once all the groundwork has been completed, it's time to start writing the first draft. But you don't want to put words on the document without any plan. A good piece of SaaS content requires the following things to be handled:
An Introduction that doesn't bore
Sound logical structures
Specificity and details
Placement of product/service without sounding sales-y
An Introduction that Doesn't Bore
SaaS content, especially B2B content, has a reputation: It is dry, dull, and not at all enjoyable to read.
Dull introductions are one of the culprits here.
Most SaaS articles, for example, open by stating the obvious and adding some stats that don't add much value. As a result, intrigue, creativity, connection, and substance – all good writing ingredients often remain absent.
Yet an introduction persuades the reader to scroll down and read the rest. So mastering the art of writing introductions is a must.
So what does it take to write a good introduction?
Two things:
Relatability
Hook
Relatability
Your introduction (or the entire article, for that matter) should be able to connect to readers. They should feel the author understands their backgrounds, challenges, wishes, and interests.
This familiarity builds trust. A relatable introduction makes the audience ditch their skepticism and trust that reading the rest of the article is worth it.
Relatability can only be achieved through audience research. That's why interviewing customer-facing team members is crucial. Such interviews give you an in-depth idea of the audience's background, challenges and contexts.
Hook
Relatability gets your content read, but a hook ensures you have the full attention of your readers. A hook ensnares your readers with either something exciting or unexpected. And once they are pulled in, they stay till they find out more.
A hook can be a story, a statement that seems unrelated to the topic at first or something else. But make sure your hook connects with the topic.
The introduction of this article on Loom's growth is a good example. The target audience here is SaaS leaders who love to read about SaaS growth, startup and entrepreneurship. We opened the article with news of Ripple's funding and used a personal story as a hook. The hook was connected with the topic at the end of the introduction.
Sound Logical Structures
No matter what you publish – a listicle post, a thought leadership post, or a top-of-the-funnel blog post (which builds brand awareness and establishes the trust), there is always some argument underneath.
A thought leadership piece, for example, persuades readers to view things from the author's perspective. Likewise, a top-of-the-funnel "How-to" blog post argues why you want to pay attention to a problem, how to solve that problem and why you want to solve it in a way the article suggests.
When your content fails to persuade or convert, it is often because this argument is not strong enough. It's like hiring the wrong lawyer to represent you in court.
So what makes an argument a strong one?
It's both substance and logical structure.
The substance is what you say in support of your argument. You get enough substance when you know your audience and do proper research before writing. You want to use this substance to make your writing more specific.
But how you structure your argument is as much important as the substance. If you mess up the sentence order, for example, you most likely won't be able to communicate with your readers effectively.
Now, it is not that hard to argue in the right way. There are proven frameworks that you can use. Here is one of the most common logical structure frameworks: TAS (thesis-Antithesissynthesiss)
Present a thesis ("A logical structure is a must for any content")
Come up with an antithesis ("Without a proper logical structure, the content feels "off" and halfheartedly written. Also, the author doesn't come across as a credible expert on the topic.")
Close the loop with a synthesis ("That's why you must apply logical structure frameworks like TAS")
The other two most common frameworks are:
SCQA
Situation: ("To write SaaS content, you need to understand the audience")
Complication: ("But you can't do that by just looking at competitors' blogs or worse, taking a wild guess").
Question: ("So what is the right way to know your audience closely?")
Answer: ("Start by interviewing your Sales reps and your CEO")
PAS
Problem: ("No one would purchase your product if you sound like someone who does not understand your readers' situation.")
Agitate: ("They would think you just another faceless business who doesn't care about them and just after their money.")
Solution: ("So before you even type your first word, look at your audience research: what are your readers struggling with? )
All these frameworks have their places. You must determine which one to choose depending on your context and argument.
As for the examples, we followed the TAS framework and came up with a simple yet relatable introduction for this TriangleIP article.
You will even spot TSA and PSA frameworks at many places within this article you are reading.
Specificity and Details
A strong introduction compels readers to read. In addition, a sound logical structure gives your SaaS content a solid frame.
But you need to be specific to put some flesh on that bare frame. In other words, if you want your readers to buy into your argument, you need to be thorough, back up your claims, and provide examples.
A great example of specificity from a Concurate blog on LinkedIn growth is here.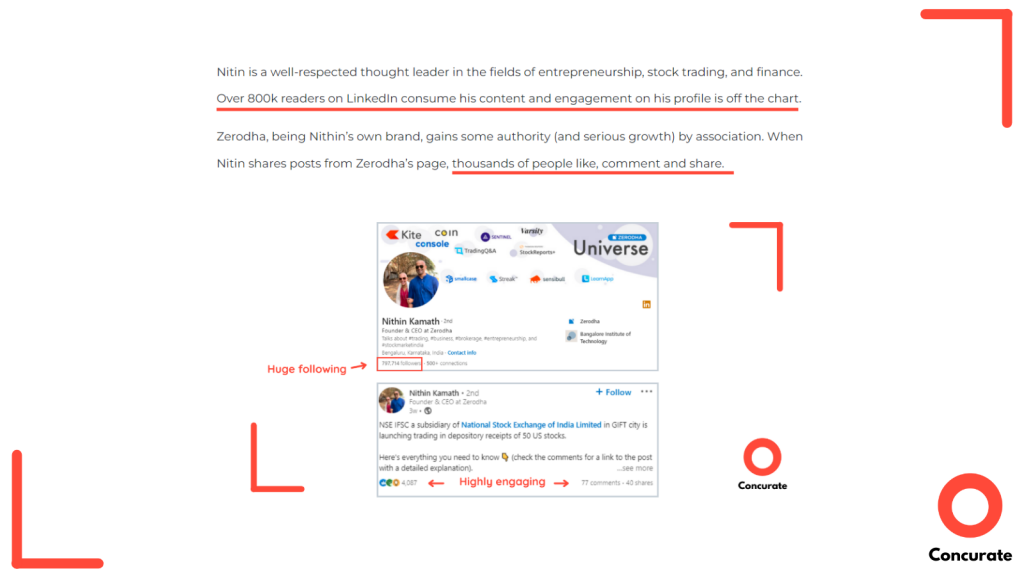 Notice how we start with a claim, "One of the trump cards Zerodha has is CEO Nithin Kamath himself."
Next, we added details in the next paragraph to support our claim. We also uploaded a screenshot of Nithin's LinkedIn profile as another piece of evidence to support our claim. As you can see, at the time of writing, Nithin did have 800k followers, his posts received high engagement, and he often left a link to a Zerodha blog post.
Note: You want to add more than one piece of evidence to support your claim, especially in places where people might get sceptical, have objections, or simply want to see more proof. In this way, even if one of your arguments feels weak to someone, other pieces of evidence would hold the main claim.
Placement of Product/Service Without Sounding Sales-y
One of the primary goals of content marketing is getting business without being too pushy.
Unfortunately, many SaaS marketers take the "not being pushy" part too far. They either avoid speaking about their product or hesitantly place a half-hearted CTA at the bottom of their otherwise decent articles.
That's not the right thing to do. Your sales number will suffer if you don't educate your readers on how to use your product for their use cases. You CAN and should sell your product without being sale-y.
Enter a product-led content approach.
This approach advocates the inclusion of your product into the narrative, provided your product facilitates the solution you suggest. In other words, if your product helps complete some steps that would take the user closer to the final solution, demonstrate how your product works in the relevant places.
We, here at Concurate, are a big fan of product-led content and use it while writing content for our clients and ourselves.
For example, consider the article "How can you reduce your outside legal service fee" we wrote for our client. We included a section: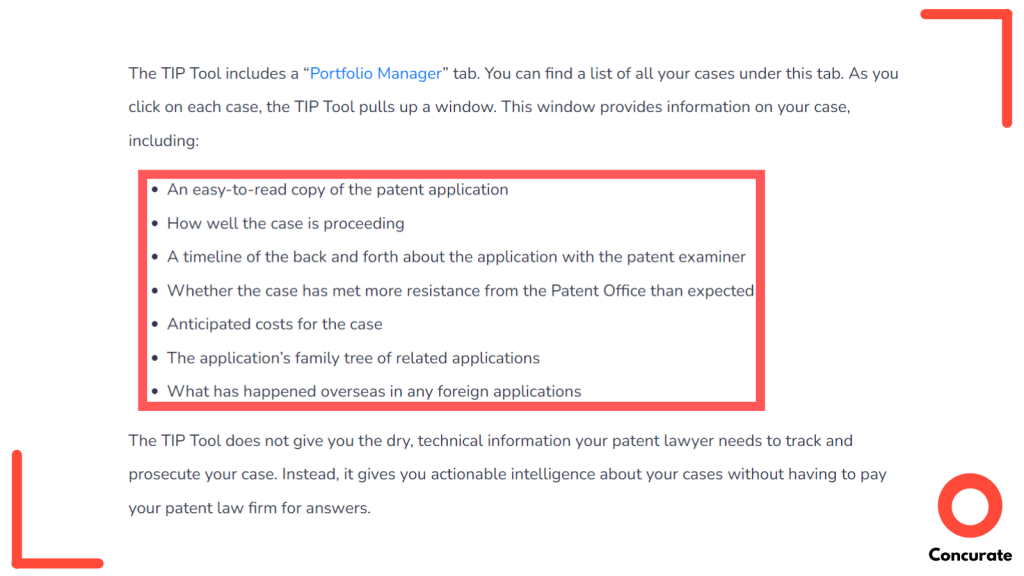 Notice how we provided a lot of contexts that demonstrate we indeed understand the intricacies of their challenges. Also, we made it clear TIP Tool can save readers a lot of money by handing over the data they otherwise have to pay for.
Step #5 – Editing
Your first draft will always be messy. However, your editing skill transforms an ordinary draft into an excellent article that makes readers gobble it up first and then ask for the demo afterwards.
Unfortunately, very few talk about how to edit SaaS content beyond generic advice. First, you want to cut out the filler words and passive voices. But what next?
Here at Concurate, we do a three-step edit to give any content we write a shine:
Developmental Edit
Every SaaS content has a purpose and audience. If it fails to meet its goal and capture the target audience's attention, then it will not convert. Developmental editing ensures your content meets your goal.
During developmental editing, you check high-level structure:
Does the article answer what was promised in the headline?
Does this article speak to the right audience?
Do these sections help to unfold the narrative or resist it?
Is the angle right?
Are your arguments strong and persuasive?
We suggest you look at your brief and audience profile before plunging into editing. That will help you to find the big "'WHY"s. Also, at this point, you don't want to focus on spell-check or grammar.
Copy Edit
A proper developmental edit makes your article relatable enough to your audience and fulfils its goals. However, redundant phrases, wordy sentences, conflicting ideas and bad logical structures can spoil the reading experience.
During copy edit phase, you ensure your content is pleasant to read:
Are reasons/benefits/"Why" clear to the readers?
Are those sentences easy to read?
Does this paragraph add value or regurgitate the same thing twice?
How should I make these paragraphs concise?
Do these paragraphs connect?
You would do a lot of rearrangement of ideas, paragraphs and sentences in this step. Make sure reasons/ benefits/outcomes are so evident in every paragraph that readers never have to stop and think, "what is the point?" Also, you will look for cliches, generalizations and unwanted jargon usage and get rid of those.
Proofreading
Proofreading is for checking grammatical errors and punctuations. This step is pretty straightforward. You want to check things like:
Are these words spelt correctly?
Is the grammar right?
Is this the correct punctuation?
Are we using US English or UK English?
You can use tools like Grammarly for proofreading. However, some suggestions can steal your writing personality and make your content grammatically correct but bland. So channel your inner proofreader even if you have tools like Grammarly. 
On-page SEO
After you finish editing, you want to take care of On-page SEO:
Use H1, H2, and H3 tags.
Use keywords in the headline.
Place links to other blog posts (internal linking)
Place keywords in the meta description.
Optimise image Alt tag
Parting Thoughts
Most SaaS content doesn't generate leads because it fails to persuade and relate to the audience, lacks specificity and has zero mention of the product. However, you can do better by using the framework we laid out. It addresses every weakness of the existing SaaS content creation process and provides solutions.
About Us
We are a content marketing agency that brings business, not just website traffic. We curate the best content as per your company's requirements and philosophy because we believe in the power of meaningful information.
If your organisation wants its content marketing strategy designed by an experienced and result-driven SaaS content marketing agency, let's connect over a short call. Block our calendar today!
If you wish to read more goodness, subscribe to our newsletter.
We send value to your inbox only once in 15 days.