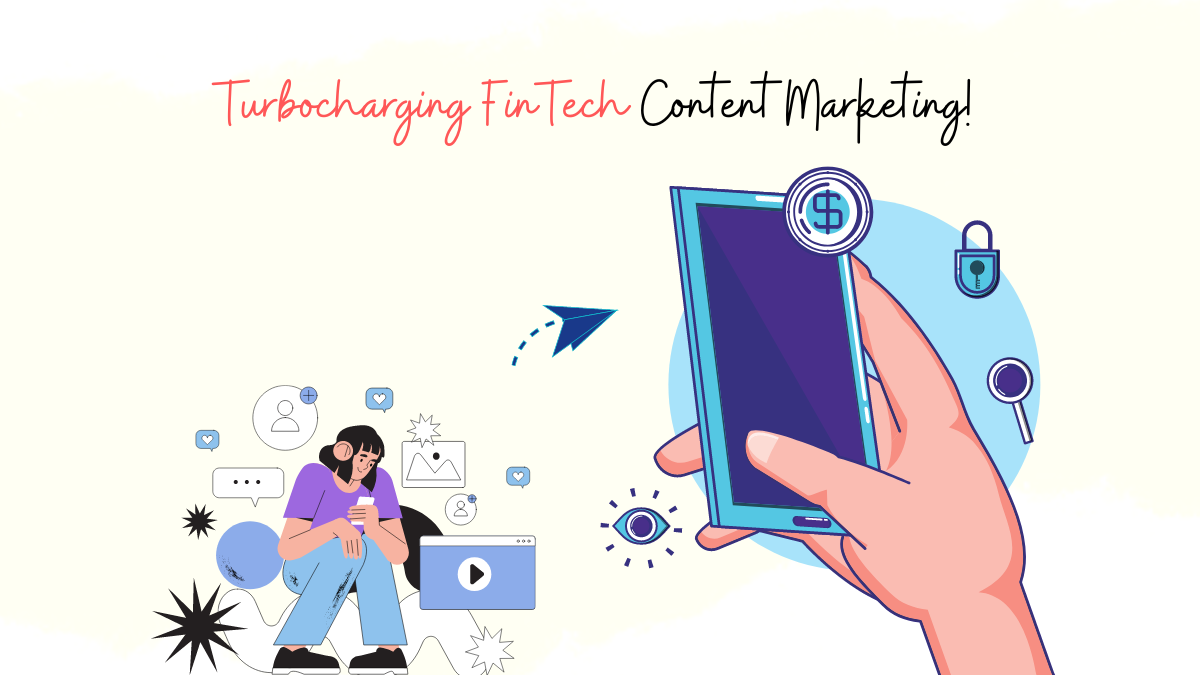 When we say the following, "Bigger budgets mean better results," "It's impossible to compete on backlinks and domain ratings," and "SEO" doesn't work," does it feel like we're pulling words out of your mouth?
If you follow the conventional approach of executing your organization's FinTech content marketing strategy, you're most likely to receive disappointing results.
Let's bust these myths.
Common Misconceptions
#1 – Bigger Budgets Mean Better Results
Simply throwing more money across widespread channels like social media, pay-per-click advertising, influencer collaborations, and volume-driven type of content piece creation will get mixed results best. This is not the case if you execute content marketing with a buyer's intention-driven approach. You can still be the David to the traditional Goliaths.
#2 – Impossible to Compete on Backlinks and Domain Ratings
Even if you're going against financial services giants like Robinhood and Revolut, you can still compete on search engine result page (SERP) rankings. How? By producing blog posts content which builds expertise, authority and trustworthiness in Google parlance. You must create content that resonates with savvy buyers and addresses what they're looking to resolve. This approach will require manual backlinking from authoritative destinations. Creating valuable content helps win these battles.
#3 – "SEO" doesn't work
There's a lot to Search Engine Optimisation than trying to rank for volume-driven keywords. You must consider facets such as on-page SEO, like content structure, relevance and value, headlines, tags, etc.
You must also work on off-page SEO by curating quality citations from renowned websites to add authority scores to your domains.
Additionally, optimising technical SEO along the lines of a mobile-friendly website, easiness for search engines to crawl and index your website, and more.
With the common misconceptions addressed, let us focus on the common (read: unsatisfactory) tactics deployed to carry out content marketing.
Common Content Marketing Tactics
#1 – Playing A Content Volume Game
"Let's just create more content." This approach means FinTech companies produce maximum content to rank for as many keywords. As a result, you're competing for keywords that garner more clicks, do not likely have a medium-to-high buying intent, and are extremely difficult to rank.
#2 – Focusing on Traffic
We are with you when we say that traffic is essential.
But more traffic does not always equal more conversions! Consider this. Targeting a smaller percentage of high-buying intent search terms is better than a minuscule portion of many low-buying intent search queries.
#3 – Beginner Level Content
It counts as a frustrating experience for the user when they are savvy about the search terms they're using yet, end up landing on content pages that provide surface-level knowledge in an attempt to grab anyone and everyone.
This brings us to the usual services you're likely to avail yourself of from most content marketing agencies.
Standard Agencies Offer
#1 – Content That Doesn't Speak to Savvy Customers
While finance as an industry has a broad appeal, FinTech companies like yours in specialised niches will have recurring and potential customers with advanced knowledge of the space. Unfortunately, due to their lack of experience, typical content marketing agencies inadvertently curate "fluff" pieces that won't spark readers' interest or nudge them to share details or close the deal.
#2 – Freelance Writers Who Don't Understand The Industry
We speak from experience when we say it is a hard pill to swallow assigning technical pieces to content writers without specific financial expertise. So at Concurate, we ensure that writers have diverse backgrounds in the FinTech industry – patent attorneys or corporate lawyers.
#3 – Unwilling to be Accountable for Results
Typical content marketing agencies will offer you standard "x content pieces per month" packages. However, they will hesitate to explain in plain language how their content marketing efforts directly contribute to engagement, leads, signups or sales.
#4 – Lack of Systematic Distribution & Promotion Process
Content marketing requires a systematic approach for distributing your valuable content and building brand awareness. Simply blasting across social media channels and email mailing lists won't do the trick. Instead, your promotion process will entail ranking organically via search engine optimisation, organic distribution to your network, syndicating content on platforms where your target audience resides, doing paid promotions, and manually building backlinks. This targeted approach is lacking in typical content marketing agencies.
Usual Results
The results are no leads, conversions, and return on investment. So you'll be looking for a content marketing agency for your FinTech organisation that says, "This is how you'll grow if you hire us."
Our Strategy
In-depth Research
#1 – Understanding Your Company's Products and Services
At Concurate, we aim to get a holistic understanding of your FinTech organisation at the start of our engagement. We try to learn your customers' top priorities at work and understand their challenges. Additionally, we attempt to discover the use case(s) for your product/service.
#2 – Evaluating Competitors and Current Performance
As a next step, we learn what existing customers find especially appealing in the space. First, we aim to understand the one feature/benefit customers want. Next, we learn about the competitive landscape. Finally, we audit the current content marketing strategy, understand what's working and what isn't and chart the way forward.
#3 – Understanding Your Customer's Goals and Pain Points
To gauge an understanding of your customers, we work on finding the top benefits they get from using your services. Aside from the primary benefits, we also attempt to narrow down on the problem customers were trying to solve when they initially came across your product or service.
#4 – Finding Out Why Your Visitors Aren't Converting
In our interviews with customer success experts, we try to find out if there are any tell-tale situations or scenarios that whenever they see it, they know the lead will close (or the lead will never close). We also attempt to find what other products or services come up in sales conversations and if there are any products or services that prospects often switch from.
Produce Highly Researched Company-Specific Content
Concurate aims to ideate, create and distribute content that addresses your potentially best customers' pain points. This philosophy, also known as Pain Point SEO, aims to target long-tail keywords on search engines, having comparatively low search volume but high buying intent.
The benefit of this approach is that content that resonates with savvy customers, builds trust, and directly addresses their pain points is an easy sell. The result is more sales-qualified leads, signups and new customers.
Driving Right Fit Traffic through Paid and Organic Channels
As you'll discover in this piece, ideating and creating content is 2/3rd of the battle. Another aspect is distributing and showcasing the content to the right audience on the right platforms. Concurate works to optimise the SEO, distribute social media content, and curate lead magnets on syndication platforms to attract the right audience for your FinTech organisation. Additionally, Concurate helps to land influential executives in your organisation to pen guest posts on premier publications and garner quality citations from reputed sites.
Measuring Results, Generating Insights and Reporting on Results
An organisation must gather data and derive insights to attribute results to specific efforts. At Concurate, we pride ourselves on providing transparency on how our content marketing efforts result in increased traffic, website engagement, an increase in the number of leads, signups achieved and customers onboarded.
Pro tip: If you need 30 standout SaaS growth hacks to attain double the growth for your SaaS business, fill out the form below!
FinTech Content Marketing Case Study: How Concurate Converted Clients For ScanWriter
About ScanWriter
ScanWriter is a data entry automation and visualisation tool to assist financial fraud investigations. It's a US-based homegrown software trusted by many district attorneys, forensic accountants, and fraud investigators working in the public sector across the USA. ScanWriter takes pride in offering 100% accuracy, exceptionally high processing speeds, audit trail, automatic visualisation of financial models like 'flow of funds', 24×7 customer support, and more. Team ScanWriter is committed to serving the anti-fraud professionals across the United States to their best level.
Content Ideation
The Principles
#1 – Being More Strategic In What Keywords We Target
As explained previously, Concurate focuses on Pain Point SEO instead of Volume Driven SEO. In such a case, we went after keywords such as "financial investigation software", "[Competitor] alternatives", and so on. The psychological intent behind these search queries is highly targeted with a clear buying intention.
#2 – Creating Conversion-focused Content For Each Keyword Targeted
The consequence of this approach is that the post becomes easier to write. As a result, the content piece resonates more with the target audience and is easier to promote! The posts also rank higher for long-tail search phrases (proof upcoming).
Understanding Customers' Intentions and Pain Points
#1 – What Challenges Are Customers Trying to Solve?
The intention is to probe and discover anxieties, difficulties, wants, and aspirations while performing fraud investigations.
#2 – What Challenges Do The Customers Have Before Buying?
Knowing the specific challenges that fraud investigators face helps conduct keyword research. This activity comes after determining the main pain points and goals.
#3 – Why Did Customers Choose ScanWriter Over Other Alternatives?
With this step, Concurate attempts to understand the significant benefits of ScanWriter compared to competitors and other free alternatives that investigators may be employing.
#4 – Develop Customer Persona
Finally, Concurate attempts to create an ideal client avatar (fraud investigator, forensic accountant, etc.) that captures the ScanWriter team's shared thoughts and drives future marketing endeavours.
Creating a target persona aims to narrow down the best customers. So what do "best" customers look like? Typically, you'll encounter quick sales cycles, high average deal size, long retention rate, and minimal support headaches.
Customer Interviews
Here's an inside look into our questioning with ScanWriter's customers to enhance the product's value and build new features:
What's your job title?
What made you adopt ScanWriter?
Are you facing any issue(s) with using ScanWriter?

Tell us more about these issue(s)?
When did you discover these issue(s)?
How did you find out about these issue(s)?

How often do you use ScanWriter: Daily, case-by-case?
Who all in your team use ScanWriter?
Can you use prominent X, Y, and Z feature(s)?

Do you need help with the significant X feature?

What's the most helpful feature of ScanWriter?
What's the most crucial benefit of using ScanWriter?
How many [use case] do you [activity] in a typical batch?
While learning about specific use cases and pain points, the team probes further:
Did you know about the X feature? We can hook you up with a product specialist to help improve your workflow based on what you just shared by walking through how the X feature works.
Where are you using ScanWriter? Virtual or at the office? How do you collaborate?
Anyone else you think will benefit from using this tool?
Which job titles should we approach to try using ScanWriter?
Which allied industries can we target to try using ScanWriter based on your experience?
Would you be open to a case study on how you benefit from using ScanWriter?
If I skipped anything, would you like to share anything else?
Content Creation
Bottom of the Funnel Content
We create content around comparatively low-volume, long-tail keywords with high buying intent. This targets educating savvy prospects who know precisely what they're looking for. An example is a "[Use case] software" article.
(Source: ScanWriter)
Content Promotion
Search Engine Optimisation
Creating educational content that is authoritative and trustworthy helps land clients like ScanWriter on Page 1 (might we add, rank 1) of Google search results!
(Source: Google)
Social Media
Concurate works on distributing content via social media platforms such as LinkedIn. With the right hashtags and audience targeting, clients receive quality sales-qualified leads.
(Source: LinkedIn)
Content Syndication
Establishing a presence on platforms where your target audience consumes information about your industry is vital. Providing valuable content in resources such as White Papers will help increase leads and attract quality prospects.
(Source: Fraud Magazine)
Guest Posting
Guest posting on leading, prominent industry publications helps lend credibility to your brand. At Concurate, we help clients establish their presence.
(Source: Forbes)
What You Should Do Now
We are a content marketing agency that brings business, not just website traffic. We curate the best content as per your company's requirements and philosophy because we believe in the power of meaningful information.
Let's turn your content into customers and take your FinTech blog to the next level. If you're ready to outshine your competition at content marketing, let's connect over a short call. Block our calendar today! We'd be happy to help you develop a content marketing strategy that works for your business.
If you wish to read more goodness, subscribe to our newsletter.
We send value to your inbox only once in 15 days.