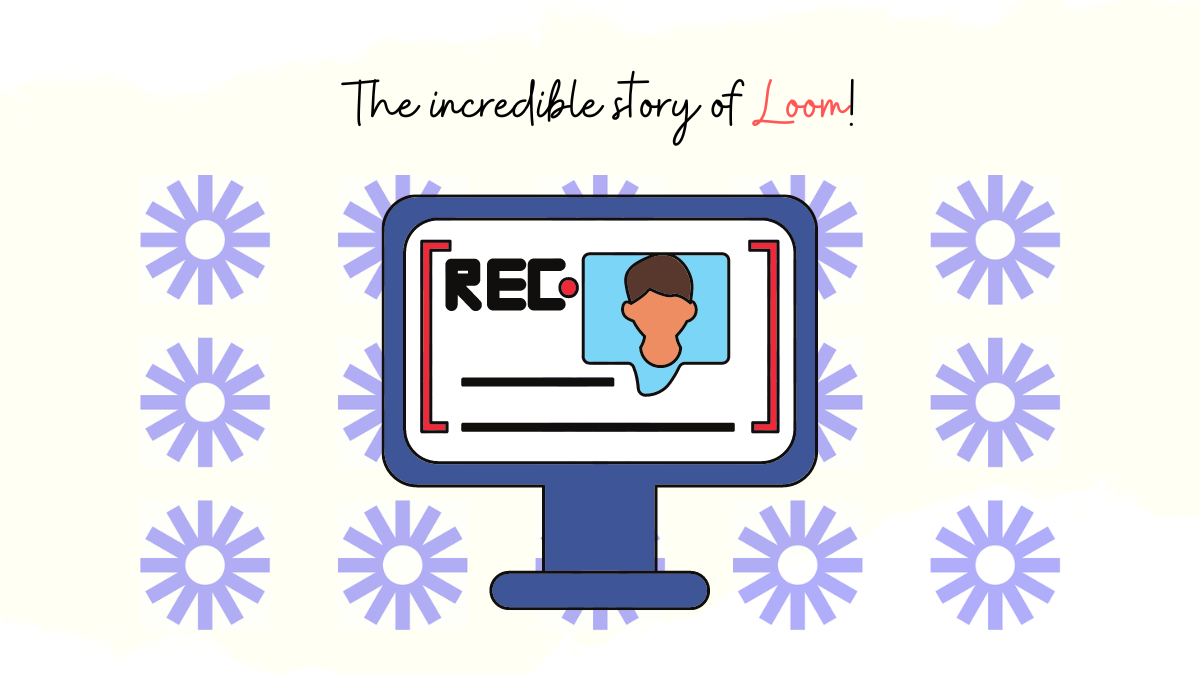 Recently, an article detailing how Rippling raised $250 million with Loom videos caught my attention.
It's fascinating how Loom is replacing old ways of business communication. Loom, Zoom, Room is a thing.
One of the reasons for Loom's success is, of course, its intuitiveness, user-centricity, and effectiveness.
Personal story time.
My introduction to Loom happened when our Sales Head shared a few Loom videos. Those videos looked nice, so I decided to give Loom a try.
It was love at first sight (or first use). Switching to Loom immediately solved my issue with the QuickTime Player on iMac: I no longer needed to append voice recordings separately. That was the "aha moment."
Fast forward a few weeks, I was selected for Facebook's billion-dollar creator funding program. I used Loom to create at least 3 minutes long 90 videos covering inspirational sales and marketing stories across the globe.
And one of the videos went missing.
What followed next amazed me. Not only did my problem get resolved, but I also received multiple emails from the Loom team that showed they care about my issue personally.
Such a user-first mindset combined with an excellent yet simple product and effective marketing won Loom 14 million users worldwide. And Loom's journey from the verge of bankruptcy to a $1.5 billion valuation can offer many lessons.
This article will distill those lessons by analysing Loom's growth from a B2B SaaS perspective.
Loom's Story: A SaaS Fairytale
Loom's story is no less than a fairytale full of struggle, adventure, and moments of pure bliss.
In 2016, Vinay Hiremath, Joe Thomas, and Shahed Khan – a band of three brave entrepreneurs sailed the troubled waters of the SaaS market, intending to change business communications with asynchronous videos.
However, things didn't go well despite their best efforts. After several failed launches and fundraising attempts, they struggled to keep the lights on. Their last hope rested on the launch on Product Hunt.
It took a miracle to save the brand from closing its door. The brand received more sign-ups on the day of its Product Hunt launch than it did in the past six months combined.
That miracle gave the brand the breathing room it needed. After that, Loom steadily continued its climb to the top while battling against a tough economy and cutthroat competition.
Currently, the company ($1.5 billion in valuation) serves over 200,000 businesses and 14 million users. Even after the CoVID-19 pandemic, millions of new users signed up, and Loom opened two new offices.
During this eventful journey, Loom indeed faced and successfully dealt with almost every possible challenge a SaaS startup can expect. So that alone makes Loom a great example to learn from.
Four Pillars That Support Loom's Upward Growth
Before we move on, please note that any brand cannot attribute its success to only a handful of different factors. Usually, these factors mutually influence each other, and the lines often get blurred. Hence figuring out the exact extent of any factor's impact is complex.
With that in mind, let's break down four factors behind Loom's success from a B2B marketer's perspective.
Pro tip: If you need 30 standout SaaS growth hacks to attain double the growth for your SaaS business, fill out the form below!
#1 – User-Focused Approach and Crystal Clear Understanding of Target Personas
Folks at Loom figured early that their most formidable competitors are most commonly used communication tools such as email, messenger apps, text messages, etc.
Of course, none of these tools allows a user to record an explanatory video in seconds, send it with his report, or record a screen capture video and add a human element to dry business communications otherwise.
But very few users understood how asynchronous videos fit in their lives. They were more familiar with text-based/synchronous video (e.g., Zoom) communication. Changing this status quo was hard.
That's why Loom (then Openvid) team focused on understanding the users first. This user-focused approach is one of the reasons behind Loom's wild success on both Product Hunt and later as a brand itself. Shahed Khan later revealed they tracked everything: how people were using zoom, when they stopped using it and why.
Their goal was to plan their product features and marketing around user feedback.
Before the launch, the founder team tweaked their product based on every little insight they got from user inputs.
After the early growth spike, Loom doubled its effort to understand the customers. First, the brand identified seven personas. Then team members requested their users for a 10-minute call to understand their use-cases.
For many SaaS brands, one of the biggest struggles is convincing the users to replace existing solutions with the brand's product. The hyper-user-centric approach solved it for Loom.
Screen recording with Loom is intuitive (the credit goes to Loom's extensive user research) and easy to start. Both ease-of-use and a carefully designed referral program compel the user to try the app. Vinay refers to this moment of user adaptation as the "aha moment." If you haven't already, you must try the Loom app to see how intuitive it is!
After a while, users realise how versatile asynchronous videos are, which have a place in daily business communication. This versatility is the moment (which Vinay calls "Habit moment") when "testers" actually became paid customers. To help users to arrive at this "Habit moment," the marketing team put more tailored use-cases, blog posts, and help articles based on users' profiles.
If you go through the brand's blog, you will see the blog posts cover use-cases across different segments. And, of course, the audience-content fit is on the point here. (We will cover their blog content strategy later in this article.)
#2 – Product-Led-Approach As A Go-to-Market Strategy
People in SaaS circles hold the product-led approach in high regard.
But in reality, the product-led approach is hard to implement. After all, it is not child's play to understand your user inside out, prioritise the end-user while building the product and deliver value before you start profiting.
SaaS brands that wish to adopt a product-led-growth approach as their go-to-market strategy can learn a thing or two from Loom.
Essentially every component of Loom's marketing and strategy is tied to the product itself.
The basic technology the brand offers isn't new. There are multiple tools available in marketing that allow screen recording. However, Loom's simplicity, performance, and user experience set it apart.
For example, once the user installs its Chrome extension, it won't even take 5 mins to understand how to record their screen or edit those videos. Also, the recorded videos get uploaded to the server on the go. So even during editing, merging, or reviewing the transcript, there is no drop in performance. And Loom continuously works on improving the user experience.
Such a seamless user experience makes it easier for users to try and continue using Loom. They use it to send any report, thank you note, message to their colleagues, and whatnot. And the more they use it, the faster Loom videos become one of the "must-haves."
Loom takes user experience inspiration from other brands. For example, every time someone views your Loom videos, you get a notification. This feature mimics one of the distinguishing features of Linkedin – "Someone has viewed your profile". The numbers revealed this LinkedIn-inspired feature is popular amongst Loom users too.
The product-led- growth strategy also influenced the early adaption. From the beginning, Loom made it extremely easy to share videos and sign-up. In addition, since Loom supports the workspace model (like Slack), the moment a team member shares a Loom video, others start using it too, which accelerates Loom's adoption inside an organisation. HubSpot is one of such enterprises that became one of the early enterprise adopters.
Loom's team members also use asynchronous videos for outreach or building connections. It makes the recipients more like to give the videos a try as they can see the product in action.
This product-led-growth approach helped Loom build a brand. Interestingly enough, Loom uses this to gain massive SEO advantages.
P.S: Let's cover that in the following section.
#3 – An SEO Moat For Sustainable Organic Growth
Can you guess how much traffic the Loom website receives every month?
According to Similarweb, It's over 13 million.
And two most prominent sources of Loom's traffic are direct traffic (9.6 million) and organic search (1.9 million).
These numbers show how influential the brand is (hence, people directly visit by typing the URL or clicking on bookmarks). And, of course, their SEO strategy is worth learning from.
Most SaaS brands approach SEO by targeting some top of the funnel/middle of the funnel keywords based on what problem they solve for their target audience. This approach, indeed, has some merits.
However, Loom's approach to SEO is entirely different. Instead of mindlessly chasing after some top-of-the-funnel keywords and burning cash, it chose to excel at brand query SEO. As a result, for any search term that involves Loom as a product/company, Loom's content ranks at the top.
Here is an example of the keyword "Loom not working" (1080 monthly hits):
Keywords that drive most of Loom's monthly traffic are also mostly branded. However, with that said, Loom's SEO team doesn't neglect non-branded relevant long-tail keywords either.
You must be wondering why branded query SEO works excellently for Loom.
Well, this success has its root in Loom's brand building and positioning. Its users mostly came to know about the app after receiving a Loom video or hearing about it from others. So, it created a powerful brand which resulted in further brand awareness. So people started looking online to understand different usages of the app, troubleshoot, and receive new product updates. So, Loom secured SEO wins by optimising its user guides/blogs/landing pages for those search terms.
Interestingly, Loom's obsession (which is good) with understanding their audience is also reflected in their SEO strategies. On close inspection, Loom's SEO team invests in "pain-point SEO."
If you are unfamiliar with the term, it's an SEO approach that advocates taking into account your users' real challenges first and doing keyword research based on users' issues, not search volume.
Loom does not stop at providing a solution for common issues. Instead, its content team finds more profound and complex user challenges and creates content.
Loom's blog posts, for instance, rank for long-tail keywords like "hate my voice." It might feel entirely out of context at first. However, many people are insecure about their voice, making them video shy. Loom helps readers and gains exposure to a new audience by targeting such keywords.
Last but not least, Loom pays attention to its link profile. According to Ahref's report, Loom has almost 2.5 million backlinks (you get a backlink when other websites link to your articles in their blog posts) from 44000 referring domains (list of websites that have linked them). In addition, highly authoritative websites like HubSpot and Forbes also link back to Loom.
#4 – Product-Led/Thought Leadership Content that Educates Customers and Promotes the Product
Loom introduced asynchronous videos as a new way of business communications and, in the process, challenged the dominance of asynchronous video communication and sync text communication. So educating users about the usage of asynchronous videos was (and still is) Loom's priority.
That's why Loom's content always has been top-notch. Its entire content strategy revolves around product-led content and occasional thought leadership content.
But first, let's talk about unsung heroes: "help articles". As we discussed, brand query search terms are responsible for a big chunk of Loom's monthly traffic. As a result, the Loom resource library houses hundreds of "help articles" to answer almost any queries made up with those branded search terms.
These help articles are packed with information and includes relevant screenshots and video. Such high-quality and well-planned content pieces ensure user satisfaction and a positive impact on overall SEO.
Only a few SaaS brands produce great product-led content as Loom. (Ahrefs and Hotjar are another two examples if you are wondering). The cornerstone of its content strategy is product-led content which is not surprising considering the brand's overall commitment to product-led growth.
Almost every blog post picks one specific issue and weaves the product into the narrative while offering the solution. Here is an example from the blog post "How video messages help us explain and review code".
This embedded Loom video demonstrates how an engineer can review code using an asynchronous video and eliminate a lot of needless back and forth between the coder and reviewer. As you can see, including the product (that above mentioned Loom video) feels natural in this context.
Interestingly, Loom doesn't always treat its audience as a bunch of people divided based on their use cases. Sometimes a few blog posts go live talking about the discomfort the users might feel while shooting videos.
But no matter what problem the blog post provides a solution for, the product-led part is always executed flawlessly.
Thought leadership content has become another staple of the entire content strategy.
As you know by now, Loom essentially carves out a market with a product that challenges the existing status quo. To do so, the brand has to persuade, educate and provide new perspectives to its users. As a result, the brand invested in quality product-led content with elements of thought leadership.
Take this blog post, for example. It matches the description of good thought leadership content:
It offers a new perspective (adaptation of asynchronous communication).
The argument is well thought out and based on facts.
It has a strong, compelling message that makes the reader reconsider these new ways of communication.
At the same time, Loom's use cases fit pretty well into the narrative. As a result, these hybrid blog posts both educate and sell at the same time.
A further intriguing aspect of Loom's blog strategy is how it approaches bottom-of-the-funnel content. For example, many SaaS brands consider bottom-of-the-funnel case studies with many numbers and stats.
However, in many cases, the impact of a product is not easy to measure in numbers. In those situations, storytelling is a great way to send your message across.
Instead of writing those customer success stories in-house, Loom invites its customers to narrate the impact in their own words as guest post contributors. This practice is superior for two reasons:
First, these bottom-of-the-funnel articles rank for relevant keywords.
More importantly, a success story from the actual customer is much more persuasive than something written by the brand.
(P.S: If you want to create or scale thought leadership/product-led content, we can help you with planning, draft creation and promotion. Book a call here.)
Key Takeaways
The biggest takeaway of Loom's story is prioritising your users is the best approach.
Loom didn't go for rapid sales growth. Instead, they made sure the product was as user-friendly as it gets. As a result, early users found it very convenient and shared it with their peers.
It, in turn, presented an SEO opportunity that Loom leveraged effectively.
Also, content played a significant role in Loom's success.
Most of its blog posts focus on educating and providing solutions to users' questions. Often Loom's product fits in these solutions pretty well, so the product-led-content approach works well for the brand. Loom also publishes a lot of top-of-the-funnel content and gradually builds up authority. It's a well-thought decision, considering the Google algorithm now emphasises E.A.T. (expertise, authority, and trustworthiness)
We hope this piece provides you with actionable insights from the story of Loom to create meaningful content for your customers.
About Us
We are a content marketing agency that brings business, not just website traffic. We curate the best content as per your company's requirements and philosophy because we believe in the power of meaningful information.
If your organisation wants thoughtful content brainstormed and designed by Concurate, let's connect over a short call. Block our calendar today!
If you wish to read more goodness, subscribe to our newsletter.
We send value to your inbox only once in 15 days.