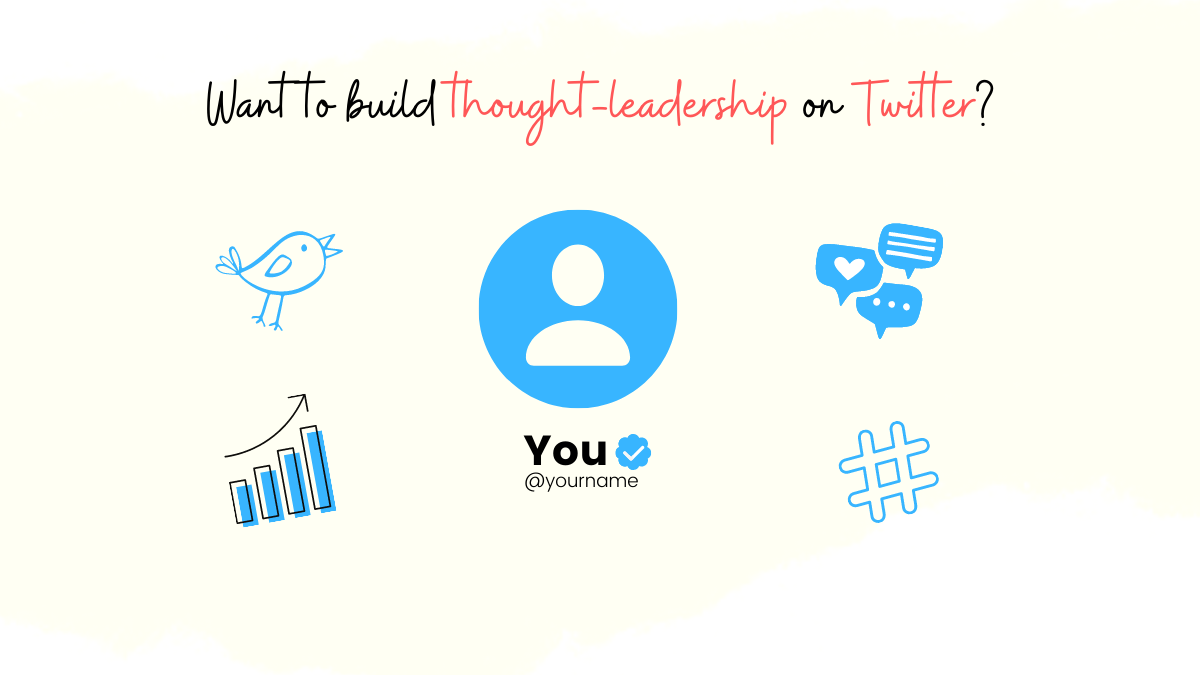 Thought leadership is the ultimate business currency.

Jack Ossa
The thought leadership approach is one of the best ways to build trust among your audience. Once you earn the trust by sharing your opinions and experience, massive brand awareness and exponential business growth follow.
LinkedIn, company blog, email newsletter- any platform can build thought leadership. However, there is one platform that is especially suited for it.
Yes! Twitter it is.
With 217M active daily users, Twitter is a dwarf compared to giants like Facebook and YouTube. However, Twitter's user base comprises many influencers, journalists, star entrepreneurs, and other "elites." They are looking for new ideas, powerful stories, and bold initiatives. By sharing your subject matter expertise on Twitter, engaging in meaningful conversations, and collaborating with other influencers, you can increase your influence.
But what is the best way to establish your thought leadership on Twitter if you are starting? What are the best practices? How do you stand out and find your writing voice?
In this article, we will answer your questions by analyzing the strategies of 6 thought leaders on Twitter.
What is Thought Leadership
Before we move on to the nitty-gritty of thought leadership on Twitter, let's ponder a fundamental question: What is this "thought leadership"?
Thought leadership is sharing one's own experience, opinion, and views on subjects they have expertise in. If you are a part of a community or industry, you probably have some hands-on experience and strong opinions. You want to express those before the right audience in different content formats. The goal is here to assist others in learning and gaining new perspectives.
A thought leader is also a great conversation opener. (S)he might start discussions and help participants gain new perspectives in the process. Think of this as collaborative communication. One party (the thought leader) starts insightful conversations, and readers enrich their opinions.
At the same time, the audience doesn't follow a thought leader just for the content only. They want to hear your voice, connect emotionally, and feel enriched with knowledge. So, a dash of original personality must be there.
6 Twitter Thought Leaders You can Learn From
Here are 6 Twitter thought leaders you should grow ideas from. Please note that each of them has a distinct approach. Therefore, you may not need to try all of their ideas. Instead, apply whichever you feel is better for you.
S. No.
Name
No. of Tweets
No. of Followers
Area of Thought Leadership
Frequency of Posting
Why do people follow him/her?
1
Mark Manson
7,692
337k
Self-Help
10-12 tweets/week
Polarizing opinion, unique voice
2
Ryan Holiday
16,400
472.6k
Stoicism
12-14 tweets/week
Niche approach
3
Ankur Warikoo
19,800
405.1k
Life, Startups, Financial Advice
14-16 tweets/week
Story-based thought leadership
4
Rand Fishkin
67,400
459k
Marketing, Politics
20-24
tweets/ week
Relatability, empathy
5
Shaan Puri
11,700
283.8k
Web3, Entrepreneurship
15-16 tweets/week
Contribution to community
6
Sahil Bloom
35,400
589.3k
Life, Investments, Entrepreneurship
40-50
tweets/ week
Expertise, storytelling
Source: Twitter (as of 10th May 2022)
#1 – Mark Manson
Mark Manson is a best-selling author, veteran blogger, and well known for giving practical "tough love" life advice. His book "The Art of Not Giving A F*ck" is famous worldwide. He has over 328k followers on Twitter and an active Twitter community.
In short, he is a great example to learn from.
So without further ado, let's start from the bio. First, it is crisp and clear. You will know what he does right off the bat. Also, a hint of his writing voice is present in his 26-word long bio. Such strong language may not be everyone's cup of tea, but it unmistakably oozes originality.
Mark's tweets also reflect his hard-hitting style. He doesn't bother much about popular opinion. Instead, he communicates what the right approach is in his opinion. Such a powerful combination of directness and thoughtfulness compels users to join.
From the number of likes, retweets, and replies, it's evident that Mark's audience loves to engage with those chunks of wisdom.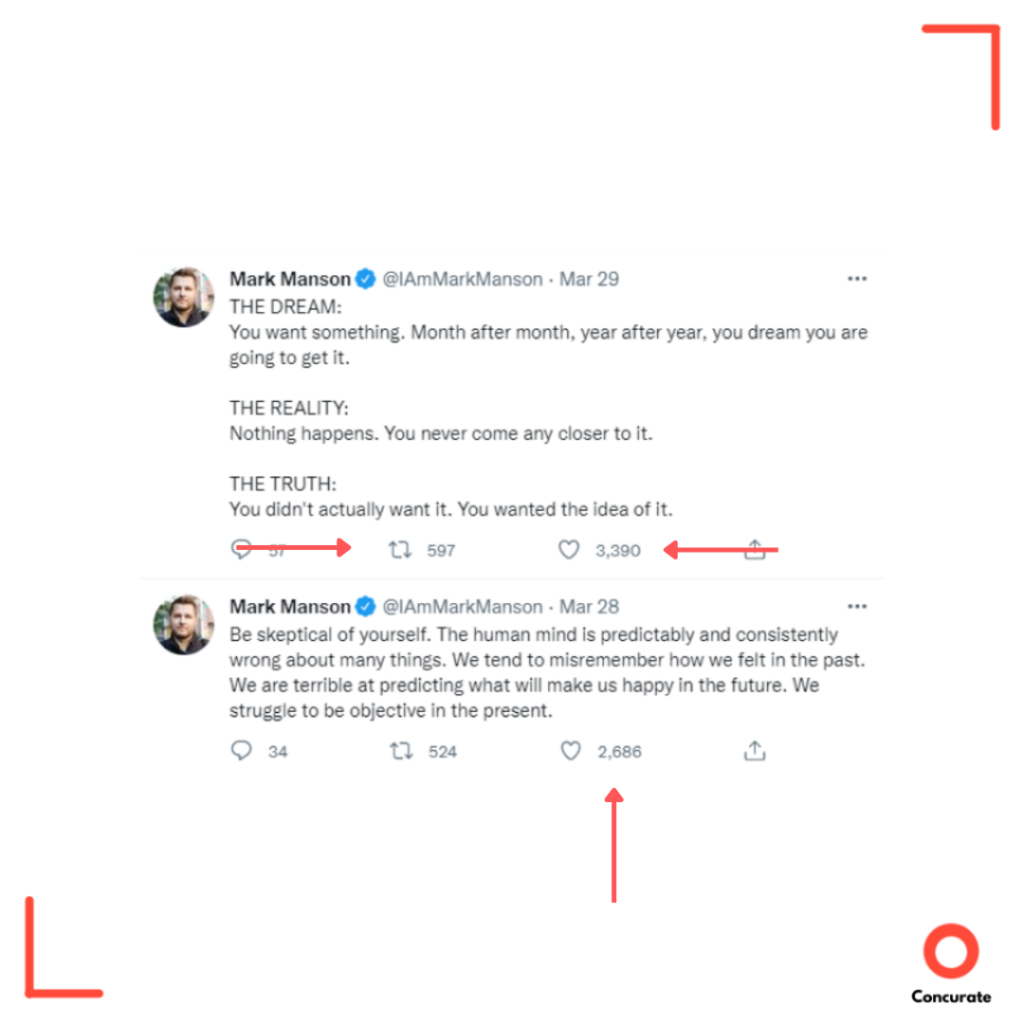 A good thought leadership content mix should have occasionally curated and promotional posts. For example, Mark occasionally shares links to his interviews or blog posts to promote himself as a credible authority.
However, these promotional posts are carefully chosen. Such interviews/ collaborations cover interesting topics to Mark's audience, no matter who the creator is.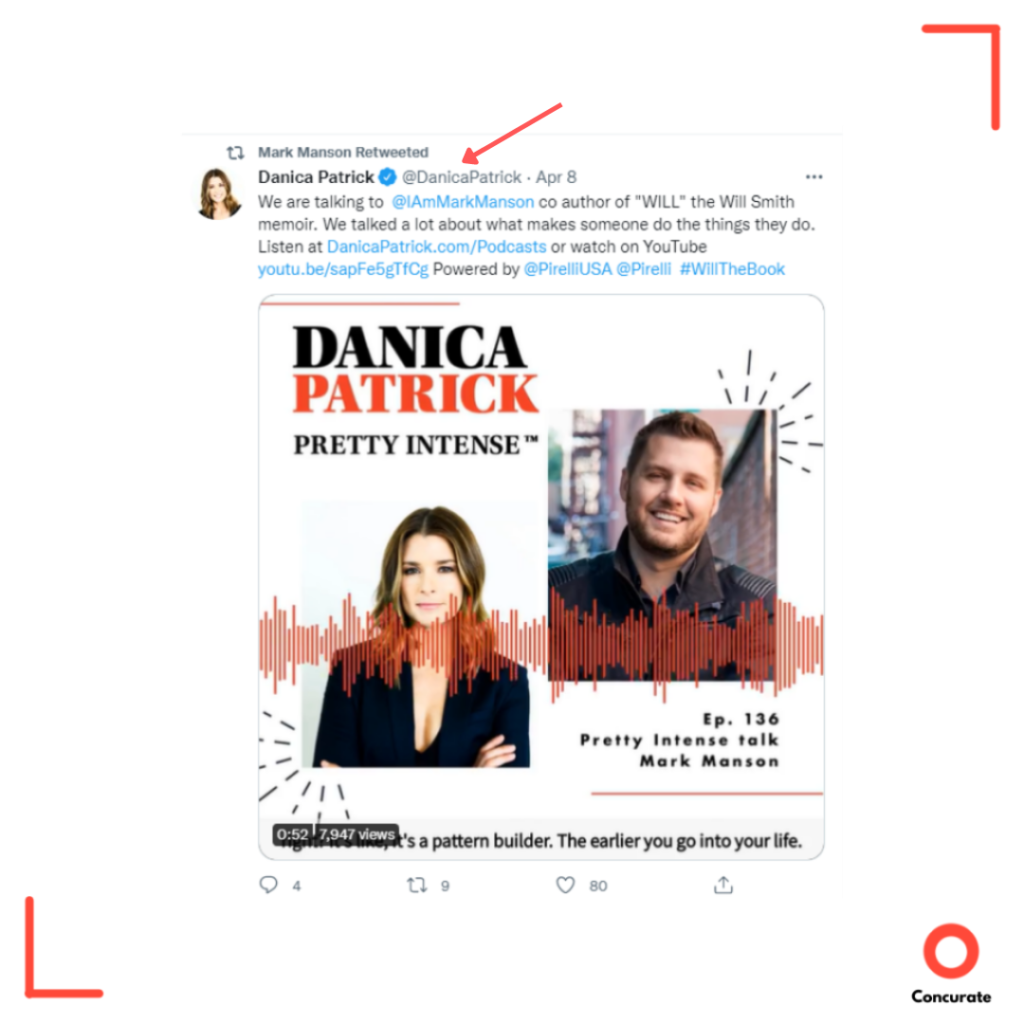 Last but not least, Mark stays congruent. You will see bold language, a "not pulling any punches" attitude, and occasional flirting with controversy all over Mark's profile.
This is crucial. Many would-be thought leaders don't prioritize congruency. If your content, personality, and opinions aren't congruent, you might come across as "too rehearsed."
Takeaway: Mark is a rebel in the self-help industry. Unlike mainstream self-help advice, he inspires others to accept negative emotions first. And his content supports his perspectives.
This is the biggest takeaway here: having strong perspectives and opinions. Then, use your content to communicate and argue in favor of those opinions. It is an excellent approach for building thought leadership on any platform.
Also, you must know what value you bring to your audience. You should point out which discussions and topics they want to hear from you. Your entire thought leadership content should be around those ideas. Even if you retweet others' content, stick to the same subjects.
Also, show your true personality. Share your passions, stories, enthusiasm, and vulnerabilities. Often individual quirks make thought leaders more relatable and give them a distinguishable voice.
#2 – Ryan Holiday
The previous section disclosed the importance of having strong opinions as a thought leader. However, sometimes you can take another route by carving a niche for yourself. You can focus your full attention on only a handful of topics that your audience desperately wants to know about.
Ryan Holiday is an excellent example of a thought leader who went niche. If you don't know him already, he is a best-selling author, a bookstore owner, and the host of the podcast "The Daily Stoic." His name is counted among the most well-known advocates of stoicism worldwide. On Twitter, he has a massive following.
The personal development niche is too broad. So instead of spreading himself thin, Ryan decided to be the "go-to guy" on stoicism philosophy. In this way, he attracts followers who are curious about stoicism or serious about embracing this philosophy.
Ryan frequently tweets about different aspects of stoicism and its application. Nuggets of wisdom from philosophers of antiquity and modern thinkers are also his tweets' most common subjects.
Ryan, too, developed a distinct writing style of his own. He often takes a topic and breaks it down into actionable tips. However, unlike some other thought leaders, he doesn't emphasize storytelling.
Storytelling is just a medium to convey your value. Since Ryan has already picked his area of expertise, he doesn't need to try hard to offer the wisdom his followers seek.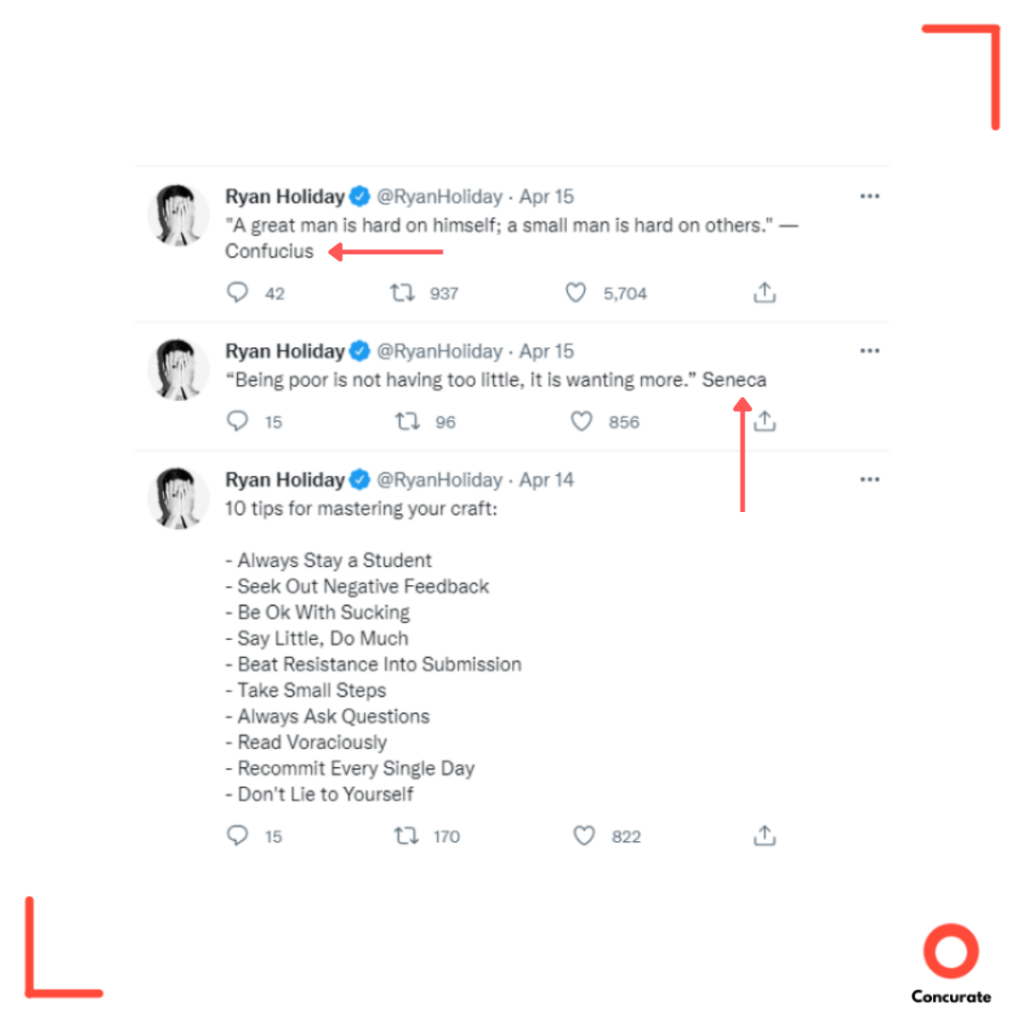 Being a prolific blogger and author, Ryan always had a growing loyal reader base who values his content. And many of his readers have discovered him on Twitter.
He invites his Twitter readers to join his newsletter to offer more than just tweets.
Ryan has pinned a tweet with a link to his newsletter so that his Twitter followers can get more content inspired by the teaching of philosophers like Marcus Aurelius.
Currently, 472k subscribers wait for their daily dose of philosophical wisdom to arrive in their emails.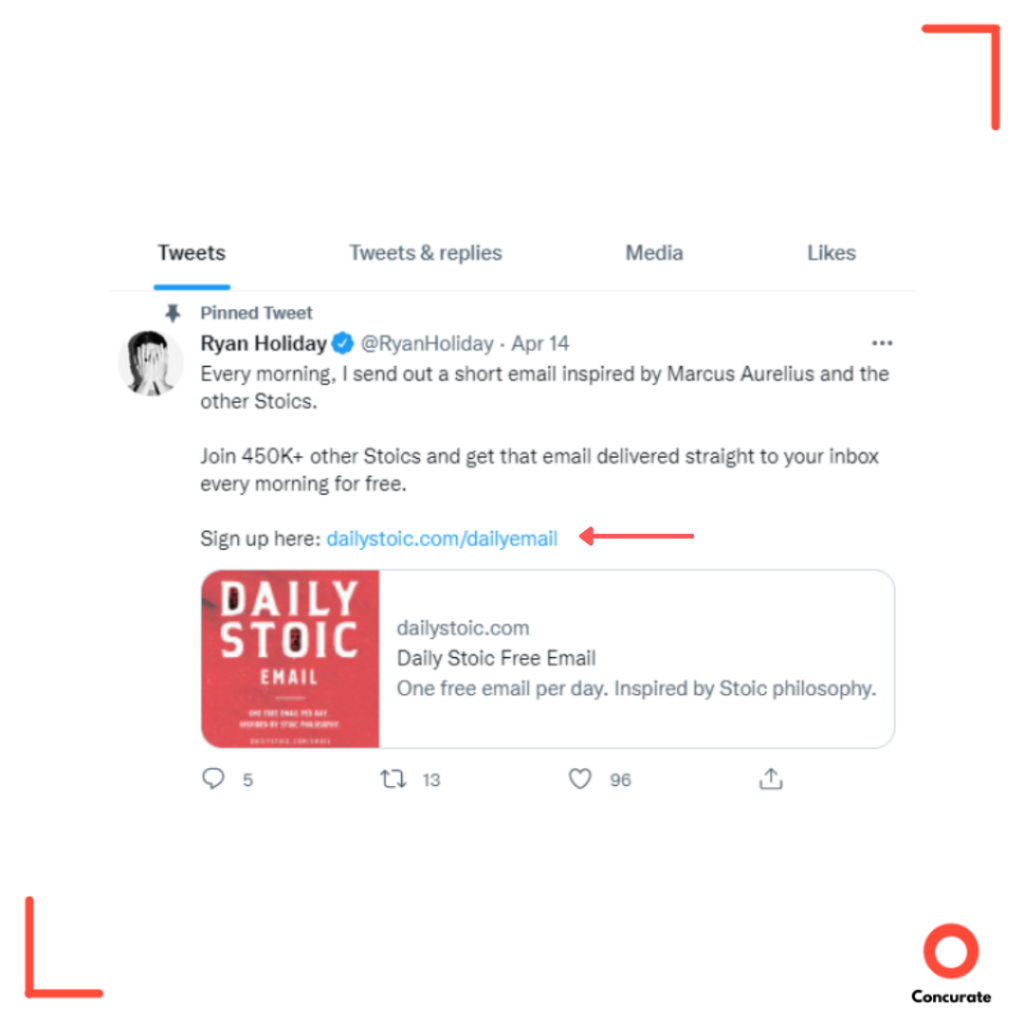 More collaborations with fellow thought leaders open more doors and increase credibility. That's why Ryan actively promotes his partnerships. Here is an example: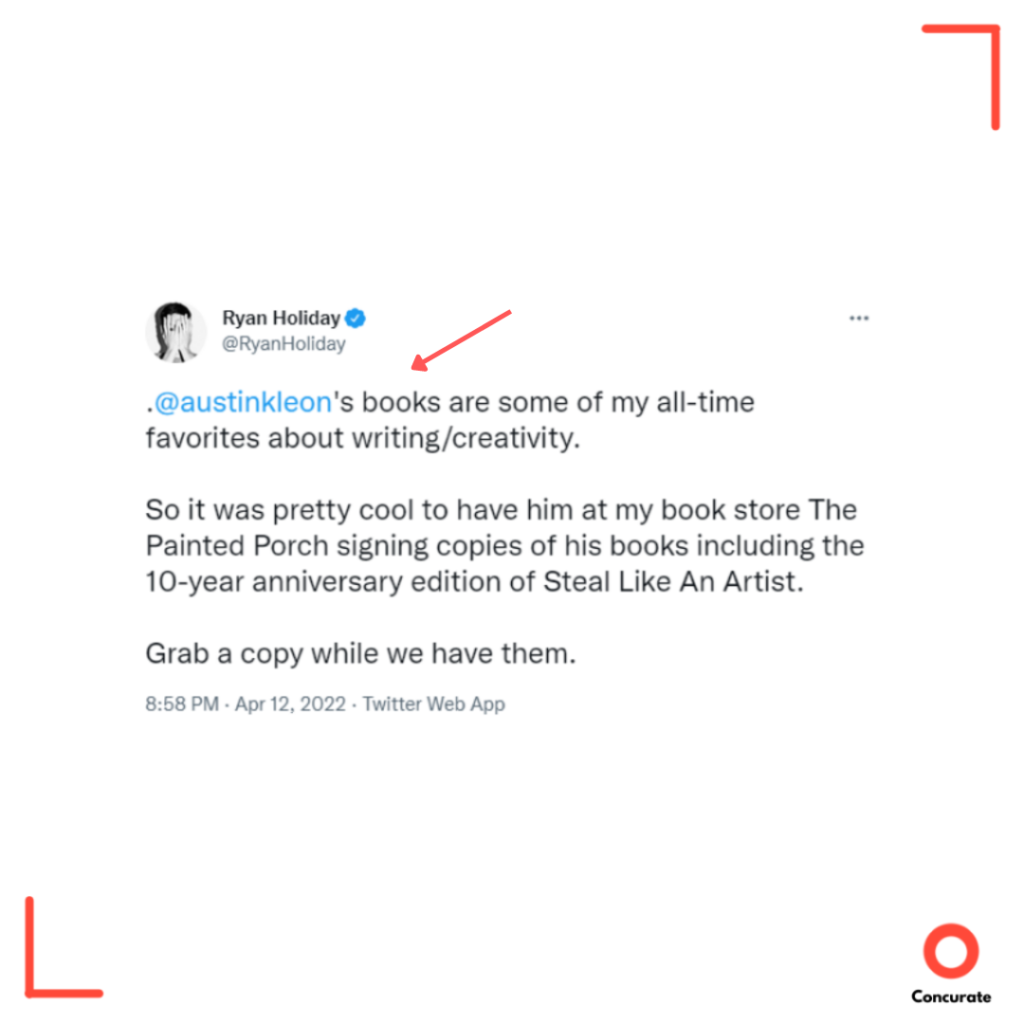 Austin Kleon, another best-selling author, is a thought leader in his own right. Ryan builds his authority up by associating with leaders like Austin.
Takeaway: Carve out a niche. This helps you build thought leadership by being an expert on only a few topics and catering to a niche audience. For example, Ryan's primary expertise is stoicism, and he is known for his knowledge. However, he doesn't deviate much from stoicism.
Also, you don't need to try videos, infographics, or ten other different content formats to be a trusted thought leader. As long as you provide immense value to your audience, even a minimal approach can suffice. But we also think being a good storyteller also pays dividends.
#3 – Ankur Warikoo
Ankur Warikoo, the former CEO of nearby.com, is an entrepreneur, a phenomenal storyteller, and a teacher. LinkedIn, YouTube, Facebook – he has hundreds of thousands of followers on every platform. Here on Twitter, he has almost 404k followers. If you are familiar with his content, you will know that he has perfected the art of story-led thought leadership.
So what is Ankur doing right?
First, he is a thought leader who leverages storytelling to the max. He weaves his wisdom and experiences into his tweets and presents those in his distinct comforting, and warm writing voice. As a result, his tweets always feel inspiring and uplifting.
Ankur has a preference for writing longer content. Since Twitter has a character limit, sometimes he posts threads instead of single tweets.
He is also consistent: every Friday, a thread on a new topic, goes live. (social media platforms always reward regularity)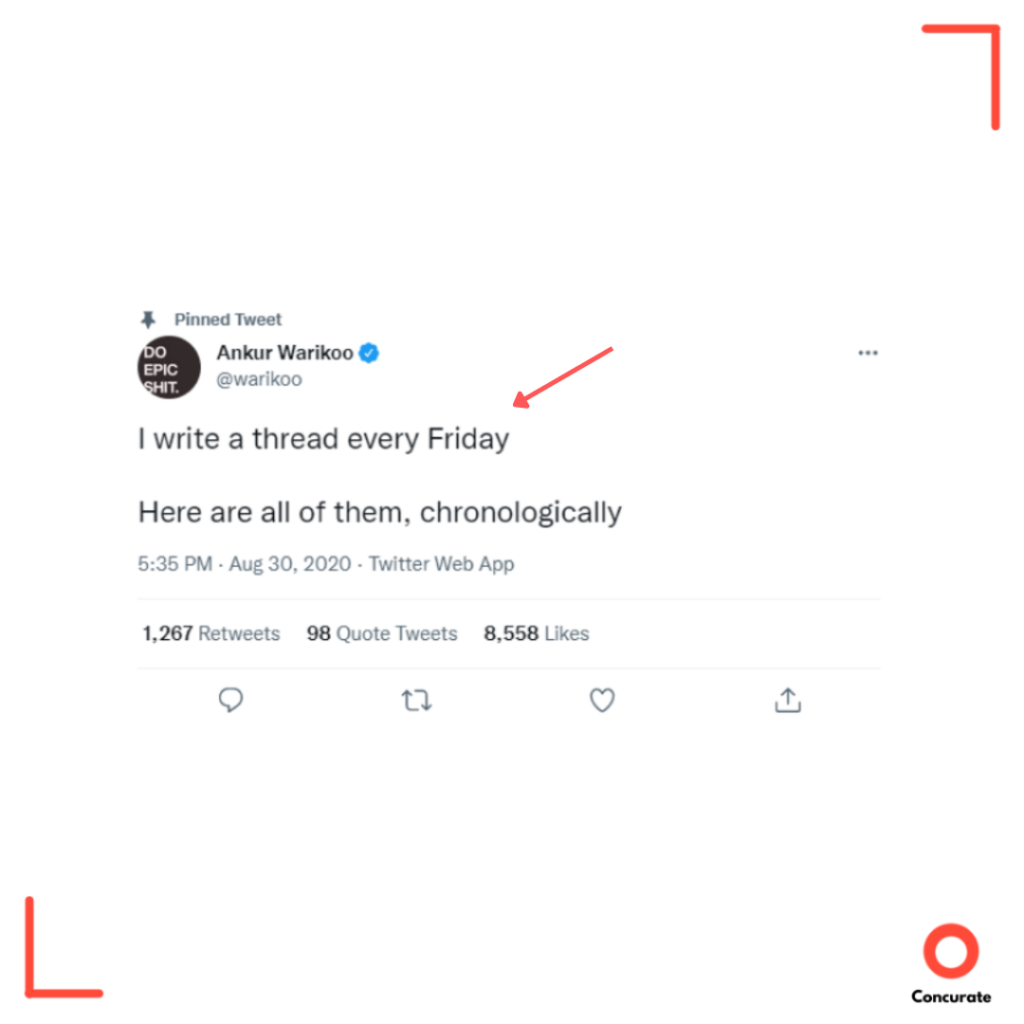 Ankur, as mentioned in his bio, is a teacher too. He has multiple popular courses on entrepreneurship, start-ups, and time management.
His audience is so impressed by the value they get from those courses that they often recommend them. In addition, thanks to Ankur's consistency and content quality, his followers are often willing to try his new courses.
As a result, when he promotes his courses on Twitter, many followers promote those via word-of-mouth marketing.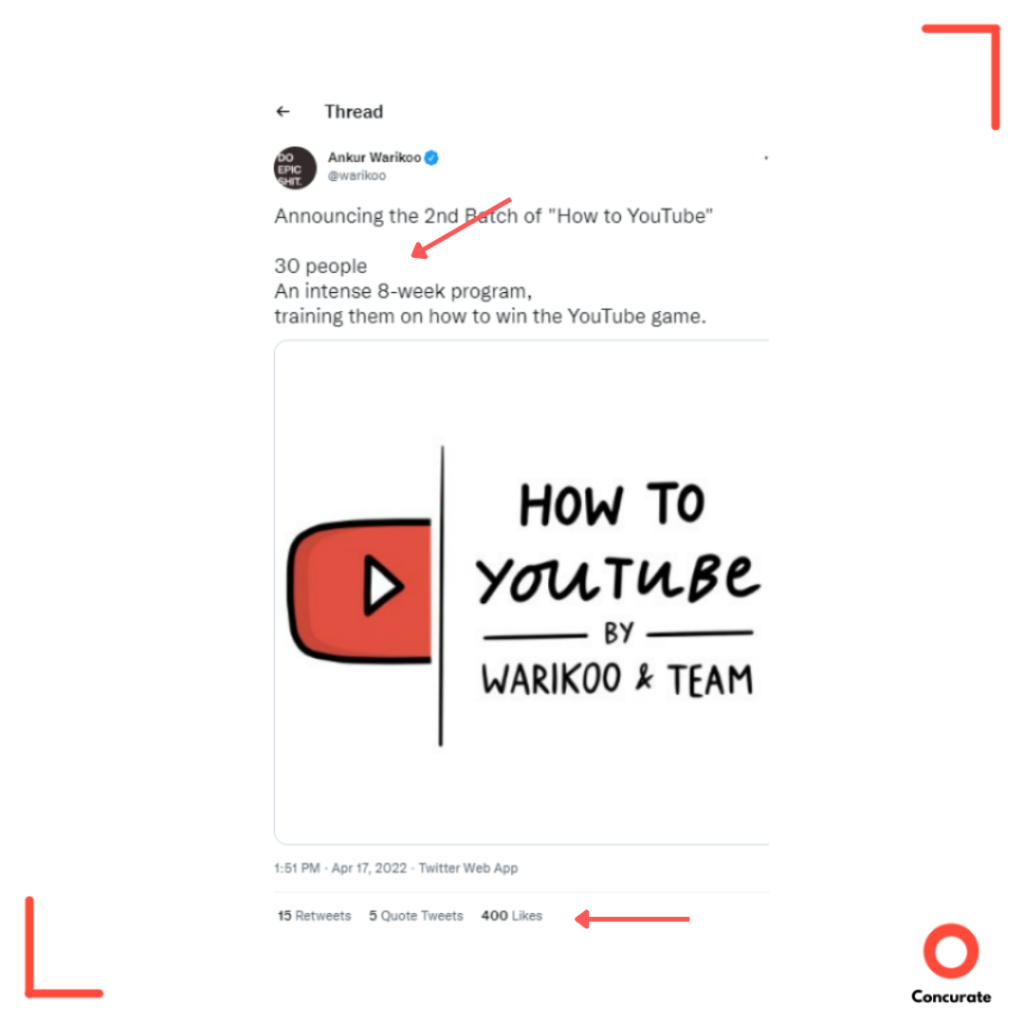 Also, Ankur retweets whenever someone has something nice to say about his work or impact. It acts as proof of the effectiveness of his teachings and, by extension, his credibility.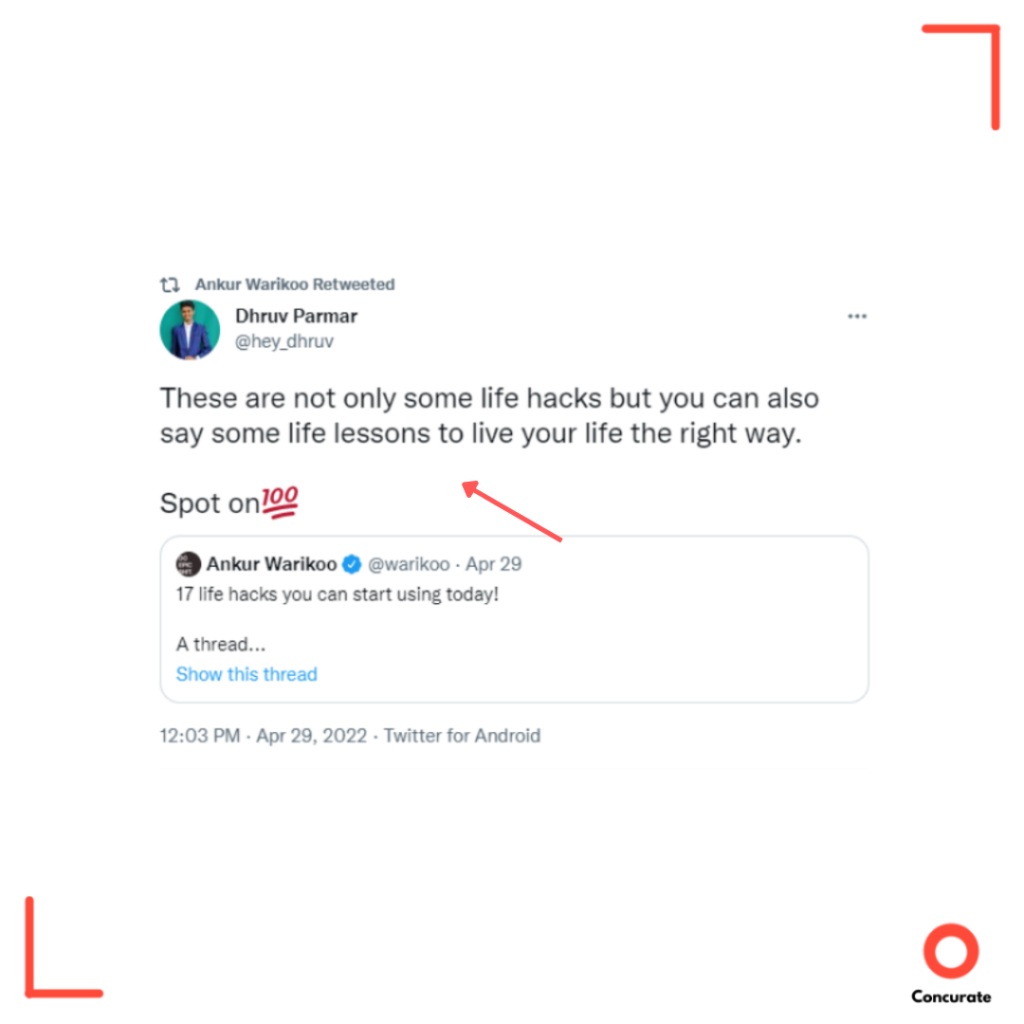 Takeaway: Storytelling is a powerful way to entice your audience. It keeps them hooked and builds a separate thought leadership identity. However, the importance of providing value can not be overstated. People follow you for your expertise, so the value stream should never dry.
Last but not least, put an effort to come across as congruent. Post consistently, have a unique voice, and match your content with your unique tone.
#4 – Rand Fishkin
There isn't a SaaS person around who hasn't heard of Moz. One of the most well-known SaaS companies, the brand has thrived since 2004. Folks at Moz are among the pioneers of effective SaaS content marketing.
Rand Fishkin is the founder of Moz. He is also one of the most respected inbound marketers globally, with 458.6k Twitter followers.
So let's take a look at Rand's Twitter strategy.
Rand checks off two fundamental traits of being a brilliant thought leader. First, his tweets are insightful and eye-opening. Second, he has a distinct voice that is clear and concise.
Most of his original tweets are about marketing and SEO. However, unlike many other Twitter influencers, Rand provides clear examples to apply his tips.
Here is one of his tweets with a "Show, don't tell approach" approach.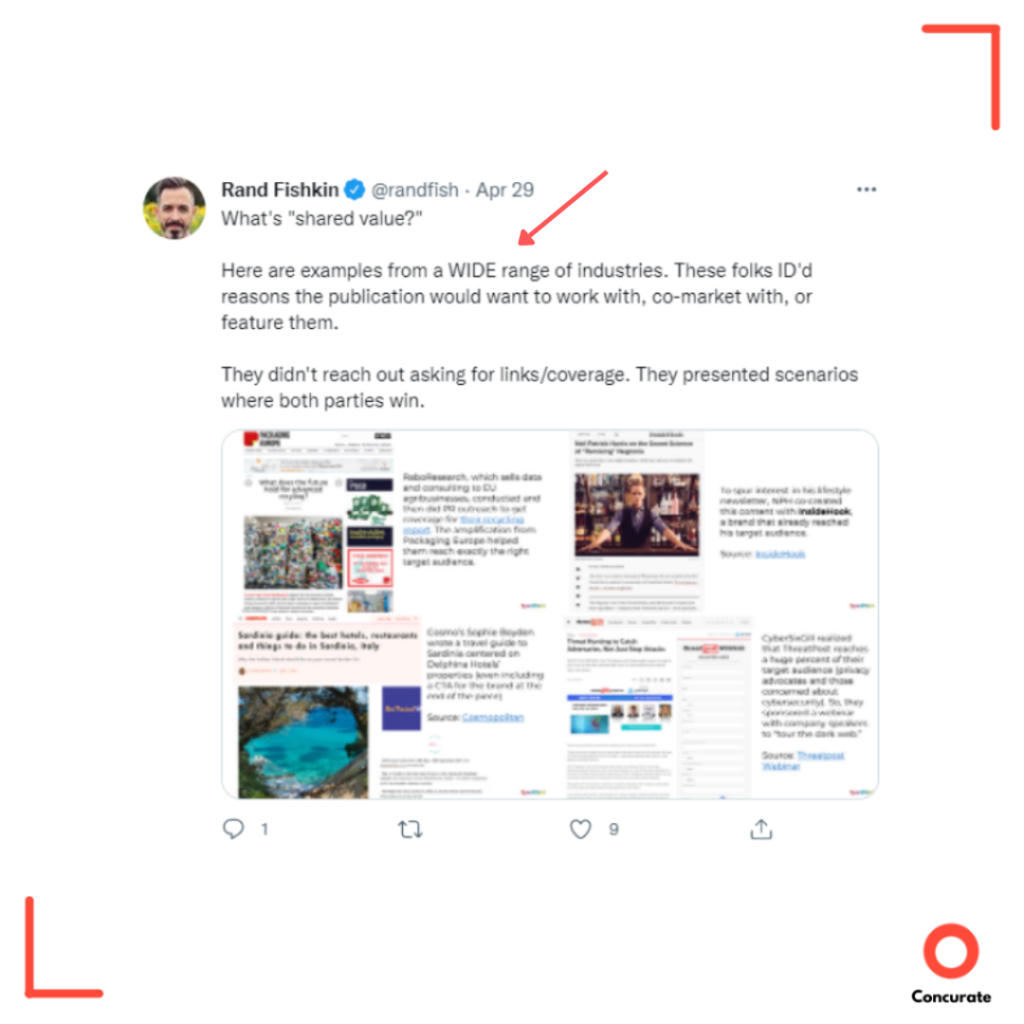 Rand also utilizes others' content by frequently retweeting. In addition, he builds a collection of curated instructive bits of content that keeps his followers informed about their topics of interest. As a result, his followers find relevant content and save themselves hours of wild goose chasing.
It also helps Rand to solidify his status as an authority.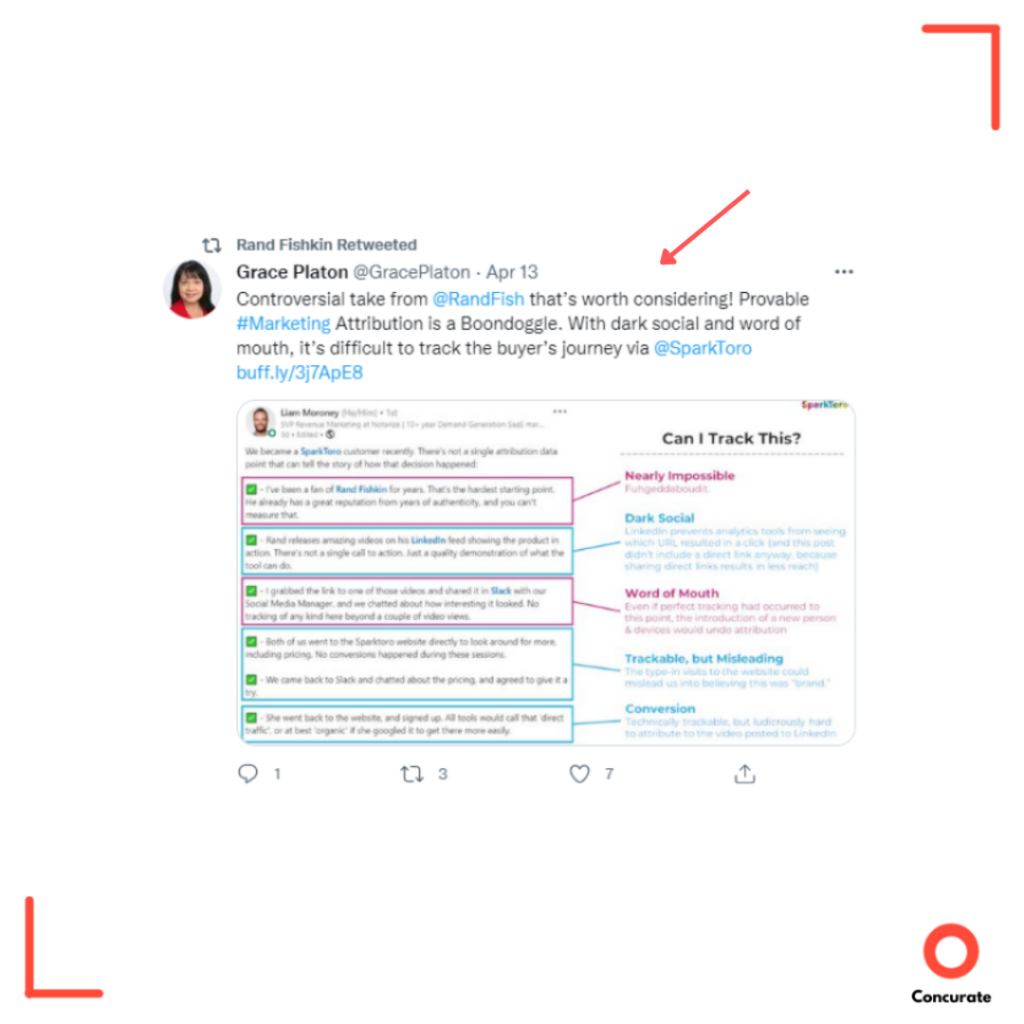 He also actively promotes other influencers and businesses. Such initiatives show sides of his personality: helpfulness and empathy. And people love thought leaders who are both extremely competent and empathetic.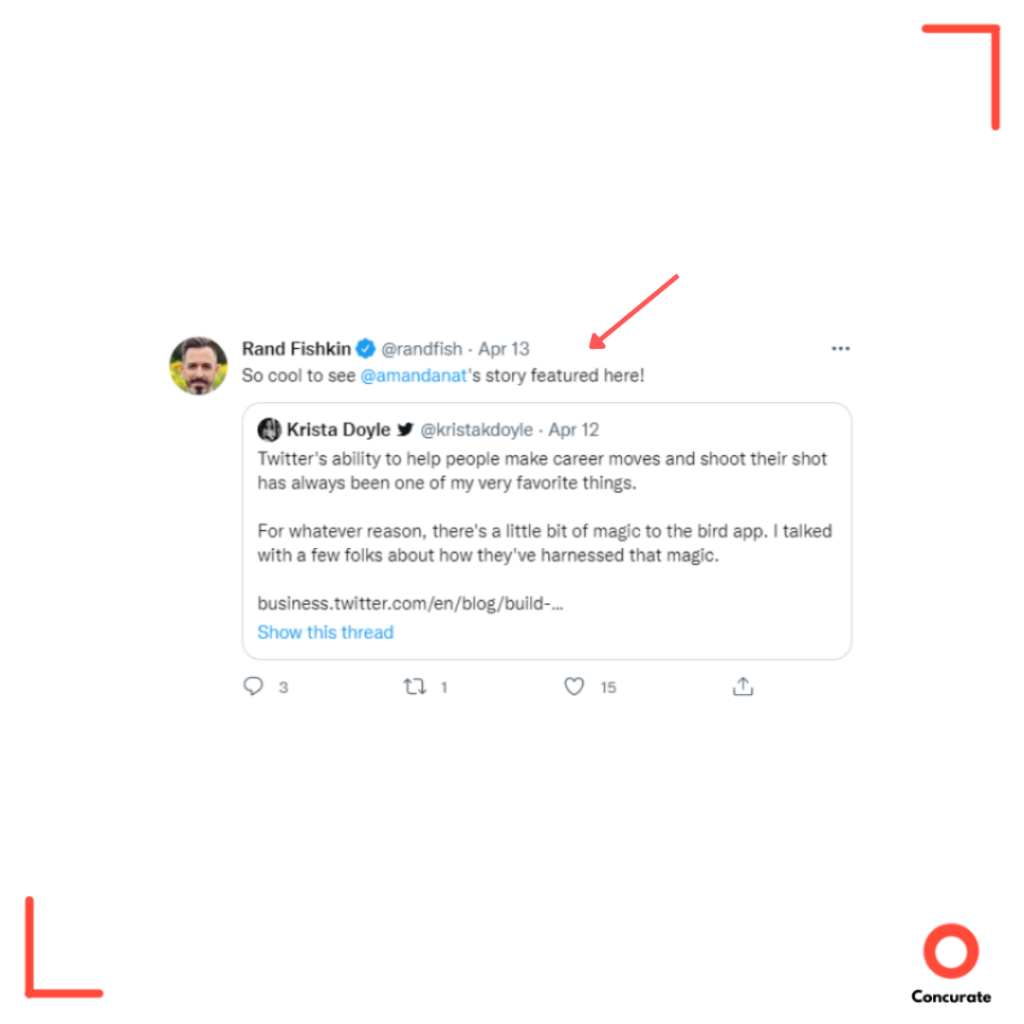 Currently, Rand is a part of team Sparktoro, an audience research tool. He promotes his company on his Twitter profile. However, instead of talking about how fantastic the tool is, he demonstrates how it can assist his target audience. This "show, don't tell" approach is more persuasive than any pushy marketing tactic.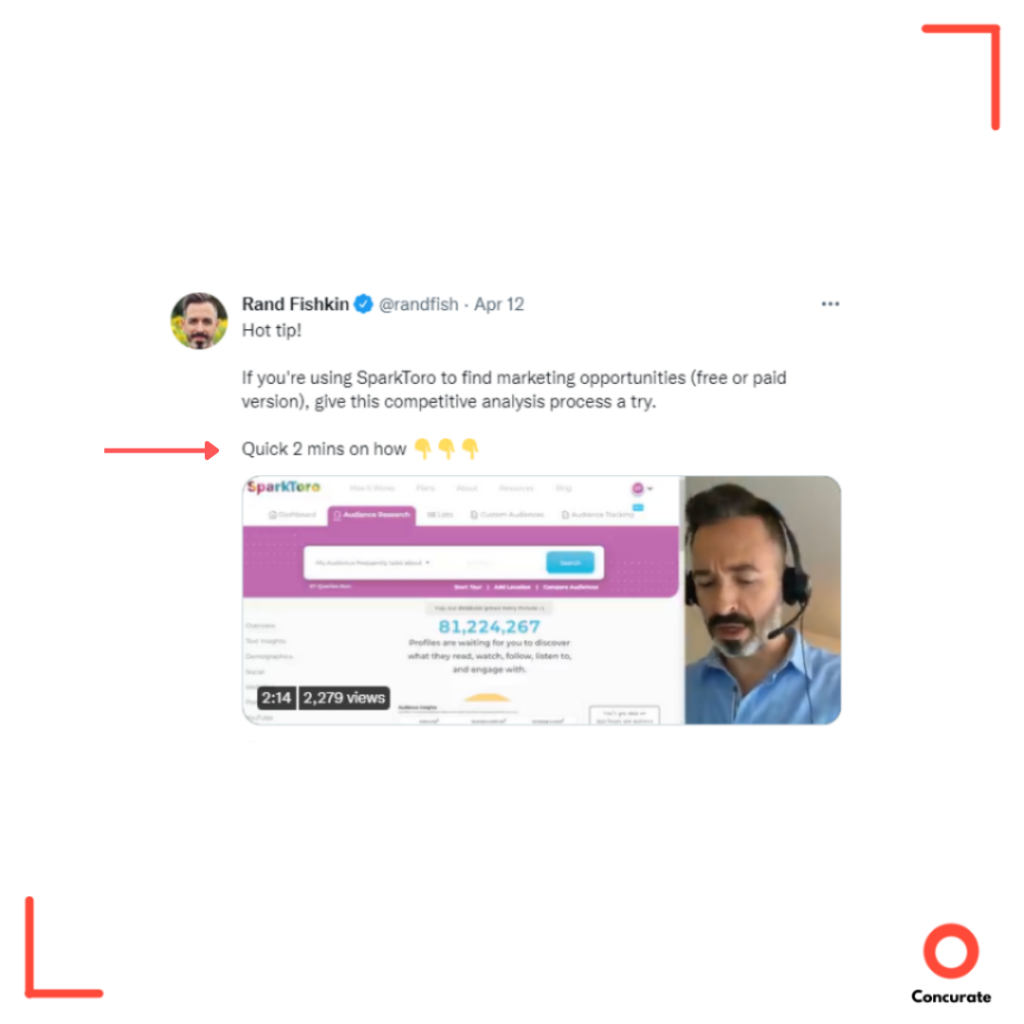 Many prefer to keep their personal moments on Facebook and Instagram only. They view platforms like Twitter and Linkedin as slightly more professional and "formal".
Rand is certainly not one of them. Instead, Twitter is a place where he expresses his opinions and shares his family moments and personal interests. His bio even mentions her wife @Everywhereist.
Often thought leaders come across as a bit distant on social media. By sharing his personal life occasionally, Rand makes himself look a lot more approachable.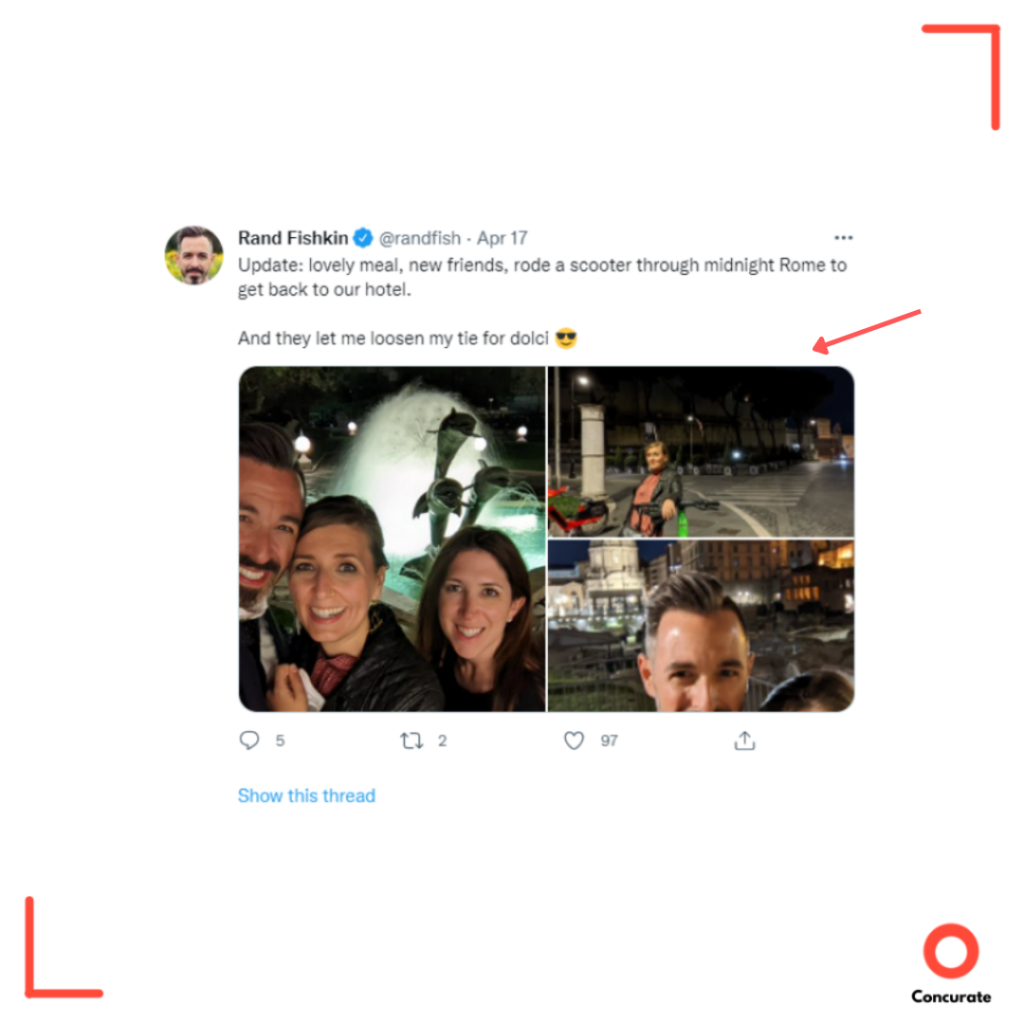 Takeaway: Promoting others' works and celebrating their successes bring more opportunities and make you look empathic. Empathic leaders are easy to approach. The image of thought leaders is a little intimidating, to begin with. Taking that edge off by showing the humane side is a good idea.
Also, re-use (retweet) other content creators' works. If they have something interesting, share it with your audience. You will be saving your audience hours but doing the curation on their behalf.
#5 – Shaan Puri
Shaan Puri is an entrepreneur, investor, and host of one of the top 10 podcasts on Apple, My First Million. He is known for his enthusiasm and knowledge of Web3. Even Mark Zuckerberg himself referred to one of Shaan's tweets during an interview. Among Shaan's other accomplishments, he sold Bebo to Twitch and currently works as later's senior director of product. He has 283k followers on Twitter.
In Shaan's profile, you will see that he loves being a part of Web3 and the crypto community. He gives excellent advice and encourages others to advance Web3.
Take his recent Tweet as an example. Shaan offered 25k to Web3 programmers and content creators to work on their projects. But, of course, the real intention is to encourage Web3 creators to build something new and exciting.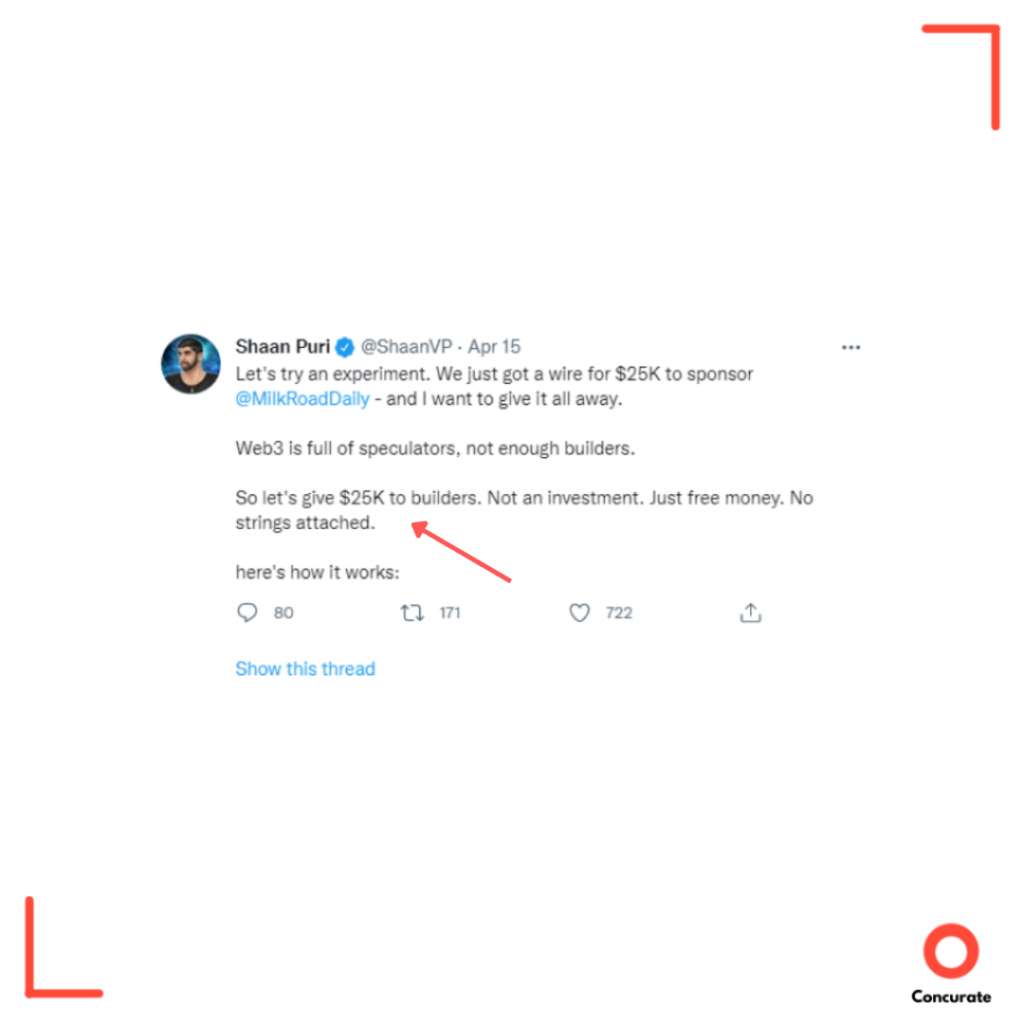 It isn't the only instance where Shaan used Twitter to organize a giveaway or raise funds. In 2020, he raised $2.5M for his "rolling fund" with a single tweet.
In an interview with Bilal Zahidi, Shaan shared how he did it. He first tweeted about his idea and appealed to investors. Then he kept on tweeting with new updates as new investors joined in. Such hype worked so well that in 10 days, Shaan had $2.5M funds.
Like other influential figures on Twitter, Shaan also curates content from other sources. It helps his audience find stimulating discussions on the topics they care about. Not to mention, by promoting others, Shaan creates opportunities for future mutually beneficial relationships with other thought leaders. Here is an example:
Shaan's Twitter personality is colorful and extroverted. Sometimes he is even willing to steer some controversy. For instance, he refused to discuss the Ukraine-Russia war in his @Milkroad newsletter because he felt he was not knowledgeable enough. Here is another example of his controversial take on popular topics: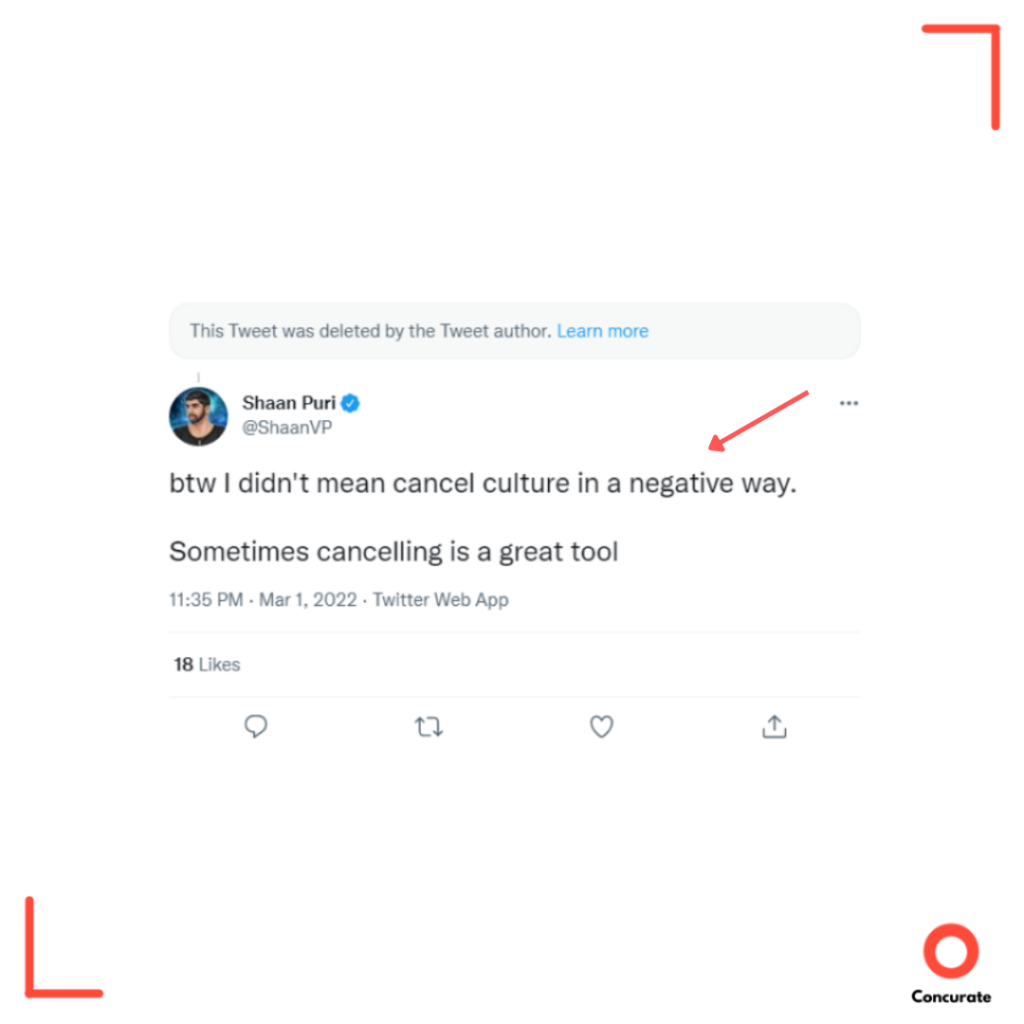 However, Shaan never gets defensive towards opposing views and critical voices. Props to him for supporting free speech, even if it comes from his critics.
Takeaway: Be a part of the community and contribute to its growth. Also, don't be afraid to promote your ideas before others. As long as you are purpose-driven, you will receive feedback and assistance.
#6 – Sahil Bloom
Sahil is an interesting individual. He started as a Stanford pitcher and wanted a career in sports. Then he left the field (literally) and plunged into economics & investment. Currently he is the advisor of Altamont Capital Partners, a private equity firm. He was also lucky enough to become the mentee of figures like Tim Cook and Condoleezza Rice.
Unsurprisingly, Sahil has many interesting stories to share. On Twitter, he wrote about these along with other things he learned. Over 581k people follow him for his investment, business, and life advice.
Sahil is a great storyteller, and this sets him apart from others. His most popular tweets always have a few pieces of his life stories.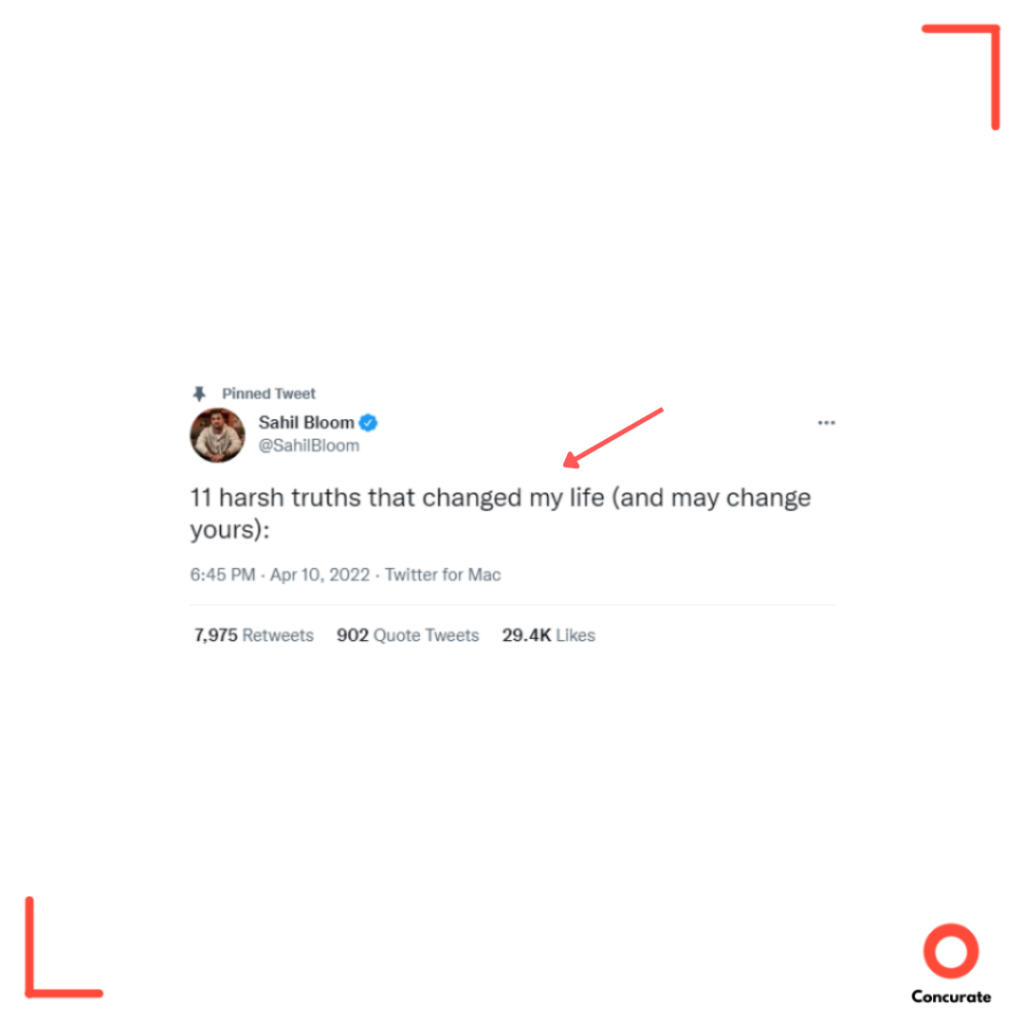 Such stories add emotional elements and flair of credibility to tweets he publishes. But, apart from that, stories prevent those tweets from sounding very cut-and-dried.
Yet, like every thought leader on this list, his true success comes from his knowledge. His perspectives are well-argued and thought-provoking, no matter which platform he uses. The effectiveness of his messages reinforces his thought leader status.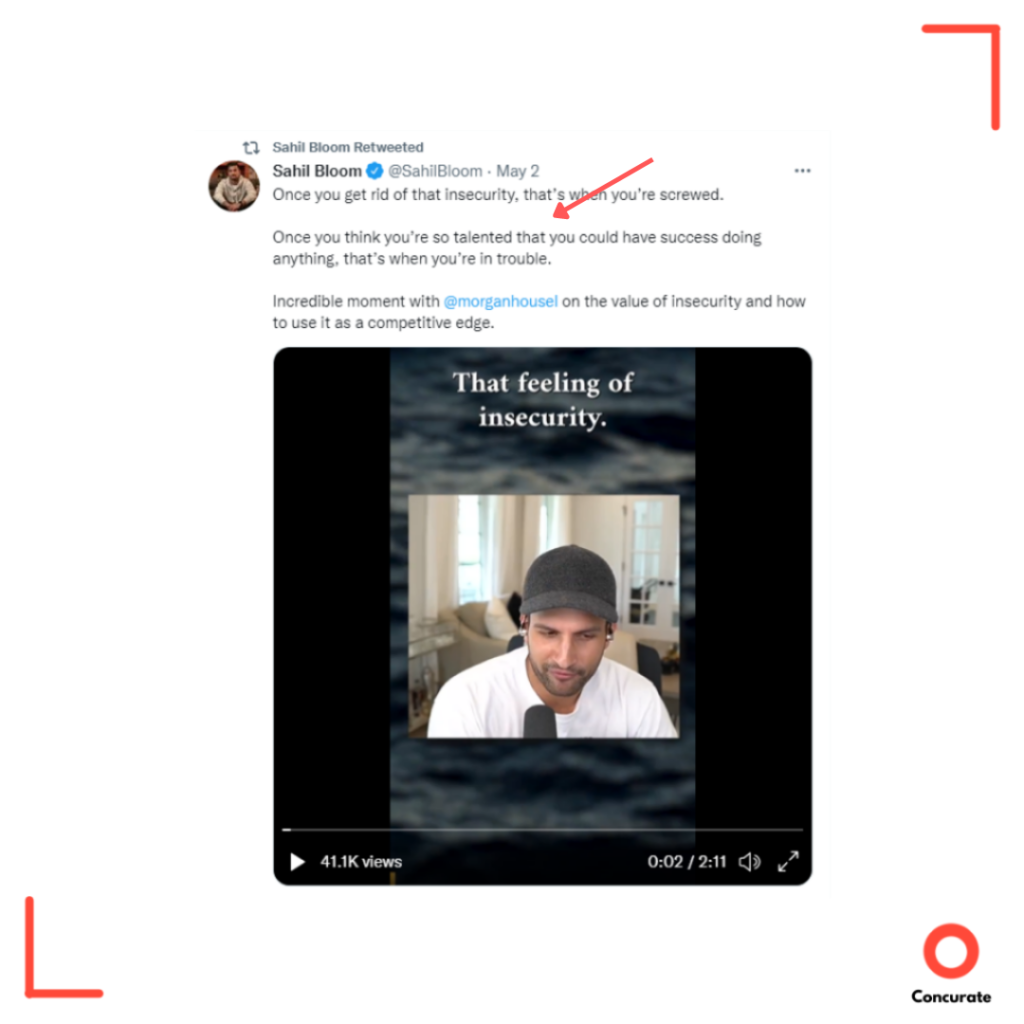 Sahil retweets every time anyone adds value to Sahil's existing tweets. Do you have an extra tip on what Sahil has tweeted? Or did you make an infographic based on one of his Twitter threads? Sahil would be most likely to retweet that.
Such strategic retweeting upgrades his existing advice and connects him with other thought leaders. In the above example, he retweeted Ankur, another thought leader we covered in this article.
Takeaway: Domain knowledge is the most crucial ingredient of successful thought leadership. Your thoughts must be relevant, in-depth, and based on sound arguments. Also, you have to communicate your ideas effectively. That's where personal stories are powerful.
Pro tip: If you need 30 standout SaaS growth hacks to attain double the growth for your SaaS business, fill out the form below!
Best Thought Leadership Practices to Grow on Twitter
Have a Unique Voice
Thought leadership is not simply about being well-known. The way your audience perceives you and your opinions–only these two matter. But you can't be known for anything if you keep your genuine feelings, thoughts, and opinions hidden.
That's why you need to cultivate a distinct voice.
Take inspiration from the above-mentioned thought leaders. For instance, Ankur's tone is friendly and warm, whereas Mark's is direct, nonsensical, but sympathetic. You need to figure out what yours would be.
Be a Source of Knowledge
The thought leaders act as the sources of relevant knowledge. People visit their Twitter profiles to learn from their hands-on experience, engage in enriching conversations and find intriguing pieces of content. Being a source of knowledge is the "must-have" condition for becoming a thought leader.
But how do you become a source?
Start by speaking your mind on the topics of interest to your audience. Challenge the status quo. Argue for your opinions. And curate exciting bits of content from every corner of the internet.
At first, the growth might feel slow. But with time, your audience would start flocking around as long as you keep providing value and be consistent.
Every thought leader we covered in this article does a phenomenal job at being the source. Follow their Twitter profiles for a better understanding.
Help Your Community
Thought leaders are indeed leaders. People would look up to them for guidance, and as a result, thought leaders gain a certain degree of influence. It's on them to utilize their influence for the progress of the community/industry.
Being proactive about community growth is as essential as your knowledge as a thought leader. Even when you are relatively new, you gain a lot of credibility by doing something for your community.
If there is a pay gap or discrimination, fight against it. If any common practice is no longer effective, talk about it. Or you could support creators as Shaan did by offering money to NFT developers.
Long story short, thought leaders have some responsibilities. Be willing to carry those on your shoulder to gain respect and trust.
Be a Storyteller
Many don't think beyond being helpful in their quest to become influencers. Instead, they just cram their messages into sentence-long tweets. Sometimes that strategy can work, to be honest.
However, your followers would read, engage and share your tweets regularly only if there is an emotional connection. And nothing forges more deep connections than good stories. So instead of giving dry advice, share a background story with it, and your followers will remember it far longer.
These stories can be personal or just a narrative you picked. If a tweet isn't enough, create a thread and write about your "aha-moments," pains, desires, and inspirations.
Check both Ankur's and Sahil's tweets if you want some inspiration. Both of them are excellent storytellers.
Go Niche
More often than not, industries/ main topics are vast. There are too many subtopics, perspectives, and ideas.
Take digital marketing as an example. It can be split into sub-topics such as SEO, SMM, content marketing, and email marketing. Each of those subtopics can be further broken down into many micro subtopics.
The point is that you might not have expertise in all of those. Your lack of hands-on experience might bite your back if you try to cover it all.
So instead of spreading yourself too thin, pick a very focused topic and create thought leadership content around it. Don't forget to be consistent and keep providing value. After some time, you will be known for your experience in the niche of your choice.
Here Ryan Holiday is a great example to follow. He picked stoicism as his niche and stuck to it for years. As a result, he is now known as a thought leader on stoicism.
Engage Meaningfully with Other Influencers
Twitter is where all journalists, entrepreneurs, and other thought leaders are. So naturally, you want to connect with those whose content fits your audience's interests.
Start by following them and reading their tweets. If you find something interesting, don't forget to retweet. If they are asking for assistance, reach out without hesitation. They are often open to collaborating with strangers if you come across as reliable and offer the right value. For instance, when Shaan Puri called for investors, many investors responded to him. Yet, at the end of the ten days, with the help of those investors, Shaan raised $2.5M.
Once you know them a little better, celebrate their successes. Rand Fishkin is an example to follow here. A single tweet celebrating others' success can warm up people and open doors for future opportunities.
Don't be too Heavy-handed while Dealing with Critics
You will eventually encounter critics, people with opposing views, and even trolls on Twitter.
It's ok to confront or even block a person if they spread rumors, hate, or misinformation. But otherwise, don't get defensive before opposing views. Of course, share your opinions and argue civilly, but any personal attack or defensive reaction is a big no-no. Instead, allow your followers to keep that conversation going.
Let's Wrap Up
Twitter is an excellent platform for establishing yourself as a thought leader. First, however, you have to find your voice, connect with others, and prioritize long-term goals over quick wins to achieve your goal. Also, pay attention to what successful thought leaders are doing right on the platform.
But remember, what works for others may not work for you. So be consistent and test to find your recipe for success. If you want to know how to be a thought leader on LinkedIn, here is a detailed guide.
If your organisation wants a thoughtful content marketing strategy designed by Concurate, let's connect over a short call. Block our calendar today!
If you wish to read more goodness, subscribe to our newsletter.
We send value to your inbox only once in 15 days.