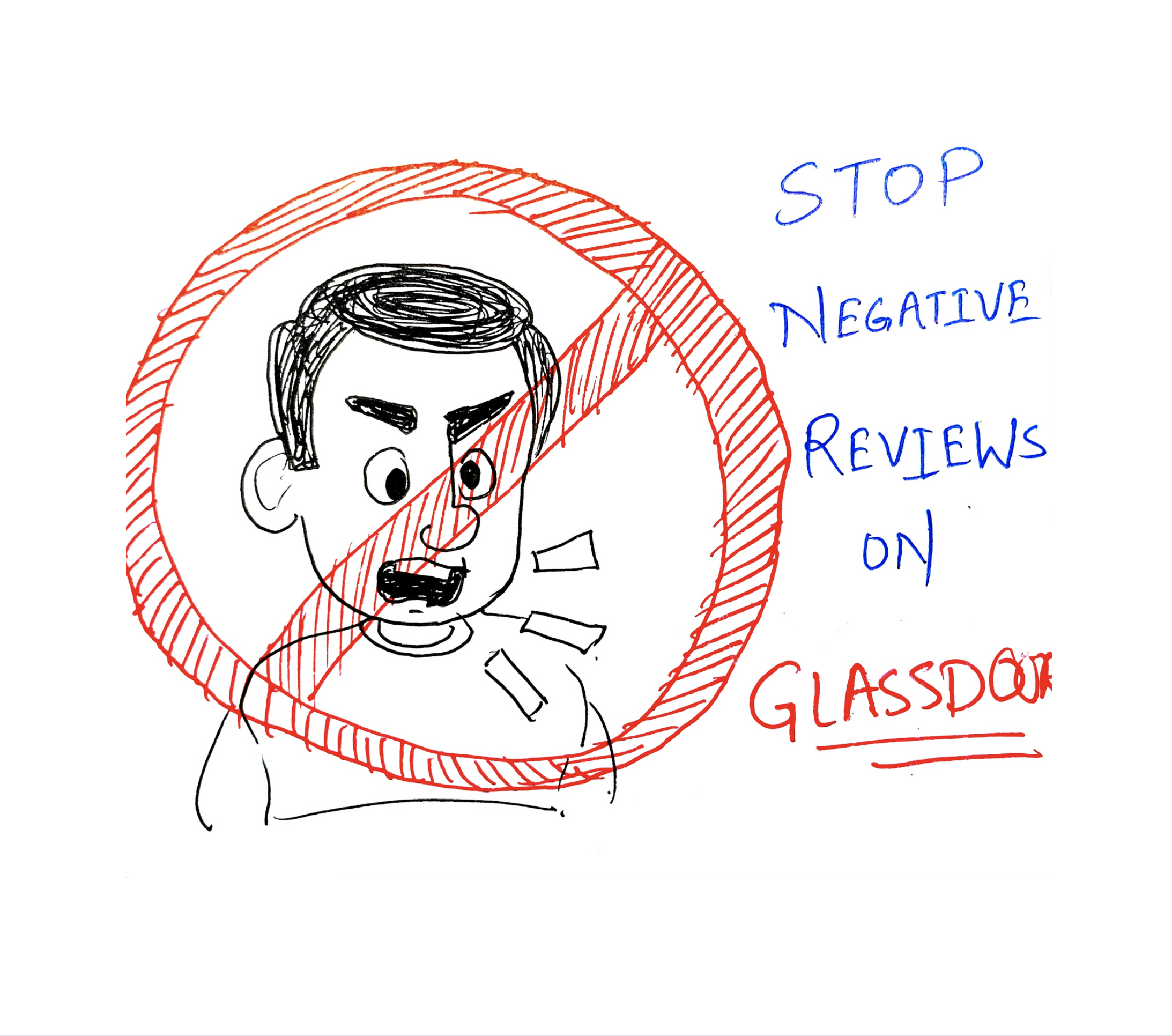 Today, my manager asked me to write a post on how can the companies prevent the employees from leaving negative reviews about them. I did not know what to write because I don't have any experience of running a company. So it was time to do some research. With a little bit of googling I thought a good approach would be to speak to people in the industry.
First I had a short interview with the CEO of a successful company. He gave me a lot of valuable insights which has come from 20 years of his industry experience. It's my absolute pleasure to bring that bank of knowledge to you.
I asked him, "Why do people leave negative reviews about the company when they leave? His candid answer was:
"Review is an effect not a cause"
When an employee leaves a company. He just reflects on his experience at the company in his review. What we need to find out is why was he unhappy working at the company?
Were the expectations not set correctly at the time of joining itself?
Is there a mis-match, whether the employee is not a right fit for the company or company not a right fit for the employee?
Did the employee get fired because of underperformance issue? Was he given time-to-time feedback? Was he provided with necessary mentorship and resources to help him improve his performance?
Is it a high-performing employee with great potential leaving the company then there is something definitely wrong. And it's time to find the root cause for it?
Hence it's important to work on the cause to bring the desired effect.
Then I asked him, How can we work this out?
To this he said, we have learnt it hard way but it's really important to have a common belief system across three stake holders: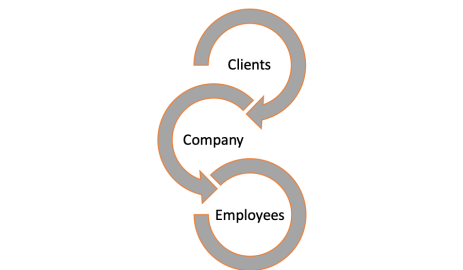 Earlier we had clients who would quickly opt to work with some other company on the moment of receiving a lesser quote. Let's say we do a certain kind of project for 2500 USD. The moment they find another company quoting 2300 or 2100 USD for the same project they switched. Because for them the quality of work didn't matter too much. For them it's more important to just get the project done. Same as company A just wants to get a road build with coal and tar vs company B who also wants to build a road but want to make sure that it's durable, it doesn't get spoilt with rains or heavy vehicles, it's made using the best practises in the domain. So the company B doesn't want to compromise on quality even if they need to shell out a little extra money.
On the flip side, we also wanted to make sure the people whom we hire are culturally right fit for us. From our 15 years of experience of working with people, we have learnt that it's important to hire people with the right attitude than the right skill. All companies will have different definitions of people who are ill-fit and who are the right-fit people for them. Let me draw a comparison of the two types of people based on the culture of our company:
| | | |
| --- | --- | --- |
| Parameter | Ill-Fit | Right-Fit |
| Attitude | People who feel they know it all and without them they feel company would stop working. | People who are always up to learn and try something new. |
| Curiosity | People who are happy with the monotonous work. These are the people who are happy to do the same work day over day, year over year. | People who feel that monotonous work leaves no room for growing, experimenting or improving. |
| Creativity | People who fear to fail and thus always want to go by conventional approach to problem solving. | People who have the ability to think out-of-the-box and approach to solve the problem in a unconventional way. |
| Passion | People who think more hours mean more work. These are the people who focus more on productivity than hours. | People who work hard and party hard too. People who enjoy their work. People who find pleasure in solving challenges. And by solving every challenge , they keep progressing to become their better-selves. |
| Reaction to feedback | People who were expecting an A and are super disappointed to receive a B in performance review. Problem is not in disappointment. Problem is the reluctance in finding out why? And what can they change or learn in order to be an A next appraisal. | People who believe in taking feedback positively. People who do not get offended to receive a feedback. People who happily take guidance and help to improve themselves. |
| Problem-Solving | People who just crib about their problems. People whose ego gets hurt to ask for help. People who blame other people or team for problems. | People who solve the problems instead of complaining about them. People who don't mind working across different teams to solve the problem. |
Wow ! That sounds interesting! then I asked him Have you also developed a hiring strategy?
Most of our recruitments take place on interns level. These young minds join us with an insane amount of energy. These are the people who come with the mindset of learning and NOT "I know everything" attitude. They don't mind going an extra mile to learn and deliver. And the best part is we can instil the right thought process very early in their careers, which goes for a long way with them. We have a very few, barely 5% lateral hires. Also, We have learnt that, the moment you find that one of your employees is a negative person you should straight away fire that person so that he does not spread an negativity in your company.
These sounds like great insights now let's hear from the people on the other side of the table – The Employees.
It's really important to know how an employee feels about the company. Because only happy employees can yield great results for the company. In order to find it out I thought it would be best to speak to professionals on how they feel about their companies they work with. My focus group consisted of professionals working in different domains, in different companies, in different countries, on different levels (but most of them having 10+ years of work experience), the following two questions:
Do you love your work and your company ?
Tell me one best thing about your company's culture. What keeps you bonded with it ?
Below are some interesting responses I received:
Hi Aditi, I like my work yes but I am not Super "passionate" about it. One best thing would be – people are nice. I think people is what defines the place. Good people around you can sometimes mask other issues coz you are generally happier.
One best thing about my organization is the work does not let me fall into the comfort zone, It always presents opportunities for me to explore new areas that contribute to my growth.
Right now the best thing about the company is Money.. :). Otherwise majority of the companies here in Silicon Valley have the same generic culture.
Hey Aditi, I always believe, "love your work not your company". Company and its treatment towards employees is very subjective and relative to circumstances. I totally love my work, as it gives me exposure to complex business processes and consulting is something I always dreamt of. With respect to my company- It has given me an opportunity to work on hottest technology in my sector. A very nice lead who is a good teacher as well. Frankly speaking I don't like the culture here. It's too Asian and expects me to stay back even when there is no work. And it's not very employee friendly.
For me, my team, very small team but everyone helps each other, my bosses who don't mind playing a game of chess or carrom during office hours with any one including freshers.
Hey Aditi! Where to start! I just love my company. I like the openness and freedom of expression in my company's culture. Whatever's happening in the company is shared with everyone across the company which give me the feeling of respect as a stake holder. It gives me the freedom to create my own road map and work over it which of-course is in company's interest. The wi-fi enabled shuttle service of my company is really wonderful which gives me the leverage of turning travel time into productive work time. Free fresh and healthy food comprising of different cuisines with the details of ingredients, allergen information is like cherry on the cake.
Hey Aditi! Before an employee of the company, I am a mom who is also passionate about her work. I am so blessed that my company respects this and believes in me. Based on performance at work they gave me the flexibility to work from home when I became a mom. My son turns 4 this year. But our work relationship is still intact. My company also helped me with a change in stream when I wanted to have a flexible work schedule and my then job scope didn't allow me to do so. My company really invests in people. It has given me so many opportunities to learn new things by sending me to world class conferences, sponsoring different certification courses for me. Another best part about the company is direct access to communicate even with C-suite people of the company. One more thing I love about my company is they believe in helping their employees to maintain great health by introducing various health challenges like drinking 2 liters of water a day, eating health, not eating fried and sugar, weight loss challenge, steps challenge etc. Another thing about my company is that it believes in giving back to society and because of the I got an opportunity to volunteer for so many social causes like building homes for homeless, teaching less privileged children etc. The list of goodness is too big J
Most of the people I interviewed are happy with their companies for various reasons like:
1. Quality of work,
2. Growth opportunities,
3. Flexible work schedules,
4. Great colleagues and mentors,
5. Meritocracy
6. Ability to choose what you want to work on,
7. Direct access to communicate even with C-level executives,
8. The feeling of being valued and cared for,
9. Interest Groups,
10. Compensation, food and transport.
But, How can all of them be happy? It feels like a biased view. Isn't it? I also felt the same so I took a closer look at what's common in all these Happy Professionals. Well all these are the people who are ace performers and have reached great heights in their careers. Where company feels that they are assets to the organization. "The Talent to be retained".
It really became challenging for me to find out people in my network who are not happy with their work. So I decided to reframe from my question. And then I asked some more people the following question:
Is there something you do not like at your workplace?
Here are some pointers I received:
1. Lack of result-oriented work culture versus time-sheet based work culture,
2. Office politics,
3. Monotonous work,
4. No learning or growing opportunities,
5. No Work-life balance,
6. No transparency (e.g. an employee wishes to attend his son's football match and wants a half day leave from office. Can he tell it frankly or does he need to lie that he is feeling sick and he needs to go home, just because of the fear of judgement.)
7. Grouping because of regional or cultural bias.
8. No meritocracy or ownership.
If you can manage to keep your employees happy, automatically they won't leave any negative feedback about your company unless you made a wrong hire or you have not developed the right culture at your work place.
If you are a founder/C-Suite executive of the company and your employees are leaving negative reviews about your company, I want to ask you a few questions:
1. Do you think your employees are happy?
2. If your answer to the first question is yes, have they ever expressed that they are really happy?
3. Do you believe that you care for your employees? Which was your last gesture that expressed your care for them?
4. Do you think you are easily approachable? When was the last time you drank a coffee with a trainee at your company?
5. Do you think you are giving growth and career opportunities to your employees? When was the last time an employee switched vertical in your company thinking that his growth has become stagnant in the current vertical and by making a switch to another vertical he will get a learning opportunity and grow more?
6. Do you think your employees have a work-life balance? Do you have one-one-one conversations with them? Do you ask them about their families, children's school?
Sometimes, it so happens that actual scenario is far from the story we have in our mind. If you want to bridge this gap we can help. Try our live chat or Drop us a line.
Pro tip: If you need 30 standout SaaS growth hacks to attain double the growth for your SaaS business, fill out the form below!
It might not be a bad idea to subscribe to our newsletter.
We promise to deliver value to your inbox.
You can always unsubscribe, if we fail to keep our promise!
Meanwhile, Explore the plethora of resources to help you out your business! If your organisation wants its content marketing strategy designed by Concurate, let's connect over a short call. Block our calendar today!