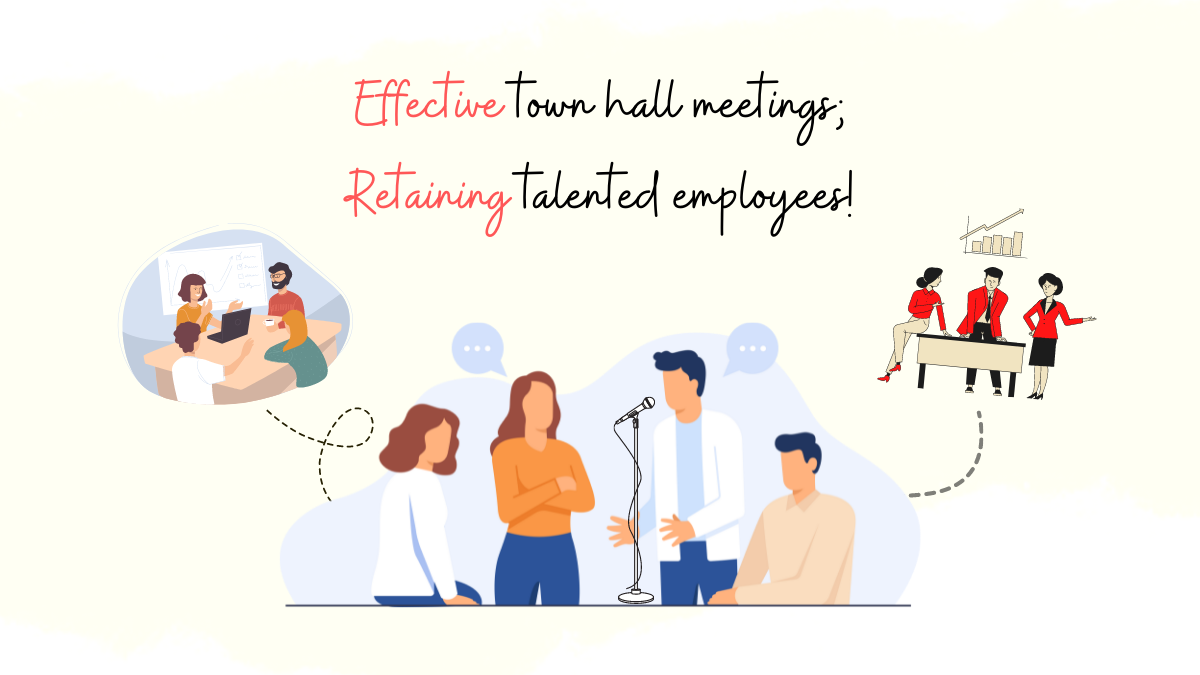 Company-wide town hall meetings are an opportunity to give people a reason to stay and meaningfully engage with your company. The idea is to celebrate wins, show growth opportunities, express gratitude and care, share challenges to encourage problem-solving, walk through the plans of action, and reflect on the company's stability. Every piece of information proactively answers the queries of talented minds.
Some prominent examples of all-hands town hall meetings include the following:
Flipkart | Sharing Big Decisions and Plans of Action
This meeting was related to the Flipkart Group acquisition by Walmart. The CEOs from both the organisations headed it. During the session, employees were introduced to the new top executives who joined the group from Walmart. They were also given an understanding of the roadmap following the Walmart-Flipkart deal.
Apple | Proactive Objection Handling Regarding New Way of Work
In a virtual town hall meeting conducted during the height of the CoVID-19 pandemic, Apple's Chief Executive Officer Tim Cook shared details on the company's plan to return to the office, amongst other issues. Prominent leaders from different divisions also spoke during the meeting, including "the chiefs of retail, legal, environment, marketing, services, hardware engineering, software development, operations, and machine learning." The discussion areas involved remote work and finding new ways of maintaining productivity.
Twitter | Streamlining the Chaos with Needed Answers
Following a swift turn of events, Elon Musk, the CEO of Tesla, SpaceX, and The Boring Company, acquired social networking giant Twitter earlier this year. In an all-hands town hall meeting conducted by the incumbent CEO of Twitter, Parag Agrawal, thorny issues were tackled. The meeting brought simmering tensions between the employees and senior management to the surface. The CEO was grilled about mass layoffs and advertisement partnerships, amongst other issues.
Benefits of a Town Hall Meeting
There are several benefits of hosting all-hands town hall meetings. Let's broach this subject further:
#1 – Foster Company Culture
During the meeting, the senior leadership can talk about the company's vision & mission while emphasizing the core values that drive the company forward – inclusivity, diversity, meritocracy, people-first, and so forth.
#2 – Give Employees A Voice
Town hall meetings provide an excellent platform for employees to interact with colleagues across divisions and hierarchies. Impromptu questions, answers, and conversations can become a melting pot for new roadmaps. Additionally, the leadership team can recognise standout performers and allow them to share what ticked for them.
#3 – Keep Everyone Updated And Aligned
Town hall meetings allow the senior leadership to update everyone on everything business-related. They can reflect on the company's performance regarding revenue, projects in the Pipeline, customer satisfaction, etc. You may not want to share exact numbers unless you are a public listed company. But there are relative ways to tell that company is doing well.
A town hall meeting is a two-way street. Now that we know the benefits of a town hall meeting, let's work backward and try to understand what employees look for in an enterprise. We can lay the groundwork for covering the essential tips for conducting an impactful town hall meeting by working backward.
What Does A Talented Employee Look For In An Enterprise?
Let's start with a discussion on this question: What goes into designating a company a great place to work? And how do you offer that to talented employees? The characteristics across such certified organisations include the following:
Trust
Employees are more likely to vouch for a company whose leaders make people-first decisions. Some examples of building trust include: being considerate about the minute details involving day-to-day interactions, being there for them during a rough patch, avoiding micromanagement, etc.
Transparency
When the senior leadership team is accessible and approachable to discuss employee challenges, it fosters a positive work environment. An example of this could be a CXO asking for employees' opinions and ideas in an open forum.
Engagement
Engaged employees are vested in the best interests of the company. Therefore, ensure that everyone across the company can contribute to the conversation. This allows employees to break out of their shells and become more engaged. An example of building engagement would be discussing specific goals and how employees can bring value in accomplishing those goals in internal chat channels.
Honest Intent
False platitude and empty slogans don't take anyone anywhere. As Abraham Lincoln once said, "You can fool some of the people all of the time, and all of the people some of the time, but you can not fool all of the people all of the time." The company's leadership needs to showcase honest intent and follow through on their promises. For example, suppose leadership wants to build upon diversity and inclusion. In that case, it must showcase hard proof of what it has already achieved in the domain.
Perks
You'd be surprised what employees consider a high-quality workplace. It isn't about meditation rooms, sleeping pods, or indoor gyms. Future Workplace conducted a study to determine which wellness perks matter to employees the most. Check out the graphic below:
The idea is to stop spending money on pointless office perks and focus on a holistic approach to reward perks to employees. Focus on emotional, physical, and environmental wellness.
Communication
Ensure constant communication and feedback between managers, direct reports, and regular communication regarding culture and practices. These are essential components of what to communicate about with your workforce.
Pro tip: If you need 30 standout SaaS growth hacks to attain double the growth for your SaaS business, fill out the form below!
7 Effective Town Hall Meeting Ideas
In this section of the piece, I'll be discussing tips on conducting an effective town hall based on a personal experience over at Concurate. Believe me these tips are gold to share information that drives talent retention!
#1 – Get Employees To Share Their Success Stories At The Enterprise
In this approach, the senior leadership can ask employees who have secured, for example, industry accolades how they managed to succeed. How has the company's leadership, culture, and practices helped them attain success in the manner they have?
#2 – Share Client Testimonials Appreciating The Work of Employees
Implement this approach when senior management or the sales head receives private feedback from clients on a job well done. This will help boost the workforce's morale and help them connect the dots on how collaboration across verticals can achieve great results.
#3 – Get Employees To Share Their Stories of Transformation
This approach will work wonders for boosting engagement in your workforce. Give the podium to employees who have shown a credible turnaround in their performances to describe how they could achieve the results. This approach will help highlight the supportive culture present in the organisation – be it at the CXO level, mid-level managers, team leads, etc.
#4 – Share Challenges As A Company
Yes, challenges! The idea is to give a growth opportunity to employees in the cover of solving a challenge that the company is facing. For instance, you lost xxx thousands of dollars in revenue due to a lack of bandwidth of employees. So you want to involve managers in the hiring process so that such revenue goals are not hurt. And suppose managers contribute to getting more talented minds to join the organisation. In that case, they can be rewarded, recognized, promoted, and more.
#5 – Set Clear Expectations
Rarely is the road to success linear. Exponential growth requires constant strides, not short, infrequent sprints. So share with people what they are signing up for.
A Pro Tip: Use analogies – such as videos, case studies, client testimonials, etc. throughout the town hall to communicate the message engagingly.
#6 – Reflect on the Stability of the Company
In a post-CoVID world, people scramble for a sense of stability. Industries and markets have been ravaged as a result of the virus. Take the opportunity to rest any fears of illiquidity or layoffs at your company. This will ensure that there is no subconscious fear in the minds of your employees and that they can work stress-free.
#7 – Share Plans in the Pipeline
Share the plans for the road ahead. Take return to the office as an example. How will this transition take place in your company? What are essential pointers that the employees should know about? What steps will you take to ensure a smooth transition, with employee wellbeing a priority for your organisation?
Parting Thoughts
We hope this piece provides you with actionable insights on conducting effective and impactful all-hands town hall meetings at your organization. Whether it's a virtual setting or a physical one, keep the foundation in place. Build and maintain trust, transparency, engagement, honest intentions, holistic perks, and communication while putting into action the seven practical tips we have outlined.
If you'd like to watch a video from us on this topic, make sure to check out the link below!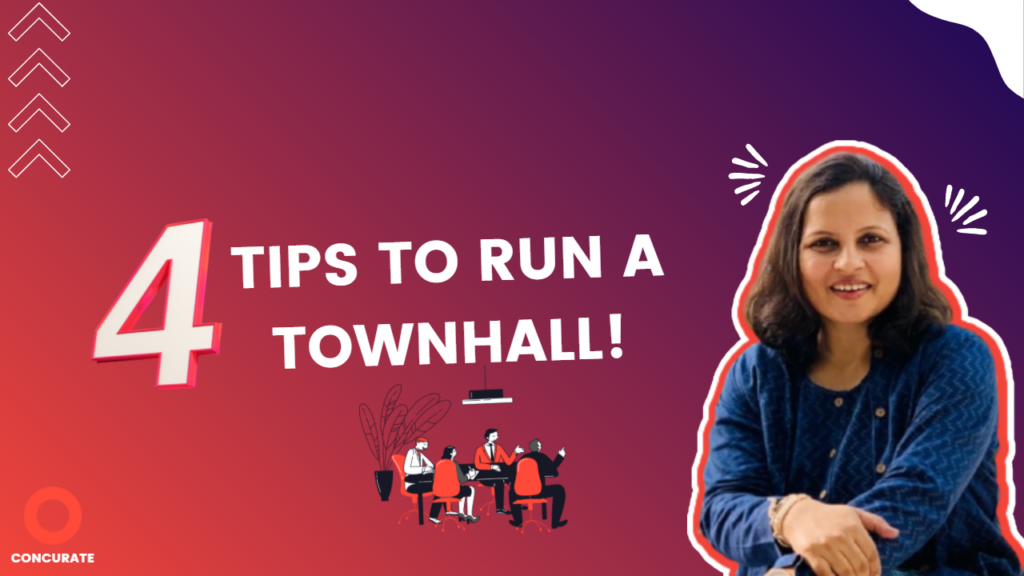 If you enjoyed reading this article, you would love to read – Top 8 Company Culture Ideas for C-Suite!
About Us
We believe content marketing can be a game-changer for SaaS businesses. Should you wish to explore more on content marketing, check out our analysis of:
And much more in our in our blog section!
At Concurate – a founder-led boutique content marketing agency, we curate well-researched, engaging content to attract your target audience. We strive to bring you business, not just traffic. Open for a short discussion on how content marketing can help your SaaS business? Book a call here!
If you wish to read more goodness, subscribe to our newsletter.
We send value to your inbox only once in 15 days.