"Humanity, ethics and quality are at the core of Starbucks marketing strategy."
We've converted this entire blog in PDF form that you can download and save for later reading (or sharing with your friends). You can download it using the form below:
Once Upon a Coffee and Conversation …
The year was 1971. Three college friends were sitting around having coffee and conversation. The coffee was less than average and that steered the conversation towards a business idea. Making quality coffee available to people in Seattle. They believed that the coffee culture tied in just perfectly with the hipster culture of Seattle. The men found a mentor in Alfred Peet, the man responsible for bringing custom coffee roasting to the USA. And, they came together to make Starbucks.
The first edition of Starbucks is not how we know it today, though. When they began Starbucks, Jerry Baldwin, Zev Siegl, and Gordon Bowker sold products around coffee, not coffee as a beverage. So there were beans and powder and brewed coffee, and also some coffee roasting equipment. Oh, and Starbucks sold tea leaves and spices too! All of this out of a store in Seattle set up in 1971. Customer interaction and experience have always been of utmost importance for Starbucks. Even when Starbucks were not coffee shops, they still made customer experiences special in store. This continues to be a tradition that is still followed at Starbucks (with the personalized cups and made-to-order beverages).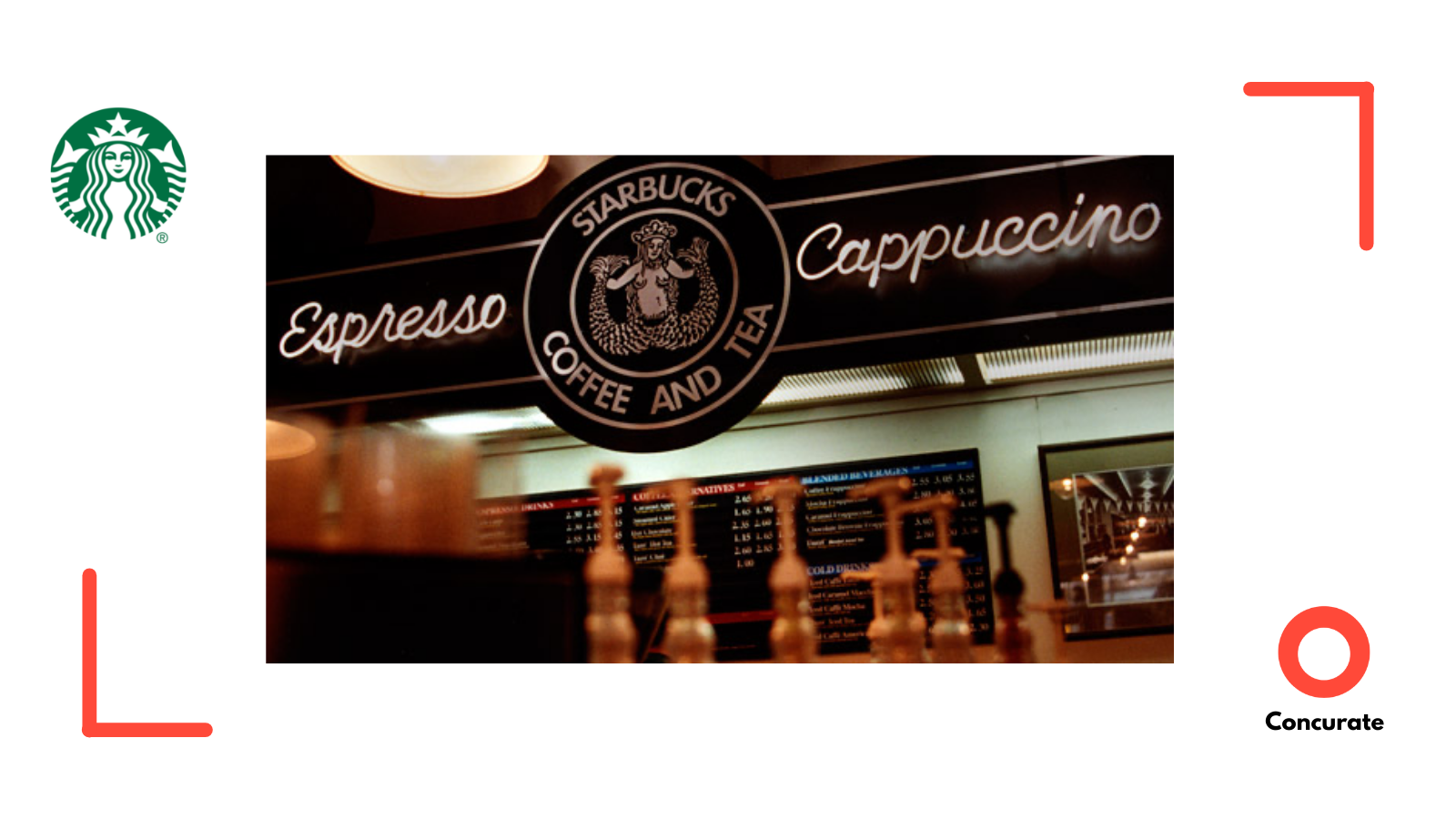 Source: Starbucks
The name, logo, and colors that were used in building the brand, have stories of their own. Baldwin was a professor of English and the name finds its roots in Moby Dick, the English classic. Though a number of other names were thrown around, the name Starbucks stuck because it sounded powerful and like something that would be remembered.
The logo has evolved over the years too, from a rather graphic Greek mythology-inspired double-tailed mermaid to a less controversial version of her. The color in the logo moved from being a dark, almost blackish-brown to the green that has become synonymous with this brand today. Green is most commonly associated with growth and peace in advertising. It's a great way of reinforcing Starbucks' mission statement to "inspire and nurture the human spirit."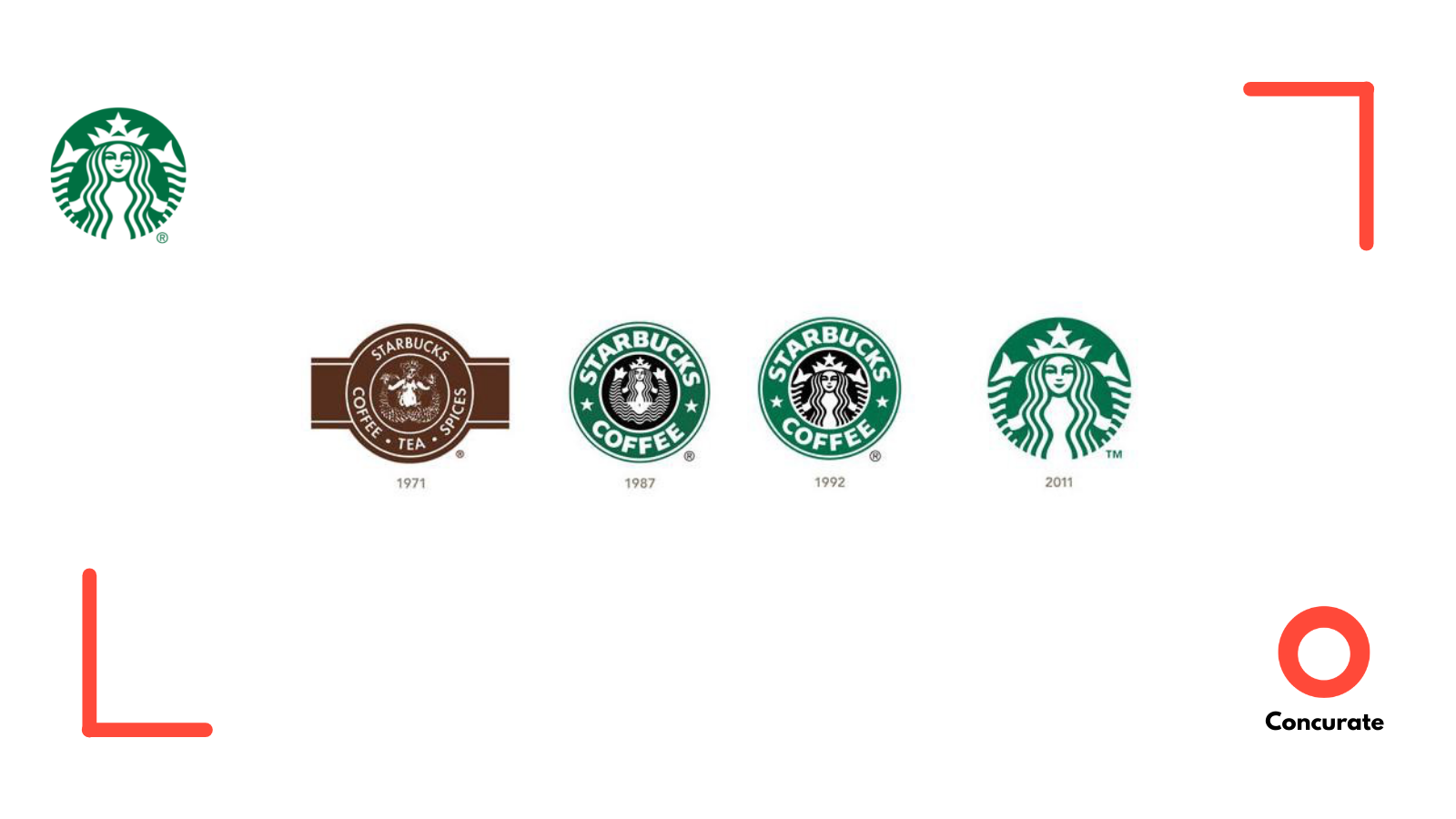 Source: Medium
For a decade, the trio ran a business that was doing well. There was a chance that came by for Starbucks to buy Peet's Coffee, which they went severely under debt to do. By this time, they had a few stores spread across the country and also sold some espresso by the cup. Let me remind you here, that they were still not a coffee bar.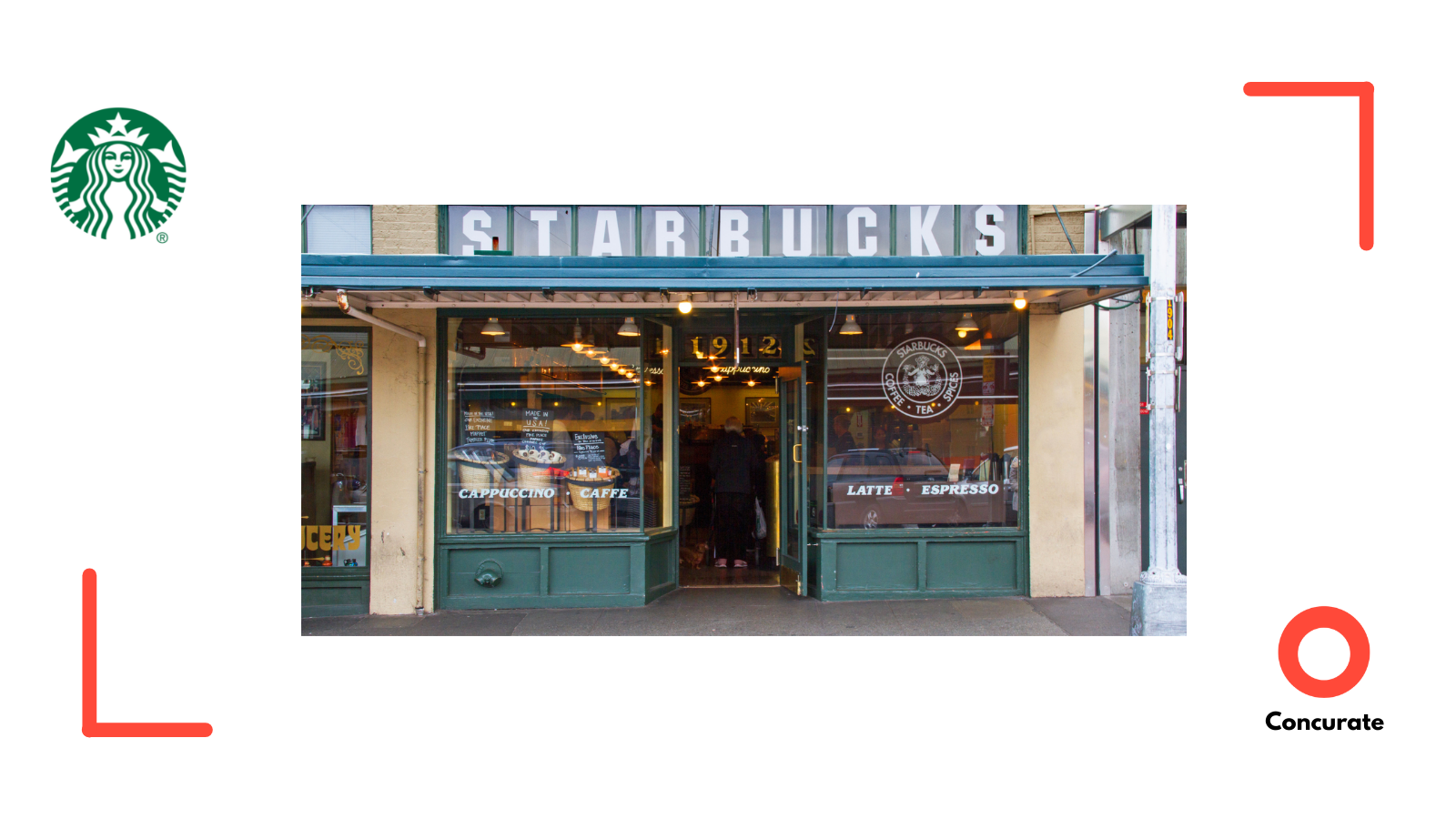 Source: Starbucks
The Turning Point
Soon, things would change. 1982. Enter Howard Schultz. 29 years of age. Driven, ambitious, a dreamer, and doer. In 1983, he went on a buying trip to Italy. Here, he discovered coffee as being a means of bringing people together. He observed how people met over coffee, exchanged ideas, and chatted about life and things. The romanticism of the idea, it seems, appealed to the young man. When he returned, he tried to rub his romanticism off on the Starbucks trio. Somehow though, the trio was deterred by costs and things. When they decided that they didn't want to take his idea further, Schultz left Starbucks in 1985 to build on his idea and start his own coffee business. His coffee houses sold coffee brewed by Starbucks.
These little coffee houses began gaining popularity. The founders of Starbucks were watching and analyzing. They'd already gone from three to two. Bowker too had gotten involved in other businesses and realized he was stretched thin. In 1987, he sold his share in Starbucks. Soon, Starbucks was up for sale. Schultz managed to pool together the money he would need, backed by local investors, and bought Starbucks. And that began the re-invention of Starbucks – the iconic, the most popular coffee shop in the world.
Starbucks' Unique Voice
Today, the competition allows the customer to have a choice. The choice about which companies it wants to interact with, which companies it feels comfortable, and happy being associated with. Schultz has always echoed the importance of building a company on values. Customers, he says, are more inclined to engage with and buy from brands with which they feel a value match. For example, the time when Starbucks helped many of their baristas with college tuition saw a rise in their business. The intent of helping out with tuition money was not to increase business. The increased business was just a happy by-product.
"The unique voice of a brand comes from the persona of its founders and leaders who shape the brand eventually."
The Man Behind the Brand's Massive Success
In Starbucks' case, the voice majorly comes from Howard Schultz. Schultz grew up as the son of a father who worked a blue-collar job. Schultz's father had an accident on the job which cost him his leg. His company gave him no compensation, showed him no humanity. This seems to be an incident that stuck with Howard for a long long time. And he chose to build Starbucks differently.
Starbucks is performance-driven, but all their business success is through the lens of humanity. Schultz lived a meager life growing up. He always aspired to live in better homes, in the nicer part of town and have a good life. That drive has translated into his business ethic. Starbucks wants to be the best at everything it does. But, not at the cost of everything. Whatever they do, it's always got a little humanity sprinkled on the sides. Don't believe me? Here are some examples of their lofty thoughts in action.
Starbucks' employees are not called employees, but partners. In 1988, Starbucks launched health plans for all their partners, one of the first companies to do it. In the 1990s, Starbucks rolled out employee stock option plans to their partners. The first company to do so. These are just a couple of the big moves early in the day. There are hundreds of stories of how Starbucks has helped their partners with different things they have needed at different times. One of the nicest ones also happens to be beautifully documented. In his book, 'How Starbuck Saved My Life', Michael Gates Gill talks about becoming a barista with Starbucks at the age of 56!
Pro tip: If you need 30 standout SaaS growth hacks to attain double the growth for your SaaS business, fill out the form below!
Starbucks' Projecting its Unique Voice | Marketing 101
Starbucks was lucky to have found its unique voice quite early in the day. But, being able to reflect that unique voice on various platforms is as important as having it. One must also be mindful of how loudly that voice is being used. There is elegance in being subtle. There is a force in being gentle. Starbucks Marketing Strategy is a masterclass in this regard. Here are some things I learned from studying their marketing:
Talk the talk, Don't Just Walk it!
Starbucks has truly touched the lives of many through little acts of kindness. Starbucks is not shy to share these with the world. Instead, Starbucks lets those who have felt the love do it for them. Whether it's writing a customer's name on their coffee cup or farmer programs or welcoming a barista after a break she took to fight cancer, Starbucks has nailed 'being nice'.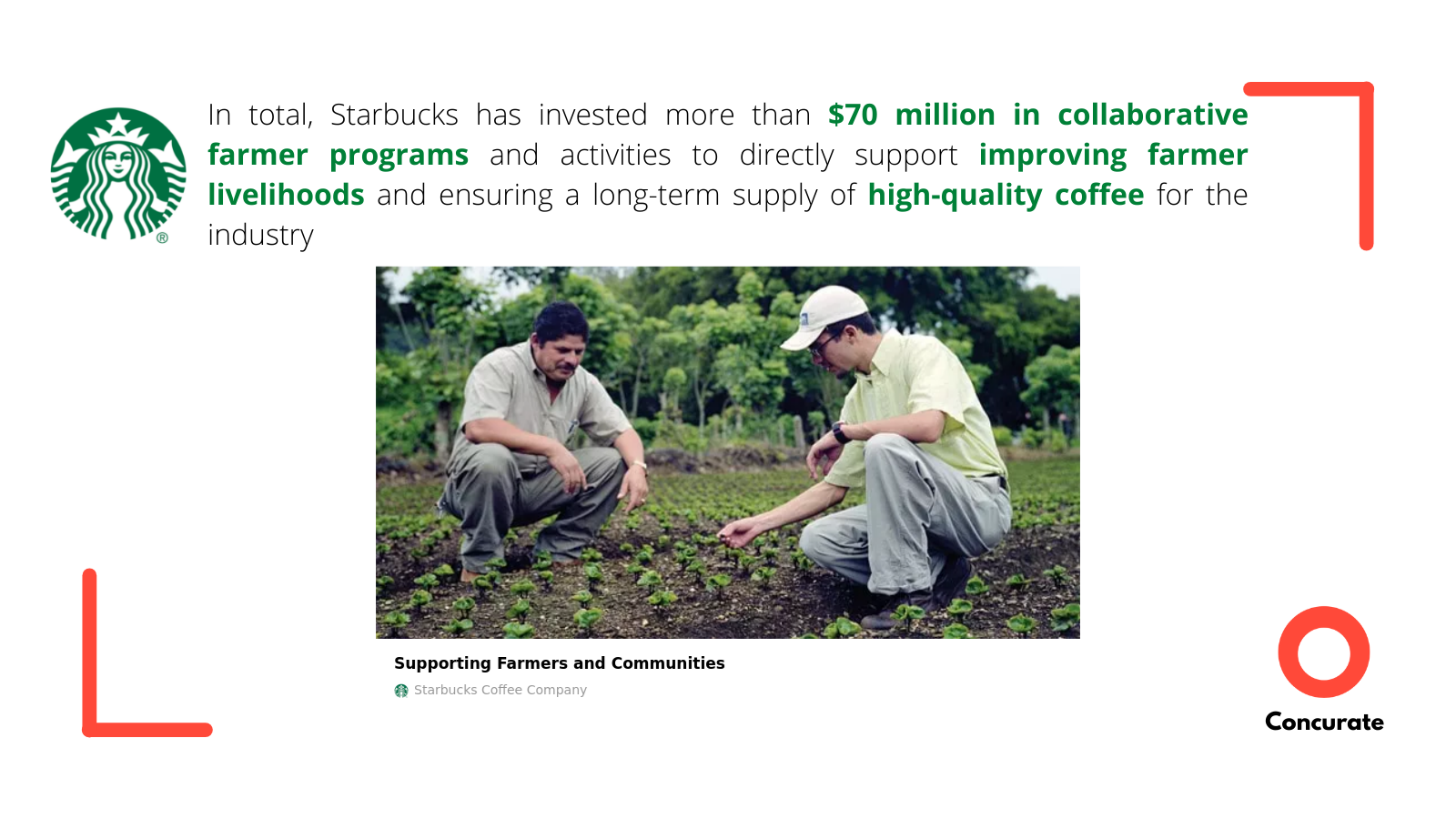 Source: Starbucks
Play on Emotion
For any connection to happen, emotion is key. Starbucks has found a way to reach out to people by tugging on heartstrings through their words and visuals, and by getting people to tell their own stories. For instance, take a look at their Mother's Day. The post reflects how beautifully they understand their customers who are moms.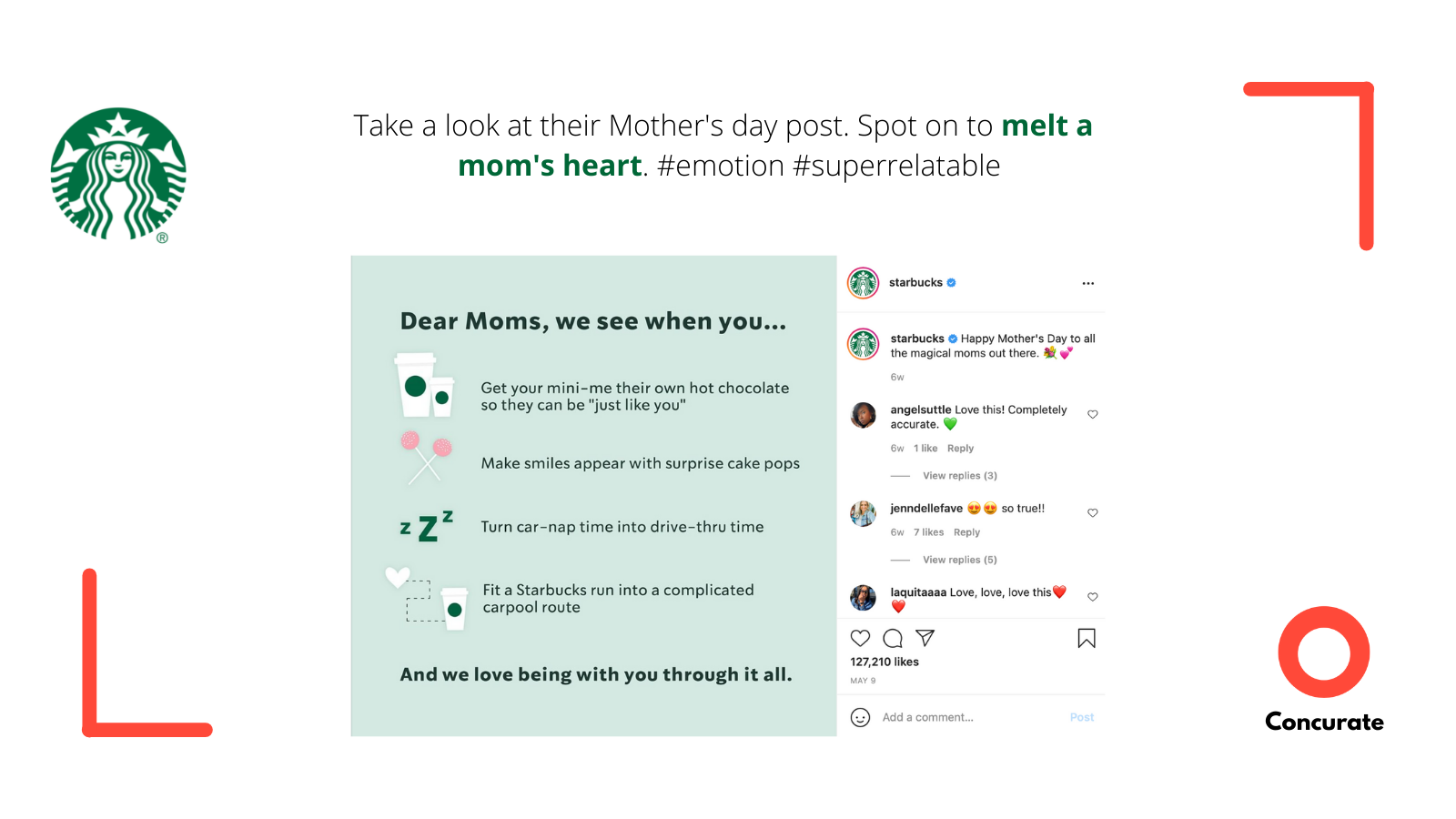 Source: Starbucks Instagram
Be Relevant
Attention spans are fast reducing in this crazy world! The luxury of choice also has businesses struggling for attention and loyalty. Yet, Starbucks continues to be this name that is synonymous with a cup of coffee! How? Because Starbucks has never shied away from evolving with the times. It's constantly re-inventing, adding new things to the menu, not just selling coffee but also protein shakes and smoothies. By doing these things, it makes people believe that it's riding the same waves. But you and I know, they've got to identify and get on that wave quicker than the consumer is on it to give the consumer that experience.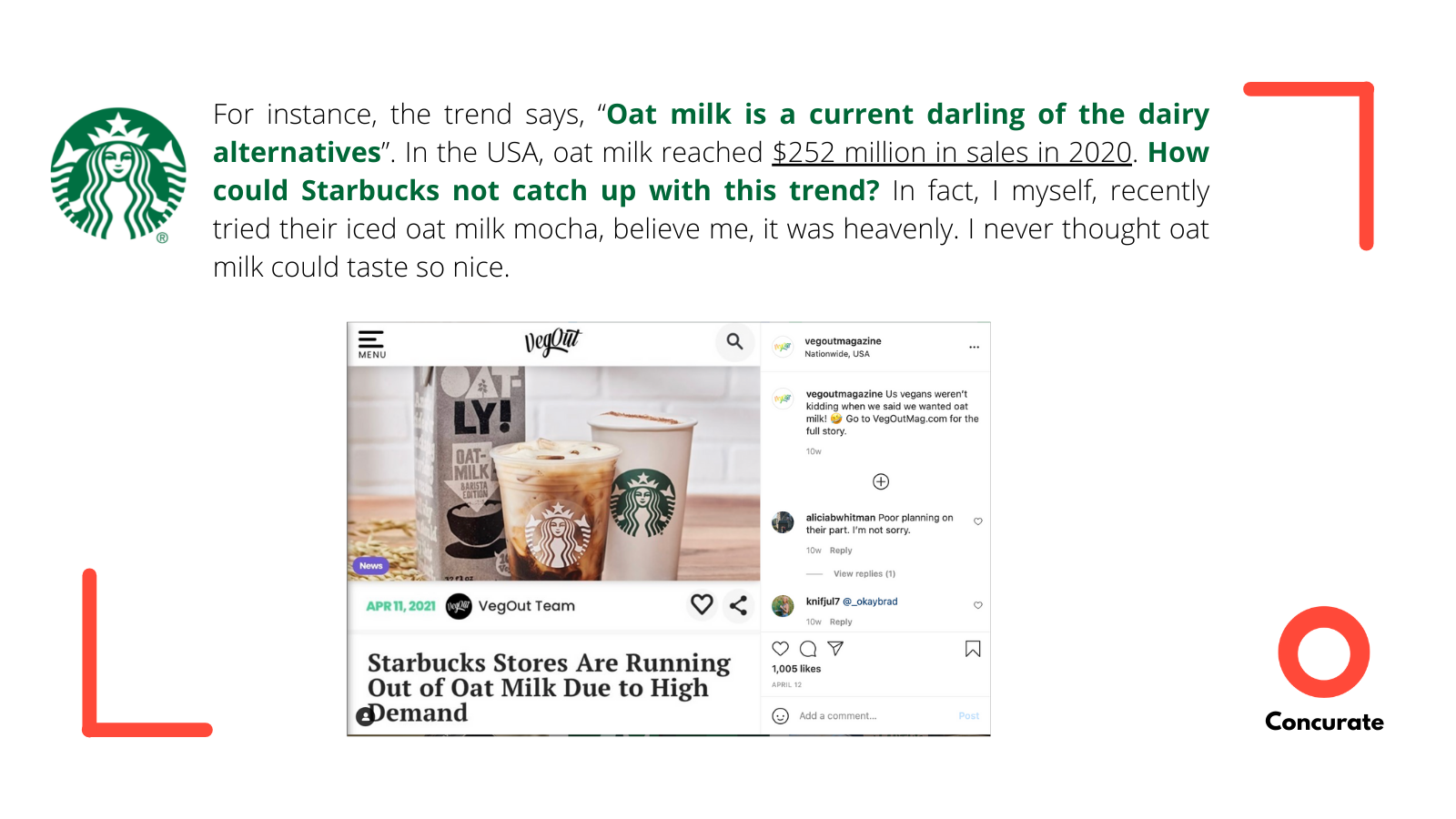 Source: Vegout Magazine
Provide Value
The world we live in today is highly content-driven. There are influencers battling to get the most reach. There are trends to catch up with and be part of and reels to remix. With so much content to absorb, how can a business make its content stand out? The rules of the game haven't changed too much. They still are – find out what your clients want, and give it to them. Starbucks has been sharing recipes to make beverages in style at home, "perfect" photo ideas, and announcing the latest additions and limited editions on their menu in elegant, color-blocked style.
Starbucks Marketing Strategy |
Echoing Values Through Various Channels
Starbucks adapted beautifully to the pandemic and all the restrictions it brought with it. Its YouTube series Starbucks at Home is a great example. The channel also talks about Good Things are Happening that focus on things that the company and its partners are doing. The channel also shares recipes, instructions on using the Starbucks App, their partners talking about the College Achievement Plan that Starbucks provides, and so much more! The content and delivery are clean, crisp, and inviting.
Website
and Blog
Consistent colors, subtle reinforcements of driving values, focus on what the company and brand stand for. Starbucks has always been particular about creating a connection with its customers, about being a good employer, and generally about voicing its support for humanity. It's also been vocal, as a brand about the need to protect and save the environment, and has found ways to do its bit. The website and blog echo all of these things, nicely, simply, and with a dignified subtlety.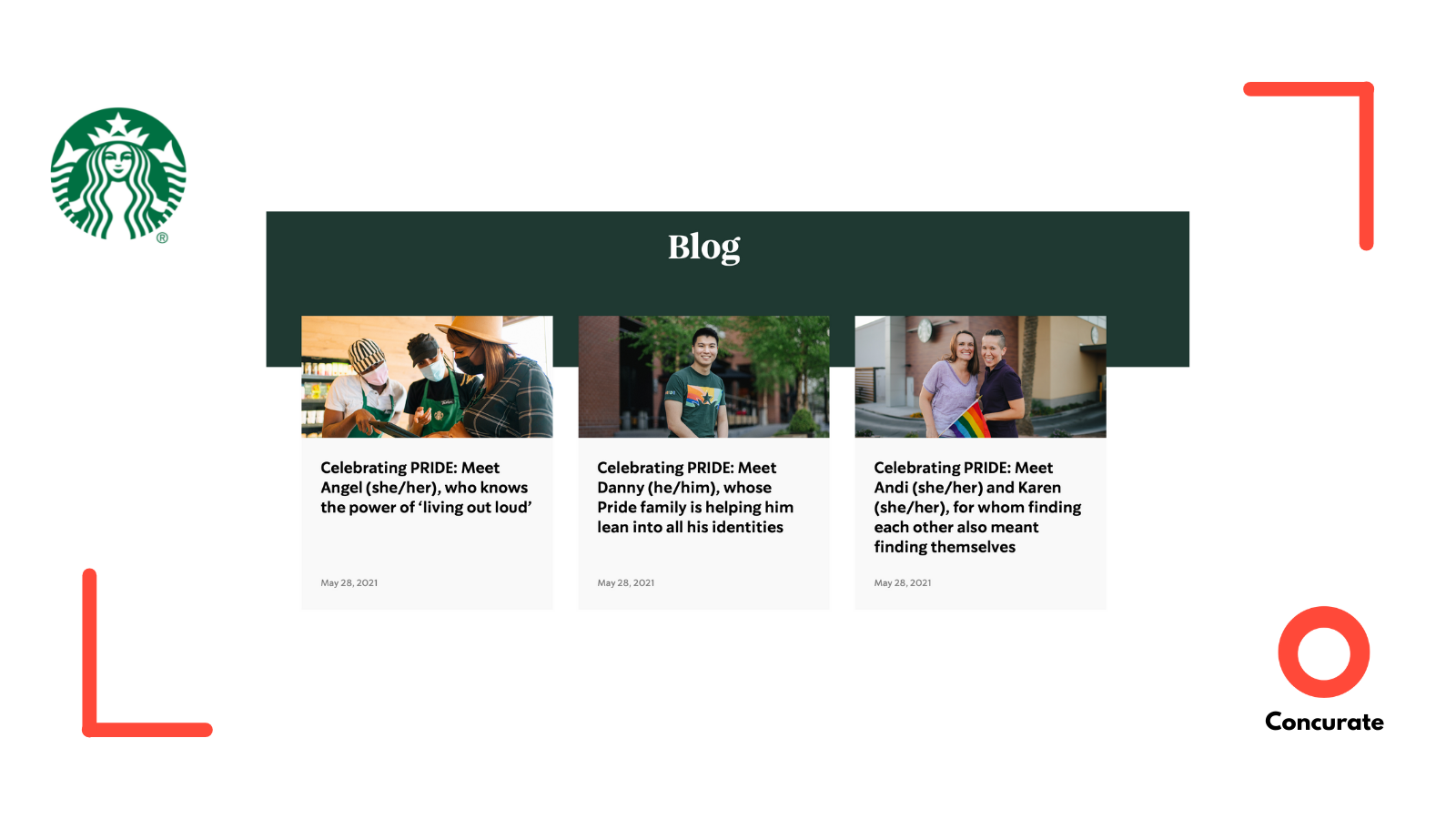 Source: Starbucks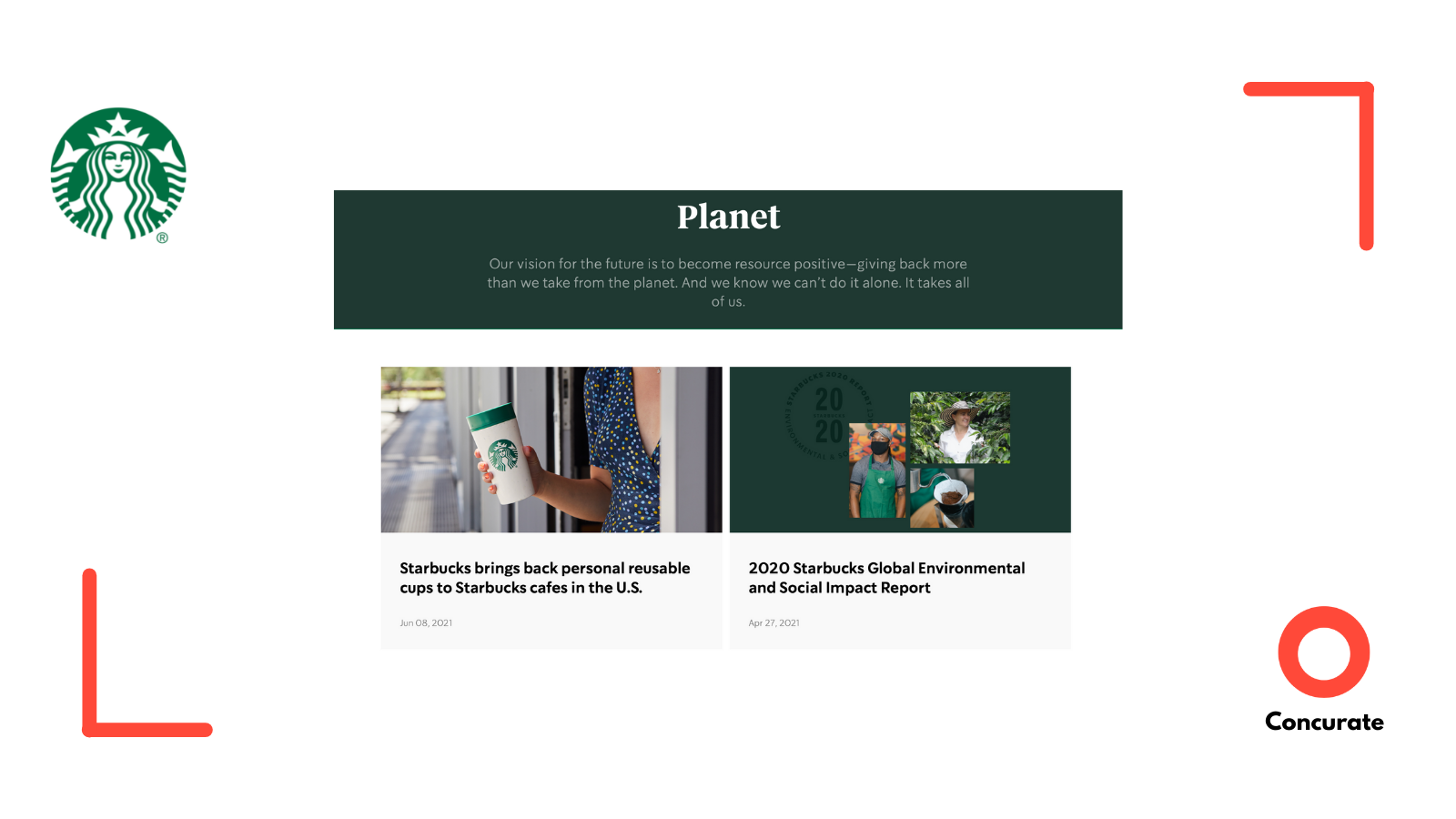 Source: Starbucks
Instagram
Fresh, current, and uplifting. That's what the Starbucks Instagram account looks like. The company uses the visual medium to its full capacity. And is in perfect step and rhythm with all the features that the app rolls out. The posts are current and establish an almost immediate emotional connect.
In addition to being visually pleasing, the content reflects and echoes the core values of the company. The culture of equality, diversity, and inclusion is portrayed through simply but effectively conveyed imagery. Their efforts to make the company more planet-friendly is also something they focus on.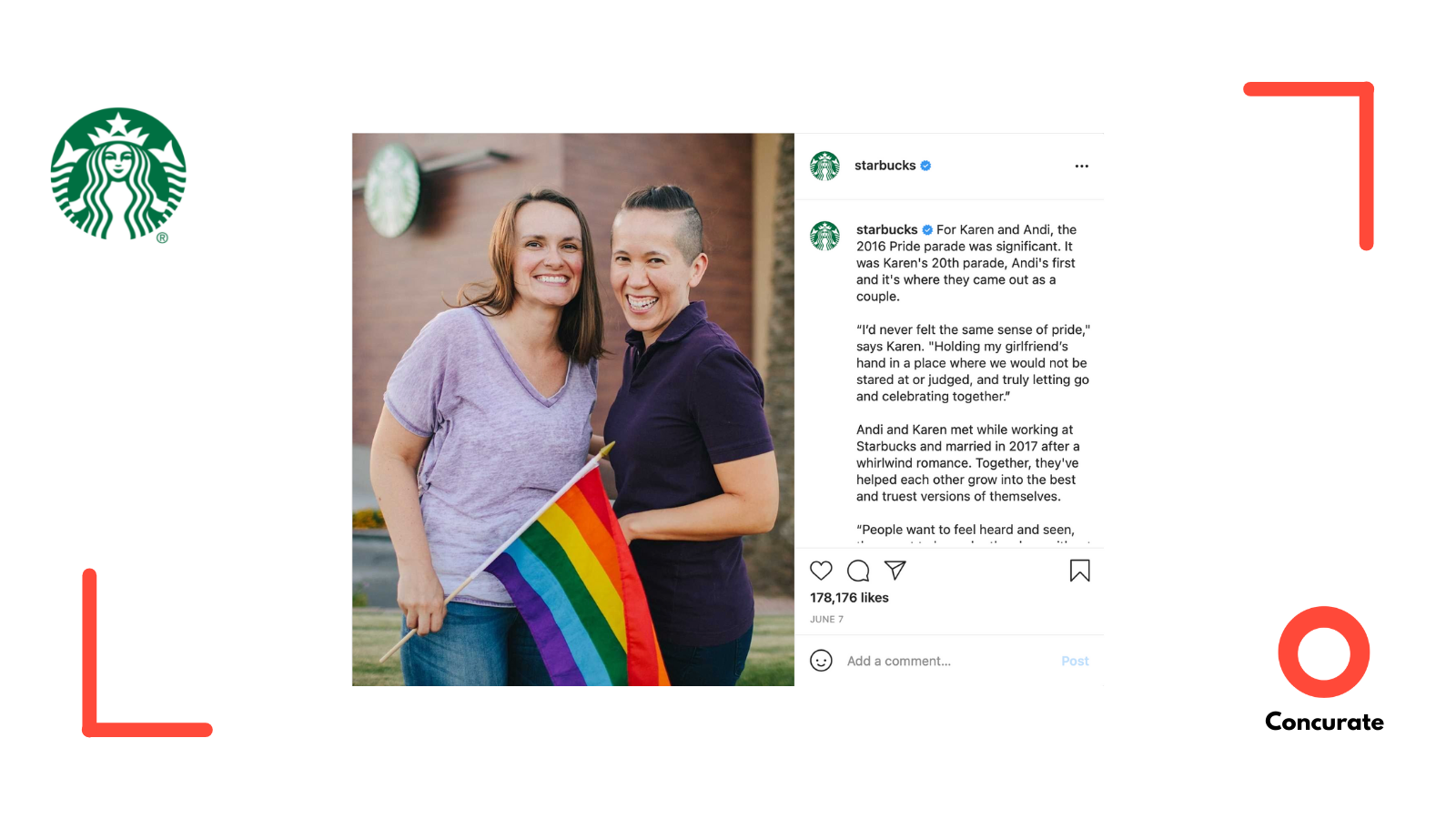 Source: Instagram
Starbucks also uses Instagram effectively in popularizing its new additions to the menu and creating a buzz around its limited edition products. In a YOLO (You Only Love Once) world, it's cashing in on FOMO (Fear Of Missing Out).
Tik Tok
Starbucks is also on the Tik Tok bus, strategizing by going down the influencer marketing route. Piggybacking on the popular hashtags. #couplecomedy was trending on TikTok a couple of months ago. Starbucks joined the party by reaching out to some influencers to create some videos around the same with a Starbucks connotation. Here is one we loved!
Campaigns
Loyal customers help build effective media campaigns. Especially through social media. Over the years, Starbucks has nurtured its relationships with its customers to use them in brilliant social media campaigns. Adding products to their menus for a short time and trusting loyal customers to attract business is one strategy they use. They've got entire cities involved, playing a game through a specially created app in a campaign around the Pumpkin Spiced Latte. Early last year, Starbucks rolled out a campaign called #WhatsYourName. As a brand, Starbucks has always been an advocate of LGBTQ+ rights, and celebrated individuality, diversity, and humanity. The soul of this campaign was to use something intrinsic to the brand – writing the customer's name on their coffee cup and giving it new meaning. Starbucks provides a safe space for people, in this case, especially transgenders to give their names to the barista – names they identify with. Take a look at this beautiful campaign.
Marketing Collaborations
Finding brands that match your brand value and collaborating with them is a great way to grow your business. Starbucks has collaborated with Spotify to create a "First-Of-Its-Kind Music Ecosystem". This offers artists greater access to Starbucks consumers and gives Starbucks access to Spotify's expansive discography.
As part of this collaboration, Starbucks employees get a Spotify premium subscription through which they can curate playlists that play at their stores. Customers can access these through the Starbucks Mobile App. This music ecosystem is designed to "carry the sound of Starbucks with you" on Spotify. So you can create the coffeehouse environment that Starbucks is known for wherever you like, while artists on Spotify are gaining greater exposure to Starbucks customers.
Let's Sum it Up
Starbucks is one of the finest examples of echoing values effectively through marketing. The importance of finding a brand's unique voice and then communicating it effectively cannot be stressed enough. Here's a quick round-up of what Starbucks' marketing strategy teaches us
Don't be shy to wear your heart on your sleeve – Vocalize what your brand stands for

Layer what you believe in across various marketing channels – Emphasize your values and voice in the content you create

Tweak your strategies to make the most of what's trending – Whether it's using influencers or occasions or being a part of festivals and celebrations

Use colors that are synonymous with your brand

Let your content be clean, inviting and leave people feeling a little happier than they were before consuming the content
Need help reflecting your brand's unique voice in your marketing content – get in touch.
If you wish to read more goodness, subscribe to our newsletter.
We send value to your inbox only once in 15 days.
Meanwhile, Explore the plethora of resources to help you out your business! If your organisation wants its content marketing strategy designed by Concurate, let's connect over a short call. Block our calendar today!