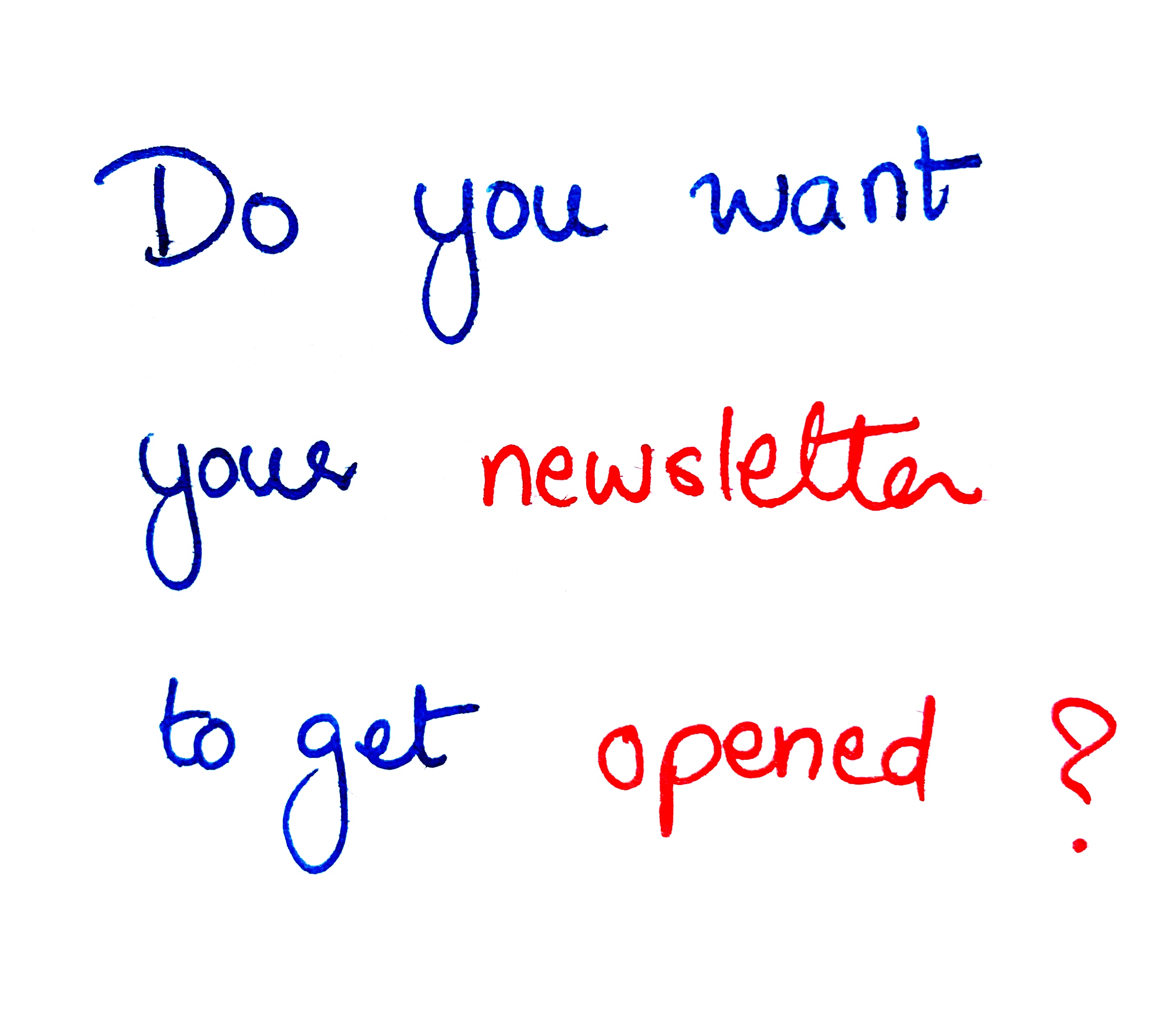 Knowing the purpose of writing helps you write better. Be it a Newsletter or a Love letter 😉
So, What's the purpose of writing a Newsletter?
The purpose of writing a Newsletter is:
To provide some value to the reader (who is possibly your future client).
Only if the reader does not find it valuable, he would not open the next newsletter from you.
Or even worse …
The subscriber would completely cut connection with you by….
"UnSubscribing"!!!!
It's an opportunity to:

develop empathetic relationship with your subscribers.
nurture the subscribers with your wisdom in the common field of interest.
inspire them with your innovative ideas.
show them how they can replicate your success.
Make them believe that it's a win-win for both.

To get your name out there. To be on Top-of-Mind when the time comes that subscriber needs your services. And to convert the subscriber into the client.
How could I accomplish this exercise of writing Newsletter effectively?
I could do this effectively by learning from experts. So I Googled, "How can I write a newsletter that gets opened and read". The result that I found most helpful was this interview with Joanna Wiebe (An expert Copywriter).
Here is what I learnt from Joanna Wiebe:
Newsletter should look like a personalised email and not like a website.
Instead of putting images in left column and text in right, write it in simple and easy to understand text.
Let the subscriber read just one thing at a times it's powerful. Notifications in a mobile phone are enough for distractions.
Don't bug the subscriber with irrelevant information, he is already too busy, value his time.
Provide value through your words. Something that can help your subscriber.
Reading this interview saved me from making the biggest mistake I was about to make. phew !
I was about to use the following HubSpot template to make my newsletter look like a website rather than a personalized email.
#AQuickTip: HubSpot is just a tool but using it blindly won't reap you any benefits. However, if you learn to use it wisely, it can do wonders J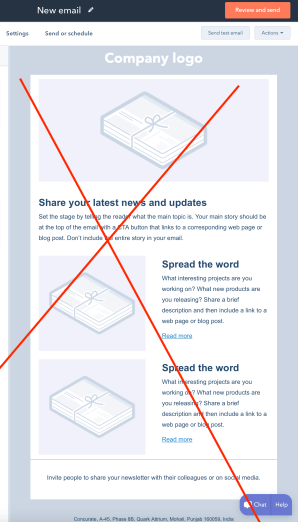 #FoodForThought: Which email has higher chances of getting opened? Personal or otherwise?
#AQuickTip: Wouldn't you want to know whether your subscriber read your email or not? If yes, Congratulations!! Email tracking facilities by tools like HubSpot can do this for you.
In order to write a personalized email, I need to have a clear understanding of what's on the mind of our subscribers. What are their pain points? How can I address them and help them out?

Let's do some brainstorming here:
Who am I?

I am a Copy Writer for Concurate.

Who are our ideal Clients?

Companies that have achieved good level of success but are struggling to grow beyond that!

What do we do at Concurate?

We partner with the founders/CEOs of such companies to help them grow beyond the point where they find themselves stagnant.

What's their biggest challenge?

They know how to bring business themselves. But what they don't know is: "How to replicate this charm of selling in their sales team?"
I know, that founders/CEOs do not have time to read about just anything under the sun. However, one thing is for sure. They will definitely take out any amount of time to read how can they generate 2x or 3x revenue. JUST like a mom whose child has speech difficulty would read any length of advice to help her child improve.
Hence, I need to know what exactly are the challenges that my subscribers are facing! However, the most common problems faced at such a stage are:
Most of the business coming from star sellers in the sales team.
Even by hiring high priced sales veteran and expanding sales team, did not get expected revenue growth.
Even after spending tons of money in marketing, no significant ROI.
100s of leads, but only fractional conversions.
Not sure of what's happening in the sales team. And how can you use sales data to increase revenue.
Spending lot of time to acquire new clients but it doesn't seem worth it.
Need help to upsell or cross-sell.
Leads not able to recall you when in need of your services.
Other (Lets us know we would be happy to help).
/* Wondering how do I know about these challenges? It's because, these are the  same challenges our founder faced few years ago. */
Pro tip: If you need 30 standout SaaS growth hacks to attain double the growth for your SaaS business, fill out the form below!
And, then share the wisdom and expert advice from the founder of the company who has 15+ years of experience of running a business. He is the one who has been there and done that. It's good to learn from somebody who has already burnt his fingers instead of burning our own.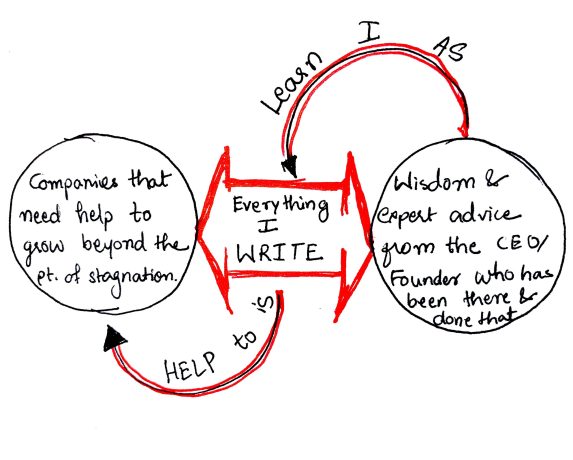 I also tried to apply the concept of "REVERSE ENGINEERING" to this Newsletter writing exercise.
/* My first goal is to make the receiver open my email! */
As a first strategy I went to my inbox to see which was the last newsletter that I opened and read. As I recalled, I had read a newsletter by Joanna Wiebe from Copy Hackers. (Renowned Influencer in the field of Copy Writing). Her name was on "Top-of-my-Mind". As you all know I am a Copy Writer, and I want to be better at it with each passing day. Hence, I like to learn from SMEs.
I still so clearly remember reading Joanna Wiebe for the first time. "Is $5000 a lot to charge for a sales page?"The main idea of the post was paying $5000 for a sales page is not too much if the ROI that it's going to bring is multifold. And the article was written after interviewing 14 marketers. Hence it brought valuable insights direct from the industry.
Anyway, Here is a little snapshot from my mailbox.
As you can see the snapshot, out of 11 mails from Joanna Wiebe I have opened 3 emails. What triggered me to open these 3?
Curiosity to know what does BOFU mean.
The usage of word copywriter in the subject line.
The word "Rookie", I don't want to come across as a newbie after all.
All this triggering information was present in subject line.
Here is what I learnt and applied based on reverse engineering from my own inbox.
What does the receiver see before opening my email?
My or my company's name.
Subject of the email.
Some initial text of my email.
#AQuickTip: Subject line has to be really powerful to grab the subscriber's attention.
Here is how my first Newsletter email looked like!
Short, Personalized, To-the-Point, Value = Tips to handle pricing questions.
It went with:
My name as sender that's Aditi Syal. We like to hear more from humans than companies 🙂
Subject: How to answer "How much is it?" question asked by your clients?
How does this look like to you? Would you have opened and read it, if you had received it?
#OurWisdom: It's worthy to curate personalised content for just a few than writing generalised content for masses.
Besides, once your subscriber base increase in number, segmenting them and curating content accordingly shall be of great help.
BTW, Do you hear podcasts while gymming or walking? May be you would like to hear these podcasts too 🙂
If you wish to keep receiving great business insights, don't forget to subscribe to our newsletter!
We visit your inbox just once in two weeks!
Meanwhile, Explore the plethora of resources to help you out your business! If your organisation wants its content marketing strategy designed by Concurate, let's connect over a short call. Block our calendar today!