Getting quality backlinks is like earning recommendations from authoritative people. Recommendations from authoritative people (read websites) don't come easy, and it requires some heavy lifting at your end in terms of effort, time, or cost.
For instance, you can commission an industry research report that gets covered by journalists and bloggers across the globe. This approach could be a cost-intensive way but is worth it.
Another way can be contributing expert opinions through HARO or as a Forbes council member. If you want to become a Forbes council member, your business needs to have a minimum annual revenue of $1 Million. Whereas signing up for HARO can keep your inbox buzzing with emails. Content marketing agencies can come to your rescue in these cases.
As a content marketing agency, we have helped many clients get quality website backlinks. This activity, in turn, increased their authority and brought them more traffic and leads from search engines.
In this article, I will share how we got quality backlinks for our clients. But before we jump in, let's look at the traits of quality backlinks.
Not All Backlinks Are Equal
You might be thinking, "Great, let's create as many backlinks as we can, in any way possible," right? Not so fast.
The quality of backlinks matters more than their quantity. A single quality backlink can be more potent than 1,000 low-quality backlinks. Therefore, your focus should be on building backlinks from websites in your niche that have a high "authority" score, meaning that they're considered trustworthy, reliable and valuable in the eyes of search engines.
Traits of Quality Backlinks
#1 – They Come From Trusted, Authoritative Websites
While building the backlink profile for your website, it is vital to focus on receiving backlinks from websites with a high authority score. For example, a backlink from HubSpot will be more authoritative in search engines' eyes than from 10 random blogs.
Additionally, the referring website must have a good volume of organic traffic. Tools like Semrush, which helps to conduct keyword research and find online ranking data, will show whether the traffic shows even distribution across the website's pages, another vital consideration.
Finally, your list of potential referring websites must show consistent growth over a long period.
#2 – They Include Your Target Keyword in the Link's Anchor Text
Anchor text is the visible, clickable text in the hyperlink. In an industry study by Ahrefs of the anchor texts of backlinks to 384,614 web pages, there was a correlation between keyword-rich anchor text and higher rankings for that keyword.
#3 – The Linking Website is Topically Related to Yours
If you're operating in the SaaS space, it will be more beneficial to build backlinks from websites in the same industry that publish content around similar topics. Again, the similarity in context will aid you a lot.
Remain vigilant and never resort to deploying illicit means to build backlinks or receive referrals from websites that publish content on porn and gambling. Going down this route puts you at grave risk of being penalised by search engines.
#4 – The Link is a "Dofollow" Link
Dofollow Links
When your website receives a dofollow link, it is a signal from the referring website to search engines like Google that the link is organic, and they're vouching for the accuracy of the content on the linked URL.
Nofollow Links
Nofollow links are less valuable since they ask search engines like Google to ignore the particular link. These signal to search engines that they needn't follow the specific linked URL. Links from these sources tend to be "nofollow":
Blog comments,
Press releases,
Paid advertisements
Google and other search engines ignore links with the "nofollow" tag. In other words, these links do not count for search engine ranking algorithms.
#5 – They Follow The Right Ratio
As SEO Chatter explains, "The main difference between referring domains and backlinks is that referring domains are the websites your backlinks are coming from while backlinks are the actual links on sites that are linking to your web pages. A referring domain can have one or more backlinks to a website."
While building your website's backlink profile, work towards maintaining the ratio between linked domains and referring domains around 1:1. A ratio tilted towards the referring domain is even better.
#6 – They Are Natural Links
As an SEO specialist for your website, strive to maintain that your backlinks are not paid-for posts and that the anchor text is unbranded and devoid of spam. It is a common observation that the quality of the backlink is disregarded by prioritising making a quick buck.
You can watch this video where team Concurate discusses its learnings on choosing the right website for building backlinks.
Pro tip: If you need 30 standout SaaS growth hacks to attain double the growth for your SaaS business, fill out the form below!
10 Actionable Examples of Creating Quality Backlinks
To aid your understanding, we will show you practical examples of how Concurate has created quality backlinks for its clients across different industries.
#1 – Create High-Quality Content
One of the most straightforward ways of getting backlinks is to create top-quality content. Your north star should be to create linkable content that other websites can use and link back to your site. It can be a report, a video, a survey, or anything that others will consider a highly-prized piece of content.
Concurate's client GreyB holds an envious advantage of glimpsing into the future. GreyB is an innovation research firm that performs custom analysis on patents, research papers, and market reports to drive business insights.
So if an organisation, say Samsung, wants an understanding of evolving business trends, such as 5G, to gain a competitive advantage over companies like Huawei, they naturally turn to GreyB. It so happens that GreyB has indeed created industry-acclaimed reports, such as this one on 5G. Content such as this has generated citations in industry-relevant blogs and publications.
#2 – Publish Guest Posts
Guest posting is a dependable way to get backlinks for your website and is a tried and tested approach. You can consider reaching out to websites in your industry and niche that accept guest submissions and submit posts. Some websites usually offer contributor accounts, or a "write for us" section where select people can write articles and get featured on the website. You can link your site in the author's bio section or within the text content.
Concurate has contributed to industry-relevant blogs, such as The Future Shapers, to help its client, Triangle IP, receive quality backlinks.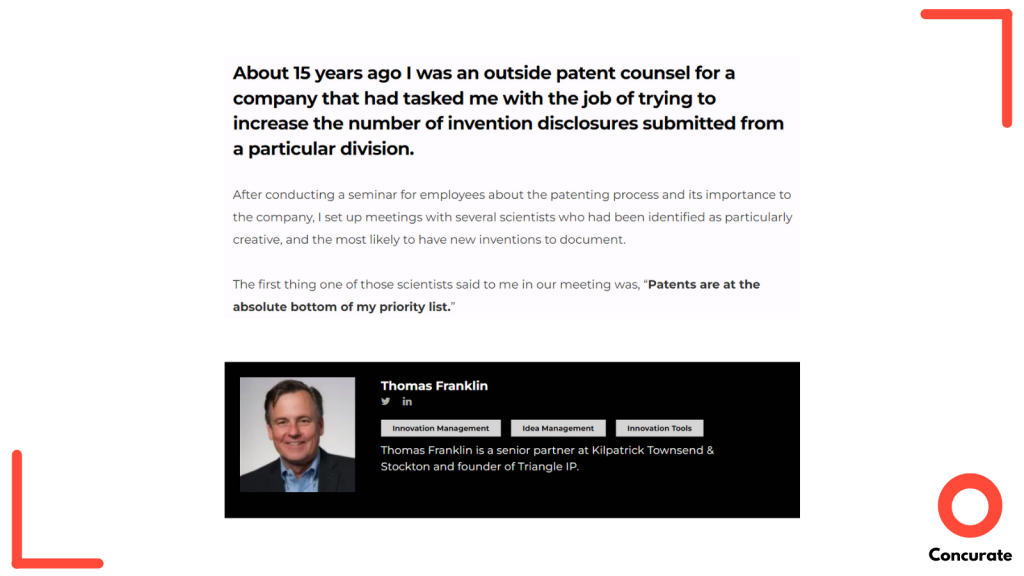 #3 – Contribute to Already Ranking Listicles
People entering search queries along the lines of "best tools for [pain-point]" are savvy potential customers who know what they're looking to buy. They are likely to be educated about the functionalities that will suit their needs. Winning a spot in listicles on review websites comparing different products is expected to help you gain traction and receive high-quality backlinks.
Concurate has helped its client PQAI receive mentions on such pieces of content from reliable and authoritative websites.
#4 – Contribute Opinions or Ideas As Experts
A fantastic way to gain visibility as a thought leader in your industry is to consider contributing to renowned business councils and outlets such as Forbes and HARO.
Forbes Councils
Forbes Councils is an invitation-only, professional organization where top CEOs and entrepreneurs build professional skills and gain connections and visibility on Forbes.
You can consider getting invited and contributing to such councils. For example, you'll contribute to a paragraph or a quote for a content piece as an expert opinion.
Concurate has helped GreyB's senior leaders gain admission and contribute to the Forbes Business Council.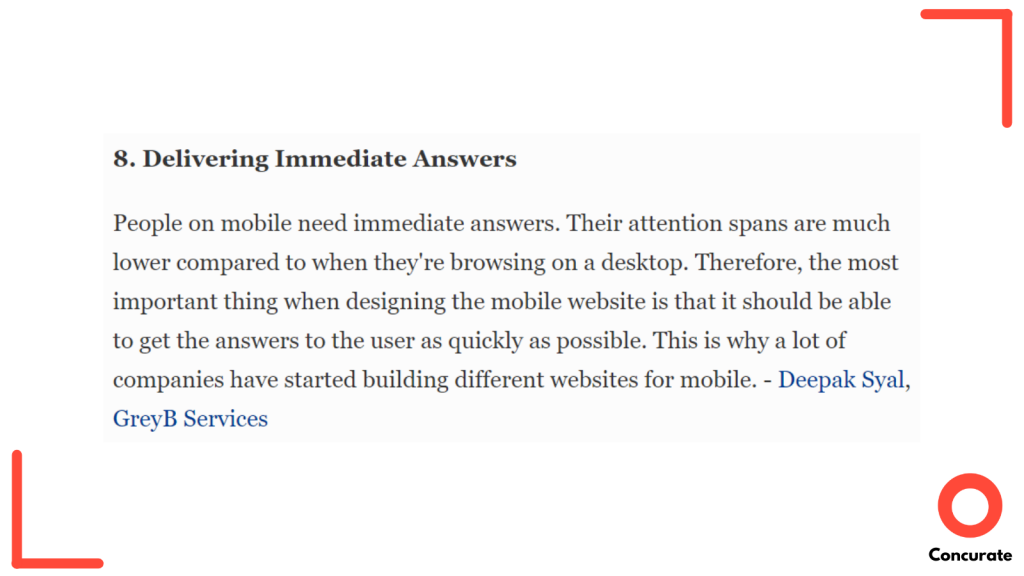 HARO
Help a Report Out is a leading PR platform where journalists and content creators meet industry experts who share their insights and opinions. The best and the most relevant answers to the journalists' queries get published in their articles.
Using HARO, Concurate helped its client, IP Toolworks, feature on a major technology website, tech.co.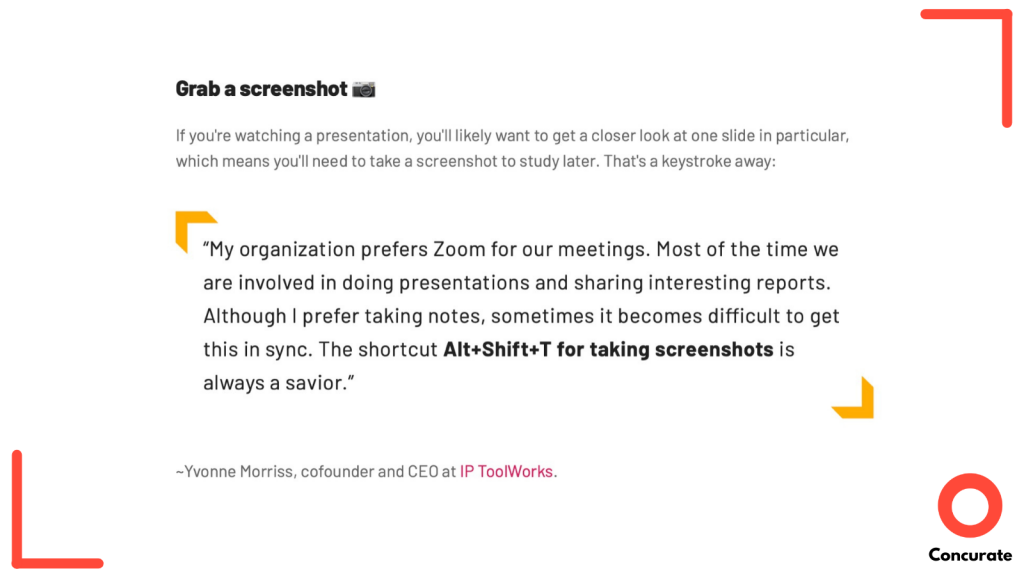 By giving interviews and contributing at such mediums, you can expect to gain high-quality dofollow backlinks for your website.
#5 – Participate in Industry Conferences
You stand to gain a lot by attending industry conferences. From a purely virtual standpoint, your business stands to gain authoritative links around your attendance, contributions and more.
Concurate has helped its client, Triangle IP, participate in renowned conferences such as JURIX 2020, an international conference on legal knowledge and information systems.​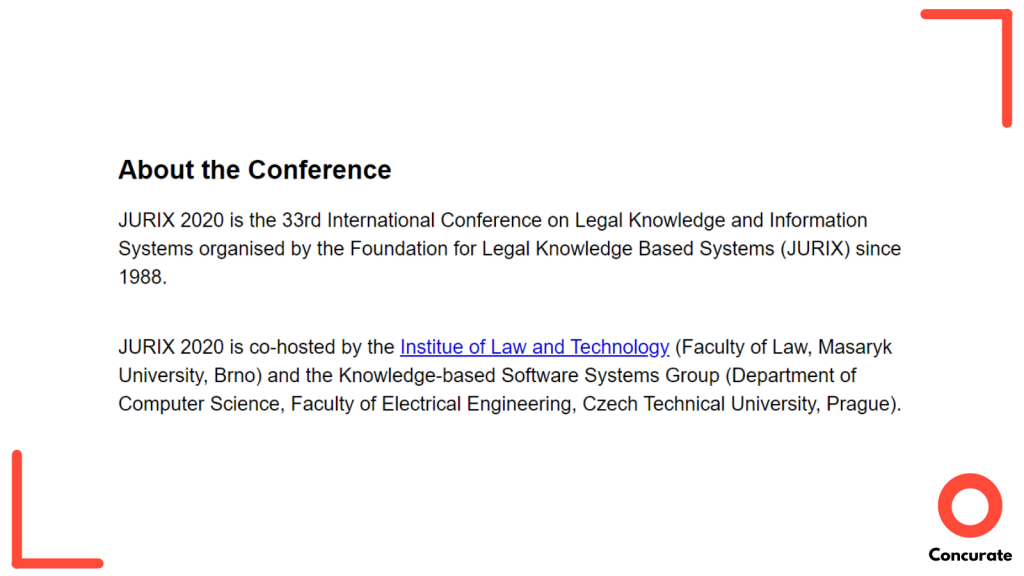 #6 – Sponsor Notable Events
You stand a chance to gain vital recognition by being a pivotal sponsor of renowned events such as industry conferences. In addition, referrals on events' websites are likely to help you receive highly authoritative backlinks for your website.
Concurate has helped its client, ScanWriter, sponsor industry conferences such as the ACFE Global Fraud Conference.
#7 – Engage in the Comments Section
Finally, you can consider generating "nofollow" backlinks for your website by engaging with content pieces on blogs and publications.
Concurate has represented its clients by engaging with content from thought leaders such as Steve Blank. This has helped Concurate receive backlinks from such personalities' personal blogs and websites.
#8 – Getting Listed in Directories
By getting your business listed on reputable directories and peer-to-peer review sites such as G2, you can manage to convert high-quality directory backlinks into favourable search engine rankings.
A notably beneficial aspect of business directories is that they're quite popular amongst consumers. So, by getting yourself published within such listings, you're not just building directory backlinks – you're also getting to showcase your business in front of a wide audience base.
Concurate has helped its client, Triangle IP, get listed on the reputed peer-to-peer review website, G2, amongst other such directories.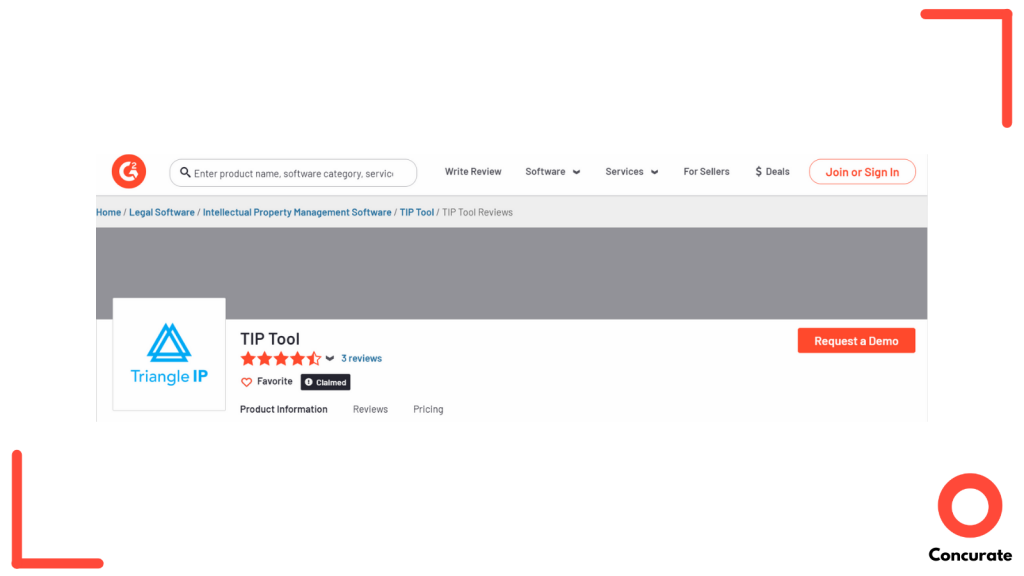 #9 – Appear on Podcasts
You can build backlinks by appearing on podcasts. In this approach, you, as a business owner, pitch yourself as a guest on industry podcasts and receive links from the episode's page.
This approach is a great way to build more backlinks and generate interest in your brand. By talking about valuable content and sharing it with a wide audience, you stand to gain higher exposure and potentially receive more backlinks than just from the episode's introduction.
Concurate has helped its client and founder of Triangle IP, Thomas Franklin, appear on leading industry-relevant podcasts such as the Reinventing Professionals podcast.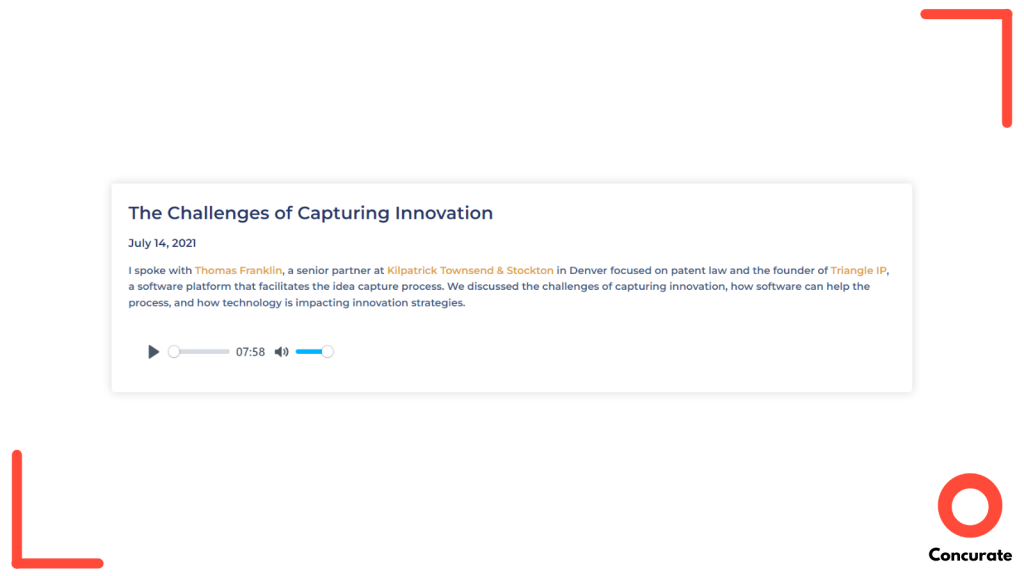 #10 – Give Interviews
Online interviews are a straightforward way to build your website's backlink profile. However, it requires a lot of time and effort since you're first required to establish yourself as an accomplished figure in your business or sector to receive the right interview invites.
Concurate has helped its client and founder of Triangle IP, Thomas Franklin, give interviews on quality outlets such as ideamensch, an interview platform for entrepreneurs to share their stories.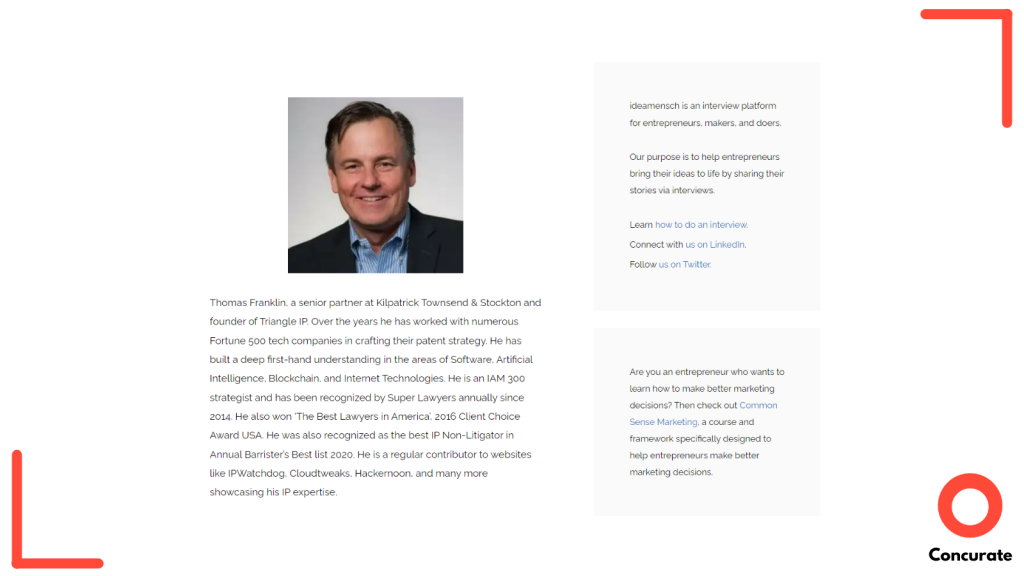 What You Can Do Next
We are a content marketing agency that brings business, not just website traffic. We curate the best content as per your company's requirements and philosophy because we believe in the power of meaningful information.
Let's turn your website traffic into paying customers by taking your blog to the next level. Do you want to connect over a short call to gain higher authority for your website? Block our calendar today! We'd be happy to help you develop a content marketing strategy for your business.
If you wish to read more goodness, subscribe to our newsletter.
We send value to your inbox only once in 15 days.