Words of appreciation from an editor on Forbes always make our day.
Here is what one of the editors said for the article we sent on behalf of a client: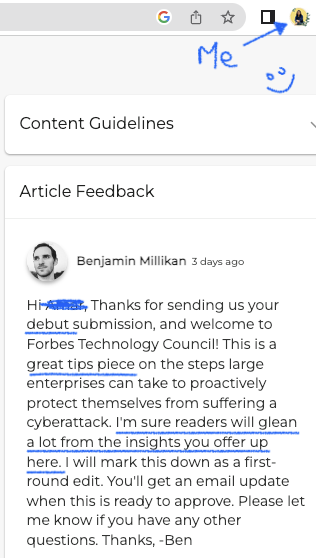 Do you also want to publish articles on Forbes?
It can fuel your thought leadership campaign.
Interested?
Let me share more.
As a first step, you can apply for the Forbes Council membership through this link (if you have not already).
However, becoming a Forbes council member is just the preamble. Writing articles is where the real game begins.
In our experience, many council members are not able to make a debut for one or more of the following reasons:
Lack of time to write
Unavailability of ghostwriters who can take their brain dump and prepare articles that resonate with the audience
Unaccepted articles at Forbes because they look promotional instead of educational and actionable
However, when there is a will, there is surely a way.
So, based on our experience of helping clients to publish on Forbes, I am sharing three article ideas, how to structure the articles, and some tips to impress the editors at Forbes.
Idea #1 – Your Opinion on a Prominent News in The Industry
For instance: A giant player in the industry discontinues a technology and shows millions of dollars of inventory as a write-off in the quarterly report. You observe that other players in the industry are coming up with comparable tech. You also observed some companies playing on low cost to sell that discontinued tech. You want to alert the target readers to prevent getting trapped in the game of cost and think long-term. You also want to propose the right tech solution.
That makes the core of your article. Your marketing team can now follow the following structure to prepare the piece.
Structure:
Talk about the piece of news
Talk about related events from the industry
Connect the dots with your thoughts
Give actionable steps
Idea #2 – Your Expert Suggestions to Protect Against a Threat in the Industry
For instance: You want to help companies keep cyber security attacks at bay by giving them a proactive approach. Your marketing team can drive the audience by fear and prepare the article using the following structure.
Structure:
Quote the real events where companies suffered badly due to attacks
Educate the reader on a proactive approach to protect against such threats
Given actionable steps to implement the approach
Idea #3 – Tips from You to Prepare Better for the Future Based on Industry Forecasts
For Instance: You know that artificial intelligence is disrupting many professions and business models. You want to educate the reader on what kind of steps he can take to not get wiped out. Your marketing team can prepare the article using the following structure.
Structure:
Quote industry statistics and remarks from market trends
Educate the reader on what's possible with advanced technologies
Tell stories about how businesses are pivoting by embracing artificial intelligence
Given actionable ideas for pivoting
Bonus: A Few Tips to Impress the Editors at Forbes:
Open the article with a quote, statistics, or an anecdote
Support your claims in the article with some evidence
Refer research papers and books to add more value to the piece
Focus on education and empowerment of the target reader, not a promotion of your product or services
Drive the target reader by any of these – fear, pain, benefits, awe
Choose words that resonate with the target reader
While writing, keep the maturity of the target reader in mind
Always add actionable steps for the target reader in the concluding section
Ensure a smooth flow of thoughts
Add stories and analogies to make the article engaging
Stay within 1000 words limit
Do not add any images to the piece
Do not write content that just summarises the content from the top 10 Google results
Maybe you can forward this article to your marketing team, what say?
Curious to know more?

Block our calendar for a quick call!