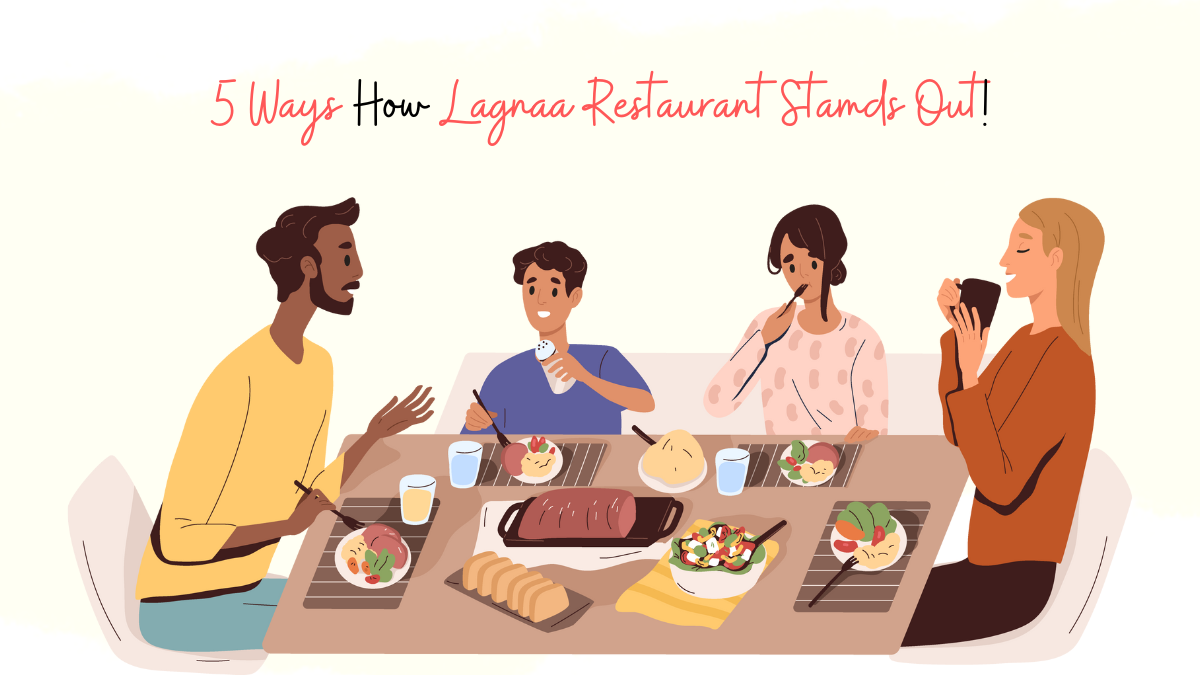 Last weekend we started a new ritual in our family of four – me, my husband, my 11-year-old son, and my five-year-old daughter.
We decided to keep Saturdays as a couple's day, where my husband and I go out and have some couple time like trying a new restaurant, watching a movie, or shopping together.
And Sundays as a parents and kids day, where we spend quality time with children like cooking or doing crafts together, going for picnics or visiting play areas, doing some house chores together or grocery shopping together, etc.
So this Saturday, while we were hungry after shopping, we discovered a restaurant named "Lagnaa" through Google Maps. The reviews and ratings were impressive, so we decided to try it. Also, it was within walking distance of our location, reducing our friction.
#1 – The Barefoot Dining
In most restaurants, we use tables and chairs for sitting and eating food with our shoes on. However, Lagnaa differentiates itself by offering a barefoot dining experience. In Lagnaa, we need to take off our shoes and sit with folded legs on a cushioned seat placed on the floor, as shown in the picture below.
When we sit with crossed folded legs, we sit in a yogic pose called Sukhasana. Sitting in this position helps in better digestion. Such a pose also sends an in-time signal to our brain when we are full, saving us from overeating.
Better digestion is a great benefit to sell when marketing the restaurant.
#2 – The Wall of Fame
If not everyone loves to be recognized, most of us do. And you get recognition when you do things that most people can't. Heard of people saying, "Omg! She can eat such hot and spicy food!" or "Omg! He eats 3-4 green chilies with every meal."
Lagnaa uses this rare ability to eat super or ultra-spicy food to attract more diners and create stories. Team Lagnaa has specified ten chili levels as follows:
Not hot (Anyone Can)
Hot (Almost Anyone Can)
Hotter (Chef Can't, Can you?)
Show off!!!
You Are Crazy
I Dare You
Where Angels Fear
Say Your Prayers
Make My Day
We Declare You Chili King
The team has also launched chili challenges; here is a glimpse:
When people win these challenges, they earn a peg on the wall of fame. A peg is a wooden clip; winners can write their names on pegs; the clips are then clamped on strings indicating the spice level from 1 to 10.
When people win these challenges, they share them with their friends in person or on social media, which brings them recognition and appreciation. The content straightaway goes into the circles of diners, spreading the word about Lagnaa to the right target audience.
Further, these challenges are a differentiated offering from Lagnaa.
#3 – The Taste
The restaurant has been a Michelin-star restaurant for six consecutive years since 2016. That's proof of delicious food in itself.
I second that in my personal experience as well. Every dish on our table tasted great. We were able to experience the natural flavours of the ingredients. The ingredients' quality was excellent. The food was super fresh. I loved the little bamboo boxes in which they served the rice. I had never eaten such food before.
A taste to remember; it's also their unique differentiator.
#4 – The Creative Content and CopyWriting
Now coming to my favorite part of the restaurant. Lagnaa very thoughtfully wrote every word written on different boards across the place. Sharing some impressive elements with pictures from the restaurant:
Use of humor in writing for better recall value!
Attracting staff with delicious food (great copywriting). The element of humor continues.
Showing care for customers – A powerful message here is that instead of taking 30% of the money from customers and passing it to delivery partners, the team inspires people to pick from the restaurant at 30% discounted rates. Labour is super expensive in Singapore, after all.
Clever copywriting to sell based on quantity
#5 – The Staff
The restaurant staff effectively communicated with us. The lady who attended to us had answers to all our questions about the dishes, the food, the restaurant, etc. She also told us how they prepare combo meals at Lagnaa to include different flavours and spice levels.
Parting Thoughts
The restaurants that serve amazing food make good money. However, the restaurants that can differentiate themselves from the rest build a great brand; the money follows.
We paid ~100 SGD for the two of us at Lagnaa. But, of course, it's comparatively on the higher side in Singapore, where you can eat a good meal for under ~10 SGD per person. But people are okay with paying for unique experiences once in a while.
A lot goes into branding. Each interaction that patrons share with your restaurant staff, to the stories you and the diners personally share. The touchpoints that make diners come back with their friends or relatives.
The founder sows the seed for branding by repeatedly sharing the core elements of what the business stands for. Content marketing helps amplify the founder's message to benefit brand building.
If you want an agency to amplify your voice – block our calendar today!