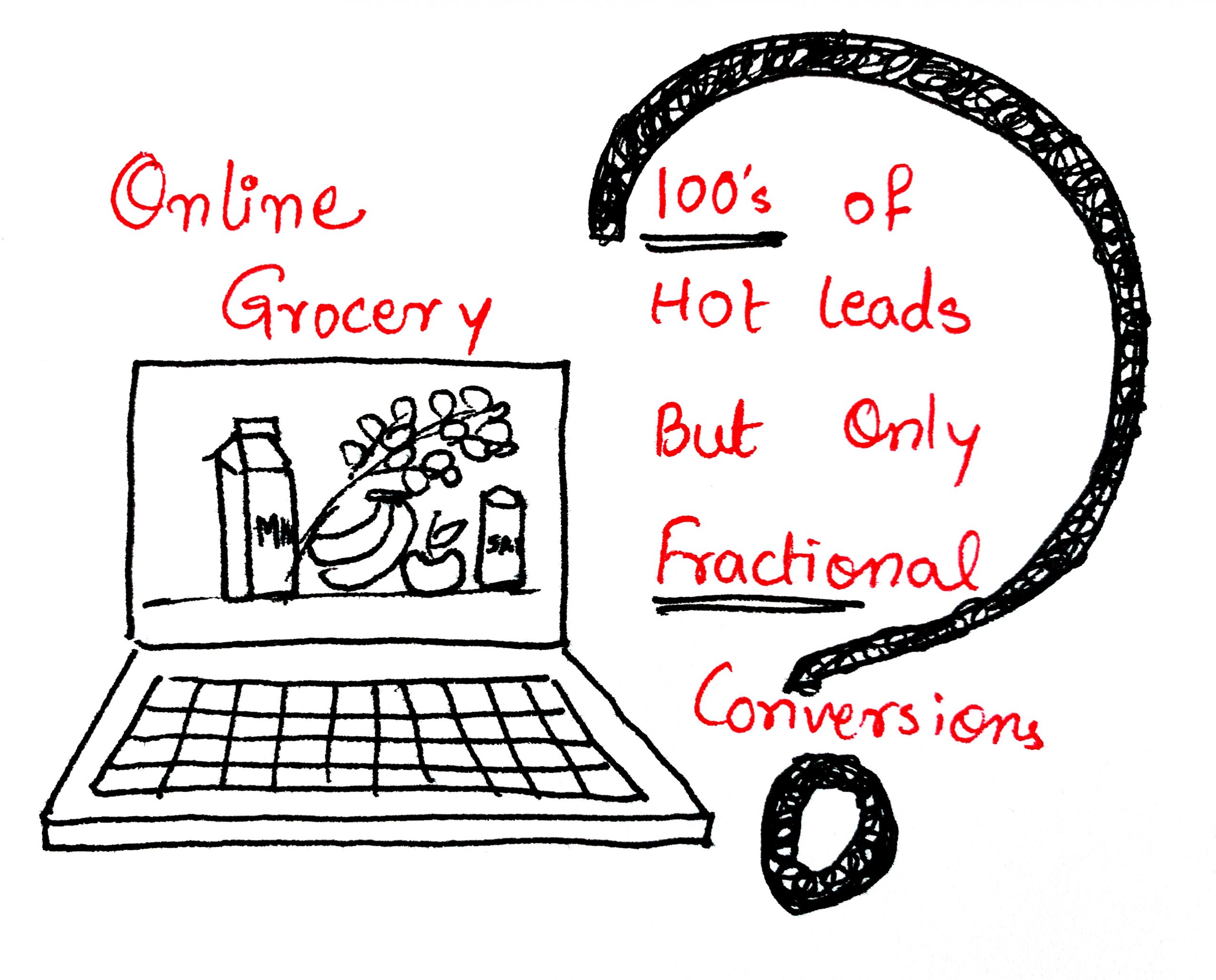 Did you do your homework before opening up your online grocery store?
I am sure, You did!
However, I wonder, If the following things were part of your homework or not.
Did you try to put yourself in your customers' shoes and think from their perspective?
You got to be an Empathetic Seller in this era.
Did you think of the questions that might pop up in the user's head to consider buying groceries online?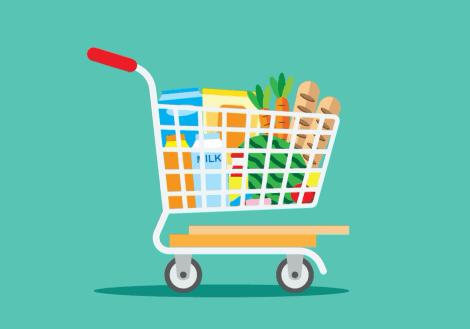 Let me list down some questions for you. By the way these questions are not made up in my mind. I actually asked a 100 people across the globe about their online grocery shopping experience.
My first question: "Do you buy groceries online? I also asked these people about things they like/dislike about online grocers they buy from. Here are some of the interesting things they shared with me.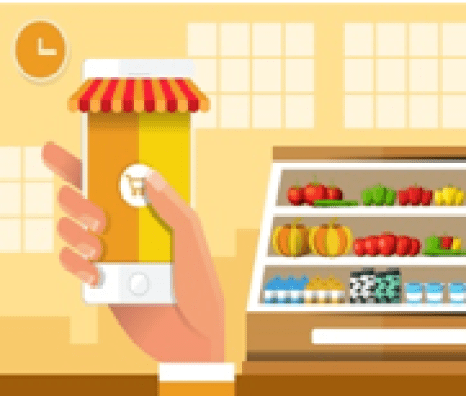 "Yes, Aditi! We order groceries once every week from Tesco. We are on their monthly delivery subscription and pay 3.50 pounds per month. We receive our order within 24 hours in a mutually agreed time slot of 1 hour. We are happy with their service." …….Says, Virendra, Manchester, United Kingdom.
"Yes, Aditi from RedMart only ….Tried a few Indian grocers like Shivsagar, etc. but was disappointed by the quality of stuff so stopped from those"……….Says, Meera, Singapore.
"Yes, dear! I buy from BigBasket and Grofers. The best part about Bigbasket is veggies are super fresh, don't get spoiled even after a week of sitting in the fridge. And if at all I do not like the quality of veggie they take it back without asking any question. I have also observed that Grofers does not have most of the brands I use. However, Bigbasket carries them all. Just that Grofers is comparatively cheaper for some products." …… Says Lavanya, Bengaluru, India.
"Yes, Aditi all the time! BigBasket is my favorite" … Says Priyamvada, Bengaluru, India.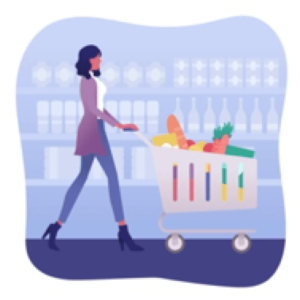 "No Aditi, I don't! I don't trust online vendors. I like to go to a grocery store and choose the kitchen supplies myself as I am passionate about cooking. Also, the grocery store is just 2 minutes' drive from my house. It doesn't take too long for me. Also, we live a little far from the city so I don't think many vendors deliver groceries here. Besides, I have only seen a few singles buying groceries online who have absolutely clear idea of what they want to buy and can easily order online. However for families, I feel requirements are different, sometimes you would want to look at the new varieties or available offers, or by looking at things in the store you would get reminded of what you want to buy?." …….. Says Paula, Melbourne, Australia.
"No Aditi! Big Stores like Coles and Woolworths have delivery options on their websites but the delivery charges in Australia are very high. We prefer visiting the store to buy our supplies. The best part is, we directly go to farms to buy our fruits #FarmFresh."…… Says, Pramod, Perth, Australia.
"No! I have tried earlier but the packaging is very poor and expiry date issues are also there. I have tried Ondoor and Grofers!" …… Says Rajeshwari, Indore, India.
"No, I don't buy groceries online because I prefer seeing what I buy. I will always be worried about the quality if I buy online." ….. Says, Kalyani, Melbourne, Australia.
"No! I like to purchase from small vendors for multiple reasons. First, I like to extend my indirect support to them by buying from them. Second, I can see the quality of the product I am buying. Third, having a good rapport with them makes them go the extra mile for us." …… Says, Shikha, Bhopal, India.
Depends, based on the situation I decide whether to buy online or from a local store. If I have a time crunch I order online. I also feel online stores lack in options and variety and are not always budget-friendly."… Says Ruchika, Pune, India.
My Second Question: What are the thoughts that cross your mind when you consider buying groceries online?:
Does this website covers products in all the categories like fruits, vegetables, dairy, grains, pulses, lentils, flour?
If I order fruits and vegetable from this website, will they pick the best quality produce and deliver it fresh?
Will they try to sell me "expiring soon" stuff?
Do they have a feature where I can check the expiry date of the stuff I am buying.
Are they selling it at a higher price than the local offline vendor?
Do they carry the brands I like?
How will I differentiate which green chillies (from the picture) are right for me ? Do they specify mild spicy, medium spicy or too hot ? or do they tell the variety of the veggie?
Does this store deliver in my area?
Is it safe to use my credit card/ debit card on this website?
Can I get stuff in smaller quantities or will I have to buy their smallest packaging which is big for me?
Will I be home when they deliver ?
Will they ask for a minimum order for delivery? Is the minimum order too high?
How do they pack the groceries?
Will the items like milk, butter, cheese, curd get spoilt on the way to delivery?
Does your business model address all these 14 pain points? Obviously Not and does not need to in first go itself. Try to find out what all it addresses and what all it doesn't. What all will be feasible for you to address. Starting or Staying Lean is always wiser. Instead of addressing all 14 points at the same time. Best would be to first analyse your strengths. And based on your strengths you can devise your business model.
Is your strength (Just giving out a few examples):
In sourcing the finest quality produce? Is the produce that you bring to the table has the ability to get publicised by your happy customers being your evangelists. Would your customer say this to his/her friend : "Next time you want to buy xyz. Try Brand A of xyz available at abc website(your store). It's just amazing." ?
In Logistics? Are you already in a logistic business and looking for diversification? Or are you an expert at handling logistics? Or do you have a breakthrough idea like that of Instacart to hire personal shoppers to handle logistics?
In Organic and Healthy Food?
Once you have analysed your strengths. It's time to define your target audience. To do so you need to find out the hassles of buying groceries from local marts and thus attract your customers (Just giving you a few examples).
| | |
| --- | --- |
| Hassles | Target Audience |
| 1. People who hate standing in a long queue before check out. People who have time Crunch: No time to go and buy the groceries. Or the people who do not have grocery stores next door and need to walk a minimum of 800 m to reach the nearest grocery store. | Clearly your target audience is "Tech Savvy Shoppers" who would want to spend time in the activity of their interest rather than visiting to a local grocery store. This is the reason why BigBasket is really popular in Bengaluru, The Information Technology Hub of India. |
| 2. Unavailability of organic or non-GMO products, or healthy foods at local marts. | Highly motivated health conscious people |
| 3. Unavailability of regional groceries (e.g. Indian, Chinese, Malay etc. ) for foreigners living in your country. | Foreigners in your country |
It would also be interesting to know how people/companies have innovated in the domain of online grocery stores? Or how have they pleased their customers? (Customer is the King, after all ).
instacart.com ( $2 Billion Valuation Company | Source | https://jungleworks.com/how-instacart-works-makes-money-revenue-business-model/: ) This San Francisco based company came up with an amazing concept called "Get Paid To Shop". Instead of hiring dedicated team to deliver products, Instacart has crowdsourced the deliveries. Here is how. Whenever on order is placed in a certain area , the nearest available registered personal shopper goes to the market, buys the products as per the order and delivers it on behalf of Instacart. Just like Grab/Uber, How they crowdsourced the taxi service. At the same time Instacart has addressed so many customer pain-points like a Bull's eye: which worries the customer about the freshness, quality, expiry dates etc for the products. As Instacart educates their shoppers on how to pick best and only the best for their customers. Isn't this splendid or what?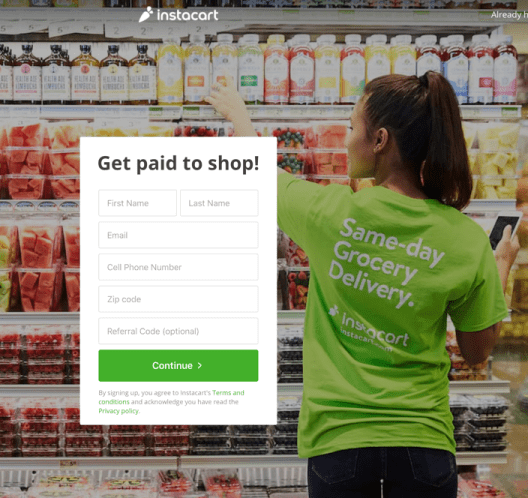 Who knows if Grab is considering online grocery delivery too? Well they have already started but currently they have this service available only in Bangkok and Samut Prakan. It's interesting to note that how Grab started with taxi service and gradually diversified into food, delivery and grocery by utilising their strength of "Strong Transport Network".Check out this snapshot from Grab Fresh's website : (Source: https://www.grab.com/th/en/fresh/) How beautifully they have addressed the most probable customer concerns beforehand itself. Although its operations are currently limited to Bangkok and Samut Prakan.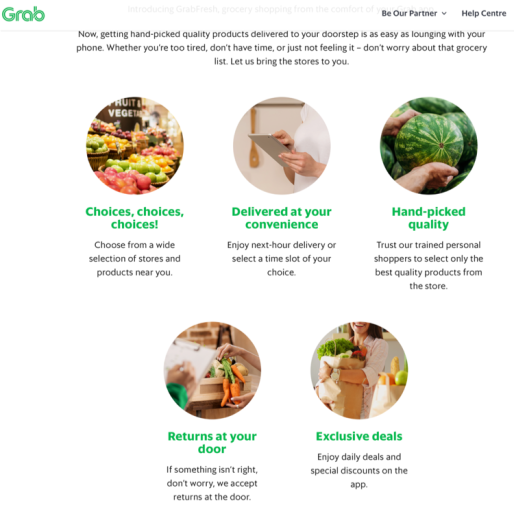 What people love about Amazon Prime Now (Singapore). The packaging of dairy products, frozen products or so to say products which needs refrigeration to avoid spoilage. Such products are delivered in an insulated bag with cold gel packs in order to maintain the low temperatures. (Thus addressing customer's pain-point of fresh and spoilage free delivery) One more thing that's really amazing about amazon prime is the purchase history and one click "Add" button to get it into the cart again. (After all there is a very high probability of repeat orders for daily needs stuffs like milk, fruits, vegetables etc.)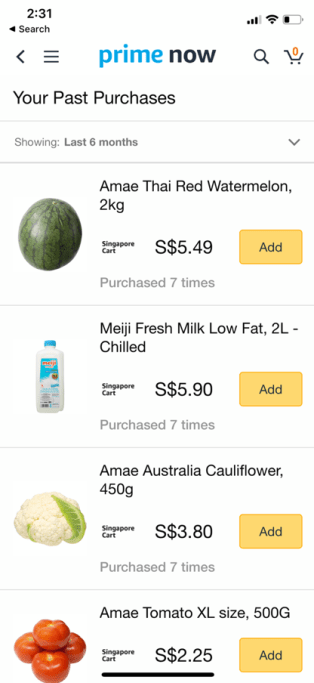 As a good chunk of people across the world is focussing on healthy eating and living. Thrive has successfully created it's niche. It specialises in organic and non-GMO food.
Besides, keeping the niche as organic and healthy food. Thrive also scores pretty well in giving back to the society.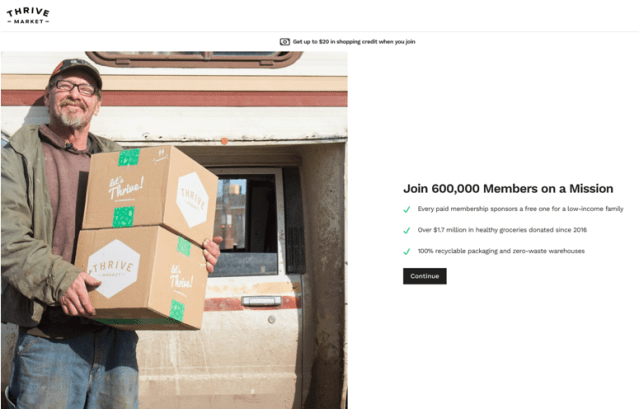 Check this:What Thrive and a few others in the domain have done is using a delivery subscription model. Which is like binding the customer with you. Amazing! Isn't it?…….What's also interesting to note is. If these loyal customers keep getting different benefits time to time and stay happy with Thrive they would stay loyal. However "Free Delivery" by other vendors can become a potential challenge only if they become as good as Thrive in its niche. Otherwise, A lot of people don't mind paying a little extra to get products of their choice.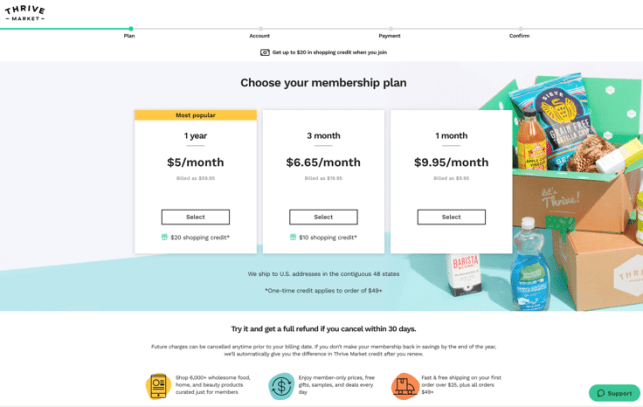 After doing the ground work, Let's say your e-commerce grocery store is up and running. And you have managed to bring decent number of visitors to your e-commerce website. But your sales figures are still low. Let's do some number munching to understand this better and solve your problem.
Let's say I asked you these questions:
How many visitors are coming to your website every month?
What percentage of these visitors are actually buying products from you?
And your answer to the first question is 20000 and to the second question is 1000. The success rate is only 5% which is a serious concern. Let's dig dipper in your sales process. For an e-commerce website like yours these are the 6 typical steps in the sales process.
Visit your website
Search for Products
Read Ratings and Reviews
Go through Pricing and Shipping Details
Checking delivery time
Buying
Now gather the data for each of these steps. To explain how to find the problematic stage of sales cycle I have picked up some hypothetical data. You can do the similar exercise with real data from your website. The problematic stage would be the one that sees the biggest dip. Now take a look at the following graph.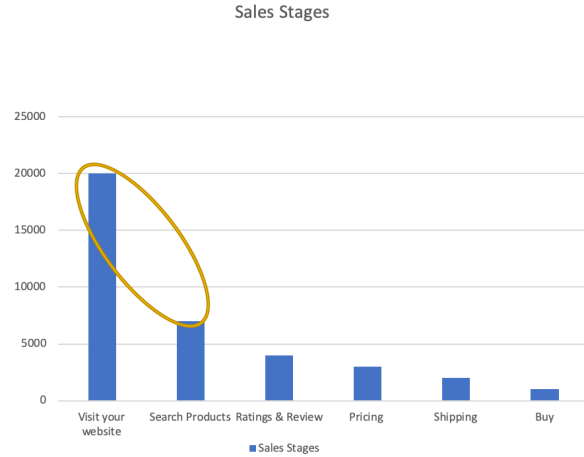 According to this graph, the highest dip is between first two stages. "Visiting you Website" and "Searching for products". Clearly people are not able to find the products they are looking for. Check your search query data to fill the gap.
Even after doing all this, you feel stuck, not just in grocery business, but any other business Concurate is there to help you.
Pro tip: If you need 30 standout SaaS growth hacks to attain double the growth for your SaaS business, fill out the form below!
It might not be a bad idea to subscribe to our newsletter.
We promise to deliver value to your inbox.
You can always unsubscribe, if we fail to keep our promise!
Meanwhile, Explore the plethora of resources to help you out your business! If your organisation wants its content marketing strategy designed by Concurate, let's connect over a short call. Block our calendar today!