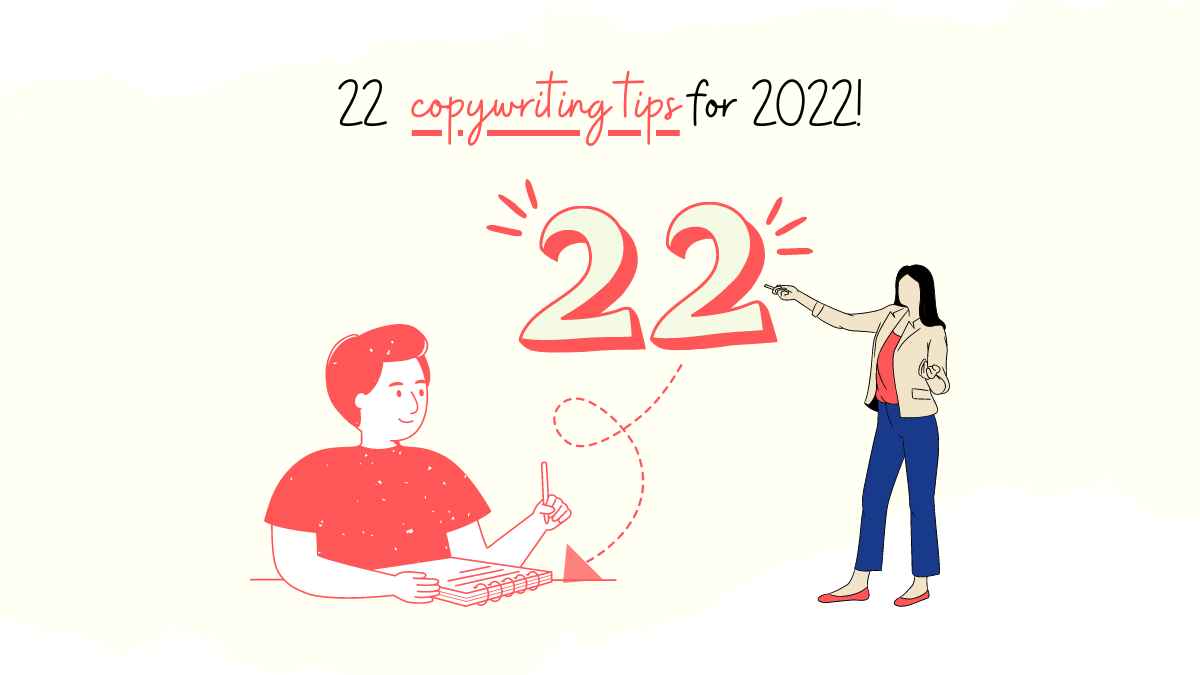 There are many copywriting tips for SaaS businesses, but we decided on 22 as it went with the theme – tip #23 😊
Crafting your copy just the right way — however finely tuned — can be the difference between ordinary and extraordinary success.
The Highrise sign-up page is one of the most famous examples of how copy tweaks can significantly increase conversion optimization. Highrise experimented with their headlines and subheads on their sign-up page, and guess what? The best-performing one got them 30% more conversion than the original!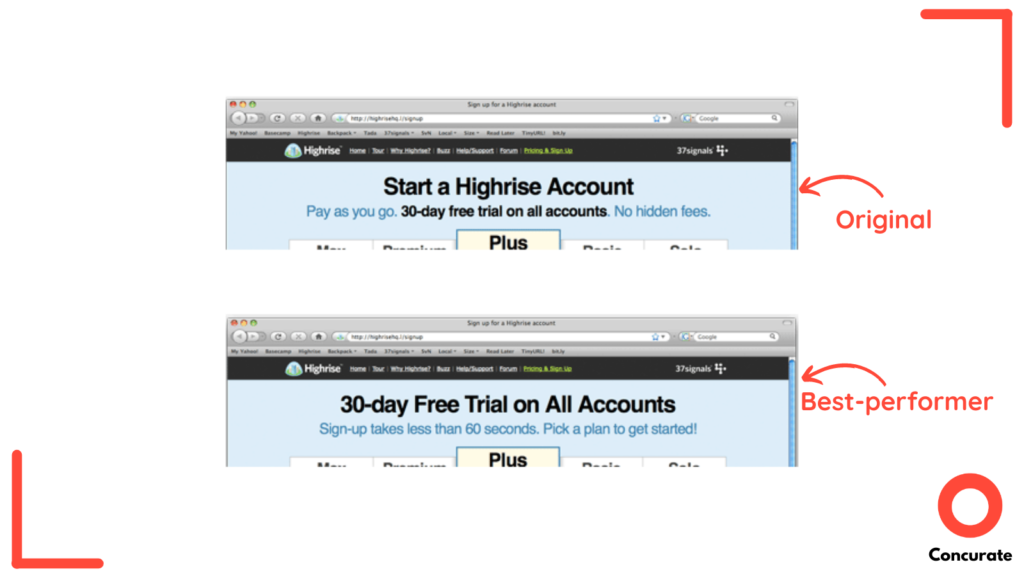 This article is about copywriting, and we don't want to waste your time talking about everything and nothing. You have seconds to catch your customers' eye; a couple more to convert them. After that, your copy has to work magic and make your customer click that CTA button when they finish reading it. You have lost your chance if they start thinking about it.
We know this might sound intimidating (honestly, it is!), but we got your back.
How Can You Improve Your Copy?
Here are 22 copywriting tips (with examples) for 2022 to help you write a copy for your Software as a Service (SaaS) business that converts in seconds:
Be the Change
Talk Like a Friend
Make it Urgent
Call Yourself Different
Solve the Bigger Problem
Present the Results
Don't Write for Everyone
Your Category Matters
Always Have a Reason
Don't Fault the Customer
Keep the Sales Funnel in Mind
Use Statistics to Prove Your Point
Back Your Copy with Research
List it Down
Just Say What the Problem is
Just Say What the Solution is
Come Up with New Language for Your Product
Raise the Stakes
No One Cares About the Features
Guarantee to Build Trust
Be Fun
Use Pop Culture References
Pro tip: If you need 30 standout SaaS growth hacks to attain double the growth for your SaaS business, fill out the form below!
#1 – Be The Change
Even if your SaaS copy aims to sell your product, make sure you don't sound salesy. Instead, convey that your product is bringing a change in their lives which was needed all along! Then, let that change speak for you.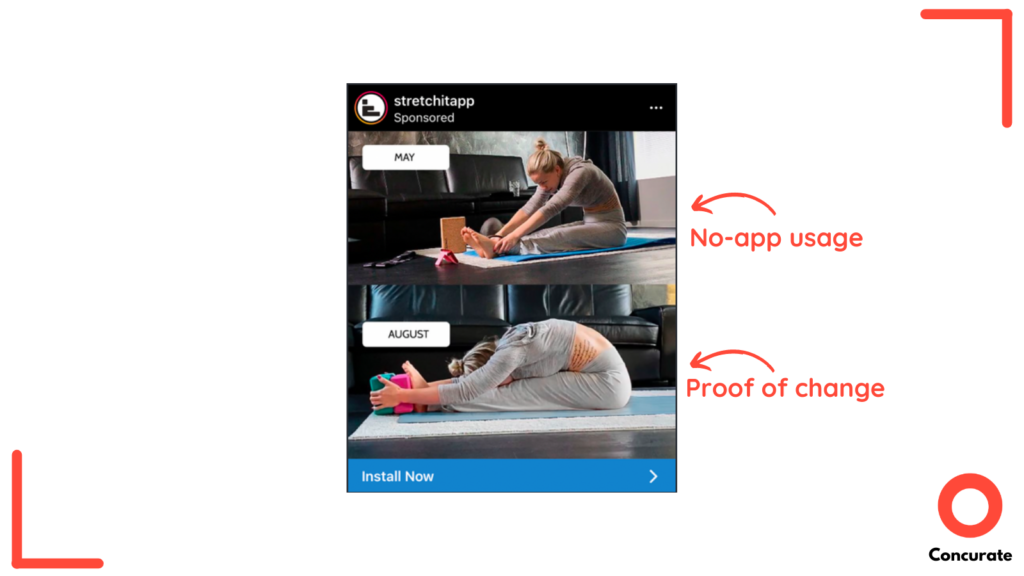 In the above Instagram ad, the image speaks for itself. They show the progress and the change that their service can bring in, and it's compelling. There's no extra pitch to convince the customer because it is unnecessary. If you were someone who wanted a fitter body, you would click that 'Install Now' button to see how the app works.
#2 – Talk Like A Friend
No one likes that one salesperson who counts off all the complicated features of a product. You can use all the jargon in the world and not get one customer. So don't be that kind of person. Instead, be that friend who explains everything, the person who everyone ends up trusting. Make your copy crisp and easy to understand.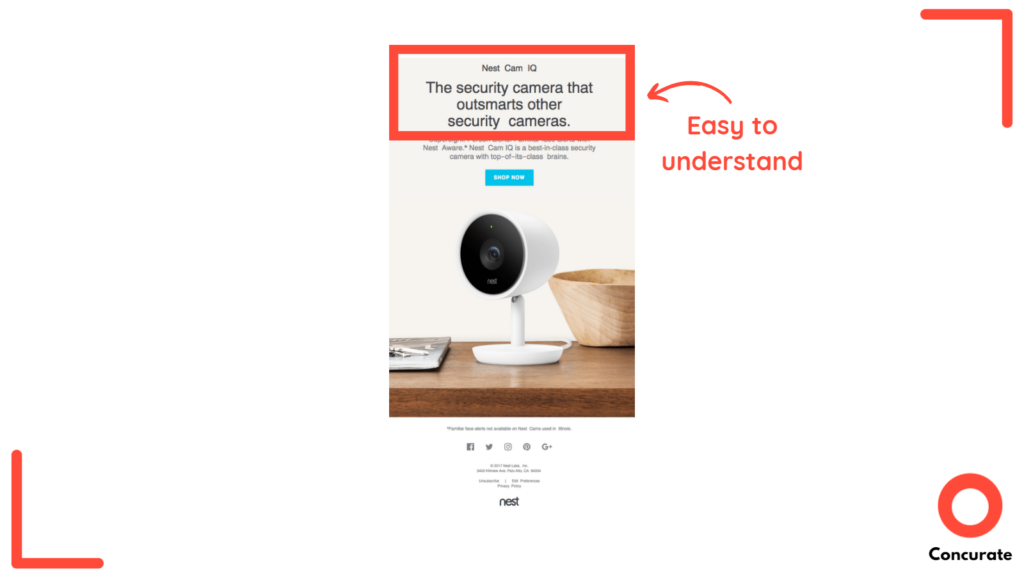 This Nest security camera copy has a simple headline that says it is better than other security cameras. It mentions all its features without making it complicated.
#3 – Make It Urgent
You want your potential customers to take action immediately, and sounding urgent is the best way. Don't we all fall for discounts because "oh, it's ending today!"? The urgency in the copy gives them the reason to act faster, thus achieving your goal. It could be anything from a limited-time offer to a flash sale.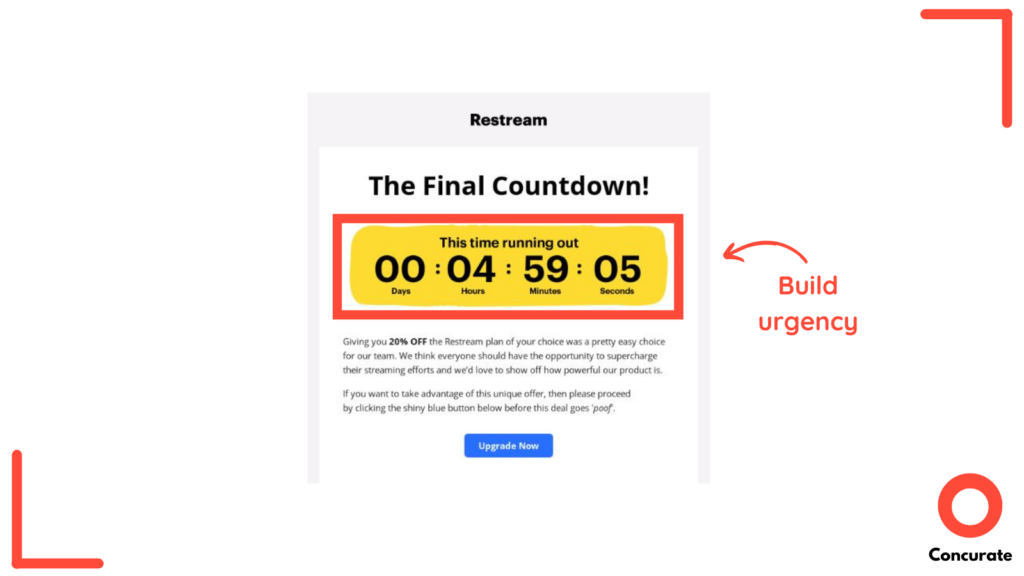 This email copy by Restream, a live-video streaming service, is an excellent example of how urgency can be leveraged to your advantage in getting quicker results.
#4 – Call Yourself Different
Repeating the same features by saying that you are 'better' at them is a bad idea. It leaves little room for trust and interest; you sell what others are already doing. Instead, position yourself as 'different' than other brands. This lands you in the spotlight because you bring in something different, something new.
A great example can be Grammarly's videos. They sell by saying "Grammarly helps you write quickly and confidently" instead of saying "Grammarly helps you write better." This gives them a chance to present themselves however they want, differently.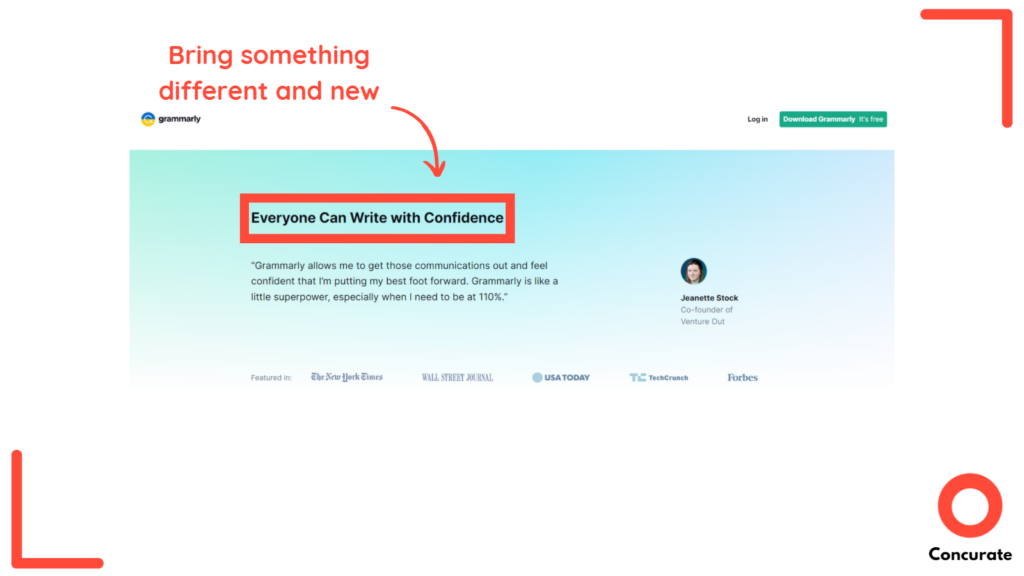 #5 – Solve The Bigger Problem
Your product might solve lots of problems, but you need to focus on their biggest. Pointing out everything that your product does will only get the customer confused. So instead, find what's the most important, the most urgent problem that your product can help your customer with and revolve your copy around it.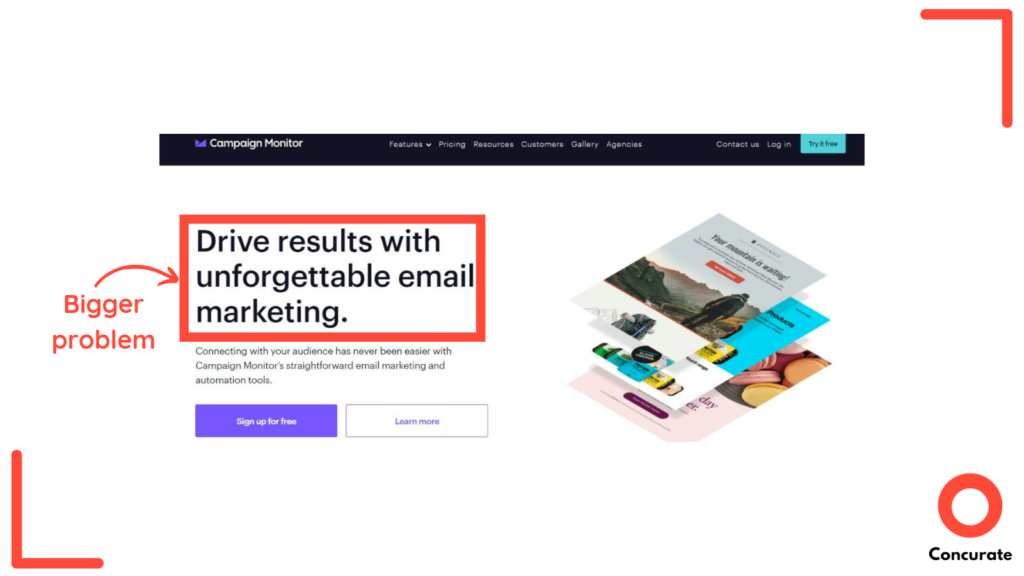 The above website copy talks about just one thing – 'connecting with your audience with email marketing.' Campaign Monitor is also helping brands with SMS Marketing, Integrations, Analytics, etc.. Still, they are not positioning themselves as all of those. According to them, emails are the best way to connect with audiences, and hence they have mentioned only that in the copy.
#6 – Present The Results
Always show off the results. Provide social proof. People are result-oriented. They want to know the outcomes. No one will buy from you if you tell them how your product works or its features. So instead, tell them what change your product will bring in their health, life, business, etc. Run experiments, find data, get testimonials and use them in your copy.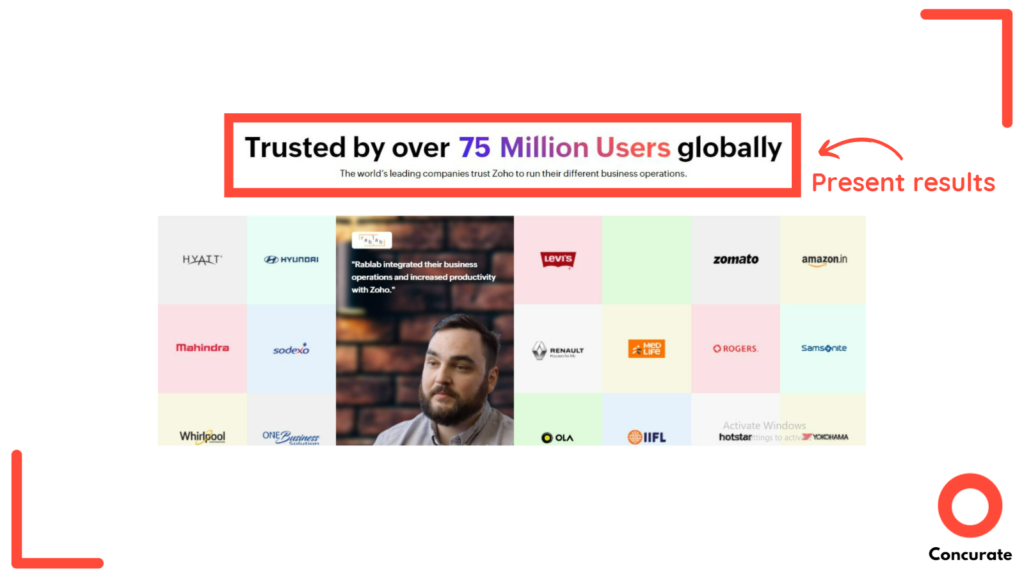 Zoho does this brilliantly. They have a 'Customers' page, containing testimonials from the founders and CEOs of hundreds of companies. These testimonials talk about how Zoho's products have helped their businesses grow. It is incredible with filters for clients from different countries and industries using Zoho's various products.
#7 – Don't Write For Everyone
Make sure your copy does not sound like it's talking to everyone. It should speak to just one person – the reader that's reading it at that moment. Make them feel important. They shouldn't feel like they are lost in the crowd. Talk to them directly. You can't do it if you use terms like 'everyone' or 'you all' etc. Use 'YOU.'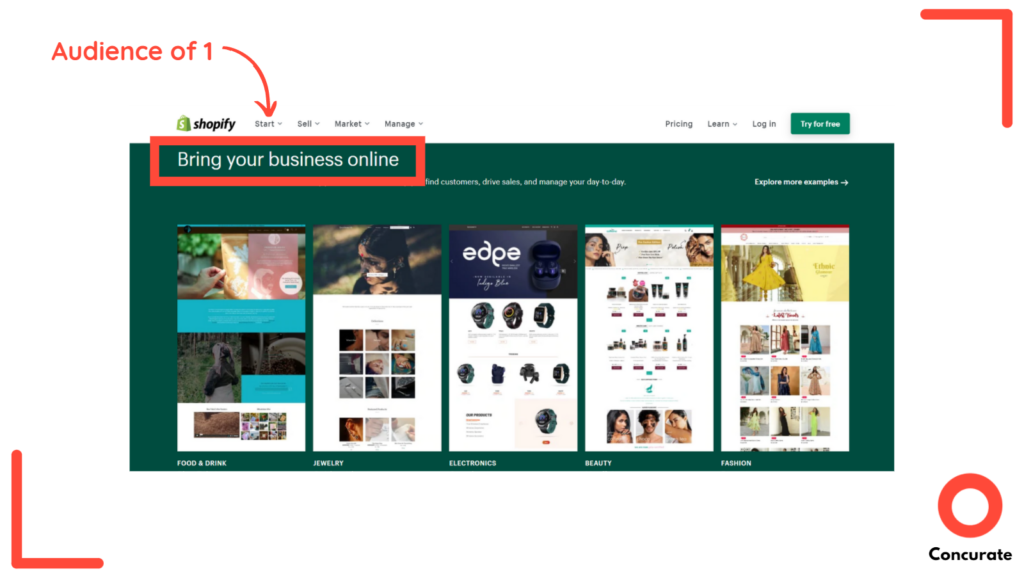 Words like 'Your' in the primary copy and the 'claim my link' CTA give the reader a sense of importance and possessiveness. The copy is directly talking to that one person, the 'YOU.'
#8 – Your Category Matters
Unless you are a huge brand, not many people will know you by your name. They will be searching for categories like 'clothing brands for women.' Suppose you don't mention your category in the copy and sell your brand name. In that case, your customers won't even recognize you even if they want your products. So state your category as much as your brand name, if not more so.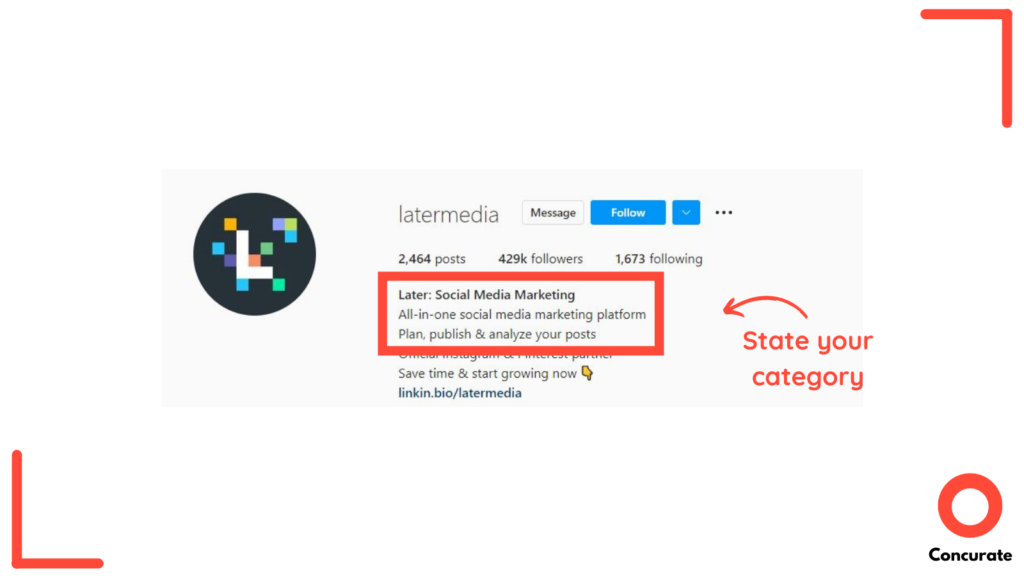 This Instagram bio lets the reader know which category 'latermedia' falls into and what it does.
#9 – Always Have A Reason
No one will buy from you unless they know 'why' they should. So always back your copy with a reason. These reasons can be benefits or testimonials, anything that can convince your reader to buy.
Consider this example by Buffer, a tool that provides social media analytics, plan social media campaigns, and views your progress. They have listed testimonials by key decision-makers from leading organizations who swear by Buffer's services.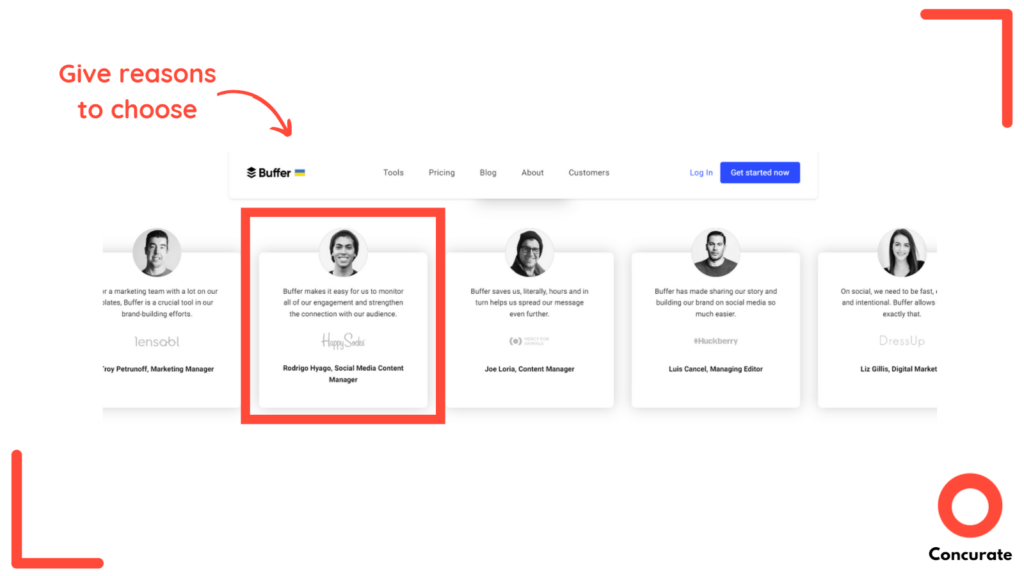 #10 – Don't Fault The Customer
While pointing out your customers' problems, make sure you are not blaming them for their choices. Your copy shouldn't make them feel guilty. Don't give off a negative vibe. Instead, they should feel hopeful after reading your great copy, optimistic that the solution you are offering will solve their problems. 
In its 'Help' section, Mailchimp has various articles that help people solve their existing problems instead of blaming them for making them in the first place (Read – Common HTML Mistakes). By doing this, Mailchimp is building its authority which will eventually help with its sales.
#11 – Keep The Sales Funnel In Mind While Writing
Always keep your brand's sales funnel in mind while writing your copy. One copy won't work for the entirety of your funnel. There'll be people who don't know anything about your product while others are educated about it but not sure if they should buy it. You'll need to write different types of copies for these different people.
There'll be differences in the language used, information, and presentation. For example, suppose you are writing copies for a SaaS product company. In that case, you will educate the top-of-the-funnel people about your product. Meanwhile, for the bottom-of-the-funnel people, you'll tell them about the results your product brings in. 
So, before writing, have a clear idea about who you are writing for.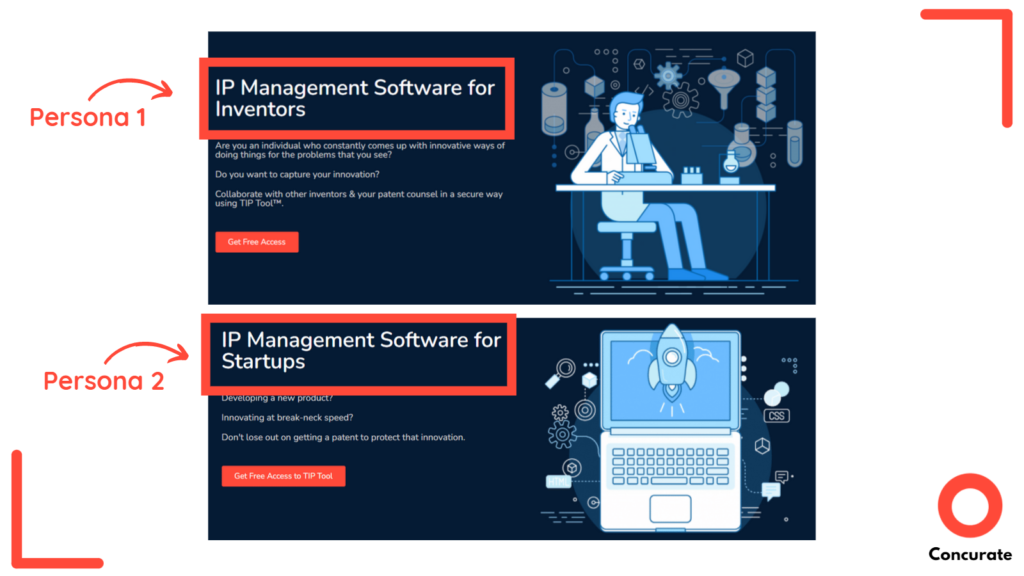 #12 – Use Statistics To Prove Your Point
We are a skeptical species. Your readers are not going to take your word for everything. They need validation, and statistics are the best way to establish your point. So find statistics that back up your reasoning and use them in your copy.
If you are a vegan food brand, tell your readers how many animals are killed every day to produce that meat. If you are a carpooling company, tell them by what percentage they will be decreasing their carbon footprint if they carpool. Find the stats in your industry and leverage them to your benefit.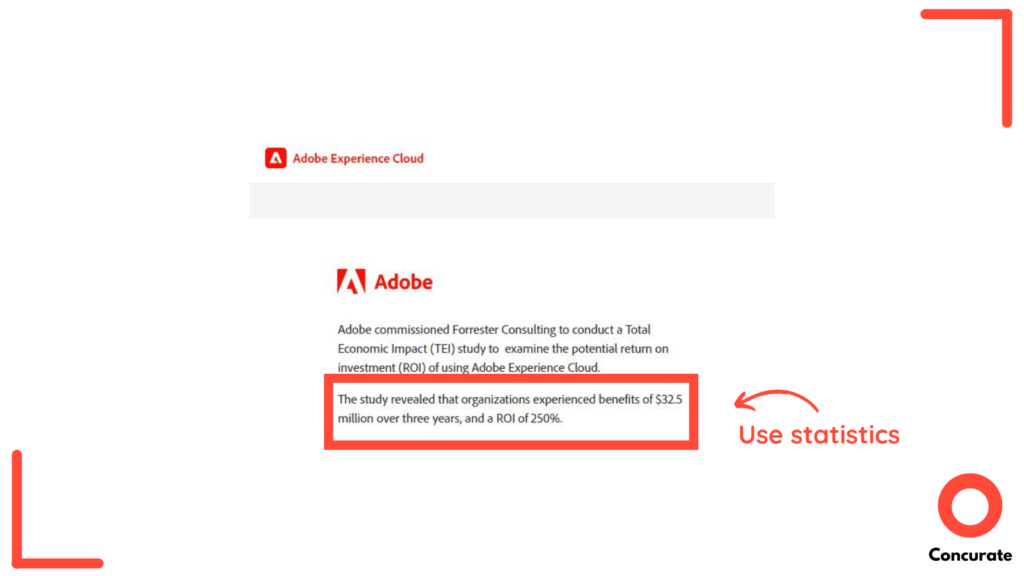 Adobe took the statistics tip very seriously and went one step ahead by commissioning a report from Forrester to examine the ROI of using Adobe Experience Cloud. They can use these numbers everywhere to validate their point.
#13 – Back Your Copy With Research
This is another way of building that trust factor between the reader and your product. You can back your copy with sound research about your product, your customers' results, etc, to prove your point.
This is a case study by Loom of one of their clients, Metalabs. Here, they talk about how Loom helped Metalabs increase employee productivity and many other things. In addition, they have backed the results with numbers and statistics, making their research even more authentic.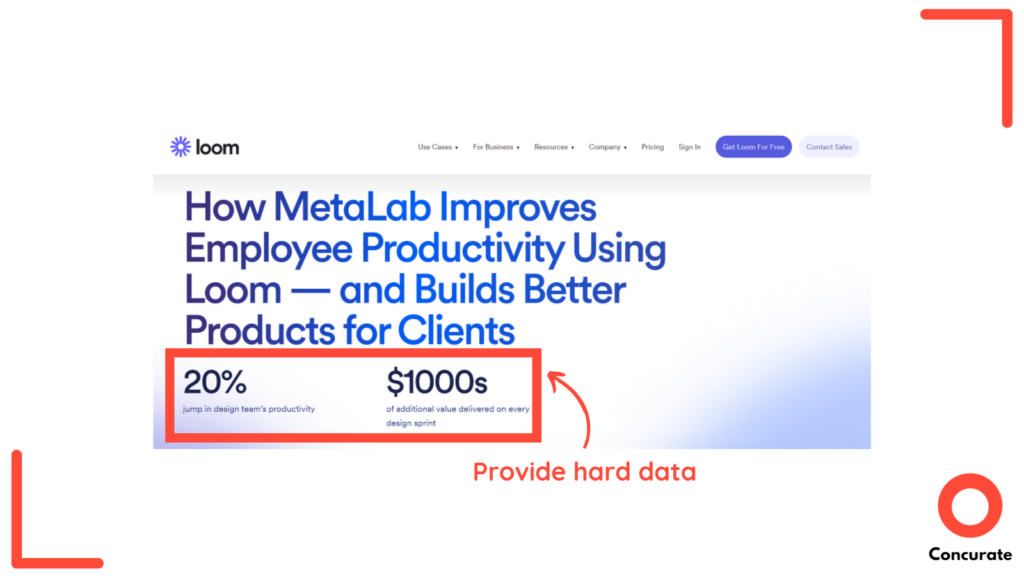 #14 – List It Down
No matter how good your copy is, it will not make that desired impact if it is not presented well. Write so that your copy is easy to read, not just in terms of language but also in the presentation. Lists are a great way to do that. Whenever you have to write benefits, features, etc., always list them down. It makes your copy look neat and easy for the reader to digest.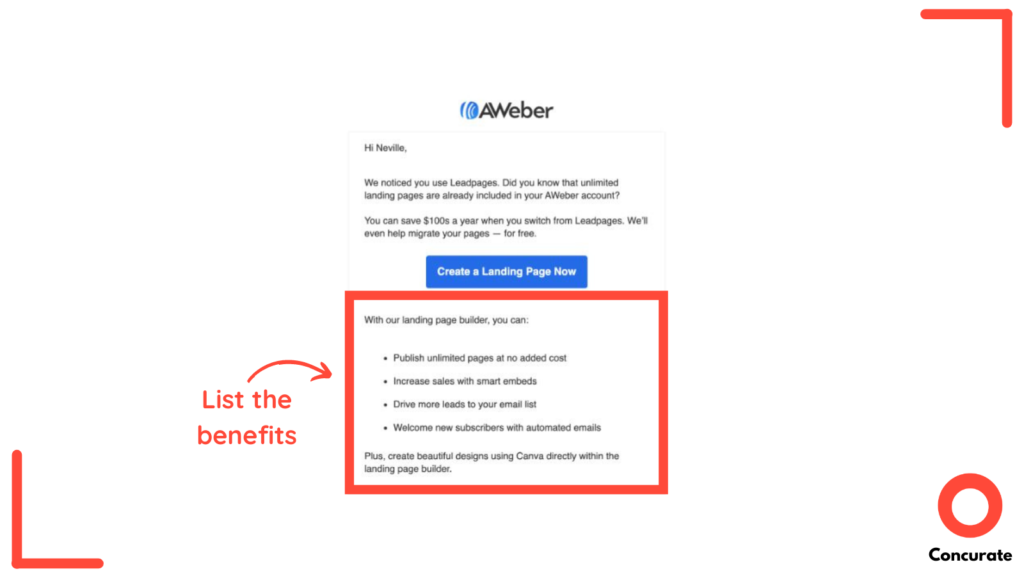 This is an email copy of AWeber, a landing page builder. They have noted all their USPs in a precise list which gives the email a neat look.
#15 – Just Say What The Problem Is
Complicating things has never helped anyone. So when you have to tell your customer what their problem is, don't go around and around just to sound smart. You are fooling no one but yourself. Instead, state the issue directly, in as few words as possible.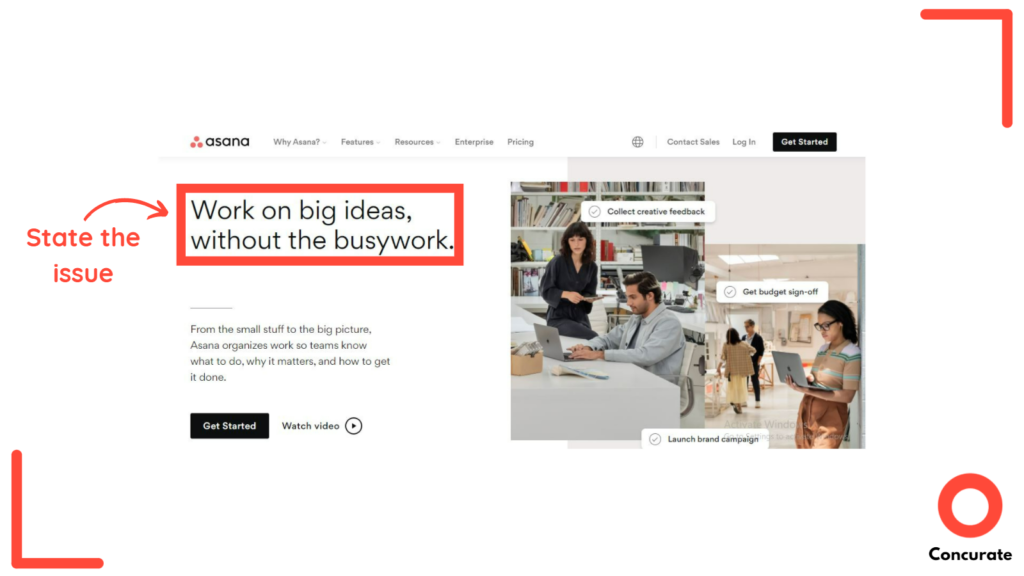 This landing page copy of Asana is a perfect example of this. It talks directly about the problem statement- "Work on big ideas, without the busywork". It is simple and beautiful.
#16 – Just Say What The Solution Is
The same goes for the solution. It would help if you told your reader how you would help them with their problems as shortly and clearly as possible. No one has the time to sit and discern what solution you have for them.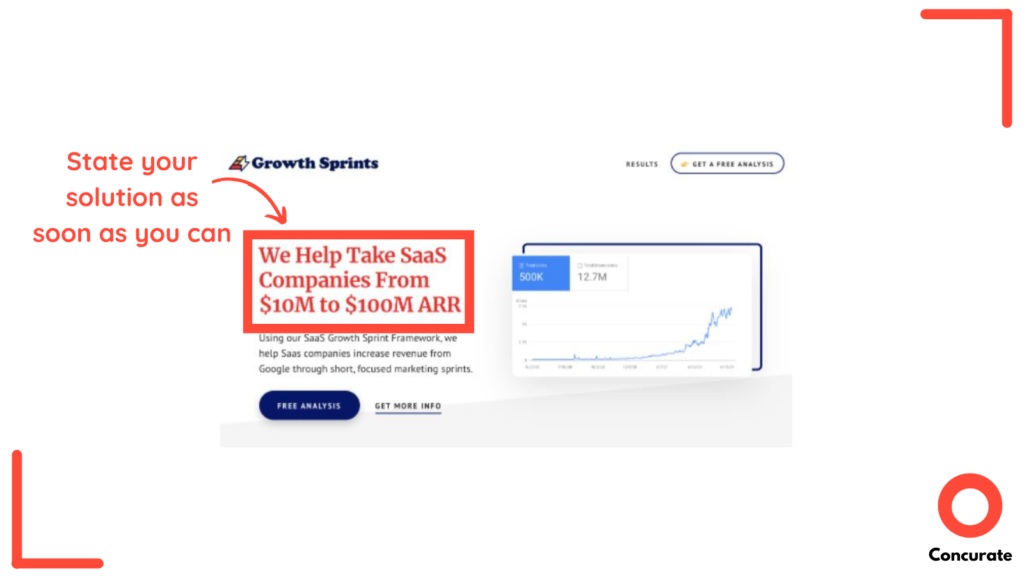 This is one of the best formats to tell what you do. Just write down, "We Help ___ do ___," fill in the blanks as per your requirements and tweak the grammar. Then, you have your precise and minimalistic copy!
#17 – Come Up With A New Language For Your Problem
There is a chance you are solving a new problem or not something that people are aware of. This means you need to go to lengths to explain that problem in your copy because why would someone even buy from you if they don't understand the need?
But there's a difficulty here. You can't put too much information in your copy because no one will read it then. So it HAS to be short.
So, you come up with new terms to describe your problem. These terms should perfectly fit your scenario and help the reader understand everything without explaining much. The best way to find these new terms? See what your customers are calling you!
Please read this article where Drift, a conversation cloud company, found its category name with the help of its customers.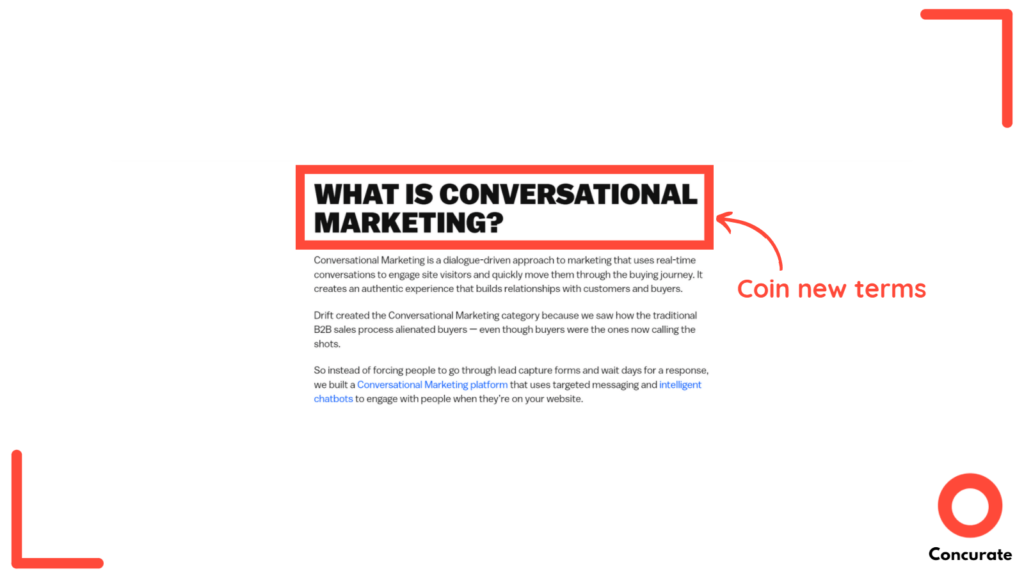 #18 – Raise the Stakes
Raising the stakes of your product is another way of convincing your readers to buy it. Tell them what they are missing out on or what will happen if they don't use it. You want your reasoning to touch people emotionally so that they don't think twice before buying your product.
If someone says, "I can help your high-growth revenue sales team achieve more," will you buy from them? You'll be tempted at the most. But if they tell you, "We'll give you the playbooks and data you need to reduce burnout and lower turnover", you'll be more likely to talk about the specifics of the product.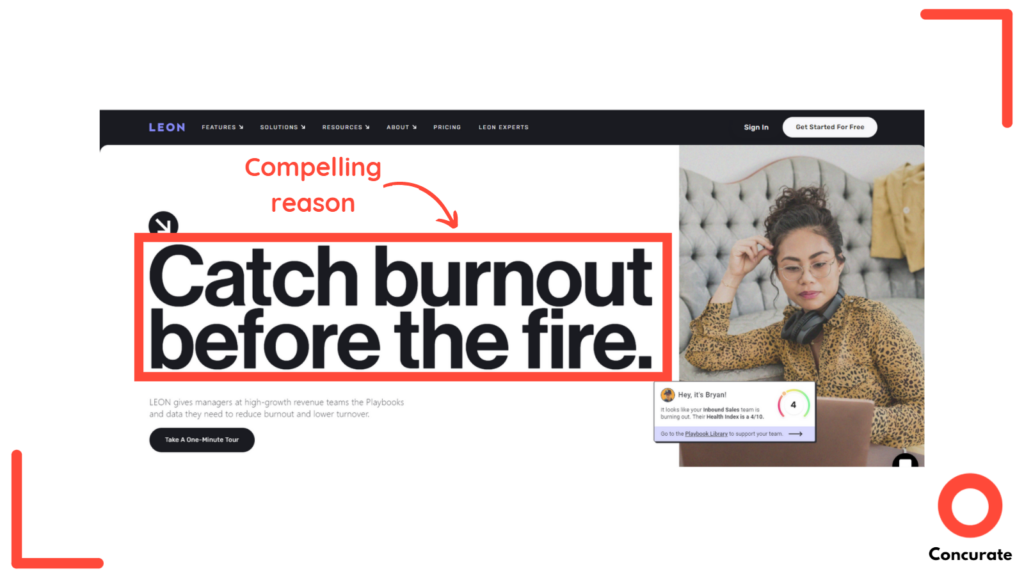 LEON helps companies be at the forefront concerning issues related to their employees' happiness, well-being, and performance. For this exact reason, LEON's landing page gives a compelling case to try its services.
#19 – No One Cares About The Features
We know this hurts, but it's a fact. Your readers don't care about the features as long as they don't see how they will help them. Sell the benefits instead. Tell them how it will address their pain points and make their lives easier, happier, healthier, etc. For example, you are a brand that makes air fryers. You won't be able to sell those if you tell them which technology they have used. So instead, tell them how it is beneficial for their health.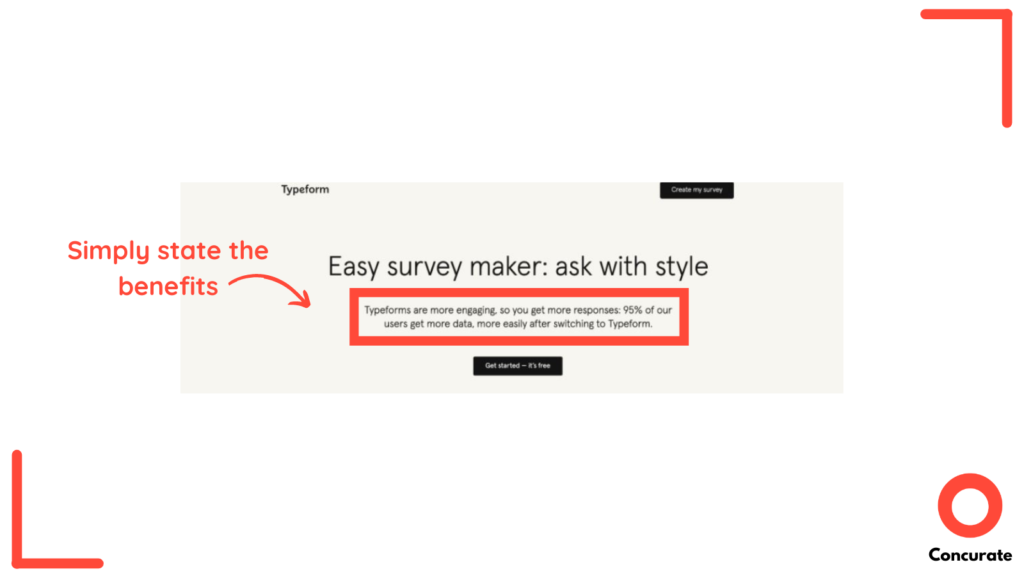 The above example is from Typeform's landing page. It doesn't say a thing about what features they have used. Instead, the copy tells how Typeform has benefited its users, which is more than enough for the reader to start using it.
#20 – Guarantee To Build Trust
People are skeptical when they try things for the first time, especially when they are new in the business. You don't want to lose out on your customers because you don't have a solid base. To avoid this, build trust by guaranteeing. Guarantee a full refund, a replacement, support, or anything that makes your customer trust you for that first time. However, this is only possible if you trust your product.
Shopify has an entire 'Support' ecosystem that guarantees its users help whenever they need it. They also have an active 'Shopify Community' page where Shopify users can share their problems and get solutions. This works as an excellent trust mechanism, where you have people just like you who are ready to solve your problems.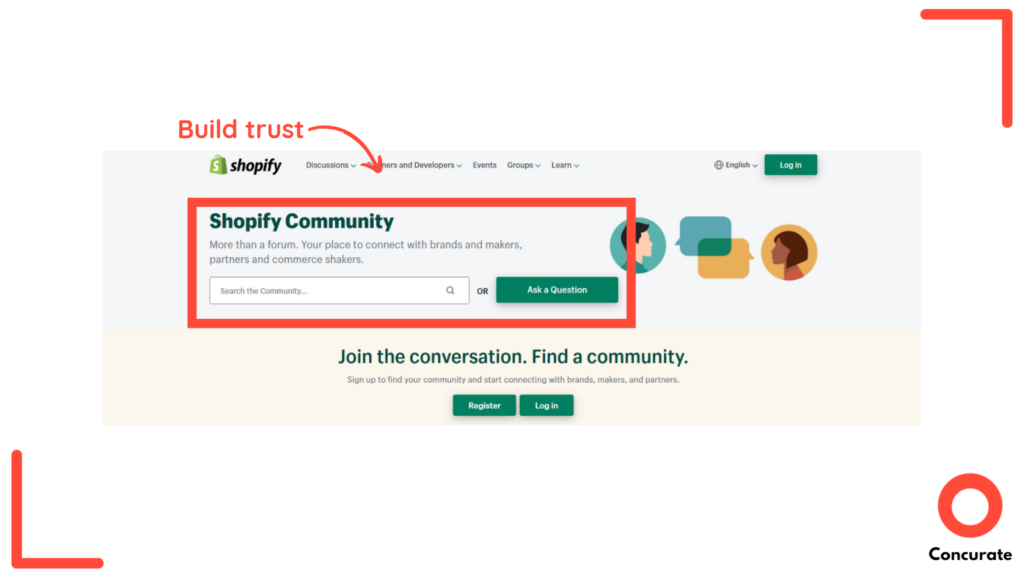 #21 – Be Fun
There are ads everywhere. The same formats and templates won't work anymore. To stand out, you need to do something different, something fun. Humour is a great way to attract people. It adds more to the personality of your brand. So don't get boxed up with what everyone is doing and try to experiment with more creative and fun ways.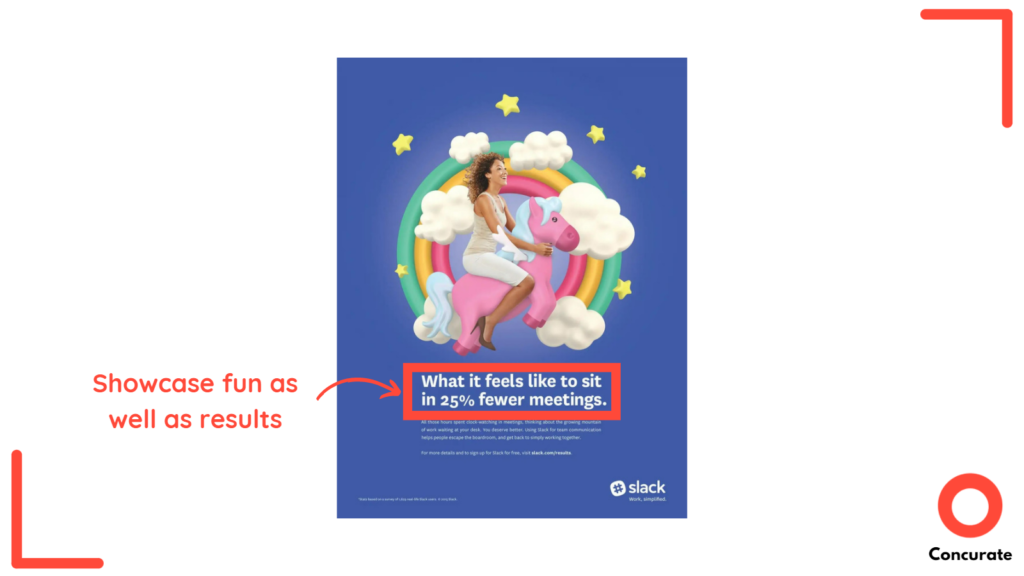 Now, who wouldn't at least smile after reading this banner? It's cute, funny, and catchy. If a person reads the copy, they will be curious about the brand.
#22 – Use Pop Culture References
Using Pop Culture References in your ad copies is another way of telling your readers that you are more than just a company or brand. Showing that you enjoy the same movies, books, shows, etc., as your readers give your brand a more human touch. Adding these little references gives them an emotional reason to buy from you.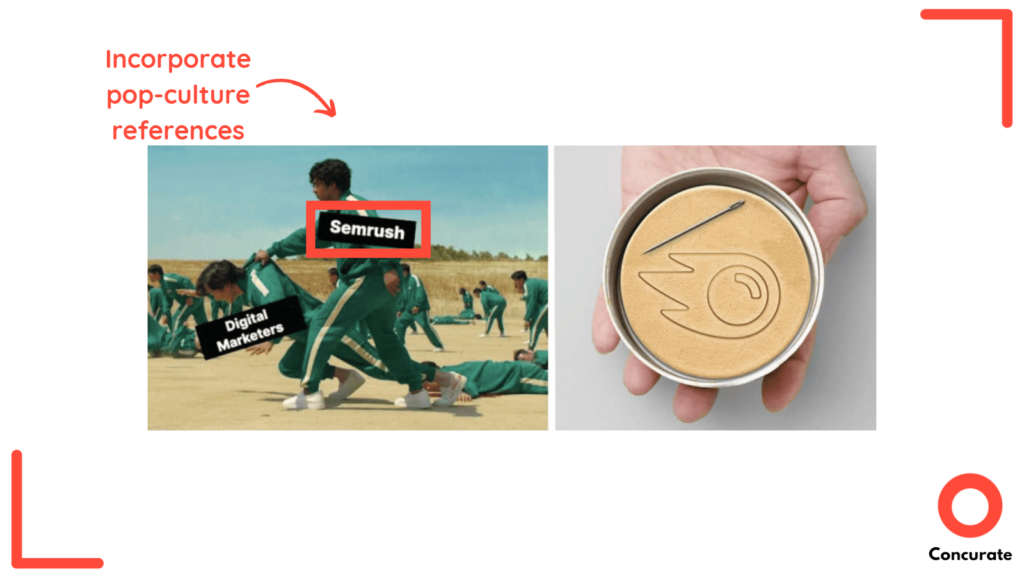 This is a copy of the popular SaaS tool Semrush used for keyword research and online ranking data. This reference would make them giddy for anyone who is an obsessive "Squid Game" fan!
The Non-negotiable Tips:
Now, not all of the tips mentioned above may help your brand, but here's a list of some actionable pointers that WILL make a difference:
No matter what, you must always talk like a friend. Explain as simply and casually as possible to connect better with your readers.
Don't talk about things that don't matter. Solve the more significant problem so that you have your readers' attention.
Present the results to gain credibility. Your results will always speak better than you.
Whenever you ask your readers to take some action, always have a reason for why they should do it.
If you have built a great product, don't advertise its features because no one cares about features. Instead, tell them what benefits your product will bring them and why they should use it.
Parting Notes
Copywriting is more than just selling. It is also about educating and connecting. Experiment with these above tips to understand what brings in the best results for you. Not everything will work, but something definitely will!
About Us
We believe that website copywriting for SaaS businesses can indeed be a game-changer if approached correctly. At Concurate – a founder-led boutique content marketing agency, we curate well-researched, engaging content to attract your target audience. We strive to bring you business, not just traffic. We have worked with organisations like Triangle IP, IP ToolWorks, Project PQAI, and Xoxoday. Open for a short discussion on how content marketing can help your SaaS business? Book a call here!
If you wish to read more goodness, subscribe to our newsletter.
We send value to your inbox only once in 15 days.