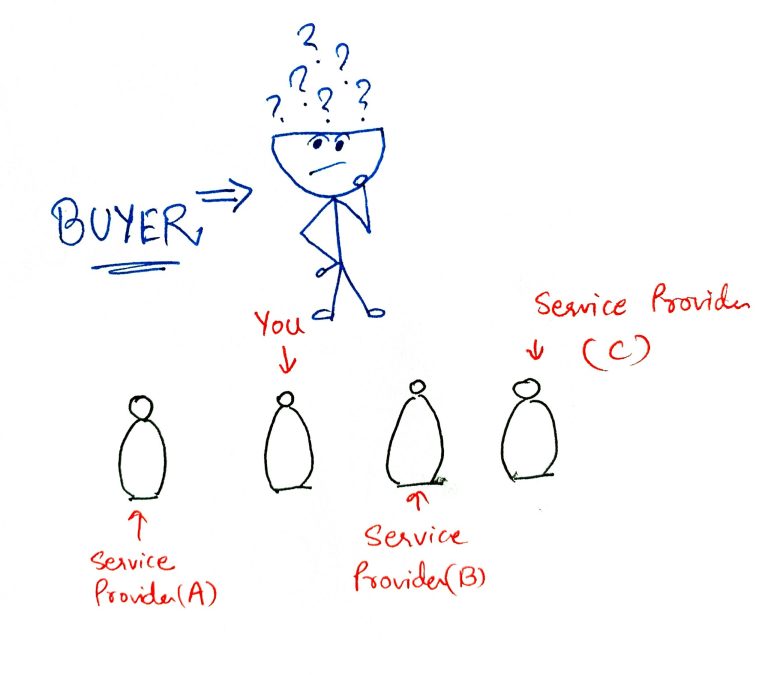 Am I risking my money?
The other day, I was in a conversation with the CEO of a niche services company (150+ people strong). While in conversation, I asked him about his challenges.
He answered, "The indirect questions from prospects like – 'Do you have PHDs in your team?'. With such questions the prospects try to gauge the capability of my people.  Whether my people have required expertise or not to carry out their projects. There is nothing wrong with trying to make this judgment. They just want to make sure that they are putting their money in the right place. However, I have full confidence in my people because they have already nailed such projects in the past. I wish the prospects knew it too. "
This is a common challenge faced by the services company. Fortunately, there is a way to solve this challenge. Let's uncover the solution, step-by-step here.
What do buyers look for?
"Trust (53 percent) is the second most important purchasing factor for brands across most geographies. – Edelmen Trust 2020 press Release"
Buyers today have a plethora of choices when it comes to service providers. It's difficult for them to differentiate between you and agencies like yours. It's like he is solving a puzzle to find the best fit. When a buyer is searching for a prospective service provider, he looks for online credentials, presentation, peer reviews, and if the recommendations come from a trustworthy source, the chances of a deal closing in affirmation increase manifold.
Let's take a look at this scenario where a buyer is looking for an education provider, a school for his child. Assume you run a school, and the buyer has to choose between you and three other schools say School A, School B, and School C.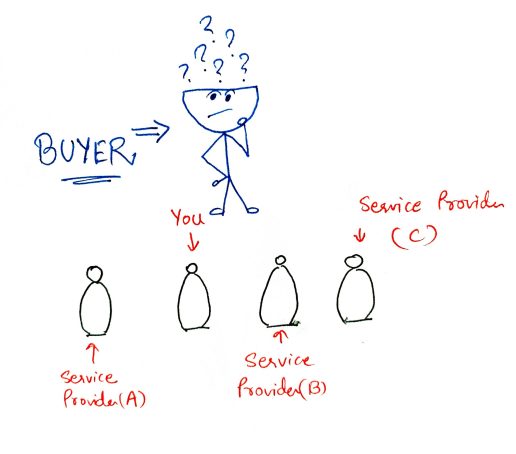 Which of the following schools would you choose based on the information presented in the following table about different schools?
| | | | | |
| --- | --- | --- | --- | --- |
| Parameter | You | School A | School B | School C |
| Credibility | No information available about the teachers and caretakers at school. | No information available about the teachers and caretakers at school. | Teachers of this school are known to help even the weakest students in class. | No information available about the teachers and caretakers at school. |
| Trust | No information available about the teachers and caretakers at school. | No information available about the teachers and caretakers at school. | Teachers of this school are qualified not just in academics but also behavioral aspects of a child's development. | No information available about the teachers and caretakers at school. |
Most probably the parent's choice would be "School B".
Let's try to understand the parent (the buyer) mindset here. The most important expectation of the parent from any school is that his child learns well at school. A child's learning depends majorly on how the teacher (Credibility) is delivering the concepts to the child. The next thing on a parent's mind is the safety of the child, physical as well as mental (Trust). Example: If my child faces difficulty in understanding Mathematics, will the teacher care enough to explain it to him especially in a way he understands. Or let's say, how will the teacher handle bullying for both victims as well as the bullies. Because both need help. This kind of credibility and trust are difficult to gauge, but teachers can make it easy. If teachers keep sharing the real stories about how they nurture the young minds on social media.  And parents read these stories while researching for the right school for their child. It would be far easier for parents to make the (buying) decision.
#Sidebar: If you don't want to lose the customer to Service Provider 'B', it's imperative for you to work on your company's web presence.
How Employees Can Influence Buyers?  
"People trust people, not brands."
Your employees can play a vital role in uplifting your brand image. Their voice has the power to build credibility and trust when it reaches your target buyers. Employees are the real heroes of a company. They bring their unique thought process to work every day. The culture of the company gets reflected by what employees do on a day-to-day basis at work.
All that you need to do is to empower and motivate your employees to share and amplify their voice on social media.
Social Proof
Employees associated with the biggest brands on earth are also vocal on social media. This voice of employees further uplifts the brand image.
Starbucks
Let's understand why people love starbucks. What connects Startbucks with its customers? It's the vives of the place and the cool culture. Now, let's see how the baristas at starbucks convey the same vibes on social media. The picture below is a snapshot from instagram showing a happy and smiling barista with the post caption as "And I'll Still Misspell Your Name" ….. (he he) #starbuckbarista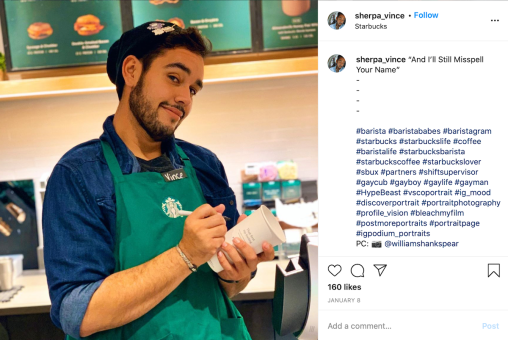 Zappos
The first word that comes to my mind when I think of Zappos is "Happiness". Happiness as it appears is core to the culture at Zappos. The smile on the face of one of the employees at Zappos on her 7th anniversary at Zappos reflects the same.
NASA
The tweets below by Jessica Meir, the astronaut and NASA speak for themselves.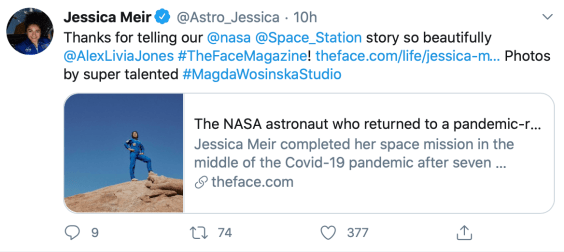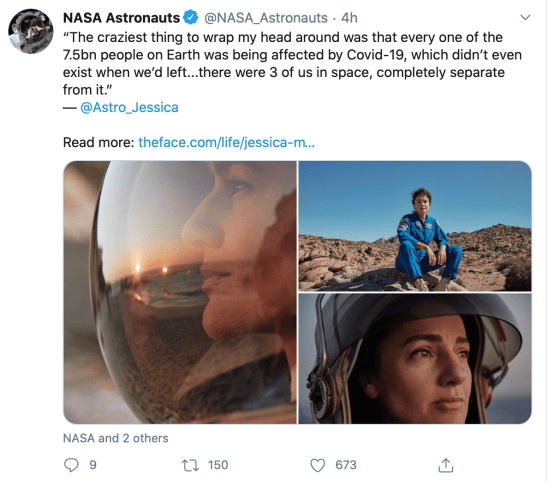 5-Step Plan to Kickstart Employee Advocacy
Below is a 5-step plan to kickstart Employee Voice Amplification to uniquely position yourself.
1. Start small
Pick a small group of employees who you think will most readily adapt to this concept. Maybe the senior group. Or the ones who have been with your company for the longest time. Because they are the ones who truly believe in your company's purpose. And they will be happy to contribute to this campaign.
2. Make them comfortable.
As humans, we feel more comfortable in expressing ourselves to our close circles. We like to share things with the people we know. Hence, encourage the people to share their everyday experiences, internally with their team or the company.
3. Give triggers.
Most employees undervalue the impact of their voice. They feel that they are not doing anything special or unique. Employees solve many big and small problems on a day-to-day basis. Their approach to problem-solving can be a great place to start writing. 
#sidebar: Daniel Roth has created a wonderful short 28 minutes course on writing to be heard on Linkedin. It can really help your employees to get started.
4. Recognition.
Recognizing the efforts and acknowledging them fills the people with exuberant confidence. They strive for more. Hence, when your employees start sharing, appreciate them. Encourage them to share more. 
When employees will read and benefit from stories shared by their colleagues, they will also feel motivated to share. This shall result in everyone learning and becoming better at work.
5. Social Share. 
Once the people are comfortable sharing internally. Explain to them the importance of their personal brands. Motivate them to share the stories with the outside world. 
To Sum It Up
When employees will create their personal brands on social media. A collective positive brand image would get created.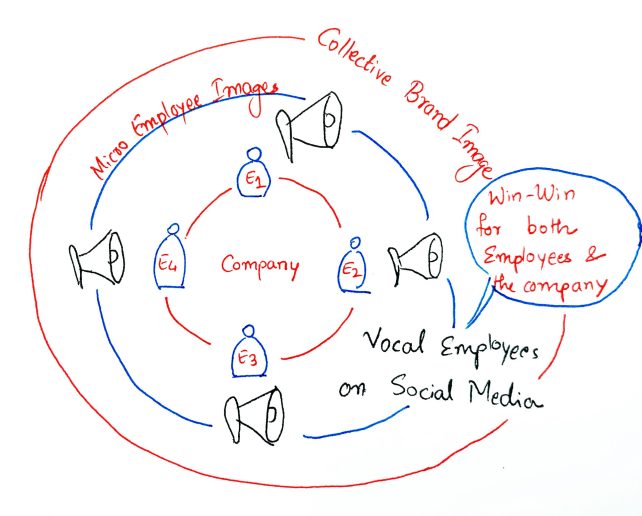 We are developing a SAAS tool which will help employees to create their personal brands. These micro employee brands are going to create a positive collective brand image. A win-win for both employees as well as the company.
If you are a People's CEO, we highly recommend that you explore this tool as soon as it's out.
Hope you enjoyed reading this post! If you wish to read more such stories, subscribe to our newsletter.
We send stories to your inbox only once in 15 days.

Meanwhile, Explore the plethora of resources to help you out your business! If your organisation wants its content marketing strategy designed by Concurate, let's connect over a short call. Block our calendar today!
Pro tip: If you need 30 standout SaaS growth hacks to attain double the growth for your SaaS business, fill out the form below!