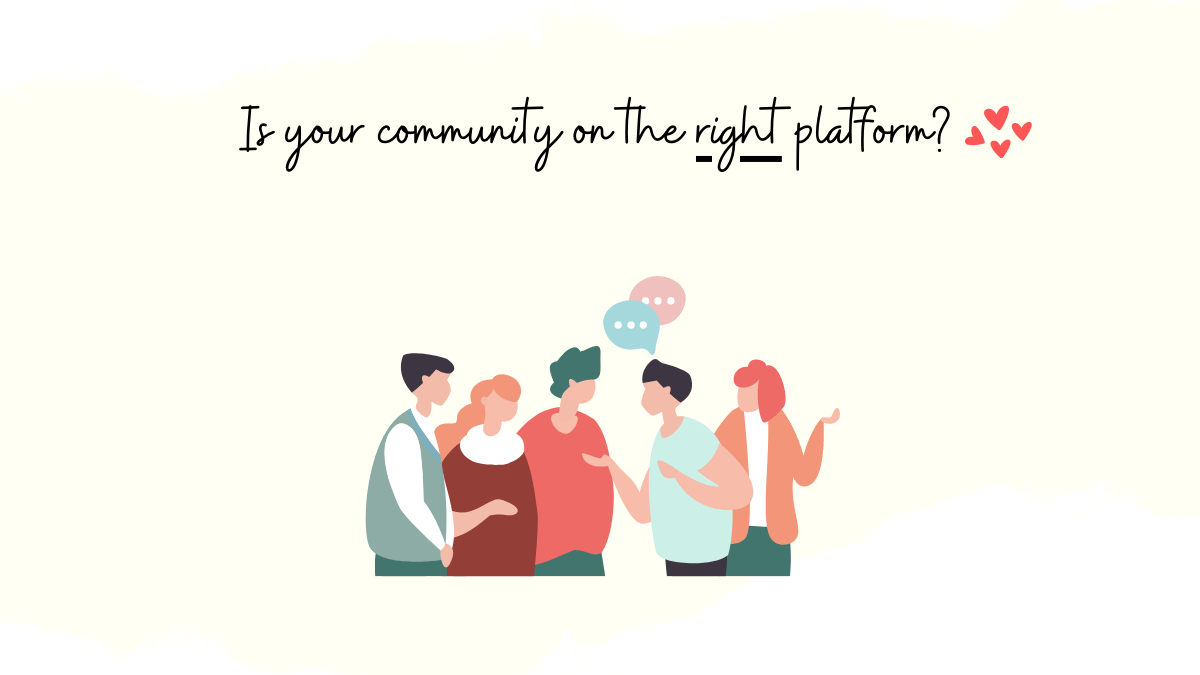 In a knowledge economy, a good business is a community with a purpose, not a piece of property.

Charles Handy
A community needs a "why" for invigorating its members to help it thrive, not just survive. Furthermore, it needs a "how" to attract itself to its target audience. Organisations of all shapes and sizes are utilising different platforms to develop their communities to assist in achieving their business goals. GoPro utilises Facebook to showcase exciting visuals captured using its versatile cameras; Marketing Mind makes use of Instagram to satisfy its members interest around all things marketing; Ryanair uses TikTok to establish a self-deprecating humorous image in the air travel industry.
Choosing the right platform is a crucial part of community building. Thriving communities aren't built overnight. In order to build a community, the approach to having a plain vanilla presence on a platform, or the hot new app is not enough. It might be tempting to look at the numbers and adopt a me-too approach. But with the plethora of apps and platforms available for every conceivable purpose, it can be draining to choose the right ones and shine.
By choosing the right platform to host your online community, you are better able to learn and understand your target audience's pain-points, needs, and aspirations. You are able to have enviable 1:1 access to them and receive valuable feedback on your product/services.
This piece attempts to assist you in vetting the options available to you, and choosing the right platform with community features relevant for your business's use-case. We will be looking at the factors you need to consider while building a community for your business. Let's dive right into it.
Factors For Choosing Your Community Platform
Goals
What is your aim of hosting a community? What does your ideal achievement look like? Are you looking to:
Discuss, educate and inspire your audience around your offering?
Sell products or services?
Gather insights on current and potential consumer trends?
Rally the community around a common cause such as philanthropy?
Connect with your community members to cultivate future business strategy?
Having a clear vision at the outset will help you choose the right platform for hosting your community, and potentially save you future hardships.
Target Persona
Ideate and visualise your target persona. This is an important step and requires deliberating around the following lines:
What are some things that my target audience resonate with?
What are the common themes along which my target audience shops?
What is the age-group of my target audience? According to current statistics, which platforms are they most likely to adopt?
What kind of content resonates more with the target audience – Text? Audio? Video?
How will my target audience benefit by being a part of this community?
Ownership
Starting out on building your own community, you first need to address the following question. Are you going to use a free platform or an owned platform? A free platform is essentially deploying one of the usual list of services – Facebook, Twitter, Instagram, etc. On the other hand, an owned platform is something you administer outrightly. Here are some of the key pros and cons of opting for either option:
Free Platform
Pros
You do not have to worry about onboarding new users
Your content's distribution is handled by the platform
You do not have to work on maintenance of the platform's security, stability, etc.
Cons
You do not own the "community" or the platform
You can be kicked out of the platform in case your activities clash with the policies
Your chosen platform can end up deserted if it does not adapt to evolving consumer trends
Paid Platform
Pros
You outrightly own the customer data
You can customise the platform as per your organisation and community's use-case
You get to decide who stays on the platform and which users receive administrative and moderation rights
Cons
You will have to take care of bringing users to your platform. Maintaining strong positive network effects is your responsibility
You will have to understand the maintenance of IT, security and allied aspects of your platform
You will have to bear full responsibility for ensuring that your content is distributed to the target audience
Group Size
What is the ideal count of the audience that you are targeting?
Having a clear indication will help you in deciding whether to go for a free or owned platform, for instance. Suppose you decide to go for an owned platform. A clear idea on the number of community members will aid you in choosing the right tier while hosting.
Features
What are some of the must-have features that you're looking for? Are you security conscious and looking for single sign-on? What are some nice-to-have features that you're looking for? Think along the lines of the following:
User Interface – How easy is it to use the platform?
User Experience – How do you want the community members to interact with each other? How does the platform's offering align with your vision?
Security – What grade of security does the platform offer in terms of securing user data, compatibility with in-house tools?
Administration – What is the comfort level for you and your team to administer and moderate the community? What analytics tools will you require?
Pricing
How much capital are you willing to allocate towards hosting your community? Price is a key component that will determine whether you opt for an owned or free platform. If you're comfortable with shelling money to have your own paid platform, pricing will help you narrow down your options in terms of different tiers and their limitations.
Pro tip: If you need 30 standout SaaS growth hacks to attain double the growth for your SaaS business, fill out the form below!
Choosing Your Platform For Community Building
#1 – Facebook
Goals
The reach and might of Facebook will allow you to cover the end-to-end cycle of your community building endeavours. Getting insights into consumer trends, educating/inspiring your audience, and finally to selling your product/service – Facebook can be your trusted partner.
Target Persona
Statistics show that roughly 36.8% of all the people on Earth use Facebook today. Another point to note is that the median age of Facebook's advertising audience is 31 years old. Facebook is the de facto social media platform. As a community builder, you can rest assured that you can reach your target audience, and along the way, utilise tools to sculpt and arrive at your target persona.
Group Size
Facebook allows you to host or cater to unlimited members from your community.
Key features to manage your community
Ability to respond to messages, manage and publish posts, and receive deep engagement analytics – you get access to it all in Facebook Creator Studio.
Inspirational Example
The popular graphic design platform Canva has built a thriving community on its Facebook group called Canva Design Circle. With over 240,000+ community members present, the group allows everyone to talk about design (a perfect match with Canva's core offering), offer feedback/support, and have an overall pleasant experience.
#2 – Twitter
Goals
Twitter is the go-to platform for a community builder to gather insights on the evolving trends and happenings on topics closely related to their business objectives. Twitter can become the default platform to build thought-leadership in your community around issues close to your heart.
Target Persona
Statistics show that Twitter has close to 220 million annual total users. Gen Z and Millenials make up the bulk of Twitter's user base. Another distinctive point to note is that close to 1/3rd of Twitter's user base are college educated citizens. Users on Twitter like to keep up-to-speed with the latest happening on issues close to their heart – timely updates in bite-sized format.
Group Size
Twitter allows you to host or cater to unlimited followers from your community.
Key features to manage your community
Twitter's Media Studio allows you to manage and measure your Twitter activity by viewing detailed dashboards on your tweets' performance and providing an analysis of your community's engagement levels.
Inspirational Example
Daniel Vassallo, an ex-Amazon employee, strategically chose Twitter as his medium of choice to build a small business and thought-leadership dabbling in entrepreneurship, solopreneurship, risk taking, and alternative lifestyles.
#3 – Instagram
Goals
Picture perfect. Instagram is the platform to be on if you are looking to not just entertain by showcasing visually appealing still-pictures, but creatively inspire your community and provide self-help, personal/professional growth, etc. If you're looking to be an "influencer" for your community, you're in luck. According to statistics, influencers command a 1.5x jump in engagement rate per post per follower on the picture and video sharing platform.
Target Persona
Instagram has over 1 billion users accessing the application every month. Fascinatingly, upto 60% of Instagram's global user base comprises Gen Z and Millennials. An average Instagram user can end up spending close to 28 minutes per day on the platform.
Group Size
Instagram allows you to host or cater to unlimited members from your community.
Key features to manage your community
Instagram's Creator Studio allows you to schedule, manage, measure and monetize your Instagram content by viewing detailed dashboards.
Inspirational Example
Wonsulting, with the mission to "turn underdogs into winners by helping individuals from non-traditional backgrounds land their dream jobs" has attained great success in building a community centred around providing valuable insights related to job search.
Bite-sized, fast-paced content may seem to clash with this topic, but Wonsulting has made extensive use of posts, reels and videos on their handle and is a fine example to learn from.
#4 – Snapchat
Goals
The instant video and photo sharing app is a good choice if you're looking to entertain your community or looking to gather insights on the latest consumer trends. It is a great tool to connect with a younger audience and stand out and showcase your business's playful side.
Target Persona
Snapchat boasts of over 500 million users accessing its application every month. Gen Z represents up to 39% of the platform's user base. Snapchat claims that it reaches 75% of Millennials and Gen Z, with users spending close to 30 minutes on the app every day.
Group Size
Snapchat allows you to host or cater to unlimited members from your community.
Key features to manage your community
In order to keep your community hooked and allow you to express your creativity unabashedly, Snapchat offers Story Studio and Lens Studio.
Inspirational Example
Coca-Cola drove strong results by making extensive use of Snapchat's creative tools in its Iraqi market. It created a memorable campaign which resulted in an average playtime of 35.1 seconds, while reaching 2.6 million users across different regions in Iraq.
#5 – TikTok
Goals
The short-form video app which has taken over the world by storm is a great tool to entertain/inspire your target audience in a world where attention spans are receding dramatically.
Target Persona
TikTok has over 1 billion active users accessing the application every month. Upto 60% of TikTok's U.S. based user base is Gen Z. There is no dearth of diverse content. The app is available in 154 countries and 75 languages. TikTok's trends are a worldwide phenomenon.
Group Size
TikTok allows you to host or cater to unlimited members from your community.
Key features to manage your community
If you're looking to monetise your content and community, TikTok Creator Marketplace has got you covered.
Inspirational Example
Crocs executed a remarkable turnaround in their fortunes (from $185 million in losses to $2.3 billion in revenue) by employing a 3F strategy on TikTok. Curious? Click here to learn more.
#6 – YouTube
Goals
Technically the world's second biggest search engine after Google, YouTube is a library. Your goals for choosing the platform to build your community should be to educate, entertain or inspire your target audience. By establishing a trusted voice with your audience, you can incorporate selling your product or service as well.
Target Persona
YouTube boasts of close to 2 billion unique users on its platform. Diversity is front and centre of YouTube. It is available in close to 80 different languages. Close to 50% of YouTube's global audience comprises Gen Z and Millennials.
Group Size
YouTube allows you to host or cater to unlimited members from your community.
Key features to manage your community
YouTube Studio allows you to customise your channel, receive and drill down into subscriber analytics, monetise your content and more.
Inspirational Example
Ryan Serhant, an American real estate mogul, producer and TV personality has leveraged the power of YouTube to aid in building his real estate business. On his channel, he showcases different properties, deals and developments he's handling or experiencing firsthand. YouTube has helped him blow up in a niche and build a strong community who look forward to the latest happenings in his personal and professional lives.
#7 – LinkedIn
Goals
LinkedIn is the de facto professional social networking platform. Use this platform to educate your target audience on the latest happenings in your industry. It helps you demonstrate where your community fits into the bigger picture. LinkedIn can provide a solid platform to interact with professional networks, industry titans, and the largely invisible movers and shakers of different industries.
Target Persona
LinkedIn has over 800 million+ members.The user base is representative of 200 countries and regions, and available in 25 languages. 49 million people use the platform to search for a job each week, with 6 people hired on LinkedIn every minute!
Group Size
LinkedIn allows you to host or cater to unlimited members from your community.
Key features to manage your community
LinkedIn Pages allows you to establish your organisation's presence, interact with community members, share documents, and achieve your business goals.
Inspirational Example
Finshots, a daily 3-minute newsletter simplifying financial news, has amplified its success using LinkedIn. The team behind the newsletter have leveraged the access to its core audience on LinkedIn – business professionals. The fitment has resulted in rapid ascent in the newsletter's subscriber count – it now commands a readership of 5 million subscribers.
#8 – Slack
Goals
Chat platforms such as Slack have been designed for real time interactive community building with every "server" being subdivided into topic-based "channels". They are a great way for your community to discuss themes revolving around your offering.
Target Persona
Slack's diverse user base represents 150 countries and a report by Slack reveals that 65 of the Fortune 100 use the application in some capacity. Establishing a community on Slack outside of work will require you to prospect with users on other platforms and finalise on the target audience. There is a lot of flexibility in terms of what will be the target audience for your Slack community.
Group Size
You can potentially host unlimited members from your community on Slack.
Key features to manage your community
Slack offers security, productivity, engagement and protection to your conversations.
Inspirational Example
Superpath has created a Slack community that facilitates meaningful conversations around content marketing. It is home to some of the most experienced professionals in the industry. Its supportive and amiable culture allows engaged users to keep up with the most important tactics and strategies being used in the industry.
#9 – Circle
Goals
Circle acts as a forum, and is a good choice to build and host a community around your area of interest. Circle allows you to divide your followers into tiers of patrons who help maintain and sculpt the community. Circle can be used to educate your community, gather insights on your audience and even sell your products and services.
Target Persona
Circle is a platform where you outrightly administer your community. Establishing a community on Circle will require you to prospect with users on other platforms and finalise on the target audience. There is a lot of flexibility in terms of what will be the target audience for your Circle community.
Group Size
Circle allows you to host or cater to 100,000 members from your community.
Key features to manage your community
Circle allows you to engage in discussion forums, conduct live streams/events, conduct group chats, and assign moderators from your community amongst a whole host of features.
Inspirational Example
A good example is Anne-Laure Le Cunff, the founder of Ness Labs. It's a "community of curious humans who want to achieve more without sacrificing their mental health." Members of the community are able to conduct meetups, workshops, and access special reports around neuroscience.
Key Takeaways
A community is a group of people who agree to grow together.

Simon Sinek
If you can assure growth for your target audience they would be happy to join your community.
Building a thriving community is hard. People want to be heard and be a part of something bigger than themselves. Nailing the key elements is a must in order to provide your target audience the right platform to express themselves and contribute to the community.
In this piece we learnt about the key factors that go into choosing the right platform for hosting your community such as:
Understanding the "why" of opting for the chosen platform
Building the right strategy and ensuing tactics to execute your vision
Vetting across different criteria such as group size, target persona, custom domain, pricing to narrow down your options
If you want some steal-worthy strategies to build a community that thrives together, be sure to watch this video:
We hope that you'll benefit from using these principles to build the foundation of your own thriving community. And if you need any help with the content marketing strategy, book a call here.
If you wish to read more goodness, subscribe to our newsletter.
We send value to your inbox only once in 15 days.