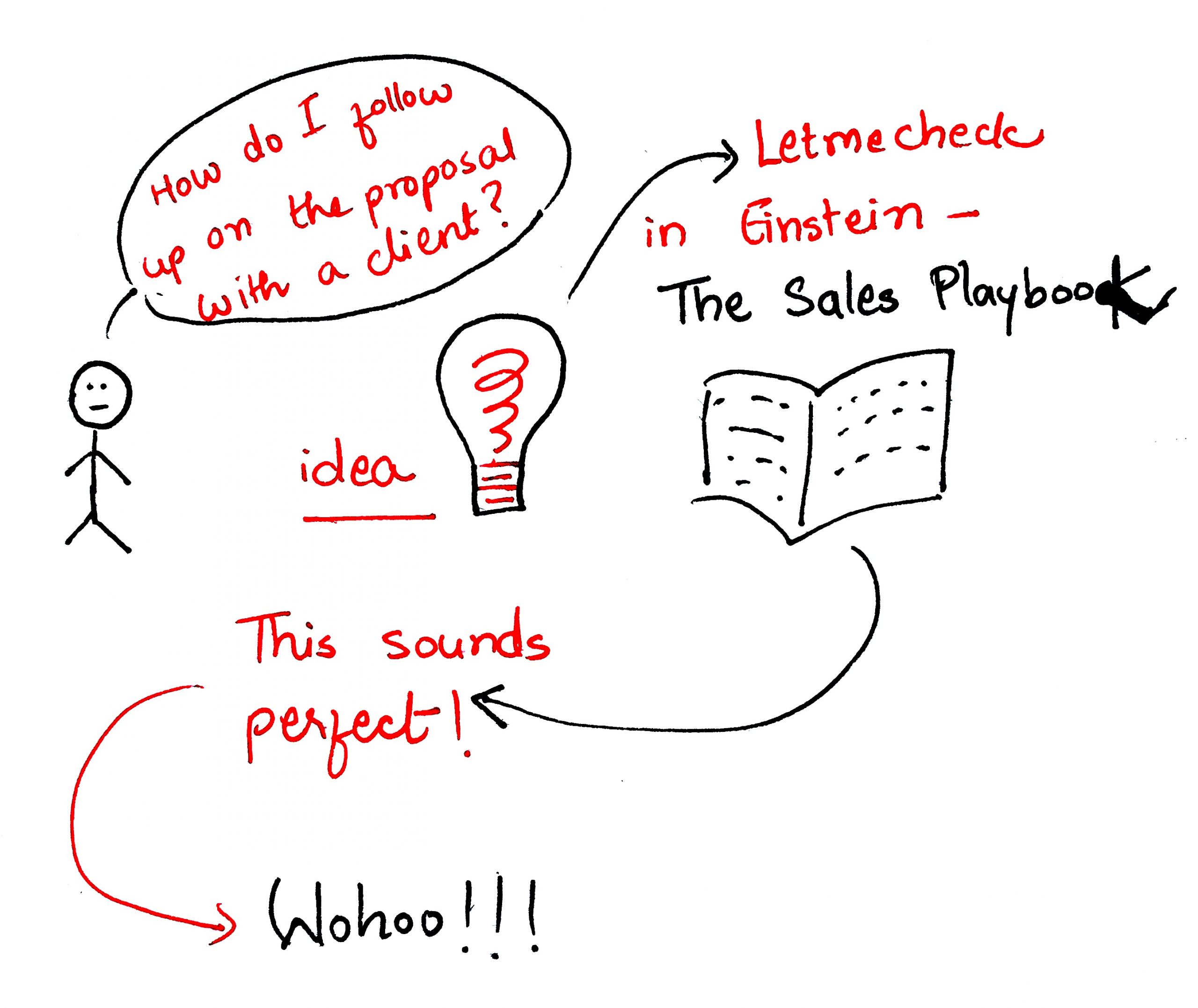 Sales Playbook is a great solution to a very commonly faced problem.
Problem: Is 80% of your Revenue Coming from 20% of the Sales Team?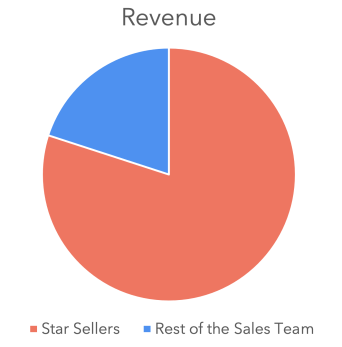 Read on if you wish the Revenue distribution to look as below:
(In other words, Do you want everyone on your team to sell like your star-seller?
Thus, More Sales!)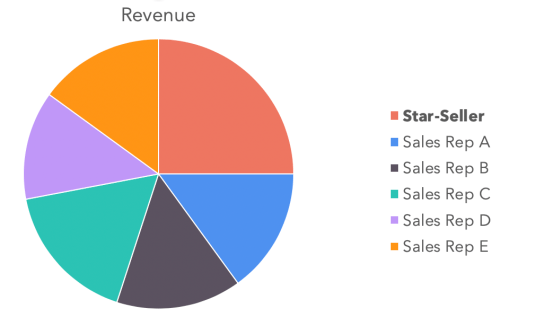 Won't you agree?
What's the difference between star-seller and the other reps?
It's exactly the same as the difference between a seasoned player and a novice.
For instance:
The difference in response to a Sales Objection by star-seller and any other sales rep.
Sales Objection:
When the client says, "The other company is ready to do this project at $1000 less than yours."
Less experienced Sales Rep's Response
We deliver better quality results at a faster speed. Our operations team is highly experienced. That's why our charges are premium. You shall not regret working with us.
Star-Seller's Response
It's interesting to know that. It would be great if you could please tell us what's the difference in the quality of the deliverables.
How is the star-seller's approach different?
Star-seller showed genuine interest in discovering the difference in offerings from client's point of view.
Star-seller neither felt insecure about his company's work nor defended it.
Star-seller didn't push to close the deal.
Buyers today are much more powerful and well-informed to make right selection of the seller.
Once the star-seller gets the client talking about his pain-points, he would be in a better position to close the deal.
As we always say, "Understanding of buyer and buyer's journey is the key to success."
Why this difference?
A lot of business intelligence is needed at different stages in a sales cycle.
Like discovery calls, handling requests for quotes, follow-up on proposal approval, deal closures, etc.
Star-seller based on his experience, negotiation, and communication skills, understanding of business, and clients have aced the knack of closing deals.
The rest of the reps are much less experienced on how to respond to clients in different situations.
If there were a way each rep knew how to handle the situation like a star-seller, there would be definitely many more closed deals.
Does this resonate with you?
You start a business.
You make good sales.
You are a Star-Seller.
Or your partner is a Star-Seller.
You fuel your business.
You invest in Marketing.
You grow your sales team.
With more sales reps on board.
You expect the Revenue to increase.
But it doesn't happen.
You wonder……
What's possibly gone wrong?
Don't worry!
It happens in every business.
Each sales rep has his/her own selling style.
Their selling style might/might not work for your business.
It's only You who knows what's the best way to sell for your business!
You try to train/coach the new members on the team.
Sometimes it also happens that you train the rep.
But the rep leaves before becoming profitable for the company.
You don't want to do this training business again and again.
You wish, there was a system.
A system that can empower your team to sell just like you!
Without you having to tell it again and again.
Well, Congratulations!
You are going to discover the best solution to this problem.
We call it – "Einstein – The Sales Playbook".
Here is a little proof that it works.
Testimonial For Einstein
We implemented Einstein for one of our premium clients GreyB Services.
Here is what the Director of GreyB has to say about Einstein.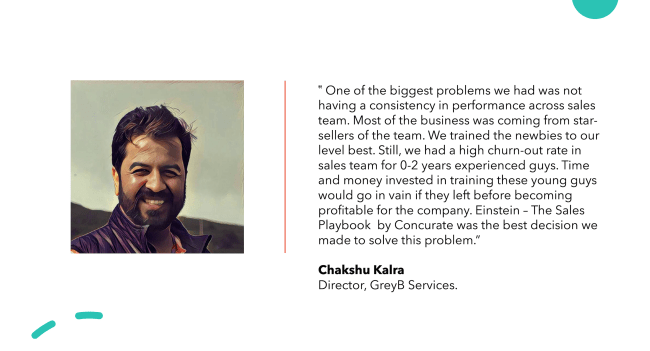 Snapshots of "Einstein – The Sales Playbook"
Let's say one of your sales reps is awaiting a response on a proposal.
It's been three weeks.
He is wondering.
What shall be the best way to follow up on the proposal with the client.
All that he needs to do is.
Go to Einstein and use it simply like Google.
Search Query: "Proposal Approval"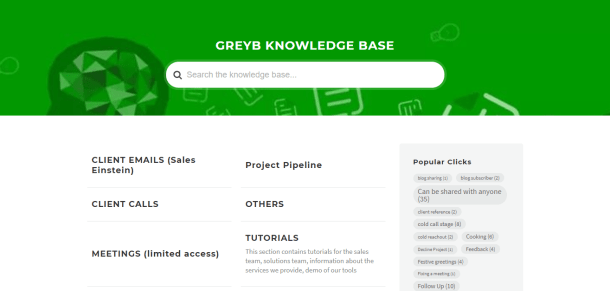 All the results matching the keyword would appear.
One result might be an actionable email template for the follow-up.
The sales rep can use that template to follow-up.
Now, this is not just any template.
It's a way to follow-up just the way….
Or Your Star-Seller would have followed up.
Look at the results below:
The results show three different scenarios.
And a different way to follow up in each case.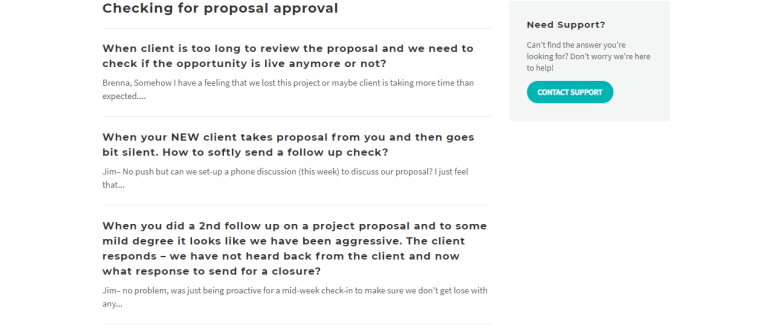 Still, if your sales rep can't find the scenario he is is looking for.
He can always request for one, using the "Contact Support" feature.
There are tons of things that can be added to the playbook.
Like Tutorials. Tools. Learnings. Pitches. Tactics.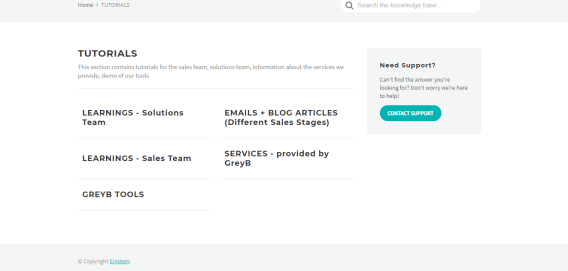 See Einstein in action!
What do you think of Einstein? Do let us know in the comments section.
Pro tip: If you need 30 standout SaaS growth hacks to attain double the growth for your SaaS business, fill out the form below!
How to Create a Sales Playbook?
You shall need two things for it.
Data – Actionable Ideas, Tactics, Templates, Tutorials, etc. from Star-Sellers of the Team.
Einstein
You can hire us to create it.
Leave your name and email to schedule a free consultation call.
Meanwhile, Explore the plethora of resources to help you out your business!
If you wish to read more goodness, subscribe to our newsletter.
We send value to your inbox only once in 15 days.