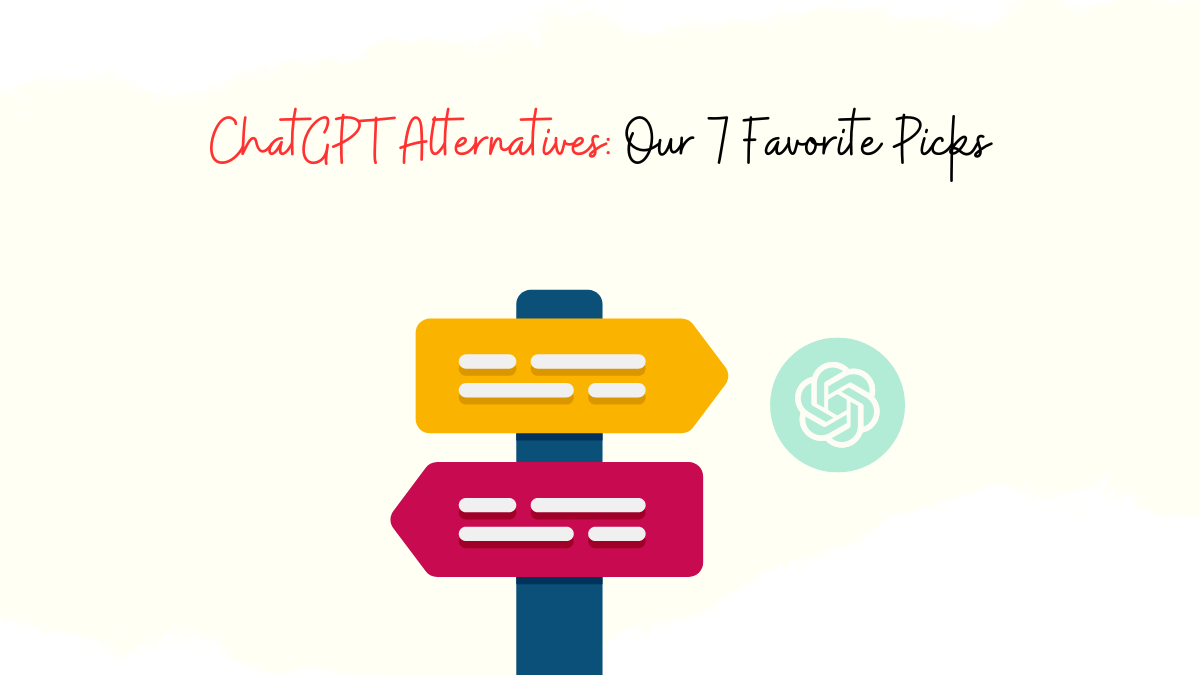 Are you still using ChatGPT to write content and copy? It's a great tool, but it's not the only one. Many tools have emerged with specific features that cater to marketing professionals and writers.
Moreover, ChatGPT has some limitations. For example, all information that it provides is not 100% correct. Sometimes, it generates factually wrong information that can hurt your content performance.
On the other hand, new AI writing tools have dedicated features and templates to write blogs, generate persuasive copy, and write emails. They can adapt to your brand tonality and deliver laser-focused and human-like responses.
So, why not give other tools a try?
We've compiled the top ChatGPT alternatives in the market so you can pick the best one for your content needs.
ChatGPT in a Nutshell 

ChatGPT, developed by OpenAI, is an advanced language model that operates as a virtual assistant capable of engaging in conversational interactions. It leverages vast training data to generate human-like responses, providing valuable support to users across various domains.
Top Features of ChatGPT
Natural Language Processing: ChatGPT generates human-like text responses, making it an invaluable tool for content and copywriters. You can use it for writing, brainstorming, and developing creative ideas.
Content Generation: ChatGPT expands on ideas and provides alternative phrasings or word choices. It aids in overcoming writer's block and inspires you to create engaging and informative content.
Idea Exploration: Content creators can rely on ChatGPT to explore and develop ideas. It can generate insights, offer different perspectives, and provide references to enrich and expand the scope of their work.
Research Assistance: ChatGPT helps with preliminary research by providing relevant information, facts, and summaries on a given topic. You can use it to create a basic outline or brief for your content and copy.
Tone Adaptation: ChatGPT can adapt its tone and style to meet specific requirements. You can specify the desired tone, whether formal, conversational, professional, or humorous, and ChatGPT will generate responses accordingly, maintaining consistency throughout the content.
Cons
ChatGPT occasionally generated irrelevant and wrong information
It lacks real-time knowledge and the ability to fact-check information
It relies on training data, which may introduce biases or limitations
Pricing
Prices are per 1,000 tokens. You can think of tokens as pieces of words, where 1,000 tokens are about 750 words.
What Should You Look For in ChatGPT Alternatives?
When considering alternatives to ChatGPT or similar language models, there are several important factors to consider:
Accuracy and Language Quality: Look for alternatives that prioritize accuracy. The model should generate contextually appropriate responses. Ensure that the information provided is reliable and error-free.
Customization and Control: Seek alternatives that offer customization options so that you can tailor the output according to your needs. The tool should be able to fine-tune or adjust the model's tone or style to help align the generated content with desired guidelines.
Domain Expertise and Specialization: Consider alternatives specializing in specific domains or having expertise in relevant subject matters. This ensures the model provides well-informed, accurate, relevant responses specific to your field.
Integration and Workflow Compatibility: Consider how well the alternative integrates into your existing workflow and tools. For example, Writesonic integrates with Semrush to find top keywords for blogs. This saves you time as you don't have to switch multiple platforms for a single task.
Top ChatGPT Alternatives
ChatGPT is an excellent tool for content and copywriters, but it's not the only one. Several other AI writing tools can better assist you in delivering top-notch content in a lesser time. Try these ChatGPT alternatives for the best writing assistance:
Bard AI
Bard AI is a writing assistant by Google. Like ChatGPT, it can serve as an idea generator for various tasks, such as generating ideas for a birthday party, crafting an email, generating a line of code, or debugging source code.
Top Features of Bard AI
A thesaurus and dictionary help you find the right words to express your ideas and can also help you avoid repeatedly using the same word. To use the thesaurus, type "thesaurus" followed by the word you want to find a synonym for. For example, if you want to find a synonym for "big," you would type "thesaurus big."
A style guide can help ensure your writing is consistent and professional. To use a style guide, simply type "style guide" followed by the name of the style guide you want to use. For example, if you want to use the AP Stylebook, you would type "style guide AP Stylebook."
A plagiarism checker can help you identify any content you have copied from another source without credit. To use a plagiarism checker, type "plagiarism" followed by the website URL you want to check. For example, if you want to check the website www.wikipedia.org, you would type "plagiarism www.wikipedia.org."
With Bard AI, you can match your desired tone effortlessly. Whether you need a professional, conversational, formal, or humorous vibe, Bard AI will adapt its writing accordingly.
Bard AI optimizes your content for search engines by analyzing keywords, suggesting relevant phrases, and guiding you on proper keyword placement.
Cons
It generally provides very long answers even when it's not required.
On the first command, Bard provides a generic copy without unique ideas or a great choice of words.
Pricing
Free
Writesonic
Writesonic is an AI writing tool made especially for content marketing purposes. It has an extensive toolkit for content and copywriters to make jobs easier and faster.
Top Features of Writesonic
Writesonic's AI in writing tools can quickly generate well-structured and engaging articles incorporating relevant keywords, ensuring optimal SEO performance.
Writesonic's AI algorithms can also generate persuasive ad copies for various platforms, such as Google Ads, Facebook Ads, or LinkedIn Ads. You provide target keywords and a brief description of the product or service, and Writesonic generates a copy tailored to the needs of your target audience.
Writesonic's content rewriting and paraphrasing feature allows you to transform existing content into fresh, engaging pieces. You can paste the original text and let Writesonic's AI work magic. This is particularly useful when repurposing content for different platforms or audiences without risking plagiarism issues.
Writesonic's AI algorithms seamlessly integrate primary and secondary keywords throughout the generated content. It integrates a keyword 15-20 times and a secondary keyword 3-4 times throughout the article, giving it a competitive edge in search rankings.
Writesonic's integration with SEMrush, to provide the most relevant and high-performing keywords. This saves time as you can write and do keyword research on the same platform.
Writesonic's AI in writing tool generates multiple outlines based on your input. This lets you explore various angles and directions for your content.
Cons
It's hard to keep track of previous conversations. Each time you have to remind it what you were chatting about.
The pricing model is tricky for professional writers as they don't write a fixed number of words monthly. Since the pricing is by words, you never know how much you will pay at the end of the month.
There's a higher learning curve as compared to ChatGPT.
Pricing
A free trial is available. 
Pro: $12
Enterprise: Custom Pricing 
Jasper.ai
Top Features of Jasper.ai
Jasper fixes your tone anywhere you write. Whether you write emails, blogs, sonnets, or love letters, Jasper ensures your tone is correct.
Jasper can scan your website to understand your brand tone and identity. Once this is done, every piece of content you create on Jasper will perfectly match your tonality. You'll have a consistent tone for a business speech or a tweet.
Jasper allows you to collaborate with all your team members. You can edit your content together and enhance it further.
Jasper has a blog idea generator. You provide your company name, product description, target audience, tone of voice, and some examples, and it provides a list of topics for your niche.
Jasper also suggests ideas for Youtube videos. You provide a topic, some keywords, and a preferred tone, and it generates several video ideas along with a rough outline for each video.
Cons
You need to fact-check the information generated by Jasper.
Sometimes, it produces repetitive content.
Jasper may not nail your preferred tonality. You either need to try multiple prompts or fix the tone yourself.
Pricing
Creator: $39
Teams: $99
Business: Custom Pricing
Copy.ai
Copy.ai is an AI writing tool meant especially for copywriters. Although it can generate blogs and social media content, its copywriting capabilities are incomparable. It can generate text variations for different marketing purposes and for a wide range of target audiences.
Top Features of Copy.ai
You can provide a step-by-step brief to an AI writing tool, including topic, tonality, and descriptions, to generate content tailored to your needs.
Copy.ai offers built-in templates for ad copy, landing page copy, emails, blogs, and much more, making it simple for users to quickly create different types of content.
You get multiple outputs from a single prompt, and you can choose the one you like most.
With Copy.ai, you can build a complete email sequence. For example, if you're creating an email campaign for your latest event, Copy.ai has templates for email teasers, giveaway emails, launch emails, and post-event recap emails. It lets you automate the entire email writing process.
Cons
Some users found plagiarism in Copy.ai's content.
Website copy generates longer paragraphs where short sentences would make more sense.
Pricing
A free trial is available.
Pro: $36/month
Wordtune
Wordtune is an AI writing tool that helps content and copywriters refine their content. With its intuitive features, Wordtune helps you maintain consistency in your content and communicate your idea effectively with the target audience.
Top Features of Wordtune
Wordtune can rewrite already written content which makes it great for content repurposing and blog revamping.
Wordtune enables you to adjust your writing style according to your preferences. Whether you need a more formal, casual, professional, or creative tone, Wordtune can offer suggestions to align your writing style with the desired voice.
It can identify wordy or convoluted sentences and provide concise alternatives that retain the original meaning. This feature ensures that the message is conveyed clearly and succinctly.
You can expand and shorten their content as per their choice. This means you can quickly turn a sentence into a paragraph or vice versa.
Wordtune supports multiple languages, including Hindi, Arabic, Mandarin, Korean, Hebrew, and Russian.
Cons
Wordtune can be costly for some users.
Wordtune can refine existing content, but it can't generate long-form content.
Pricing
A free trial is available. 
Premium: $9.99
The Premium for Teams: Custom Pricing
Anyword
Anyword is an AI writing tool made specifically for content writers, copywriters, and marketers in general. The best part is that the toolkit is divided into various categories like performance marketing tools, SEO, content marketing, and business, making it easy to operate.
Top Features of Anyword
The ad copy generators can generate Google ads, LinkedIn ads, Twitter ads, Pinterest ads, and Facebook ad copy instantly.
The blog writer generates human-like blogs in minutes and inserts all necessary keywords into them so it ranks high on Google.
Anyword has an AI copy editing tool that compares your copy with millions of other copies on the internet and scores its strength.
Cons
Some users found that Anyword shows the wrong word count for blogs. So, you have to recheck that on your part.
There's no free plan.
Pricing
Starter: $39/month
Teams: $79/month
Business: Custom Pricing
Rytr
Top Features of Rytr
Rytr always provides 3-4 alternatives for short-form content and at least 2 variations for long-form content. You can pick from or gather inspiration from all these options.
Rytr is a great idea-generation tool as it can produce a whole website copy with just a few sentences. You can ask for 50 words to describe a business that triggers creative ideas in your head.
Rytr has a built-in plagiarism checker that ensures your AI-generated content is 100% unique.
Rytr comes with formatting features to shorten or expand your content. It has intuitive formatting that always provides a visually appealing outcome.
A unique ability of Rytr is that it lets you save or download your work in docx or html format.
Cons
Credits easily get consumed in Rytr after a few prompts, after which you have to switch to Pro.
Pricing
A free plan is available.
Saver Plan: $9/month
Unlimited Plan: $29/month
Take one example and compare
To find the best ChatGPT alternative, I gave all these tools the same prompt. Let's compare each output.
Prompt: "Write a headline and brief description for the landing page copy of a productivity SaaS startup. The target audience is busy team leaders who want to manage their teammates and their tasks."
Bard 
Bard functions similarly to ChatGPT and provides text output in response to your prompt.
Source: Bard
Writesonic
Writesonic came up with an impressive landing page copy. It wrote a copy and came up with a landing page design idea to show how the copy would look on a real website.
Copy.ai
Copy.ai is explicitly made for copy, providing an excellent result for my prompt.
Source: Copy.ai
WordTune
WordTune works differently than other AI writing tools on the list. You have to create a copy yourself, and the tool can enhance the copy for you.
I entered a headline and description for a productivity SaaS tool and tried to shorten the copy. As you can see, a pop-up opens that suggests alternatives for each sentence. You can use this to rewrite, expand or shorten your sentences.
Anyword
Anyword uses filters like the target audience and talking points to nail your landing page copy. It suggests headlines and subheaders separately and provides scores to show their strengths.
Source: Anyword
Rytr
Rytr also allows you to input various points about a product, like a name, website information, and features. You can also select the tone of your copy among various filters like happy, authoritative, friendly, etc.
Source: Rytr
Pick the best AI writing tool for your brand.
These were the top ChatGPT alternatives in the market. Carefully compare each tool or simply get started with each. Choose the most convenient one for your content needs.