Everything from why we started to about our process
Why we started Concurate?
While working with GreyB, I was tasked with growing the leads for our services via Inbound Marketing. 
We already had an inhouse marketing team who were working at their full throttle. So, we thought to chekout and hire some marketing agencies for the work. 
I started doing research around various marketing agencies but found that most of the agencies talking just about writing X number of articles and hope in increasing the traffic without actually promising leads and traffic metrics. 
After hiring such agencies and burning our hands, we felt it is best to do the content marketing in-house. And with our in-house marketing team, we made our blog one of the top blogs in the industry, thus becoming the biggest source of leads for GreyB.
Before creating Concurate, we talked to our friends in other companies and found out how they are tacking similar challenges. 
Concurate represents what we always wanted in any agency. At Concurate, we not only do thorough customer research by interviewing you before writing articles on pain points but also are acccoutable to the leads to the results we produce every month. 
Nitesh Gupta
Front Runner at Concurate
This is how we scale your business
We find your favorite companions
We do extensive user persona research to list down the goals/motivation of the "fit" partners for your business. Knowing users, their motivations & their pain points help in building user-centric content.
Set up the perfect plan & calendar
Then we do the Keyword Research and create a content calendar.
Essentially – we check your existing content and make unavoidable shifts towards more conversions.
Crafting the best content and amplifying your voice
We give our best efforts to write powerful content that make your brand stand out, get shared and convert leads to customers.
Help your content travel multiple channels
We make sure that your content hangout with the target audience.
The strategy is very clear. Finding where your audience is spending time, what questions they're asking and reach them at the right time with relevant content.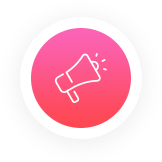 You are a B2B SaaS company with initial Seed- or Series A funding. You are either working with a marketing agency but not satisfied or need experienced and affordable content marketing services.

You are an experienced professional working with a different firm who wants to start your own B2B enterprise or has already started and is looking for marketing leadership help to fulfill high growth expectations.
Let's create something amazing together!