"The most underrated piece of marketing advice is that you've got to name something."

– Dave Gerhardt, Ex-VP of Marketing at Drift
We've converted this entire blog in PDF form that you can download and save for later reading (or sharing with your friends). You can download it using the form below:
Building SAAS products is easy. The difficult part is differentiating your product from the competition. Your business needs an unfailing marketing and sales strategy. David Cancel, who is a five-time founder and CEO of Drift, urges the business owners to win on their brand and not on the features of the SaaS product. Let's see how Drift's out-of-the-box marketing strategy helped in making Drift a huge success.
Riding the Existing Momentum
David believes that "You don't want to create your own momentum; you want to ideally ride on the momentum that already exists.". He urges us to take into account the paradigm shift in the market and be an early adopter.
The idea of a chatbot emerged in 1950 when Alan Turing wondered if a computer program could talk to a group of people without realizing that their interlocutor was artificial. The first chatbot named ELIZA was then constructed in 1966. Since then, chatbot technology has continually evolved with the development of ALICE and SmartChild. The industry of Artificial Intelligence (AI) was revolutionized with the advent of smartphones. Then came the era of the smart personal voice assistants with Siri in 2011 and many followed suit like Alexa and Cortana. Eventually, the customer care services and support functions of the companies discovered the use of chatbots with AI technology becoming more and more sophisticated. With the evolution of chatbots, they are becoming more humanized and personalized for a better customer experience.
The evolution of chatbot technology has been interesting, especially when seen over the years.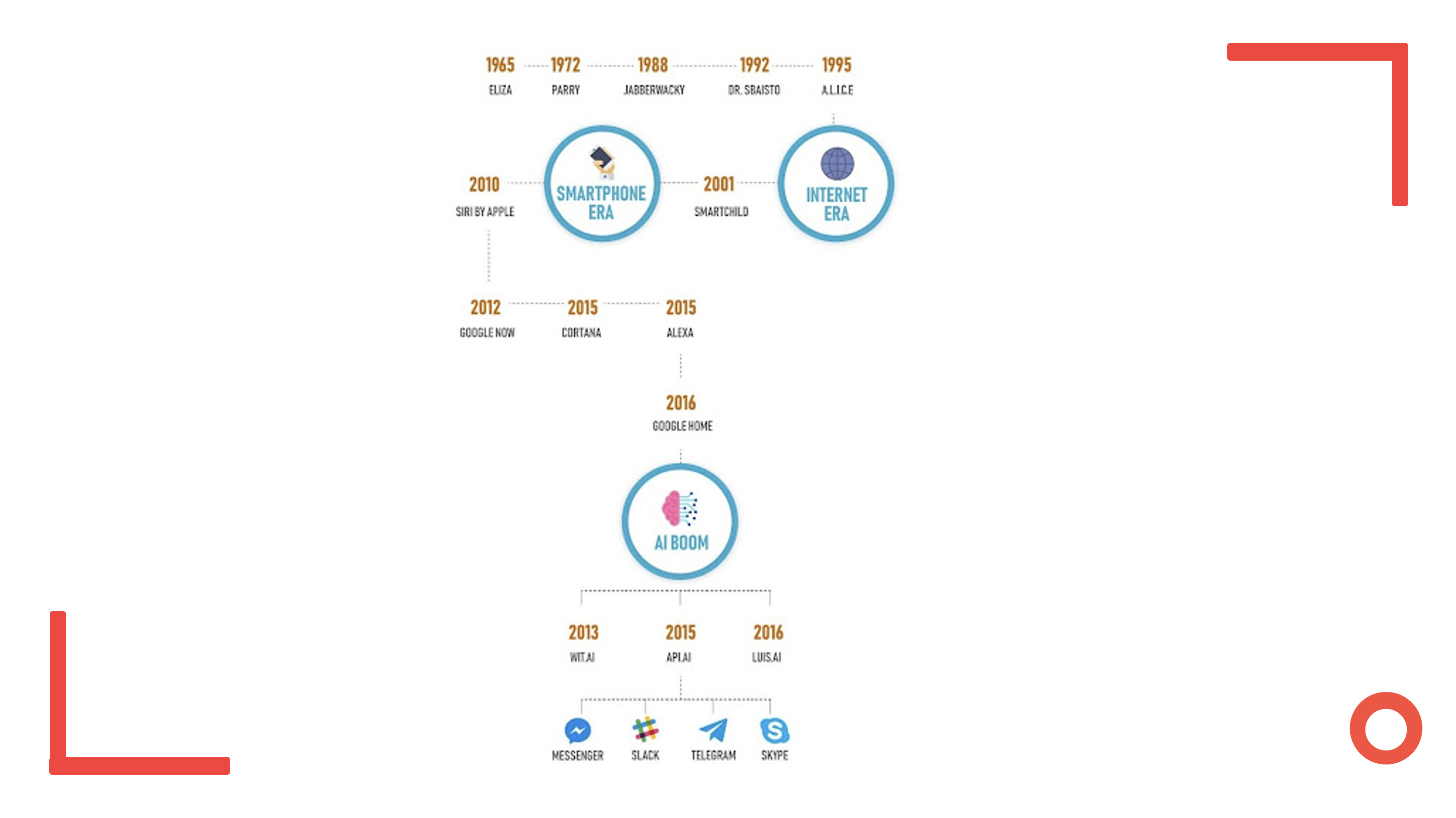 Source: Daffodil
By 2015, when David Cancel and Elias Torres founded Drift, chatbots were already in existence, popular and mostly being used for providing customer care services or support functions. During the time when messengers and chatting apps like WhatsApp, Facebook Messenger, etc. were becoming famous, Drift transformed the sales and marketing segment with chatbots. David, staying true to his philosophy of adopting early and riding the momentum, took advantage of the developments in AI technology. DriftBot is the result of David's foresight, which helps in the sales and marketing of products and services.
Rewriting the Rules of Sales & Marketing
Dave Gerhardt was the VP of Marketing at Drift till November 2019 and one of the key marketing strategists when Drift was founded. Dave's philosophy is "You can either be the first or you can re-segment the market and create a new category.". Since Drift was not the first company to think of chatbots, it defined a new use case for an already existing technology. This set Drift apart from its competitors. Drift built a conversational marketing software (With its newer version named as – revenue acceleration platform) to help companies engage in real-time, personalized conversations with the right customers at the right time. Drift helps companies scale their sales and marketing teams by means of customized AI bots. It solves the problems and frustrations that the customers usually have with unresponsive sales and marketing teams of the brands, hard-to-navigate websites, and poor quality of online forms.
According to a survey conducted by Drift in 2020, the traditional digital B2B experiences were found to be noisy, chaotic, and poor for the customers. The level of frustration in customers based on different expectations was found to be on the higher side, which keeps increasing each year.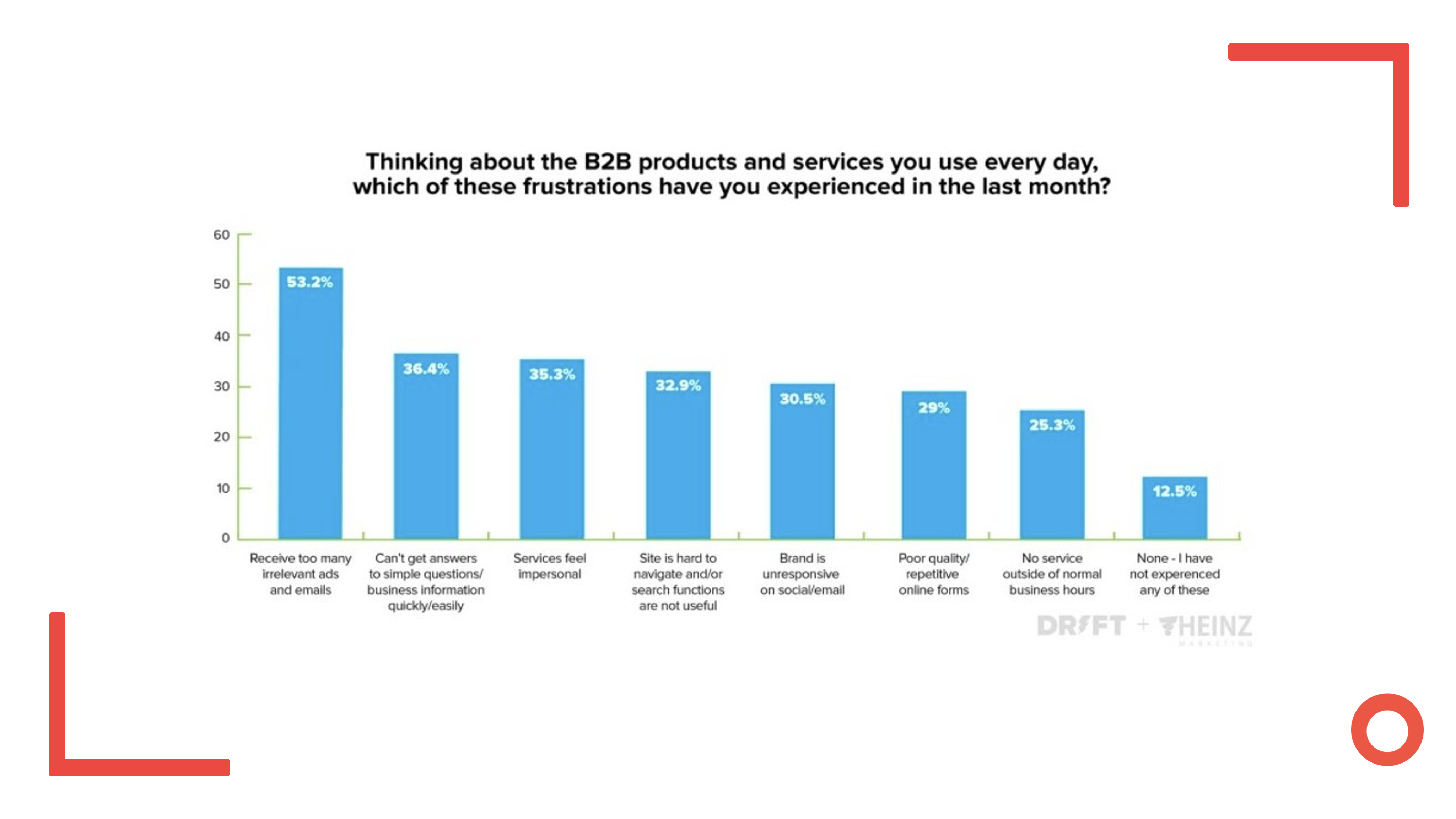 Source: Drift
Drift has successfully brought these levels of frustration down for the customers of the companies with the help of a chatbot.
Bringing Human Back: Custom Chatbots
Drift figured that a chatbot can filter out the noise and provide real-time personalization for every website visitor. In the virtual world, a customized chatbot called the DriftBot is like the sales representative from the physical world, which answers all the queries of your customers about the product or service which your website offers. DriftBot has smoothened the experience of chatting and its integration makes the customer feel valued. The conversation is personalized, the DriftBot is quick to respond and offers options based on the requirements of your customers. DriftBot is intuitive and allows your customer to select from options, making it easier for the customer to navigate through the conversation without having to type lengthy queries.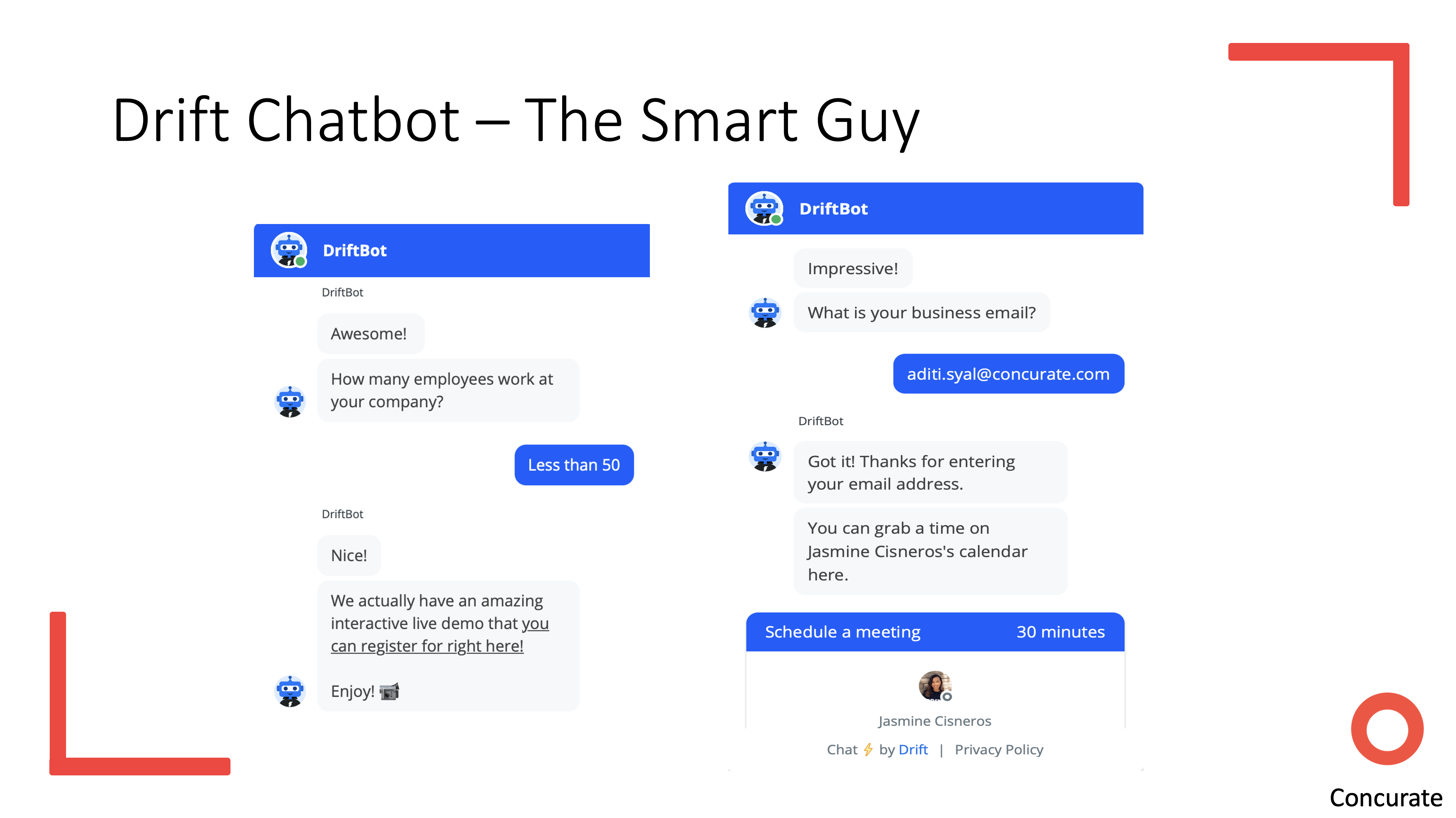 Source: Drift
Chatting with the DriftBot is a wonderful experience. As soon as I went to the website, the DriftBot popped up and asked if it could help with anything. After a few questions, I asked the DriftBot as to how it works and can help my organization. It asked me how many people worked at my organization and when I selected the least number, which is less than 50, the DriftBot gave me a link to register for a live demo. Interestingly, when I selected the maximum number, which is more than 1500, the DriftBot asked for my email id and also sent a calendar invite for scheduling a meeting within the chat. The DriftBot was intuitive to gauge that since I am in Singapore, the calendar invite was as per Singapore Standard Time.
Also, Drift uses the DriftBot for all their lead capturing. Whenever the customer will click on any link on the website for signing up or downloading resources, the DriftBot will pop up with options. It asks for the email id from the customers and helps the customer navigate through the website.
Buyer-Centric World: 'Their Words'
Drift believes in trusting the words of the customer and putting them at the center of the decisions. Drift's very first leadership principle is to solve the customer's problem.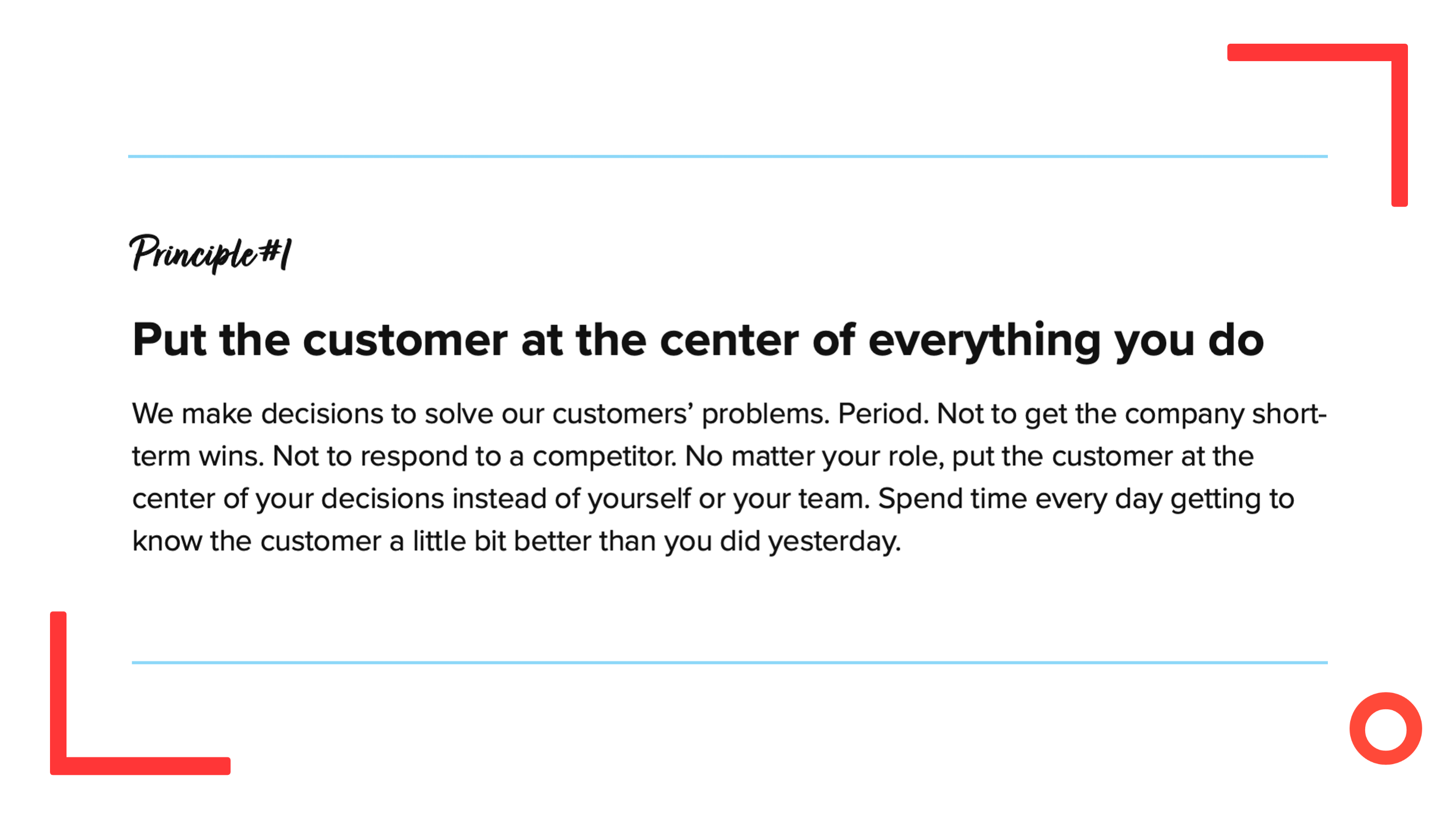 Source: Drift
Keeping a note of what their customers are saying about their product has helped Drift achieve its ultimate vision: become the new way businesses buy from businesses. Dave Gerhardt believes that the company should drive its insights from how the customer is responding to the product and integrate 'their words' for marketing the product.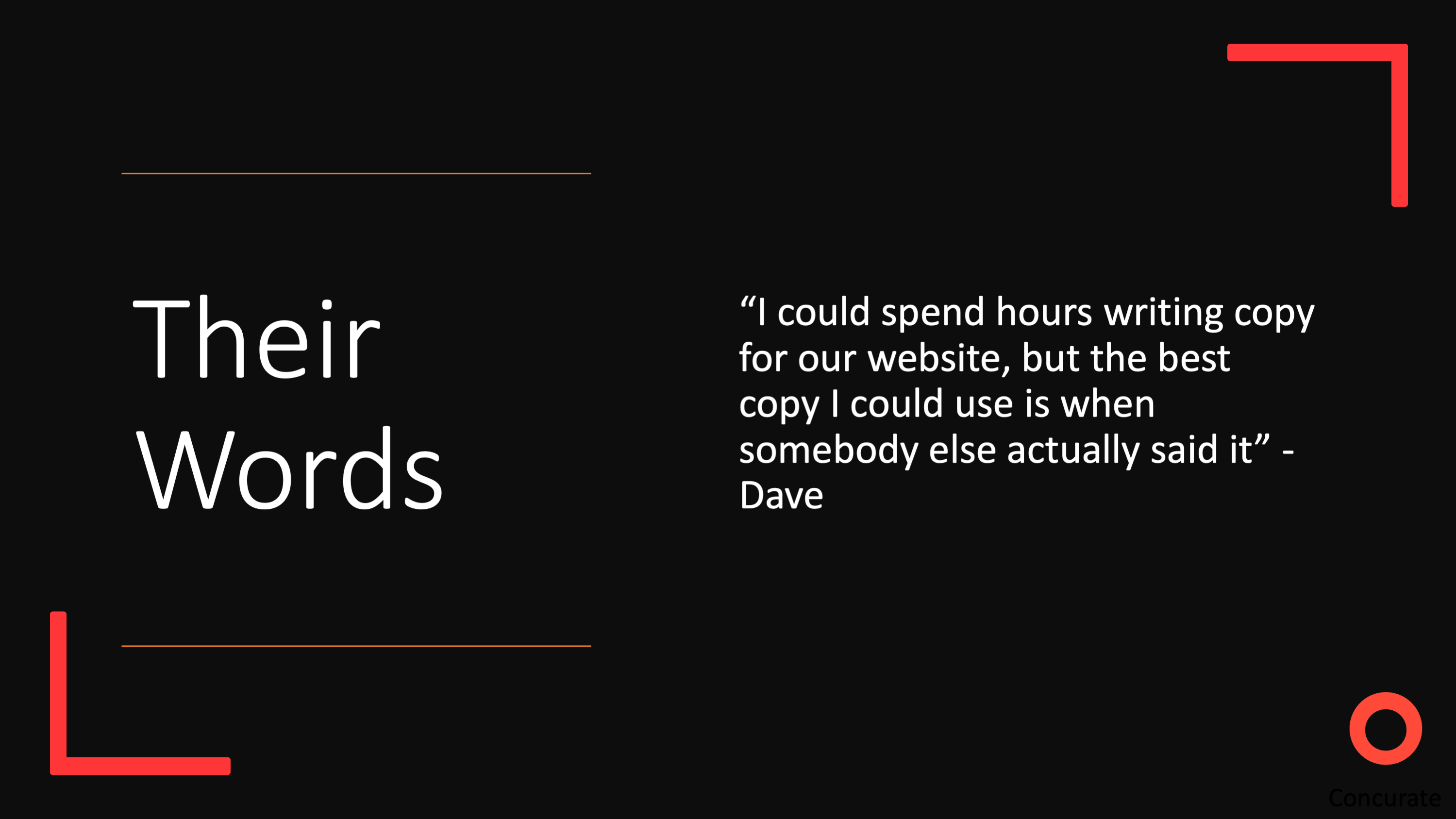 When Drift started using chatbots for sales and marketing, people started calling it to chat for sales, sales chat, marketing chat, etc. The customers became aware of the fact that the DriftBot is associated with marketing and sales but something was still missing. Dave, in an interview with Leadfeeder, said that in the beginning, Drift was using the term "conversation-driven marketing." Then, one day, they hit upon "conversational marketing" and agreed that it sounded better. This term is simple and the customers could relate to it better than any other description of their product. Drift found the missing link – coining a new term and using it to market the product.
Pro tip: If you need 30 standout SaaS growth hacks to attain double the growth for your SaaS business, fill out the form below!
Coining the New Term: Conversational Marketing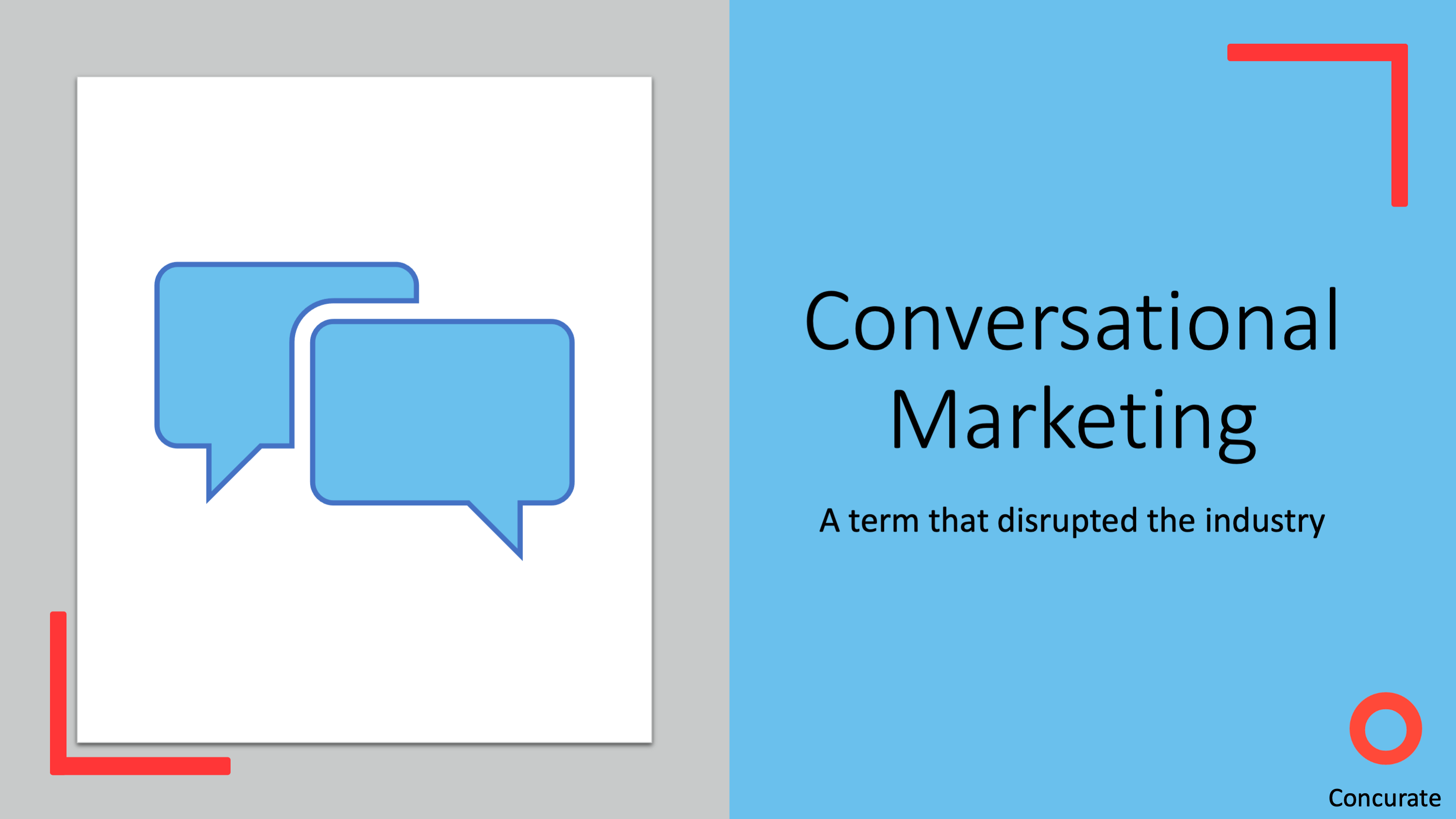 Customers want to have a conversation and not just be at the other end of a sales pitch. Keeping the customers at the heart of all the decisions, Drift created a new segment in an already existing market and termed it as 'conversational marketing'. The personalization of the chat with the chatbot has made conversational marketing popular and widely used today.
According to Dave, coining and popularizing 'conversational marketing as a new term led to Drift taking off as a brand and becoming a successful business. His mantra is to name the principles and theories but keep it simple and relatable. Drift popularized the term conversational marketing by pushing it through content and conversation. With time, the customers started using conversational marketing as a term and it popped up as a common phrase in the marketing sector. Coining a new term is the brilliant marketing strategy that distinguished Drift from its competitors.
Conversational marketing aims at faster revenue generation by eliminating the wait time which comes with email communications and form-filling. Even Drift's software is called conversational marketing software, which gives the website visitors the ability to start conversations with the team. Your customers might lose interest in your product if they do not get answers to their questions in real-time. DriftBot keeps the conversation alive as long as the customer wants to chat with it. Conversational marketing has become the identity of Drift. Coining this term and pushing it across the channels like books, newsletters, podcasts, videos has been the most successful marketing strategy for Drift. It has published guides like 'The Conversational Marketing Blueprint', which gives you all the information you need to know about this new segment of sales and marketing. The term has been popularized to such a level that Drift also provides the Conversational Marketing Certification to teach you how to build conversational experiences to accelerate your business' revenue. Today, 'conversational marketing' is the new industry buzzword.
Drift Marketing Strategy: Winning on the Brand
Drift's marketing strategy revolves around pushing content about conversational marketing through all its channels.
#1. Books & Blogs
Drift uses book publishing as a marketing tool very well to its advantage. You will find a decent number of books about conversational marketing and sales techniques published by Drift. Writing books and publishing them with known publishing houses provides credibility to the business. Wendy Keller, the CEO and Founder of Keller Media, Inc. says that publishing a book related to your business makes you "the expert who wrote the book". It attracts more customers and gives you greater visibility as a legit expert.
Drift has tapped into the marketing channel of book publishing. It has published books on conversational marketing to push its software in the market. 'Hypergrowth' by David Cancel is considered to be one of the best-selling SaaS books of all time.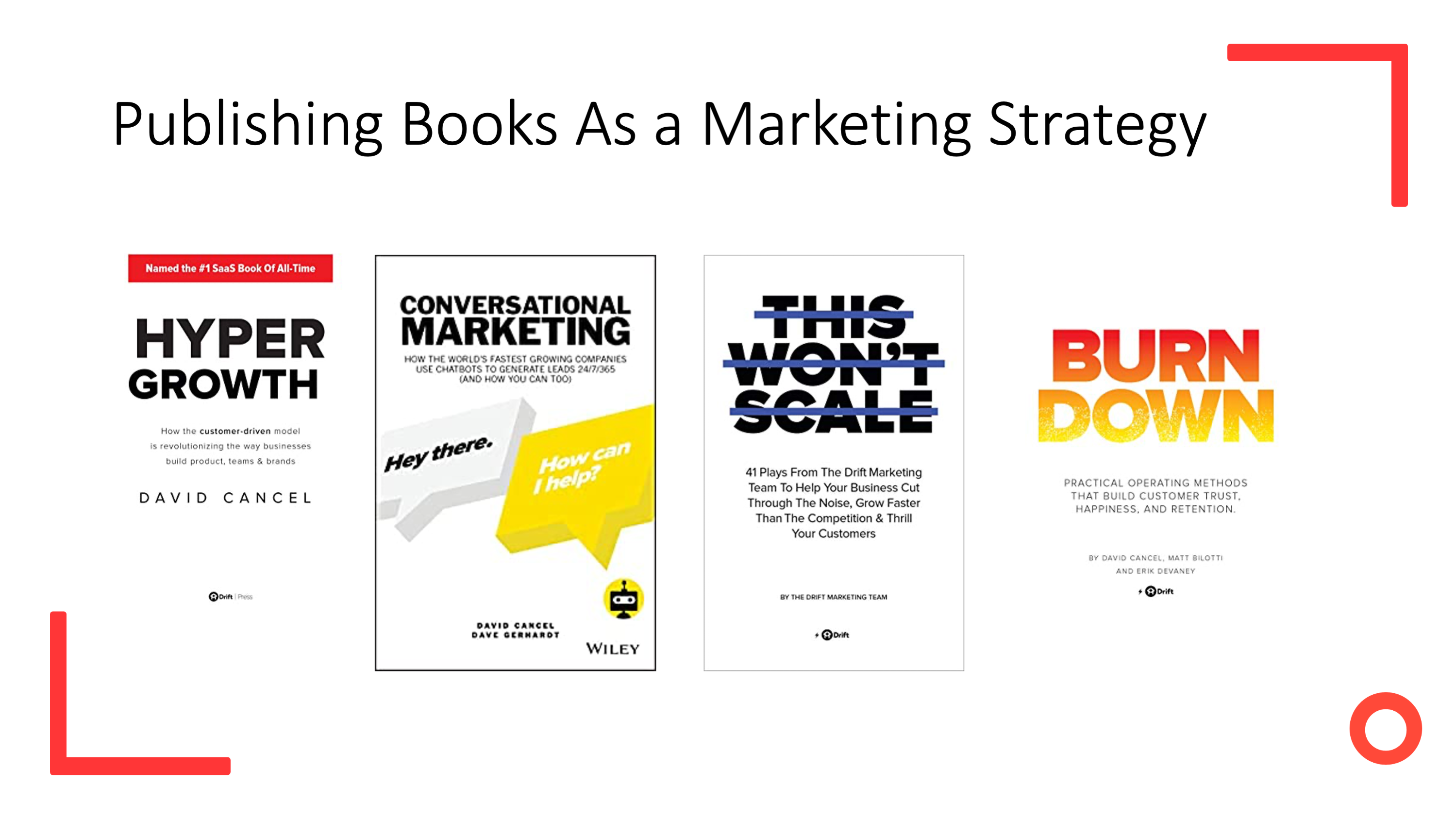 Drift's marketing strategy also includes publishing regular blogs about sales and marketing on their website. Drift posts a blog almost every day. Through these blogs, Drift provides guidance and expertise on marketing techniques that are mostly centered around conversational marketing.
#2. Newsletter
David Cancel is a five-time founder with the expertise and wisdom to share with entrepreneurs starting their businesses. He also shares his wisdom through his newsletter. 'The One Thing' is a newsletter by David Cancel with content aimed at founders and CEOs, who would want to have conversational marketing software as a business tool on their website.
Drift also has other newsletters like 'The American Dream' by Drift's CTO and co-founder, Elias Torres, and 'The Path to CMO 3.0' by their CMO Tricia Gellman. Anyone can have any of these newsletters delivered to their inbox regularly, which the DriftBot will enthusiastically help you sign up for.
#3. Podcasts
Each leader on Drift's team has their own podcast engaging in their area of expertise. It's targeting business owners with a concentration on marketing and sales. The Drift leadership team is running these podcasts which they define as 'your ticket to getting better every day'.
Seeking Wisdom with David Cancel,

where he speaks about leadership principles for personal and professional growth

CMO Conversations with Tricia Gellman

, which is an interview-style podcast for up-and-coming marketers

American Dream with Elias Torres

for honest, authentic, and inspiring conversations with underrepresented leaders in tech

Operations with Sean Lane

for marketing & sales operations pros

Build with Maggie Crowley

for product management

Growth with Matt Bilotti

is another interview-style podcast to talk about growth and growth marketing
Drift has also created a docuseries called Exceptions with Jay Acunzo, exploring how and why a handful of B2B companies have built brands to experience breakout success.
#4. Videos
Every business selling a product today relies on video marketing as a strategy. HubSpot's 2021 State of Marketing Report reveals that video is the top content marketing strategy used by brands. Wyzowl conducted a survey in December 2020, which states that 96% of people have watched an explainer video to learn more about a product or service. Video marketing works and is here to say, especially in the wake of the pandemic, which has forced businesses to go digital.
Video marketing is the new 'in thing'. It captures the attention of your customers, who prefer it as a medium of information. But generating content constantly is easier said than done. Drift has posted more than 700+ videos on its YouTube channels about Drift's culture, tips and tricks of trade, news, and updates. How do they do it? They repurpose the content created through their podcasts. Their videos are focused on empowering the sales and marketing people. Drift also creates independent videos apart from its podcasts and ingeniously uses video marketing channel to boost its brand.
Key Takeaways from Drift Marketing Strategy
David Cancel says "If everything you do is based on consensus, then you will create junk, because you naturally go towards the mean and you will create something that's average.". A five-time founder and a marketing expert, David knows what their customers want and as Dave Gerhardt says, Drift uses 'their words' to sell the products. With a customer-centric marketing strategy, Drift today has more than 50,000 customers. Conversational marketing is the heart and soul of Drift's marketing strategy. Coining this new term put Drift on the map of the marketing industry.
The key takeaways from Drift marketing strategy are:
Coin a new term

Communicate with the customer's in 'their words'

Standout with the brand instead of features

Repurpose the content across different marketing channels

Publishing books is an excellent way to establish yourself as a brand
From popularizing a new term to publishing books, Drift's marketing strategy is inspiring and has helped Drift achieve success in less than a decade.
Since You're Here
Philip Kotler said that "Marketing takes a day to learn. Unfortunately it takes a lifetime to master.". However, some companies have mastered the art of marketing with their unique strategies. Concurate brings to you the marketing strategy tear-down for successful companies. Check out how innovative marketing strategies have helped Shopify, Airbnb, and Starbucks become world-famous brands. Learn from the best to be the best.
Hope you enjoyed reading this post! If you wish to read more goodness, subscribe to our newsletter.
We send stories to your inbox only once in 15 days.
If your organisation wants its content marketing strategy designed by Concurate, let's connect over a short call. Block our calendar today! Meanwhile, Explore the plethora of resources to help you out your business!